Galerie von Garvens
From the 2nd exhibition: China-Porzellan und Chrysanthenum. November 1920
Galerie von Garvens, Hannover – The Gallery of a Collector
Herbert von Garvens (Hannover 1883 – 1953 Bornholm), began collecting during his world tour in 1907. His traveling and research for artists 'with true creative work, not fashionable style' led him in 1910 to Antwerp where he discovered by chance in a shop two etchings of James Ensor (1860-1949). The quality of Ensor's work fascinated him and he met the artist soon after in Ostend. During the following years, he bought from him important paintings, drawings and etchings for his collection. His enthusiasm for Ensor's work resulted 1913 in the first German monograph on James Ensor, including a complete catalog of his etchings: 'James Ensor: Maler, Radierer, Komponist; ein Hinweis mit dem vollständigen Katalog seines radierten Werkes als Anhang'.
During WWI, he participated in founding the Kestner-Gesellschaft in Hannover in 1916 to establish an independent venue for contemporary art, as an alternative to the conservative art policy of the city major. His collection grew constantly, and included important modern artists: Aubrey Beardsley, Gustave Courbet, Alfred Sisley, Robert Delaunay, Alexej Jawlensky, Wassily Kandinsky, Paul Klee, Oskar Kokoschka, Franz Marc, Edvard Munch, Emil Nolde, Albert Weisgerber, Erich Heckel, Karl Junker, Marc Chagall, and George Grosz, as well as Japanese woodcuts. This enabled him to support exhibitions of the Kestner-Gesellschaft with artwork from his collection, among them 10 | Paula Modersohn. Gemälde, Zeichnungen, Radierungen, the retrospective of Paula Modersohn-Becker, to which he lent 18 paintings.
Galerie von Garvens
His widespread interest in the arts like theatre, literature, music, applied arts from Japan, China, Tibet, the South Seas islands, and Africa, besides visual arts, convinced him that the exhibition program of an institutional venue is too limited to show the richness and cultural exchange between the different media, the basis of his enthusiasm. Herbert von Garvens returned beginning 1920 from his war captivity in Barraux in South of France and started with Hanns Krenz, whom he had met in Barraux, cataloging his collection and decided as a consequence of its rich inventory to open it to the public. No place was better predestined for this endeavor than the stately villa of his father, who had died in 1913. His idea was to show art not in an artificial setup in empty spaces. In contrary, he arranged his exhibitions, staged readings and music performances in the privacy of the saloons of his villa. The first exhibition of Galerie von Garvens opened on Friday October 1, 1920, and was devoted to James Ensor's paintings, drawings, and etchings, Paula Modersohn's paintings and drawings, and old Tibetan decorative arts.
His cosmopolitan and very personal approach to showing art, which was looking for diversity instead of following stylistic measures, soon was recognized by national art reviews, like Cicerone. It was celebrated for its high quality, becoming the must to see in the rather provincial town of Hannover. The disaccord between pretension and local limits may have led to edit in September 1922 a gallery handout, entitled 'Zwei Jahre Galerie von Garvens'. He propagates in the foreword his mission, and the subjoined list of his exhibitions, the published exhibition catalogs, the artists of his collection, his events, photographs of his exhibitions, and 23 press clippings with comments on his activities want to document the past two years and give an outlook for the upcoming gallery activities. In his 'Bücherstube' called reading room he presented his books on Chinese Lyric, Jussuf Abbo, Willi Baumeister, Rusolf Kindermann, and Lasar Segall, besides international art magazines and art editions. Would have his villa with his exhibitions and events been located in Berlin's Tiergarten or Charlottenburg, visitors would have queued up. In Hannover instead, the future of the Galerie von Garvens became more and more unsecure. Although the economic rise between 1920 and 1922 was supportive for the Gallery, the following hyperinflation end of 1923, with an exchange rate of 4.2 trillion Mark for 1 US-Dollar, was a too difficult challenge and led to its closure end of 1923. The listed upcoming exhibitions until January 1923 could not foresee neither the difficult economics nor the uncertainty of the Weimar Republic, the occupation of the Ruhr area by French troops in January 1923.
23 Press Clippings September 1919 – July 1922
The already mentioned 23 press clippings below, copied from the gallery handover, provide a rare insight into how difficult it was for new art, to gain a wider public recognition and acceptance. In the foreword of the gallery handover Herbert von Garvens states that he is interested in new art, not fashionable decorative painting. That a commercial gallery or the program of an institutional exhibition venue may need to stand for stylistic development was for him too much a limitation. For him, starting with the revolutionary work of van Gogh, new art had to be challenging, and should be looked for in all countries worldwide, ignoring borders.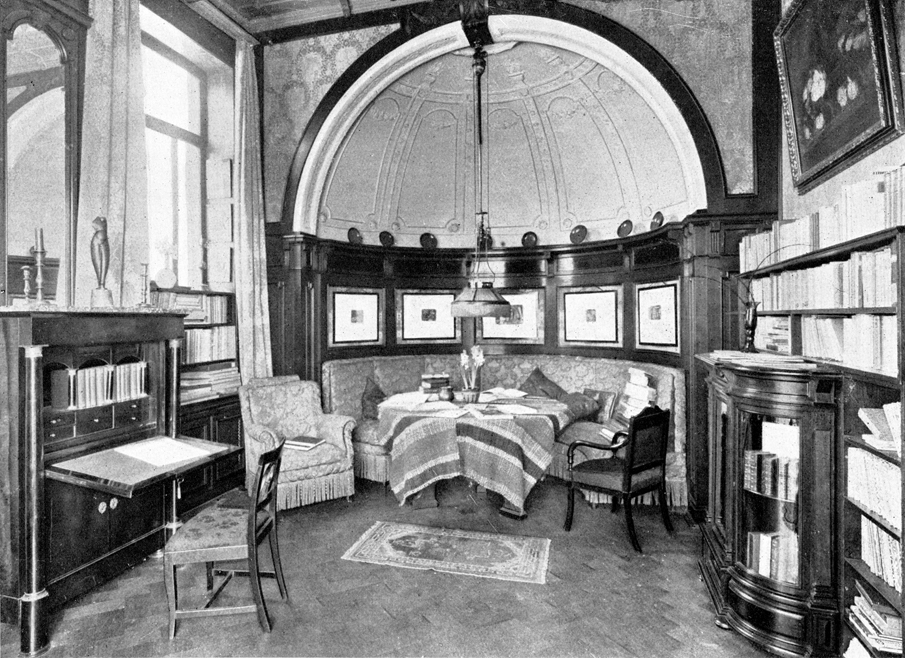 Exhibitions at Galerie von Garvens, Kestner-Gesellschaft, Der Sturm
Herbert von Garvens claims in the foreword of his gallery handover 'Zwei Jahre Galerie von Garvens' that with his exhibitions he is not looking for representing a specific program, fashion, taste, or to celebrate a new art style. His gallery of a collector wanted to be an alternative of what he knew from the art world around him. There was the Kestner-Gesellschaft in Hannover, which he supported with works of art from his collection and he certainly knew what was up in the metropolis of Berlin. In Berlin, he knew, besides other galleries, Herwarth Walden, director of the 'Der Sturm' gallery from before WWI. He presented in June 1921 his own lyrics and compositions in 1921 in the Herbert von Garvens Galerie in Hannover as part of the events, which accompanied the exhibition program (See the critical comment in 'Hannoverscher Kurier. Juni 1921', below).
To understand the way Herbert von Garvens wanted to support artists and the arts it is of interest to compare the exhibitions of these three venues in the below table. For the list of all shown artists of group-exhibitions, follow the link to artist-info.com.
Herbert von Garvens was not a gallerist, he was not an art dealer, he was not a museum director, and he was not the director of a non-profit space. He was an important collector who wanted to share his enthusiasm and discoveries with the public, at a time, in which new art, the avant-garde was much less accepted than we may be aware of today, 100 years later. The fast development of new positions in the arts until 1933 and after 1945 proved that he was more supportive than his contemporaries thought.
Sources and further reading
'Zwei Jahre Galerie von Garvens, Hannover 1922'. Edited by Galerie von Garvens in September 1922.

'Die Zwanziger Jahre in Hannover: Bildende Kunst, Literatur, Theater, Tanz, Architektur 1916-1933'; catalog of an exhbition held at the Kunstverein Hannover, 12.8. – 30.9.1962; pp. 61-69: Ines Katenhusen: Galerie und Sammlung von Garvens.

'Ein Außenseiter in der Kunst. Karl Junker und das Junkerhaus in Lemgo'; Editor: Jürgen Scheffler; Schriften des Städtischen Museums Lemgo, Band 12; Verlag für Regionalgeschichte, Bielefeld 2011, ISBN 978-3-89534-912-6; pp. 92-113: Ines Katenhusen: Herbert von Garvens (1883.1957). Ein 'Kampfgenosse' der künstlerischen Moderne in Hannover.
September 1920 – December 1923: Comparing the Exhibitions of Galerie von Garvens, Kestner-Gesellschaft, Der Sturm
Galerie von Garvens
Kestner-Gesellschaft
Galerie der Sturm

Oct 1920


1 | James Ensor - Gemälde, Zeichnungen, Radierungen. Paula Modersohn - Gemälde, Zeichnungen
Alt-tibetanisches Kunstgewerbe

Sep - Oct 1920


36 | Alexey von Jawlensky
Bilder

Sep 1920


Reinhard Goering - Paul Klee

Nov 1920


2 | China-Porzellan und Chrysanthenum
Stickereien und Spitzen, Russische Kunst, Kokoschka, Karl Junker, Kubisten, Das schöne Buch, Mode in der Kunst

Nov 1920


37 | Wilhelm Lehmbruck
Gemälde, Zeichnungen, das gesamte graphische Werk


Nov 1920


Johannes Molzahn

Dec 1920


3 | Gemälde moderner Künstler
Handzeichnungen und Graphik Oesterreichischer Künstler. Ostfriesischer und Tiroler Silberschmuck. Elfenbeinarbeiten


Nov - Dec 1920


38 | Weihnachts-Ausstellung
Meisterwerke deutscher Kunst

Dec 1920


Paul Busch - Johannes Molzahn

Galerie von Garvens
Kestner-Gesellschaft
Galerie der Sturm

Jan 1921


4 | Oskar Kokoschka, Gemälde, Zeichnungen, Lithographien - Luise Spannring, Keramik - Albert Schulze, Intarsien nach Entwürfen von Johan Thorn-Prikker und Kurt Schwitters

Jan - Feb 1921


39 | Jung-Tschechische Kunst - Wolf Röhricht
Gemälde, Aquarelle, Zeichnungen

Jan 1921


Albert Gleizes - Jacques Villon - Louis Marcoussis - Jules Evola - Tour Donas - Sonja Delaunay-Terk
Gemälde, Aquarelle, Zeichnungen

Feb 1921


5 | Oskar Kokoschka
Die Sonnenuhr, Graphik aus dem Gefangenenlager Fort Barraux. Chinesische Jade-, Nephrit- und Speckstein-Schnitzereien, Wiener Werkstätte und Werkstätten Flügel-Schmidt, Hannover. Zeichnungen von Geisteskranken

Feb - Mar 1921


40 | Junge Niederländische Kunst
Georg Grosz - Maurice Vlaminck

Feb 1921


K. L. Boguslavskaja
Stickereien nach eigenen Entwürfen - Fünf Kostüme für Tänzerinnen


Feb 1921
Jwan Puni
Gemälde, Aquarelle, Zeichnungen

Mar - Apr 1921


6 | Russische Kunst
Ikone, Volkskunst, neue Gemälde und Zeichnungen von Archipenko, Chagall, Genin, Golycheff, Alexei von Jawlensky, André Nasnadomoff-Jawlensky, Adja Junker, Kandinsky, Radziwill, Lasar Segall, Werefkin. Soviet-Plakate

Mar 1921 - Apr 1921


41 | 4. Ausstellung der Hannoverschen Sezession

Mar 1921


Alexander Archipenko
Skulpturen, Skulpto-Malereien, Aquarelle, Tuschzeichnungen, Bleistiftzeichnungen

Apr - May 1921


42 | Heinrich Campendonk - Carl Hofer
Gemälde

Apr 1921


Kurt Schwitters
Merzbilder, Merzzeichnungen


May - Jun 1921


7 | Irmgard Halmhuber (Gedächtnisausstellung)
Email-Arbeiten, Zeichnungen
Neuerwerbungen der Galerie 1920/21

May - Jun 1921


43 | Das junge Italien

May 1921


Robert Delaunay
Gemälde, Aquarelle

Jun - Jul 1921


8 | Alte Glasmalerei aus Tirol, Oberbayern, China
Neue Glasmalereien von Brey, Burger-Mühlfeld, Dexel, Düvelmeyer, Hildebrandt, Kuron, Molzahn, Schwitters, Steinitz

Jun - Jul 1921


Rudolf Bauer - Vjera Biller

Aug 1921


9 | Jussuf M. Abbo
Plastik, Zeichnungen, Radierungen

Aug 1921 - Sep 1921


44 | Aquarelle moderner Künstler - Conrad Felixmüller

Jul - Aug 1921


Paul Klee - Hans Mattis Teutsch
Gemälde, Aquarelle, Zeichnungen, Lithographien, Radierungen

Sep 1921


10 | Alexander Archipenko
Retrospektive Ausstellung. Zeichnungen Aquarelle Bildhauerwerke Sculpto-Peinture

Sep 1921


Zehn Jahre Sturm

Oct - Nov 1921


11 | Alfred Kubin
Zeichnungen, Lithographien

Oct - Nov 1921


45 | Ostasiatische Kunst

Oct 1921


Nell Walden
Ölbilder, Glasbilder, Tempera, Aquarelle

Nov - Dec 1921


12 | Japanische und chinesische Tuschzeichnungen und Farbenholzschnitte
Robert Michel, Gemälde, Zeichnungen, Graphik

Nov 1921


Jacoba van Heemskerck
Gemälde, Zeichnungen, Glasmosaiken

Dec 1921 - Jan 1922


46 | Hannoversche Sezession - August Heitmüller - Leni Zimmermann-Heitmüller
Bildnisse, Genreszenen, Gemälde, Aquarelle, Linolschnitte

Dec 1921


Erich Buchholz
Gemälde, Aquarelle, Holzbilder, Zeichnungen
Galerie von Garvens
Kestner-Gesellschaft
Galerie der Sturm

Jan - Feb 1922


13 | Paul Klee
Gemälde, Zeichnungen, Graphik aus den Jahren 1903–1921

Jan 1922


47 | Max Pechstein

Jan 1922


Arnold Topp - Adolf Bauer-Saar
Ölgemälde, Aquarelle, Glasbilder, Holzschnitte

Feb 1922


László Moholy-Nagy - László Peri

Mar 1922


14 | Neue Kunst aus dem Besitz der Galerie

Feb 1922 - Mar 1922


48 | Meisterwerke deutscher Kunst aus Hannoverschem Privatbesitz
Kees van Dongen - H. F. Bieling - Gerlwh - Gemälde, Aquarelle, Plastik

Mar 1922


Willi Baumeister - Fernand Léger
Gemälde, Aquarelle

Apr 1922


15 | George Grosz
Gemälde, geklebte Bilder, Aquarelle, Zeichnungen

Mar - Apr 1922


49 | Hannoversche Sezession
Peiffer-Watenphul - Seiffert-Wattenberg

Apr 1922


Georg von Poschedajew
Entwürfe für Theaterdekorationen und Köstüme

May - Jun 1922


16 | Emil Nolde
Aquarelle und Graphik. Exotische Plastik und Kakteen

May - Jun 1922


50 | Berliner Sezession

May 1922


Kurt Schwitters - L. Kosinzova-Ehrenburg

Jul - Aug 1922


17 | Willy Baumeister
Gemälde - Kinderzeichnungen

Jun 1922


51 | Emil Nolde

Jun 1922


Albert Gleizes - Walter Krug
Gemälde, Aquarelle, Farbige Lithographien, Holzschnitte - Malereien aus Papierfarben (Pa-Fa-Ma)
Aug 1922
Gösta Adrian-Nielsson - Zadkine
Gemälde, Aquarelle

Sep 1922


18 | Walter Dexel - Gemälde, Hinterglasbilder, Aquarelle
Reinhold [Reinhard] Hilker - Bilderbogen

Sep 1922


52 | Hannoversche Sezession - Wilhelm Morgner - Käthe Steinitz

Sep 1922


Serge Charchoune - Helene Grünhoff
Démonstration du 'Cubisme Ornemental' - Sculptures

Oct - Nov 1922


19 | Otto Gleichmann - Gemälde, Aquarelle, Zeichnungen. Kurt Schwitters - genagelte Bilder, Merz-Zeichnungen. Wilhelm Gross, der Maskenschnitzer von Hannover

Oct 1922


53 | Paula Modersohn-Becker

Oct 1922


Louis Marcoussis
Gemälde, Aquarelle, Glasbilder

Oct - Dec 1922


Erste Russische Kunstausstellung Berlin 1922
Galerie van Diemen & Co, Berlin

Nov - Dec 1922


54 | Von Carus bis Burger-Mühlfeld - Plastik von Emy Roeder - M. Steger - C. M. Schreiner

Nov 1922


Johannes Itten
Gemälde, Aquarelle, Zeichnungen, Plastiken 1914-1922

Dec 1922


20 | Alte Hinterglasmalerei aus Oberbayern und Tirol. Photographien aus Java, Bali, Südsee, China, Peru, Mexiko, Afrika
Dec 1922
Alexander Bortnyik - Paul Furhmann - Oscar Nerlinger
Gemälde, Aquarelle, Zeichnungen - Zeitbilder, Klebebilder
Galerie von Garvens
Kestner-Gesellschaft
Galerie der Sturm

Jan - Feb 1923


21 | Otto Dix - Gemälde, Aquarelle, Zeichnungen, Graphik

Jan - Feb 1923


55 | El Lissitzky - Max Burchartz

Jan 1923


Johannes Molzahn - Robert Michel
Gemälde, Aquarelle, Holzschnitte

Feb - Mar 1923


56 | Wassily Kandinsky

Feb 1923


László Moholy-Nagy - László Peri
Gemälde, Aquarelle, Zeichnungen, Plastiken

Mar - Apr 1923


22 | Russische Künstler. Archipenko, Jawlensky, Chagall, Kandinsky, Puni, Bogislawskaja, Zadkin, Schuschun, Max Band, Elena Lißner
Mar 1923
Laurence Atkinson - William Wauer

Apr 1923


57 | Karl Schmidt-Rottluff

Apr 1923


M. H. Maxy
Gemälde

May 1923


23 | Christian Rohlfs - Aquarelle und graphische Arbeiten Wilhelm Meyer, Braunschweig

May 1923 - Jun 1923


58 | László Móhóly-Nagy

May 1923


Emilio Pettorutti - Robert Storm-Petersen
Jun 1923
T. Zarnower - M. Szczuka - Aurel Bernáth - Lothar Schreyer

Jul 1923


24 | Otto Karguth - Fritz Stuckenberg - Chagall - Otto Modersohn

Jul 1923 - Sep 1923


Die jungen Dänen

Sep 1923


25 | Max Beckmann - Hans Meyboden - Werner Gilles

Sep - Oct 1923


59 | Moderne Bilder aus hannoverschem Privatbesitz, 1. Ausstellung

Sep 1923


Arnold Topp - Wilhelm Wulff
Gemälde, Tempera / Aquarelle, Glasbilder - Holz-Skulpturen
Oct - Nov 1923
26 | Korbarbeiten von Hans Seutemann, Hannover
Oct 1923
Burger-Mühlfeld - Haffenrichter - Kádár - Kesting - Teutsch

Nov - Dec 1923


27 | Konstruktivisten. Moholy-Nagy, Lissitzky, Baumeister, Schlemmer
Sammlung von Garvens

Nov 1923


Ernst Oscar Albrecht - Anne Reibstein-Albrecht
Ölbilder, Aquarelle, Zeichnungen, Linoleumschnitte

Dec 1923


60 | Weihnachtsmesse

Dec 1923


Béla Kádár
Ölgemälde, Pastelle, Aquarelle, Zeichnungen
Zwei Jahre Galerie von Garvens
Die Ausstellungen, die die GALERIE VON GARVENS seit ihrer Eröffnung am 1. Oktober 1920 veranstaltete, folgten zwanglos aufeinander und stellen kein Programm dar. Es gilt uns nie eine Richtung als die alleinseligmachende zu proklamieren, unsere Aufgabe sehen wir einzig darin, wahrhaftem Kunstschaffen im Gegensatz zur Mode und zum Geschmack des Publikums die Wege zu ebnen. Daß dieses bei einem Privatunternehmen nicht umfassend fein kann, versteht sich von selbst. Das Wertvolle nach der Revolution in der Kunst, die mit Van Gogh etwa einsetzte und mit dem Namen «Expressionismus», bezeichnet wurde, wird aber bleiben, wenn auch der Expressionismus «tot» ist, seitdem er Mode geworden ist und man eine banale Dekorationsmalerei mit diesem Namen bezeichnet, die uns genau so abgeschmackt vorkommen wird wie der Jugendstil seligen Angedenkens, wenn erst die Erkenntnis aufdämmert, d. h. wenn ein neuer sogenannter Stil Mode wird. Darum auch die Ablehnung, die Verständnislosigkeit vor Werken, die schon den neuen Willen ankündigen, die nach allem Überschwang der aufgewühlten Zeit die Klarheit bringen möchten. / Die Erkenntnis der Kunst Japans war das Verdienst der Impressionisten. Jetzt beginnt erst die Größe Chinas heraufzudämmern und die Kultur der sogenannten primitiven Völker im Gegensatz zur Kulturlosigkeit unserer zivilisierten, materiellen Zeit. / Die bleibenden Werte unserer Zeit sind geschaffen worden, sie werden nichts von ihrer Schönheit einbüßen, sie sind die sichersten Wertmesser der Zeit. Der jugendliche Tod vieler dieser Künstler besiegelte ihr Werk und erhielt darin die Frische, die Jugend, die Begeisterung und bewahrte es vor Stagnation und Routine. Alle Länder haben teil an diesem Werk, das Weltgefühl drückt sich darin aus, denn in der Kunst gibt es keine Grenzen. / «Zwei Jahre Galerie von Garvens» soll eine kleine Propagandaschrift sein, sie bringt einige Abbildungen nach Photos, die während verschiedener Ausstellungen aufgenommen wurden, somit den Freunden der Galerie eine Erinnerung, anderen soll sie zeigen, was wir anstreben und in welchem Sinne wir weiterarbeiten werden. / Untere Vortragsabende begleiteten die Ausstellungen ganz zwanglos, auch sie kein Programm, nur Wille fördernd zu wirken. / Es gilt weiter zu messen, zu werten und zu bewahren.
Herbert von Garvens-Garvensburg.
[Gallery Handover Foreword, September 1922]
K R I T I K E N
Das Kunstblatt. Sept. 1919.
Die Sammlung Herbert von Garvens-Garvensburg in Hannover ist die Schöpfung eines Mannes, der das Gebot der Zeit verstanden hat. Bei aller leidenschaftlichen Liebe zu den ekstatischen Werken der Gegenwart hat er sich das Gefühl für die Schönheiten der voraufgegangenen Epoche bewahrt. Bei aller innigen Anteilnahme an den Werken der Jüngsten besitzt er die Erkenntnis von der geistesgeschichtlichen Notwendigkeit des Vergangenen. Darum versucht er in feiner Sammlung die geheimen Wurzeln sichtbar zu machen, aus denen die neue Kunst Leben und Wachstum saugt. Will man das Wesen feiner Sammlung auf einen kurzen Nenner bringen, so mag man sagen, daß sie die Entwicklung von Courbet zu Kandinsky deutlich macht. Aber solche Formulierungen sind doch nur eng begrenzt und treffen nicht das Ganze. Vielleicht muß man sagen, daß sie das Ringen des modernen Menschen mit der Natur illustriert, daß sie den Kampf zwischen Realität und Phantasie vor Augen führt, vielleicht auch – aber das klingt schon tendenziös – kann man behaupten, sie zeige die fortschreitende Zertrümmerung der naturhaften Erscheinung zugunsten einer von innen her schaffenden, ekstatisch erregten Willenstätigkeit, die schließlich in abstrakten, glühenden Farbenströmen verzischt.
— — — — — —
Die modernen Sammler unserer Tage spielen im Kampf um die neue Kunst eine wichtige Rolle. Unbeirrt durch das Geschrei des Marktes, unbeirrt auch durch das leidenschaftliche Für und Wider kunstpsychologischer Kontroversen fügen sie in der Stille Stein auf Stein. In dem Gebäude, das sie errichten, in dieser Sammlung, die eben in ihren Hauptwerken an uns vorüberzog, sind dieselben Kräfte lebendig, die in den schaffenden Künstlern wirksam lind. Aber während diese mit der glühenden Einseitigkeit und Verbissenheit von Priestern und Propheten ihren Anschauungen Verbreitung und Geltung zu verschaffen suchen, bemühen sich die großen, feinfühlenden Sammler, das Moment der Entwicklung zu verdeutlichen, den ewigen Strom fühlbar zu machen, der Altes und Neues, Vergangenes und Zukünftiges unlöslich verbindet.
Paul Erich Küppers.

Cicerone. Okt. 1920.
Die neugegründete Galerie von Garvens hat ihre erste Ausstellung eröffnet und es muß gesagt werden, daß Hannover um eine bedeutende Sehenswürdigkeit reicher geworden ist, seitdem sich die Sammlung Herbert von Garvens in einen der intimsten Kunstsalons verwandelt hat. Freilich scheint dieses neue Unternehmen in erster Linie von idealen und erst darnach von rein merkantilen Gesichtspunkten bestimmt zu sein. [continued, not part of the gallery handover:] Der Sammler von Garvens möchte sich keineswegs von den wertvollsten Stücken seiner Galerie trennen, im Gegenteil, der Handel soll ihm Mittel sein, seine Sammlung nach verschiedenen Seiten auszubauen und zu intensivieren. Im Vorwort zu dem schönen Katalog, der der Eröffnungsausstellung gilt, ist zu lesen: "Die Galerie von Garvens wurde gegründet, um eine Sammlung weiteren Kreisen zugänglich zu machen, um Kunst wirken zu lassen. Der Sammler wird, um nicht der Einseitigkeit des Nur-Sammelns zu verfallen, zum Händler, die Kunstwerke strömen intensiveres Leben aus, sie leben und spiegeln sich in den Augen vieler, sie wandern — —." Daß die Galerie in ihrer neuen Form den Charakter der vornehmen Privatsammlung beibehalten [will], steigert jedenfalls den Genuß der dargebotenen Dinge um ein Beträchtliches. Was hier an erstklassigen Bildern der Paula Modersohn und von James Ensor neben Einzelstücken von Marc, Chagall, Archipenko, Henri Rousseau, Leger, Kokoschka u. a. gezeigt wird, grüßt den Betrachter von der Höhe eines allgemeinen Sammelniveaus herab, das Achtung fordert. Europäisches mischt sich in fein abgestimmter Nuancierung mit Asiatischem. Chinesische Rollbilder, japanische Farbenholzschnitte, Alt-tibetaniscbes Kunstgewerbe (dieses leider nicht so überzeugend im Sinne einer neuentdeckten Kunstprovinz, als man gehofft hatte) sind an Wänden und in Vitrinen mit auserlesenem Geschmack verteilt. Und wenn man etwas bedauert, dann die Tatsache, daß neben all diesen vollwertigen Proben neuen und alten Kunstschaffens auch Outsider wie etwa der verstorbene Lemgoer Maler und Schnitzer Karl Junker, der zeitlebens nichts als ein krasser Dilettant gewesen und der Hannoversche Handwerker Wilhelm Groß, eine Art von verwässertem Rousseau, den Künstlerlaune entdecken ließ, hier ebenfalls seriös in Erscheinung treten. Solche Entgleisungen sind abzulehnen. Sie desavouieren das Programm dieses prächtigen Unternehmens, von dem man noch viel erwarten darf.

Hannoversche Zeitung. Nov. 1920.
Die Galerie von Garvens in der Jägerstraße hatte in voriger Woche zu einer ganz besonderen Ausstellung eingeladen: Chinesisches Porzellan in Verbindung mit einer Chrysanthemum-Ausstellung Kann eine solche Vermengung von Kunst und Natur nicht immer ganz unbedenklich erscheinen, so liegt in diesem Falle die Sache doch anders. Schon dadurch, daß man sich weise nur auf diese eine Blumenart beschränkt und sie nur in einigen wenigen, aber ganz auserlesenen Exemplaren ausgestellt hatte, war das stets erforderliche Gleichgewicht von Kunst und Blumendekoration gegeben. Auch war die Einheit der ganzen Veranstaltung insofern gewahrt, als ja Porzellan und Chrysanthemum dasselbe Heimatland, die Wunderwelt des fernen Ortens, haben, und so ist auch wohl dieser gemeinsame Ursprung die Ursache, daß diese vielgestaltigen und vielfarbigen Naturprodukte mit den für unter europäisches Empfinden wenigstens oft so eigenartigen und manchmal auch bizarren Kunstgegenständen eine so entzückende Harmonie bilden können, wie es hier in der Galerie von Garvens geschah.

Hannoverscher Anzeiger. Febr. 1921
Wanderung durch die Galerie von Garvens-Garvensburg. Schimmernd und phantastisch für jedes Auge sind die Wunder des Kunstgewerbes, die wie aus dem Reich von "Taufend und einer Nacht" wirken. Da sind zunächst Schöpfungen der Radier-Nadel von James Ensor, dem flandrischen Künstler. Norbert Jacques nennt sie mit Recht "zaubrische Schöpfungen einer seltsamen Vermählung von Vision und Licht. Er malt Dinge in einem Perlmutter, der das warme Leben von Menschenfleisch atmet." Da sind vor allem prachtvolle Erzeugnisse unserer einheimischen Kunstgewerbler und Kunstgewerblerinnen, Meisterstickereien von Frau Tucky Flügel. Auf schwarzen Wandbehängen heben sich glitzernde, reich mit bunten Perlen, Gold und Silber gestickte Muster ab, die der Vorstellung die Pracht indischer Paläste vorgaukeln.
Man wandert weiter zu den Silbergefäßen, den graziösen Messingkelchen und Bechern aus den Wiener Werkstätten, man staunt über die eigentümlichen Sachen aus Linoleum-Schnitt, die in ihrer Wirkung ein wenig absurd find.
Mit dem Anschauen der zierlichen Elfenbeinschnitzereien, der Intarsien, der mannigfaltigen keramischen Arbeiten ist der Reichtum der Galerie kaum erschöpft. Erwähnt sei auch noch der in der Garvens-Galerie stattgefundene Vortrag des Freiherrn von Puttkammer über den chinesischen Jadestein, von dem viele kunstreiche Dinge zu einer kostbaren Sammlung vereinigt sind. Der Jadestein wurde schon im grauen Altertum zu Werkzeugen aller Art, zu Säbelgriffen, Amuletten, Waffen, ja sogar zu Pfahlbauten verarbeitet. Für die Chinesen gilt er aha der schönste aller Steine und regt mit seinen verschiedenartigen Farbtönen die Fantasie der Yankees zum bildnerischen Schaffen an. Die wertvollsten Sorten werden in Stücke zerhauen, die Adern herausgesägt und zur Hauptzierde benutzt.
Isidore Kaulbach.

Der Ziehbrunnen. 1921. Heil 2.
— — — — — —
Die Galerie von Garvens am gleichen Platz macht schon die Sonderstellung des Besitzers innerhalb des Kunsthandels interessant und feuilletonwert. Aus Liebe zur Kunst hat Herr v. Garvens das Haus seiner Väter zur Kunstaustellung und -handlung eingerichtet. Da gerade zwei Ausstellungen wechselten, kam ich in ein kunterbuntes, atelierhaftes Milieu der alten Räume. Dort standen zu Füßen einer riesigen Bibliothek noch bemooste Negerplastiken und grinsten einen Segall an. Hier lag George Grosz Arm in Arm mit einem von Fahrscheinen und Tuchfetzen umgebenen, aufgenagelten Kochlöffeltorso Schwitters. Herr von Garvens liebt das Groteske, ebenso sehr die ernste Kunst. Seine Sammlung von Ensor und der Paula Modersohn kursiert zur Zeit in allen Städten, die etwas auf ihr Kunstleben geben. Wundervoll waren die Zeichnungen Kokoschkas an einigen Wänden, die Kokoschka als einen sehr großen modernen Deutschen zu erkennen geben. Was in Mappen herumstand und herumlag war eine Sehensorgie mehrerer Stunden: Nolde, Rohlfs, Heckel, Jawlensky, Lange drehten sich mit anderen Zeitgenoffen im Kaleidoskop neuer Kunst.
In Berlin in es schwierig bei kurzem Aufenthalt alle Rosinen des Kunstkuchens auszusortieren.
— — — — — —

Das Kunstblatt. Mai 1921.
Eine Ausstellung russischer Kunst. Nicht in den vordersten Reihen, in Berlin, München oder Wien, wo man sie viel eher erwartet hätte, sondern still und bescheiden, – aber sorgfältig durchdacht und zusammengefaßt, dabei echtrussisch aufwühlend, weckend und nicht nur äußerlich farbig – inmitten der konservativen Hindenburgstadt Hannover, die bei dieser Gelegenheit durch ihr zweites, gänzlich abweichendes Gesicht überrascht hat.
Still und bescheiden. Denn abgesehen von einigen Russen, die sich bereits vor dem Kriege in Westeuropa, besonders in deutschen Landen und Sammlungen, eine gewisse Heimatsberechtigung erworben haben, ist es doch heute kaum denkbar, jenseits der festverschlossenen Türen des Mutterlandes, auch nur einen geringen Teil dessen in einer Ausstellung zusammenzubringen, was zu einer näheren Einführung in russische Kunst notwendigerweise gehört. Vor allem – zu einer Einführung in jene, in weiter Ferne zurückliegende, halbverhüllte und von ihrem eigenen inneren Schein verklärte Welt, die zugleich Urquell und Reinkultur, Sehnsucht und Erfüllung tiefster russischer Wesenheit bedeutet. Das ist die altrussische, im XIV. Jahrhundert erblühte Heiligenbildermalerei, die sogenannte lkonopis. Ein Gebiet, auf das man selbst in Rußland erst in den letzten Jahren richtig aufmerksam geworden ist, während man im Abendlande bisher überhaupt kaum etwas Nennenswertes davon gehört, und noch weniger zu sehen bekommen hat.
Es muß daher als ein kleines Geheimnis der Galerie von Garvens bezeichnet werden – für das wir ihr zu Dank verpflichtet sind -, wieso es ihr gelungen ist, einen ganzen Ausstellungsraum mit Stücken zu füllen, die z. T. einer Zeit entstammen, welche auf den wichtigsten, grundlegenden Abschnitt der russischen Geistesgeschichte gefolgt ist, der etwa um 1700 abgeschlossen wurde.
Dr. Fannina W. Hasse
— — — — — —

Ararat. Mai 1921.
Wer in diesen Tagen die schönen Räume der Galerie von Garvens betrat, war geblendet von den glühenden Farbenklängen, die ihm von den Wänden entgegenflammten. Robuste Gesundheit, überströmendes Lebensgefühl, erdhafte Freude und ein Schwelgen in ungebrochenen Farben gab dem Schauenden die Gewißheit, der Kunst eines jungen, unverbrauchten Volkes gegenüberzustehen.
— — — — — —
Die russische Ausstellung der Galerie von Garvens ist ein Ereignis für Hannover. Sie ist so glücklich angeordnet, daß man immer wieder seine Freude daran haben muß und nur eine Pflicht erfüllt, wenn man hier des begeisterten Sammlers Herbert von Garvens-Garvensburg und seines treuen Mitarbeiters Hanns Krenz gedenkt. Der Kestner-Gesellschaft, die vier Jahre lang allein in Hannover der jungen Kunst den Weg zu bahnen suchte, ist in dem neuen Unternehmen nicht -wie man glauben möchte – ein Konkurrent, sondern ein von denselben Überzeugungen erfüllter Kampfgenosse erstanden. Freundschaftliche Beziehungen verbinden die beiden Institute, deren vereintes Wirken auch in der Folgezeit nicht nur in Hannover, sondern auch darüber hinaus Widerhall und ermunternde Zustimmung finden möge.
P. E. Küppers.

Hannoverscher Kurier. April 1921.
Midia Pines trug am 23. April in der Galerie von Garvens Dostojewskis Erzählung: "Die Sanfte" völlig frei vor. Es war aber weniger die, allerdings bewunderungswerte, Gedächtnisleistung, als die ungemein schichte und überzeugende Art des Vortrages, die die vollste Anerkennung verdient. Die tiefgehende Wirkung auf alle Zuhörer wurzelte zunächst natürlich in der meisterhaften Kunst Dostojewskis, der diesen Monolog am Grabe einer Vernunft- und Zwangsehe erschütternd wie den Schrei eines Tieres gestaltet hat. Dieses tiefmenschliche Erleben der schuldlosen Schuld hat die Vortragende ganz zu ihrem eigenen gemacht, und nur so gelang es ihr, jeden Nebengedanken an Kunst zu löschen und in den Bann der Erzählung zu zwingen, als lauschte man einem wirklichen Bericht, der Seelenbeichte des Helden selbst. Der Besuch auch dieser Veranstaltung war beschämend. Bis die Hannoveraner einsehen, daß diese Veranstaltungen der Galerie von Garvens in dieser Stadt seltene Kunsterlebnisse bieten, wird es wohl zu spät – und die Galerie gezwungen sein, solche Darbietungen einzustellen.

Hannoverscher Kurier. Mai 1921.
Neuerwerbungen 1920/21 und die Arbeiten von J. Halmhuber bilden die Gegenstände dieser Ausstellung.
Einen Querschnitt durch die jüngste Kunst zu geben, kann kaum Aufgabe einer Privatgalerie sein. Was an Neuerwerbungen gezeigt wird, bedeutet auch hier einen kleinen Ausschnitt aus der vielumstrittenen, lebendigen Kunst. Aufgabe konnte lediglich sein, aufzuweisen, daß diese Dinge zu uns gehören, daß sich unter ihnen leben läßt, und über die nicht geringen Schwierigkeiten der Beschaffung ein echtes persönliches Verhältnis als allein ausschlaggebenden Nenner bei der Auswahl zu setzen. Sie ist als glänzend erfüllt zuzugeben, auch dann, wenn man im einzelnen anderer Anficht über diesen oder jenen Künstler sein muß. Ich kenne prinzipielle Gegner der jüngsten Kunst, die sich dem Zauber des Ganzen nicht entziehen konnten und ihn offen zugaben. Ein besseres Lob für eine Galerieleitung gibt es nicht. Es zu verbreiten ist Pflicht, wenn man in dieser Stelle eine wichtige Kulturstätte Hannovers erblickt, und wenn man das erschreckend geringe Verständnis für die Leistung kennt.
V. C. Habicht.

Hannoverscher Kurier. Mai 1921.
In dem verdunkelten, durch Kerzen erleuchteten Hauptraum der Galerie sprach dann vor dem ergreifenden Selbstbildnis der Künstlerin Hans Kaiser im Auftrag des Deutschen Werkbundes. Er berührte behutsam den Zauber der Arbeiten des 21jährigen Mädchens, sah den Grund in der Gläubigkeit des begnadeten Geschöpfes und nannte ihre Werke "Spiele vor Gott". Er pries die Demut dieser Künstlerin, die endlich einmal ernst gemacht mit der immer wieder vergeblich erhobenen Forderung, nämlich selbst in die Werkstätten zu gehen und die beglückende Einheit der alten schlichten kunsthandwerklichen Gegenstände durch ganze Hingabe an den Entwurf und die eigenhändige Ausführung zu erreichen. Die Künstlerin und die Arbeiterin, zu der sie sich freiwillig, aus Liebe und weitsichtigem Verstehen ihrer Zeit gemacht, habe er im Namen seines Bundes und führender Männer wie Poelzig, Behrens u. a. als ein Vorbild zu ehren. Er kränzte ihr Bild im Auftrage des Deutschen Werkbundes.
V. C. Habicht.

Hannoverscher Kurier. Juni 1921.
Herr Walden, der sehr selbstbewußt am Flügel saß, kann nun unmöglich von einem ernsthaften Musiker erwarten, daß er auf diese Art von Musik näher eingeht. Das letzte Stück "Nachtgesang" konnte wenigstens etwas mit dieser Entgleisung aussöhnen Diese Komposition ist nur entsetzlich lang, auch entfaltete der Vortragende beim Fortissimo reichlich robuste und wenig künstlerische Kraftmeierei. Statt zu applaudieren, was in äußerst bescheidenen Grenzen geschah, hätte ich es für angebracht gehalten, wenn das kleine Häuflein Publikum den ältesten anwesenden Herrn abgeordnet hätte, um dem Künstler für seine Arbeit am Flügel bei der Hitze stumm die Hand zu drücken.

Hannoverscher Kurier. Juli 1921.
In der Galerie von Garvens trug Hans Schiebelhuth eigene Geschichte vor.
— — — — — —
Sprache ohne die Direktion der Logik ist Kaleidoskop und Artikulation, wirkt nur durch den absoluten Gefühlswert der einzelnen Glieder der Wortreihen und den Unwert aller Worte, die Ausdrucksbedeutung der Laute selbst, der zärtlichen bbbb und boshaften tztztz, der hindämmernden llll und melancholischen uuuu. Gegen die Benutzung dieser Ausdrucksmittel läßt sich an sich nichts einwenden. Wogegen ließe sich auch an lieh etwas einwenden? Man müßte sich erst über den Zweck der Weltgeschichte verständigen …
Beh.

Hannoverscher Kurier. Aug. 1921.
— — — — — —
Die Galerie eröffnet gelegentlich dieser Ausstellung ihre neu eingerichtete Bücherstube, die in einem zum Verweilen einladenden Raum äußerst geschmackvoll untergebracht ist. Es liegen hier sämtliche Drucke der Marées-Gesellschaft und die Mappen, denen die in den übrigen Räumen ausgestellten Blätter entnommen find, sowie fast sämtliche Neuerscheinungen von Werken über bildende und schöne, neue Literatur aus.

Hannoversche Zeitung. Sept. 1921.
Drei große Namen decken für uns heute den Begriff russischer Kunst: Kandinsky, Chagall und Archipenko. Kandinsky ist der einzige bis jetzt, der imstande ist, geistige Komplexe von Tiefe und Weite nur in Form und Farbe auszudrücken mit Ausschaltung jeder Gegenständlichkeit. Chagall bedient sich naturalistischer Formen, aber er zerbricht und verwendet sie nach seinem eigenen Gesetz. Er ist der erste Gestalter der russischen Volksseele. Archipenko ist an sich Plastiker. Wir kennen ihn aber auch als Zeichner, Aquarellisten und als den Erfinder einer neuen Kunstform, der Skulptomalerei. Die Ansichten über den Wert der Aufhebung der Grenzen zwischen den einzelnen Künsten sind verschieden. Tatsache ist jedenfalls, daß der Trieb zur Vereinigung von Plastik und Malerei schon immer vorhanden war in der Bemalung der Plastik. Neu ist das Bestreben, die Plastik nur zur Verstärkung und Gestaltung einer Bildwirkung zu benutzen.
— — — — — —
Archipenko gehört zweifellos zu den stärksten Begabungen unserer Zeit, aber Zeitgenossenschaft bedeutet immer eine Grenze des Wartens. Wie weit Gleichzeitigkeit untere Schätzung nach oben oder nach unten beeinflußt, wissen wir nicht. Nur aus der Entfernung kann man die Höhe der Berge unterscheiden. Aber da untere Zeit soviel stärker das Bedürfnis hat, das fließende Leben mitzuleben, sich auch des Relativen alles Urteilens sehr klar bewußt ist, tut es nichts, den lebenden Künstler dem großen Ganzen gegenüber zu überschätzen.
Grethe Güthe

Hannoverscher Anzeiger. Sept. 1921.
Modenschau in der Galerie von Garvens, veranstaltet vom Verein für Frauenkultur. Einen stilvolleren Rahmen als die Räume der Galerie von Garvens hätten die Veranstalter dieser Modevorführung nicht wählen können. Die individuelle, künstlerische Note, die jedes Kleid trug, kam hier zur vollen Auswirkung. Man genoß die Vorführung wie eine kleine Feierstunde über einem guten Buch, aus dem man etwas Schönes mit hineinnimmt in den Alltag. Einschmeichelnde Musik, stimmungsvoll sich jedem Kleide anpassend, begleitete die Vorführungen.

Hannoverscher Kurier. Nov. 1921.
Kubin schreibt an den Besitzer der Galerie (ungefähr): "Es ist erstaunlich, daß Sie es fertig gebracht haben, eine Kubin-Ausstellung aus dem Boden zu stampfen, eine Ausstellung, die mein ganzes Schaffen umfaßt und mit seltener Deutlichkeit erkennen läßt." Diese auf Zusendung des Katalogs hingeschriebenen Worte des Künstlers dürften schon einiges Recht der Beachtung bei einer Würdigung dieser Ausstellung beanspruchen. Denn ist dem Wort, daß der Künstler bilden und nicht reden rolle, an sich wohl zuzustimmen, so ist die Frage hier doch eine, zu der er etwas zu sagen hat. Wenn er zufrieden ist, sollten wir es auch sein. Wir können es. Auch diese Ausstellung ist wieder ein Verdienst der auf dem steinigen Boden Hannovers mit gewohnter Hartnäckigkeit noch immer verkannten – und was schlimmer ist – kaum bekannten Galerie. — — — — — —
V. C. Habicht.

Hannoverscher Kurier. Dez. 1921.
Kurt Schwitters. Berichterstattung wäre hier Mißbrauch der Pressefreiheit. In der Georgstraße stößt man jetzt zuweilen auf einen Kasten, der kein Leierkasten, sondern eine Kiste mit aufrecht-stehenden Stricknadeln ist, die durch ein Zahnrad zu Geräusch veranlaßt werden. Von der ästhetischen Kritik und öffentlichen Erörterung auch dieser Veranstaltung wird gemeinhin abgesehen. Ebenso pflegt selbst der Menschenfreund nur Minuten auf solche Veranstaltungen zu verwenden, in dem unseres Erachtens berechtigten Drang, seinen Weg in seiner eigenen Richtung zunächst fortzusetzen (Serz). Dieser Meinung war die Mehrzahl der Teilnehmer an der letzten Veranstaltung der Galerie Garvens nicht, die es im Gegenteil vorzog, durch schweigende Duldung Herrn Schwitters den Beweis zu liefern, daß seine Auffassung von der Konjunktur für Snobismus die richtige ist.

Die Pille. 1921. Heft 49/50.
Offener Brief an Herrn Brauweiler. 13. 12. 21. Sehr geehrter Herr Brauweiler! Es ist nicht wahr, daß das Publikum meinen Vortrag schweigend geduldet habe, wie Sie in Ihrer Kritik vom 8. 12. im Hannoverschen Kurier behaupten. Mißbrauch der Pressefreiheit ist nicht, wie Sie meinen, über meinen Vortrag Bericht zu erstatten, sondern ich nenne es Mißbrauch der Pressefreiheit, wenn Sie mit Ihrer aus der Luft gegriffenen Behauptung, daß mein Publikum schweigend geduldet habe, Ihre Leser irre zu führen. Am Schlusse meines Vortrages ergab es sich im Gegenteil, daß das Publikum sehr interessiert war und sein Interesse durch freundlichen Beifall kundgab. Es hatte nicht den Anschein, als ob viele verständnislose Zuhörer dagewesen wären. Sie selbst, Herr Brauweiler, hatten allerdings meinen Vortrag schon zehn Minuten nach Beginn ostentativ verlassen und konnten deshalb über die Haltung des Publikums überhaupt nicht urteilen. Abgesehen davon bitte ich Sie um sachliche Kritik, statt Ihres witzigen Vergleiches mit dem Leierkasten und ich behaupte, daß Sie keine stichhaltigen Gründe gegen meine Dichtungen oder gegen meinen Vortrag vorbringen können. Persönliche Abneigung ist kein Grund. Mich würden Ihre Gründe interessieren. Hochachtungsvoll Kurt Schwitters.
Die Aufnahme meiner Entgegnung wurde abgelehnt mit der Begründung, daß sie "unsachlich" sei. Das Publikum wird sein Urteil fällen.
Kurt Schwitters
Lieber Schwitters! Dieweil ich Deine Antwort an den "Kurier" drucke, erübrigt sich meine Besprechung Deines Vortragsabend. Ich müßte sonst wiederholen, daß der Reporter des Kuriers ein Esel ist, und das wäre doch langweilig.

Hannoverscher Kurier. Jan. 1922.
In der Galerie Garvens las Hugo Hertwig Szenen eigenen Fabrikats. Er war angezogen wie ein Theaterbösewicht vom 9. November 1918 und berauschte sich am Schwung seiner eigenen Verse wie ein Liebhaber am ersten Liebesgedicht. Der Inhalt seiner Poesien ist eigentlich schwer zu bezeichnen. War es eine politische Dichtung oder eine dichterische Politik? Jedenfalls war es eine Art vom nihilistischem Manifest. In oft sehr packende Rhythmen gebracht und in rauschende Töne gekleidet. "Es lebe der internationale Massenmord!" erklang es mehrmals; erst wenn alle jetzt lebenden Menschen vertilgt sein werden (ob der Dichter auch, verrät er uns nicht), wird ein neues Geschlecht kommen (ob aus der Erde, wie die Frühlingsblumen?), und das werde dann die Erfüllung bringen. Darum soll mit Dynamit, Bomben und allen Schreckmitteln gearbeitet werden; alles soll sterben, um Platz für die kommende Generation zu machen. Nur um einen einzigen, der dabei umkäme, wäre es schade: das ist der Prophet Hertwig . . .

Volkswille. April 1922.
Zur Grosz-Ausstellung in der Galerie Garvens zu Hannover.
Als vor etwa zweihundert Jahren in England die zunehmende Erschließung und Ausbeutung überseeischer Kolonien gewaltige Reichtümer häufte, da kam mit dem Mammon auch das Wohlleben, und an das Wohlleben hing sich das Laster. Zu jener Zeit lebte unter den Briten ein Künstler mit hellen Augen und scharfem Geiste, William Hogarth, der es mit unbekümmertem Freimut wagte, die Sünden seiner englischen Zeitgenoffen ungeschminkt und wahrheitsgetreu auf die Leinwand zu malen. So wurde er der größte englische Sittenschilderer des 18. Jahrhunderts, und während die dickbändigen Werke über die Lebensführung seiner Zeit längst vermodert und vergessen sind, bilden Hogarths berühmte Bilder "Der Weg des Liederlichen", "Mariage à la mode", "Der Morgen" und so weiter noch heute für die Nachlebenden den eindrucksvollsten Sittenspiegel jener verflossenen Tage.
Ein solcher Sittenschilderer seiner Zeit, ein deutscher Hogarth, treibt seit Jahren sein Wesen und Werk unter uns. George Grosz, dessen Arbeiten in Hannover zum erstenmal in ihrer Gesamtheit durch die Galerie Garvens gezeigt werden. Groß und gut ist das Ziel, das sich der Meister gesetzt hat: "Ich will den Unterdrückten die wahren Gesichter ihrer Herren zeigen." Mit verblüffender Beherrschung des Handwerklichen, mit unheimlicher Schärfe und mit grausamer Offenheit feuert er auf fein Ziel los.
— — — — — —

Hannoversche Zeitung. Mai 1922.
— — — — — —
Der zweite Kunst-Salon unterer Stadt, die Galerie von Garvens, veranstaltet gleichzeitig eine zweite Nolde-Ausstellung. Was bei keinem anderen Künstler erträglich wäre, dieses gleichzeitige Auftreten an zwei verschiedenen Plätzen, dieses Überangebot einer einzigen und einseitigen Kunst, bei Nolde allein freut man sich über dies Zusammentreffen. Es kommt hinzu, daß beide Ausstellungen durchaus nicht als Konkurrenz-Unternehmungen aufzufassen sind, beide ergänzen sich im Gegenteil auf das Angenehmste. Dort in der Kestner-Gesellschaft, eine kühle, fachliche, fast wissenschaftliche Ausstellung, hier in der Jägerstraße ein höchst raffiniertes, bizarres Beieinandersein von Noldescher Kunst, exotischen Skulpturen und Kakteen. Hannover kann stolz auf seine beiden Kunstsalons sein!
Dr. F. Wedekind.

Niederdeutsche Zeitung. Juli 1922.
Lassen wir es! Streiten wir uns nicht! Es haben sich schon zu viele gestritten, als daß wir hoffen dürften, es zu Ende zu bringen. Die meisten Kunstkenner wissen nicht viel damit anzufangen, – also haben die wenig andern das schöne Vorrecht, sich für die klügere Minderheit zu erklären. Hier und da dreht selbst ein Meister wie Picasso langsam ab und steigt in wohltuenden Kurven herab, daß er wieder "unsersgleichen werde, mitzufühlen Freud' und Qual." Trotzdem aber schimpfen die wenigen unentwegt weiter herab auf die "profanen Laien", und die Laien lächeln höhnisch hinauf zu den "verstiegenen Genies". – Lassen wir es also! Streiten wir uns nicht!
— — — — — —
Willi Baumeister, der hier ausstellt, sucht eine vereinfachte Form innerhalb des Kubismus. Seine Bilder sollen in architektonische Komplexe eingefügt gedacht fein. Gewiß hat der Kubismus – wie ein Buch von Adolf Behne zeigt – für die Architektur viel Bedeutung. Mehr Bedeutung als für die Bildmalerei. Es kann sein, daß manches, was aus diesen Bildern nur verworren und im Halbschlaf spricht – Farbentöne von zartem Reiz, Raumgewalt und Linienmelodie – im ausgebaut Steingefüge klar und imponierend redet. Darum werde Baumeister, ehe die Kritik Endgültiges wagt, – Baumeister.
Dr. H. A. Thies.
Keep reading