Non-Profit

| Ausstellungshalle der Stadt Köln am Aachener Tor

Aachener Straße24
D - 51145 Köln - Germany Google Map
T.:
Web: Email:
https://www.artist-info.com/nonprofit/Sonderbundausstellung4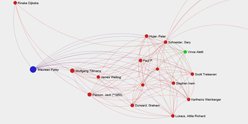 Interested in discovering more of this venue's networks?
3 easy steps: Register, buy a package for a visualization, select the exhibition place.
See examples how visualization looks like for an artist, a curator, or an exhibition place: Gallery, museum, non-profit place, or collector.

Exhibition History

SUMMARY

based on artist-info records. More details and Visualizing Art Networks on demand.
Venue types:

Gallery

/

Museum

/

Non-Profit

/

Collector

Exhibitions in artist-info
1 ( S 1/ G 0)

Shown Artists

- Top 5 of 175
(no. of shows) - all shows - Top 100

Artists in exhibitions
175
Curators in exhibitions
0
Linked to other venues through shown artists

1158: 476 / 369 / 303 / 10
artist-info records
May 1912 - Sep 1912

Curators -

Top 0 of 0 (no. of shows )

Linked through shown artists -

Top 5 of 1159 venues
Offers/Requests

Exhibition Announcement

Portfolio

S / G Solo/Group Exhibitions



(..) Exhibitions + Favorites

Read texts, reviews, comments, and Press Releases about this exhibition for more insight

Albiker, Karl (1878 - 1961)
S
May 1912 - Sep 1912
(62)
+0
Alma, Peter (1886 - 1969)
S
(8)
+0
Amiet, Cuno (1868 - 1961)
S
(92)
+0
Ascher, Ernst (1888 - 1953)
S
(3)
+0
Barlach, Ernst (1870 - 1938)
S
(227)
+0
Bató, József (1888 - 1966)
S
(11)
+0
Bechtejew, Wladimir Georgievitch von (1878 - 1971)
S
(19)
+0
Beck, Vilmos Fémes (1885 - 1918)
S
(5)
+0
Beneš, Vincenc (1883 - 1979)
S
(19)
+0
Berger, Hans (1882 - 1977)
S
(24)
+0
Berény, Róbert (1887 - 1953)
S
(10)
+0
Beyer, Otto (1885 - 1962)
S
(10)
+0
Bing, Henri (1888 - 1965)
S
(4)
+0
Bloch, Albert (1882 - 1961)
S
(45)
+0
Bolz, Hanns (1885 - 1918)
S
(5)
+0
Bondy, Walter (1880 - 1940)
S
(20)
+0
Bonnard, Pierre (1867 - 1947)
S
(300)
+0
Bornemisza, Géza (1884 - 1966)
S
(2)
+0
Boss, Eduard (1873 - 1958)
S
(12)
+0
Braque, Georges (1882 - 1963)
S
(408)
+0
Bretz, Julius (1870 - 1953)
S
(17)
+0
Brockhusen, Theo von (1882 - 1919)
S
(48)
+0
Bruce, Patrick Henry (1881 - 1936)
S
(37)
+0
Brühlmann, Hans Ernst (1878 - 1911)
S
(30)
+0
Bötticher, Walther (1885 - 1916)
S
(9)
+0
Camoin, Charles (1879 - 1965)
S
(92)
+0
Caspar, Karl (1879 - 1956)
S
(53)
+0
Caspar-Filser, Maria (1878 - 1968)
S
(56)
+0
Clarenbach, Max (1880 - 1952)
S
(33)
+0
Cross, Henri-Edmond (1856 - 1910)
S
(52)
+0
Czigány, Dezső (1883 - 1937)
S
(7)
+0
Cézanne, Paul (1839 - 1906)
S
(276)
+0
Deberitz, Per (1880 - 1945)
S
(2)
+0
Denis, Maurice (1870 - 1943)
S
(168)
+0
Derain, André (1880 - 1954)
S
(290)
+0
Deusser, Friedrich August (1870 - 1942)
S
(16)
+0
Diem, Peter Karl (1890 - 1956)
S
(4)
+0
Dongen, Kees van (1877 - 1968)
S
(128)
+0
Engelmann, Richard (1868 - 1966)
S
(13)
+0
Erbslöh, Adolf (1881 - 1947)
S
(57)
+0
Erichsen, Thorvald (1868 - 1939)
S
(6)
+0
Faistauer, Anton (1887 - 1930)
S
(16)
+0
Felsztyński, Stefan (1888 - 1966)
S
(1)
+0
Feuz, Werner (1882 - 1956)
S
(4)
+0
Filla, Emil (1882 - 1952)
S
(33)
+0
Fiori, Ernesto de (1884 - 1945)
S
(49)
+0
Folkestad, Bernhard (1879 - 1933)
S
(3)
+0
Frank, Erna (1883 - 1931)
S
(16)
+0
Freundlich, Otto (1878 - 1943)
S
(101)
+0
Friesz, Achille Emil Othon (1879 - 1949)
S
(123)
+0
Gauguin, Paul (1848 - 1903)
S
(243)
+0
Genin, Robert (1884 - 1943)
S
(24)
+0
Gerstel, Wilhelm (1879 - 1963)
S
(20)
+0
Giacometti, Giovanni Ulrico (1868 - 1933)
S
(59)
+0
Girieud, Pierre (1876 - 1948)
S
(59)
+0
Gogh, Vincent van (1853 - 1890)
S
(282)
+0
Grasegger, Georg (1873 - 1927)
S
(4)
+0
Großmann, Rudolf (1882 - 1941)
S
(69)
+0
Gütersloh, Albert Paris von (1887 - 1973)
S
(17)
+0
Haller, Hermann (1880 - 1950)
S
(66)
+0
Harta, Felix Albrecht (1884 - 1967)
S
(8)
+0
Hatvany, Ferenc von (1881 - 1958)
S
(7)
+0
Heckel, Erich (1883 - 1970)
S
(355)
+0
Heiberg, Jean (1884 - 1976)
S
(9)
+0
Herbin, Auguste (1882 - 1960)
S
(179)
+0
Herrmann, Curt (1854 - 1929)
S
(49)
+0
Heuser, Werner (1880 - 1964)
S
(24)
+0
Hodler, Ferdinand (1853 - 1918)
S
(162)
+1
Hoetger, Bernhard (1874 - 1949)
S
(66)
+0
Hofer, Karl [Carl] (1878 - 1955)
S
(241)
+0
Huber, Hermann (1888 - 1967)
S
(38)
+1
Isepp, Sebastian (1884 - 1954)
S
(2)
+0
Isselmann, Ernst (1885 - 1916)
S
(2)
+0
Jansen, Franz Maria [Franz Lambert] (1885 - 1958)
S
(28)
+0
Jawlensky, Alexej von (1864 - 1941)
S
(246)
+0
Joveneau, Jean (*1888)
S
(3)
+0
Jungheim, Julius (1878 - 1957)
S
(3)
+0
Kandinsky, Wassily (1866 - 1944)
S
(685)
+1
Kanoldt, Alexander (1881 - 1939)
S
(82)
+0
Kavli, Arne Texnes (1878 - 1970)
S
(4)
+0
Keller, Hans (1884 - 1983)
S
(4)
+0
Kernstok, Károly (1873 - 1940)
S
(11)
+0
Kerschkamp, Eugen (1880 - 1945)
S
(1)
+0
Kirchner, Ernst Ludwig (1880 - 1938)
S
(458)
+1
Klee, Paul (1879 - 1940)
S
(716)
+0
Klein, César (1876 - 1954)
S
(37)
+0
Kniebe, Walter (1884 - 1970)
S
(2)
+0
Kogan, Moïssey (1879 - 1942)
S
(21)
+0
Kokoschka, Oscar (1886 - 1980)
S
(326)
+0
Kolig, Anton (1886 - 1950)
S
(13)
+0
Krohg, Per Lasson (1889 - 1965)
S
(42)
+0
Kubišta, Bohumil (1884 - 1918)
S
(16)
+0
Kukuk, Willy (1875 - 1944)
S
(1)
+0
Körmendi-Frim, Jenő (1886 - 1959)
S
(3)
+0
Kövesházi Kalmár, Elza (1876 - 1956)
S
(9)
+0
Lau, Mattheus Josephus (1889 - 1958)
S
(2)
+0
Laurencin, Marie (1883 - 1956)
S
(72)
+0
Lehmbruck, Wilhelm (1881 - 1919)
S
(206)
+0
Levy, Rudolf (1875 - 1944)
S
(38)
+0
Lund, Henrik Louis (1879 - 1935)
S
(7)
+0
Macke, August (1887 - 1914)
S
(208)
+0
Macke, Helmuth (1891 - 1936)
S
(26)
+0
Maillol, Aristide (1861 - 1944)
S
(236)
+0
Manguin, Henri Charles (1874 - 1949)
S
(131)
+0
Manolo, [Manuel Martínez Hugué] (1872 - 1945)
S
(25)
+0
Marc, Franz (1880 - 1916)
S
(284)
+0
Marquet, Albert (1875 - 1947)
S
(174)
+0
Matisse, Henri (1869 - 1954)
S
(607)
+1
Melzer, Moriz (1877 - 1966)
S
(36)
+0
Mense, Carlo [Otto Marto] (1886 - 1965)
S
(68)
+0
Minne, George (1866 - 1941)
S
(51)
+0
Modersohn-Becker, Paula (1876 - 1907)
S
(150)
+0
Mogilewsky, Alexander Pavlovich (1885 - 1980)
S
(9)
+0
Moilliet, Louis René (1880 - 1962)
S
(35)
+0
Mondrian, Piet (1872 - 1944)
S
(310)
+0
Morgner, Wilhelm (1891 - 1917)
S
(37)
+0
Mueller, Otto (1874 - 1930)
S
(181)
+0
Munch, Edvard (1863 - 1944)
S
(303)
+1
Márffy, Ödön [Edmund] (1878 - 1959)
S
(11)
+0
Nauen, Heinrich (1880 - 1940)
S
(94)
+0
Nolde, Emil (1867 - 1953)
S
(441)
+0
Nowak, Willy (1868 - 1945)
S
(2)
+0
Onsager, Søren (1878 - 1946)
S
(3)
+0
Ophey, Walter (1882 - 1930)
S
(17)
+0
Oppenheimer, Olga (1886 - 1941)
S
(6)
+0
Orbán, Dezső (1884 - 1986)
S
(7)
+0
Pascin, Jules [Julius Mordecai] (1885 - 1930)
S
(135)
+0
Pechstein, Max (1881 - 1955)
S
(272)
+0
Pellegrini, Alfred Heinrich (1881 - 1958)
S
(45)
+0
Perlrott-Csaba, Vilmos (1880 - 1955)
S
(8)
+0
Picasso, Pablo (1881 - 1973)
S
(1259)
+1
Procházka, Antonin (1882 - 1945)
S
(18)
+0
Purrmann, Hans (1880 - 1966)
S
(91)
+0
Redon, Odilon (1840 - 1916)
S
(162)
+0
Rees, Otto van (1884 - 1957)
S
(15)
+0
Reyländer, Ottilie (1882 - 1965)
S
(7)
+0
Richter-Berlin, Heinrich [Heinrich C. Richter] (1884 - 1981)
S
(14)
+0
Rippl-Rónaï, József (1861 - 1927)
S
(22)
+0
Roederstein, Ottilie Wilhelmine (1859 - 1937)
S
(18)
+0
Rösler, Waldemar (1882 - 1916)
S
(50)
+0
Sandberg, Einar (1876 - 1947)
S
(1)
+0
Scharff, Edwin (1887 - 1955)
S
(67)
+0
Schelfhout, Lodewijk (1881 - 1943)
S
(10)
+0
Schiele, Egon (1890 - 1918)
S
(103)
+0
Schindler, Theodor (1870 - 1950)
S
(7)
+0
Schinnerer, Adolph (1876 - 1949)
S
(30)
+0
Schmidt-Rottluff, Karl (1884 - 1976)
S
(366)
+0
Signac, Paul (1863 - 1935)
S
(124)
+0
Smits, Jacob (1855 - 1928)
S
(10)
+0
Sohn-Rethel, Alfred (1875 - 1958)
S
(13)
+0
Sohn-Rethel, Carl Ernst [Carli Sohn] (1882 - 1966)
S
(17)
+0
Somló, Lili (*1887)
S
(1)
+0
Steger, Milly (1881 - 1948)
S
(41)
+0
Straube, William (1871 - 1954)
S
(27)
+0
Sørensen, Henrik Ingvar (1882 - 1962)
S
(9)
+0
Tappert, Georg (1880 - 1957)
S
(35)
+0
Thorn-Prikker, Johan (1868 - 1932)
S
(22)
+0
Thuar, Hans (1887 - 1945)
S
(18)
+0
Thygesen, Rudolph (1880 - 1953)
S
(6)
+0
Tihanyi, Lajos [Ludwig] (1885 - 1938)
S
(16)
+0
Torstensson, Torstein (1876 - 1966)
S
(1)
+0
Vedres, Márk (1870 - 1961)
S
(3)
+0
Verhoeven, Jan (1870 - 1941)
S
(9)
+0
Vlaminck, Maurice de (1876 - 1958)
S
(149)
+0
Vuillard, Jean Édouard (1868 - 1940)
S
(178)
+0
Waetjen, Otto von (1881 - 1942)
S
(10)
+0
Weinzheimer, Friedrich August (1882 - 1947)
S
(12)
+0
Weisgerber, Albert (1878 - 1915)
S
(46)
+0
Weiss, Emil Rudolph (1875 - 1942)
S
(58)
+0
Werenskiold, Dagfin (1892 - 1977)
S
(5)
+0
Werenskiold, Erik Theodor (1855 - 1938)
S
(24)
+0
Wieck, Karl (1881 - 1915)
S
(2)
+0
Wold-Torne, Oluf (1867 - 1919)
S
(5)
+0
Wolff, Gustav Heinrich (1886 - 1934)
S
(28)
+0
Wynand, Paul (1879 - 1956)
S
(2)
+0