ARTIST EXHIBITION STATISTICS
This page shows the 100 artists with the highest number of exhibitions in artist-info.com database.
The list is sorted downwards by the total of the artist's exhibitions, including both, solo- and group-exhibitions.
The icons on the left side of the artist's name indicate
available artwork offers, exhibition announcements or an artist portfolio.
The numbers on the right side of the artist's name display
the number of solo-exhibitions, group-exhibitions, and the total of both exhibition types.
The next columns display the individual number per exhibition place category, which are gallery, museum, non-profit, collector,
followed by the total number of the artist's exhibition venues in artist-info.com database.
For all other artists who are not part of this list
the total number of exhibitions in the database is displayed as part of the search result found with Main Search at top right.
On each artist, exhibition venue and curator page an Exhibition History Summary provides additional analytical details.
Please contact us in case you need more analyical insight.
artist-info Status
Today you find 195544 artists, and 8096 curators in 221782 exhibitions in 12569 venues (resulting in 760579 network edges) from 1880 to present, in 1543 cities in 163 countries, plus 277 professional and private classified offers.
THE 100 ARTISTS WITH THE HIGHEST NUMBER OF EXHIBITIONS IN ARTIST-INFO.COM DATABASE
| | | S | G | Total | Galleries | Museums | Non-Profit | Collectors | Venues Total |
| --- | --- | --- | --- | --- | --- | --- | --- | --- | --- |
| | Pablo Picasso [Pablo Ruiz y Picasso, Paul Picasso] (1881-1973) | 449 | 810 | 1259 | 249 | 175 | 124 | 4 | 552 |
| | Andy Warhol (1928-1987) | 282 | 657 | 939 | 210 | 172 | 110 | 9 | 501 |
| | Paul Klee (1879-1940) | 207 | 509 | 716 | 78 | 131 | 97 | 4 | 310 |
| | Joseph Beuys (1921-1986) | 187 | 512 | 699 | 109 | 123 | 126 | 5 | 363 |
| | Wassily Kandinsky [Vasily Vasilyevich Kandinsky, Wassili Wassiljewitsch Kandinski, Basile Kandinsky] [Kandinskij] (1866-1944) | 155 | 530 | 685 | 77 | 133 | 98 | 3 | 311 |
| | Joan Miró [Jean Miró, Joan Miró i Ferrà] (1893-1983) | 175 | 501 | 676 | 140 | 97 | 77 | 3 | 317 |
| | Robert Rauschenberg (1925-2008) | 172 | 496 | 668 | 122 | 126 | 75 | 6 | 329 |
| | Bruce Nauman (*1941) | 131 | 483 | 614 | 96 | 111 | 108 | 6 | 321 |
| | Henri Matisse [Henri-Émile-Benoît Matisse, Matisse-Henri, Henri-Matisse] (1869-1954) | 159 | 448 | 607 | 100 | 95 | 71 | 3 | 269 |
| | Max Ernst [Max Ernest] (1891-1976) | 120 | 468 | 588 | 89 | 121 | 95 | 4 | 309 |
| | Marc Chagall [Moishe Segal, Mark Zacharovic Shagal] [Mark Sacharovitsch Sagal] [Sagalov] (1887-1985) | 176 | 383 | 559 | 110 | 95 | 65 | 3 | 273 |
| | Gerhard Richter [Gerd Richter] (*1932) | 158 | 369 | 527 | 82 | 100 | 101 | 6 | 289 |
| | Max Beckmann [Max Carl Friedrich Beckmann] (1884-1950) | 183 | 343 | 526 | 59 | 105 | 88 | 3 | 255 |
| | Jean Arp [Hans Arp] (1886-1966) | 85 | 429 | 514 | 98 | 94 | 78 | 2 | 272 |
| | Man Ray [Emmanuel Rudinski] (1890-1976) | 67 | 428 | 495 | 93 | 122 | 75 | 3 | 293 |
| | Sol LeWitt (1928-2007) | 122 | 368 | 490 | 115 | 105 | 69 | 5 | 294 |
| | Fernand Léger (1881-1955) | 88 | 395 | 483 | 79 | 86 | 70 | 2 | 237 |
| | Roy Lichtenstein (1923-1997) | 120 | 360 | 480 | 105 | 83 | 51 | 0 | 239 |
| | Lucio Fontana (1899-1968) | 76 | 399 | 475 | 121 | 83 | 88 | 4 | 296 |
| | Ernst Ludwig Kirchner (1880-1938) | 144 | 314 | 458 | 58 | 99 | 78 | 5 | 240 |
| | Alberto Giacometti (1901-1966) | 98 | 350 | 448 | 63 | 82 | 68 | 2 | 215 |
| | Alexander Calder (1898-1976) | 111 | 337 | 448 | 95 | 88 | 64 | 2 | 249 |
| | Emil Nolde [Emiru? Norude, Hans Emil? Hansen, Hansen Nolde] (1867-1953) | 130 | 310 | 440 | 59 | 98 | 72 | 5 | 234 |
| | Frank Stella (*1936) | 134 | 299 | 433 | 86 | 81 | 48 | 3 | 218 |
| | Jasper Johns (*1930) | 102 | 330 | 432 | 78 | 89 | 47 | 2 | 216 |
| | Marcel Duchamp (1887-1968) | 49 | 366 | 415 | 67 | 102 | 65 | 3 | 237 |
| | Georges Braque (1882-1963) | 69 | 339 | 408 | 82 | 66 | 59 | 4 | 211 |
| | László Móhóly-Nagy [Ladislaus Moholy-Nagy] (1895-1946) | 52 | 356 | 408 | 55 | 102 | 63 | 2 | 222 |
| | Richard Serra (*1939) | 128 | 276 | 404 | 77 | 73 | 56 | 2 | 208 |
| | Günther Uecker (*1930) | 95 | 309 | 404 | 89 | 65 | 88 | 7 | 249 |
| | Jean Dubuffet (1901-1985) | 105 | 294 | 399 | 66 | 59 | 54 | 4 | 183 |
| | Sigmar Polke (1941-2010) | 99 | 299 | 398 | 81 | 82 | 72 | 5 | 240 |
| | Josef Albers [Joseph Albers] (1888-1976) | 92 | 306 | 398 | 65 | 88 | 70 | 6 | 229 |
| | Edward Ruscha [Ed Ruscha, Edward Rusha] (*1937) | 99 | 297 | 396 | 93 | 80 | 52 | 4 | 229 |
| | Donald Judd [Don Judd] (1928-1994) | 96 | 299 | 395 | 95 | 76 | 54 | 5 | 230 |
| | Lawrence Weiner (1942-2021) | 95 | 295 | 390 | 89 | 51 | 80 | 2 | 222 |
| | Georg Baselitz (*1938) | 155 | 231 | 386 | 98 | 67 | 66 | 3 | 234 |
| | Lyonel Feininger [Lyonel Charles Feininger] (1871-1956) | 107 | 273 | 380 | 59 | 70 | 67 | 1 | 197 |
| | Günther Förg (1952-2013) | 131 | 240 | 371 | 80 | 36 | 62 | 10 | 188 |
| | George Grosz [Georg Ehrenfried] [George Groß, Georg Große] (1893-1959) | 68 | 301 | 369 | 56 | 81 | 69 | 1 | 207 |
| | Karl Schmidt-Rottluff (1884-1976) | 92 | 274 | 366 | 46 | 68 | 64 | 2 | 180 |
| | Kurt Schwitters (1887-1948) | 46 | 319 | 365 | 65 | 85 | 57 | 4 | 211 |
| | Arnulf Rainer (*1929) | 123 | 240 | 363 | 81 | 62 | 62 | 8 | 213 |
| | Erich Heckel (1883-1970) | 71 | 284 | 355 | 50 | 74 | 62 | 2 | 188 |
| | Louise Bourgeois [Louise Goldwater] (1911-2010) | 119 | 231 | 350 | 79 | 75 | 66 | 5 | 225 |
| | Otto Dix [Wilhelm Heinrich Otto Dix] (1891-1969) | 72 | 277 | 349 | 40 | 73 | 78 | 2 | 193 |
| | Ellsworth Kelly (1923-2015) | 98 | 248 | 346 | 61 | 75 | 47 | 2 | 185 |
| | Antoni Tàpies (1923-2012) | 108 | 237 | 345 | 95 | 45 | 58 | 3 | 201 |
| | Claes Oldenburg [Claes Thure Oldenburg] (1929-2022) | 65 | 277 | 342 | 59 | 67 | 51 | 2 | 179 |
| | Dan Flavin (1933-1996) | 92 | 249 | 341 | 69 | 69 | 50 | 3 | 191 |
| | Victor Vasarely [Gy?z? Vásárhelyi] (1908-1997) | 73 | 266 | 339 | 63 | 55 | 68 | 3 | 189 |
| | Robert Morris (1931-2018) | 73 | 264 | 337 | 52 | 69 | 51 | 0 | 172 |
| | Cindy Sherman (*1954) | 52 | 284 | 336 | 77 | 85 | 77 | 7 | 246 |
| | David Hockney (*1937) | 110 | 225 | 335 | 83 | 71 | 59 | 3 | 216 |
| | Willem de Kooning [Willem DeKooning] (1904-1997) | 83 | 248 | 331 | 68 | 71 | 49 | 3 | 191 |
| | Henry Moore (1898-1986) | 117 | 210 | 327 | 87 | 61 | 56 | 2 | 206 |
| | Oscar Kokoschka (1886-1980) | 81 | 245 | 326 | 37 | 70 | 67 | 3 | 177 |
| | Willi Baumeister [Friedrich Wilhelm Baumeister] (1889-1955) | 68 | 257 | 325 | 55 | 60 | 65 | 4 | 184 |
| | Sam Francis (1923-1994) | 95 | 224 | 319 | 83 | 66 | 47 | 2 | 198 |
| | Carl Andre (*1935) | 72 | 245 | 317 | 69 | 60 | 55 | 1 | 185 |
| | John Baldessari (*1931) | 68 | 245 | 313 | 58 | 95 | 66 | 5 | 224 |
| | Jackson Pollock [Paul Jackson Pollock] (1912-1956) | 60 | 253 | 313 | 44 | 78 | 46 | 1 | 169 |
| | Yves Klein (1928-1962) | 46 | 266 | 312 | 75 | 72 | 58 | 3 | 208 |
| | Piet Mondrian [Pieter Cornelis Moondrian, Piet Mondriaan] (1872-1944) | 53 | 257 | 310 | 36 | 76 | 55 | 2 | 169 |
| | Heinz Mack [Heinz Otto Mack] (*1931) | 61 | 247 | 308 | 72 | 62 | 54 | 3 | 191 |
| | Robert Motherwell (1915-1991) | 66 | 239 | 305 | 66 | 59 | 37 | 0 | 162 |
| | Max Liebermann (1847-1935) | 57 | 248 | 305 | 29 | 45 | 57 | 1 | 132 |
| | Lovis Corinth [Louis Corinth, Franz Heinrich Louis Corinth] (1858-1925) | 58 | 245 | 303 | 33 | 47 | 53 | 1 | 134 |
| | A.R. Penck [Ralf Winkler] (1939-2017) | 95 | 207 | 302 | 89 | 46 | 58 | 4 | 197 |
| | Edvard Munch [Eduard Munch] (1863-1944) | 133 | 169 | 302 | 34 | 70 | 56 | 2 | 162 |
| | Cy Twombly [Edwin Parker Twombly] (1928-2011) | 102 | 198 | 300 | 71 | 66 | 30 | 4 | 171 |
| | Matta [Roberto Antonio Sebastian Matta Echaurren] (1911-2002) | 50 | 250 | 300 | 56 | 58 | 49 | 2 | 165 |
| | Pierre Bonnard (1867-1947) | 70 | 230 | 300 | 41 | 60 | 45 | 0 | 146 |
| | Dieter Roth (Diter Rot) [Dieter Rot] (1930-1998) | 66 | 227 | 293 | 65 | 66 | 60 | 7 | 198 |
| | Giorgio de Chirico [Georges de Chirico] (1888-1978) | 38 | 253 | 291 | 47 | 66 | 51 | 3 | 167 |
| | Salvador Dalí [Salvador Domingo Felipe Jacinto Dalí i Domènech] (1904-1989) | 60 | 231 | 291 | 55 | 67 | 49 | 2 | 173 |
| | André Derain (1880-1954) | 38 | 252 | 290 | 53 | 52 | 43 | 0 | 148 |
| | Rosemarie Trockel (*1952) | 51 | 237 | 288 | 65 | 58 | 68 | 8 | 199 |
| | Kazimir Severinovich Malevich [Malewitsch, Malevitch, Malevi?, Malewicz, Malevitj, Malyevich] (1879-1935) | 32 | 255 | 287 | 34 | 80 | 63 | 1 | 178 |
| | François Morellet (1926-2016) | 69 | 217 | 286 | 60 | 52 | 54 | 5 | 171 |
| | Franz Marc (1880-1916) | 46 | 238 | 284 | 29 | 72 | 57 | 2 | 160 |
| | Vincent van Gogh (1853-1890) | 87 | 195 | 282 | 28 | 64 | 45 | 1 | 138 |
| | Piero Manzoni (1933-1963) | 27 | 252 | 279 | 69 | 59 | 63 | 3 | 194 |
| | Jean Tinguely (1925-1991) | 43 | 235 | 278 | 56 | 72 | 50 | 3 | 181 |
| | Richard Artschwager (1923-2013) | 68 | 208 | 276 | 69 | 53 | 40 | 4 | 166 |
| | Paul Cézanne (1839-1906) | 55 | 221 | 276 | 32 | 66 | 37 | 0 | 135 |
| | Martin Kippenberger (1953-1997) | 76 | 198 | 274 | 62 | 45 | 49 | 5 | 161 |
| | Thomas Ruff (*1958) | 66 | 206 | 272 | 51 | 66 | 54 | 6 | 177 |
| | Max Pechstein [Hermann Max Pechstein, M.H. Peckstein] (1881-1955) | 43 | 229 | 272 | 40 | 65 | 55 | 2 | 162 |
| | Marcel Broodthaers (1924-1976) | 64 | 205 | 269 | 52 | 63 | 51 | 1 | 167 |
| | El Lissitzky [Lazar Markovich Lissitzky, Markovi? Lisickij, Eliezer Lissitzkij, Markovitzovich Lissitzky] [Lissitzki, Lissitsky, Lizzitsky, Lisitsky, Lissitzki, Lissitsky] (1890-1941) | 26 | 241 | 267 | 31 | 77 | 55 | 1 | 164 |
| | Imi Knoebel [Klaus Wolf Knoebel, W. Knoebel] (*1940) | 78 | 189 | 267 | 67 | 50 | 48 | 5 | 170 |
| | Nam June Paik (1932-2006) | 51 | 214 | 265 | 47 | 72 | 58 | 4 | 181 |
| | Alighiero Boetti [Alighiero Fabrizio Boetti] [Alighiero e Boetti] (1940-1994) | 55 | 210 | 265 | 75 | 42 | 58 | 3 | 178 |
| | Jim Dine [James Dine] (*1935) | 71 | 194 | 265 | 55 | 63 | 41 | 2 | 161 |
| | Francis Picabia (1879-1953) | 49 | 215 | 264 | 54 | 64 | 44 | 1 | 163 |
| | André Masson (1896-1987) | 69 | 194 | 263 | 44 | 52 | 38 | 0 | 134 |
| | James Rosenquist [Jim Rosenquist] (1933-2017) | 59 | 200 | 259 | 52 | 67 | 33 | 1 | 153 |
| | Dan Graham (1942-2022) | 61 | 198 | 259 | 46 | 48 | 70 | 3 | 167 |
| | Mike Kelley (1954-2012) | 53 | 202 | 255 | 64 | 47 | 63 | 6 | 180 |
Artist Exhibition Statistics Diagrams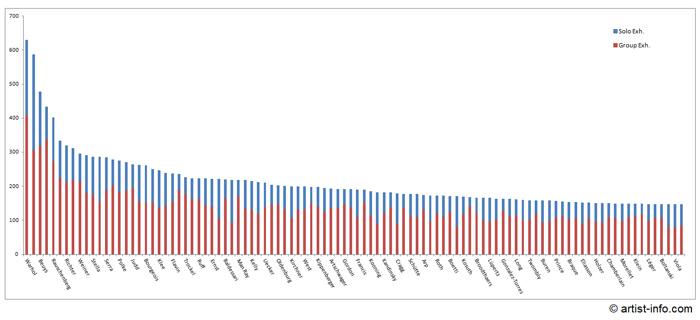 Solo- and Group-Exhibitions
Number of Exhibition Places by Type