Your place for contemporary art world wide
artist-info is a community place for contemporary art where all can meet: Artists, Curators, Galleries, Museums, Non-Profit places, Collectors and Private art lovers.
Search artist-info
for Artists, Curators, Exhibition Places, and their Exhibition Titles, Artwork Offers, Artist-Portfolios
BLOG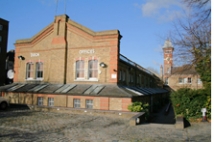 Damien Hirst – Curator
Curating an exhibition is one of many ways for an artist to collaborate with other artists. Damien Hirst's (* 1965) groundbreaking and controversial work has made him one of the world's best-known living artists – not to forget his success as curator.
'Freeze' – July 1988: During his time at Goldsmiths College of Art he organized in July 1988 in an empty London Port Authority building at Surrey Docks in London Docklands his first exhibition, entitled 'Fre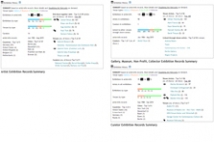 artist-info Exhibition History Summary
Exhibition History Provides Important Insight: Aanalyzing the exhibition records of artists, curators, and exhibition venues can be an important source of information helping to reveal a picture about the individual qualities of an artist.
The Exhibition Records Summary for each artist, curator and gallery, museum, non-profit and collector's venue on their artist-info page show the many valuable aspects the analysis of hundreds of thousands of exhibition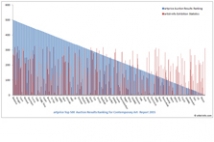 Are Auctions a good place to buy Contemporary Art?
Reality Check – Comparing the artist's auction performance with exhibition history statistics. As there are so many exhibitions in galleries, museums, nonprofit and collector venues worldwide we at artist-info were interested in comparing these rich and manifold activities with the artprice Top 500 list.
This is the first time that an auction result report for contemporary art artists is compared with the reality of the contemporary art world, using