Your place for contemporary art world wide
artist-info is a community place for contemporary art where all can meet: Artists, Curators, Galleries, Museums, Non-Profit places, Collectors and Private art lovers.
Search artist-info
for Artists, Curators, Exhibition Places, and their Exhibition Titles, Artwork Offers, Artist-Portfolios
BLOG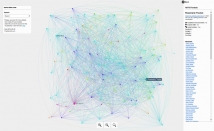 Visualizing Art Networks
How are artists and exhibition places and curators connected among each other?
The world of contemporary fine art might have many random aspects, but on an upper level the bits and pieces summarize to network structures and clusters.
It is the first time ever a network graph is used to analyse and describe the world of contemporary art with artists, curators, and exhibition places.
The Visualization identifies, helps to explore, and to develop the valuable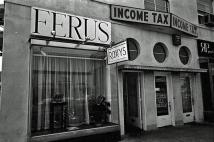 Ferus Gallery – the artists, curators, and exhibitions – its history
The exhibition 'Objects on the New Landscape Demanding of the Eye', March 15 – April 11, 1957
was the inaugural group show at the famous Ferus Gallery, directed by curator Walter Hopps, and the artist Edward Kienholz.
Which artists were shown between 1957 – 1966, the years the gallery was active?
How was the gallery and the artists connected with other venues of the time?
Ferus Gallery was important in many aspects.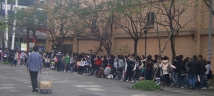 Influential Contemporary Art Exhibitions in the 20th and 21st Century
The artist-info selection below is not based on any 'blockbuster' criteria. It is our research on exhibitions since 1930 with the eye of an art historian and a historian which adds exhibitions to this constantly updated list.
Our List below starts 1929 with the first exhibition of the Museum of Modern Art – MoMA, New York, Nov 7, 1929: Cézanne, Gauguin, Seurat, Van Gogh. It enjoyed an unexpected high number of visitors – despite 'Black Tuesday' at Wall St
Damien Hirst – Curator
Curating an exhibition is one of many ways for an artist to collaborate with other artists. Damien Hirst's (* 1965) groundbreaking and controversial work has made him one of the world's best-known living artists – not to forget his success as curator.
'Freeze' – July 1988: During his time at Goldsmiths College of Art he organized in July 1988 in an empty London Port Authority building at Surrey Docks in London Docklands his first exhibition, entitled 'Fre
artist-info Exhibition History Summary
Exhibition History Provides Important Insight: Aanalyzing the exhibition records of artists, curators, and exhibition venues can be an important source of information helping to reveal a picture about the individual qualities of an artist.
The Exhibition Records Summary for each artist, curator and gallery, museum, non-profit and collector's venue on their artist-info page show the many valuable aspects the analysis of hundreds of thousands of exhibition
Are Auctions a good place to buy Contemporary Art?
Reality Check – Comparing the artist's auction performance with exhibition history statistics. As there are so many exhibitions in galleries, museums, nonprofit and collector venues worldwide we at artist-info were interested in comparing these rich and manifold activities with the artprice Top 500 list.
This is the first time that an auction result report for contemporary art artists is compared with the reality of the contemporary art world, using