Museum

| Museum of Modern Art - MoMA (2/7)

11 West 53rd Street
USA - New York NY 10019 - United States Google Map
T.: +1 - 212 - 708 9400
Web: http://www.moma.org/ Email:
https://www.artist-info.com/museum/MoMA-27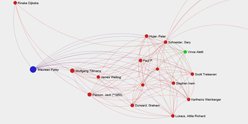 Interested in discovering more of this venue's networks?
3 easy steps: Register, buy a package for a visualization, select the exhibition place.
See examples how visualization looks like for an artist, a curator, or an exhibition place: Gallery, museum, non-profit place, or collector.

Exhibition History

SUMMARY

based on artist-info records. More details and Visualizing Art Networks on demand.
Venue types:

Gallery

/

Museum

/

Non-Profit

/

Collector

Exhibitions in artist-info
145 ( S 23/ G 122)

Shown Artists

- Top 5 of 2722
(no. of shows) - all shows - Top 100

Artists in exhibitions
2722
Curators in exhibitions
67
Linked to other venues through shown artists

4490: 2479 / 848 / 1122 / 41
artist-info records
Jun 1930 - Jan 2021

Curators -

Top 5 of 67 (no. of shows )
Alfred H. Barr (7)
Monroe Wheeler (5)
Dorothy Canning Miller (4)
Lincoln Kirstein (4)
Margaret Miller (3)


Linked through shown artists -

Top 5 of 4493 venues
Offers/Requests

Exhibition Announcement

Portfolio

S / G Solo/Group Exhibitions

(..) Exhibitions + Favorites

Judd, Donald (1928 - 1994)
S
Mar 2020 - Jan 2021
(395)
+0
Temkin, Ann (*1959) (curator)
(9)
+0
Lange, Dorothea (1895 - 1965)
S
Feb 2020 - Sep 2020
(73)
+0
Meister, Sarah Hermanson (*1971) (curator)
(8)
+0
White, Charles Wilbert (1918 - 1979)
S
Oct 2018 - Jan 2019
(21)
+0
Bayer, Herbert (1900 - 1985)
G
Sep 2018 - Nov 2018
(138)
+0
Behne, Adolf (1885 - 1948)
G
(1)
+0
Gan, Alexej Michailowitsch (1883 - 1940)
G
(8)
+0
Klutsis, Gustav Gustavowitsch (1895 - 1938)
G
(89)
+0
Lissitzky, El [Lazar Markovich] (1890 - 1941)
G
(267)
+0
Meyer, Hannes [Hans Emil] (1889 - 1954)
G
(14)
+0
Rodchenko, Aleksander Mikhailovich (1891 - 1956)
G
(218)
+0
Forbes, Meghan (curator)
(1)
+0
Kotsioris, Evangelos (curator)
(1)
+0
Kingelez, Bodys Isek (1948 - 2015)
S
May 2018 - Jan 2019
(25)
+0
Borges, Sofia (*1984)
G
Mar 2018 - Aug 2018
(4)
+0
Connors, Matthew (*1976)
G
(1)
+0
Contis, Sam (*1982)
G
(2)
+0
Gupta, Shilpa (*1976)
G
(35)
+0
Husni-Bey, Adelita (*1985)
G
(9)
+0
Khalili, Yazan (*1981)
G
(3)
+0
Mendez, Harold (*1977)
G
(4)
+0
Muluneh, Aïda (*1974)
G
(2)
+0
Ngo & Truong, [Huong Ngo *1979 & Hong-An Truong *1976]
G
(1)
+0
Olson, B. Ingrid (*1987)
G
(1)
+0
Piotrowska, Joanna (*1985)
G
(3)
+0
Rooney, Em (*1983)
G
(1)
+0
Sepuya, Paul Mpagi (*1982)
G
(9)
+0
Steinbach, Andrzej (*1983)
G
(1)
+0
Syjuco, Stephanie (*1974)
G
(11)
+0
Winant, Carmen (*1983)
G
(1)
+0
Gallun, Lucy (curator)
(3)
+0
Abakanowicz, Magdalena (1930 - 2017)
G
Apr 2017 - Aug 2017
(93)
+0
Adnan, Etel (1925 - 2021)
G
(18)
+0
Albers, Anni (1899 - 1994)
G
(36)
+0
Altschul, Gertrudes (1904 - 1962)
G
(2)
+0
Asawa, Ruth (1925 - 2013)
G
(14)
+0
Baer, Jo (*1929)
G
(66)
+0
Bardi, Lina Bo (1914 - 1992)
G
(8)
+0
Benglis, Lynda (*1941)
G
(158)
+0
Bontecou, Lee (1931 - 2022)
G
(95)
+0
Bourgeois, Louise (1911 - 2010)
G
(350)
+0
Bursztyn, Feliza (1933 - 1982)
G
(4)
+0
Chase-Riboud, Barbara (*1939)
G
(10)
+0
Clark, Lygia (1920 - 1988)
G
(84)
+0
Corpron, Carlotta (1901 - 1988)
G
(9)
+0
Day, Lucienne (1917 - 2010)
G
(3)
+0
DeFeo, Jay (1929 - 1989)
G
(44)
+0
Dehner, Dorothy (1901 - 1994)
G
(28)
+0
Frankenthaler, Helen (1928 - 2011)
G
(165)
+0
Freire, María (1917 - 2015)
G
(5)
+0
GEGO, [Gertrud Luise Goldschmidt] (1912 - 1994)
G
(45)
+0
Gramcko, Elsa (1925 - 1994)
G
(4)
+0
Grilo, Sarah (1919 - 2007)
G
(14)
+0
Hartigan, Grace (1922 - 2008)
G
(61)
+0
Herrera, Carmen (1915 - 2022)
G
(20)
+0
Hesse, Eva (1936 - 1970)
G
(140)
+0
Hicks, Sheila (*1934)
G
(27)
+0
Jacobi, Lotte Johanna (1896 - 1990)
G
(43)
+0
Kolářová, Běla (1923 - 2010)
G
(14)
+0
Kooning, Elaine Marie de (1918 - 1989)
G
(36)
+0
Krasner, Lee (1908 - 1984)
G
(83)
+0
Kusama, Yayoi (*1929)
G
(220)
+0
Martin, Agnes (1912 - 2004)
G
(180)
+0
Mikus, Eleanore (*1927)
G
(5)
+0
Mitchell, Joan (1925 - 1992)
G
(177)
+0
Morgan, Barbara (1900 - 1992)
G
(32)
+0
Natzler, Gertrud & Otto (1908-1971 & 1908-2007)
G
(7)
+0
Neumann, Vera (1907 - 1993)
G
(3)
+0
Nevelson, Louise (1899 - 1988)
G
(218)
+0
Pape, Lygia (1927 - 2004)
G
(28)
+0
Passlof, Pat [Patricia] (1928 - 2011)
G
(13)
+0
Prati, Lidy (1921 - 2008)
G
(5)
+0
Rama, Carol (1918 - 2015)
G
(42)
+0
Rie, Lucie (1902 - 1995)
G
(45)
+0
Riley, Bridget (*1931)
G
(157)
+0
Ryan, Anne (1889 - 1954)
G
(32)
+0
Savage, Naomi (1927 - 2005)
G
(14)
+0
Schendel, Mira (1919 - 1988)
G
(36)
+0
Sobel, Janet (1894 - 1968)
G
(11)
+0
Sterne, Hedda (1910 - 2011)
G
(51)
+0
Szapocznikow, Alina (1926 - 1973)
G
(40)
+0
Tanaka, Atsuko (1932 - 2005)
G
(37)
+0
Tawney, Lenore (1907 - 2007)
G
(16)
+0
Thomas, Alma Woodsey (1891 - 1978)
G
(15)
+0
Truitt, Anne (1921 - 2004)
G
(34)
+0
Figura, Starr (*1963) (curator)
(2)
+0
Meister, Sarah Hermanson (*1971) (curator)
(8)
+0
Reder, Hillary (curator)
(2)
+0
Abramović, Marina (*1946)
G
Sep 2015 - Jan 2016
(134)
+0
Aktuální umĕni, (*1964)
G
(1)
+0
Barrio, Artur (*1945)
G
(22)
+0
Barrios, Álvaro (*1945)
G
(5)
+0
Bony, Oscar (1941 - 2002)
G
(12)
+0
Botero, Fernando (1932 - 2023)
G
(80)
+0
Brigada Inti Peredo, Juventud Socialista (*1969)
G
(1)
+0
Brigadas Ramona Parra, Juventudes Comunistas de Chile (*1968)
G
(1)
+0
Bruscky, Paulo (*1949)
G
(8)
+0
Brătescu, Geta (*1926)
G
(20)
+0
Bucán, Boris (*1947)
G
(5)
+0
Buren, Daniel (*1938)
G
(252)
+0
CADA, [Colectivo de Acciones de Arte] (1979 - 1985)
G
(2)
+0
Cadere, André (1934 - 1978)
G
(42)
+0
Camargo, Sérgio de (1930 - 1990)
G
(32)
+0
Camnitzer, Luís (*1937)
G
(77)
+0
Carrión, Ulises (*1941)
G
(5)
+0
Castillo, Juan (*1952)
G
(4)
+0
Castro, Willys de (1926 - 1988)
G
(9)
+0
Cieślewicz, Roman (1930 - 1996)
G
(7)
+0
Clark, Lygia (1920 - 1988)
G
(84)
+0
Costa, Eduardo (*1940)
G
(12)
+0
Dias, Antônio (1944 - 2018)
G
(63)
+0
Dimitrijević, Braco (*1948)
G
(49)
+0
Downey, Juan (1940 - 1993)
G
(39)
+0
EXPORT, VALIE (*1940)
G
(143)
+0
Ehrenberg, Felipe (1943 - 2017)
G
(8)
+0
El Techo de la Ballena, (1961 - 1969)
G
(1)
+0
Ferrari, León (1920 - 2013)
G
(30)
+0
Fontana, Lucio (1899 - 1968)
G
(475)
+0
GEGO, [Gertrud Luise Goldschmidt] (1912 - 1994)
G
(45)
+0
Geiger, Anna Bella (*1933)
G
(27)
+0
González, Beatriz (*1938)
G
(9)
+0
Gorgona, [Julije Knifer 1924-2005, Mangelos (Dimitrije Bašicevic) 1921-1987, Josip Vaništa *1924] (1959 - 1966)
G
(12)
+0
Gorka, Wiktor (1922 - 2004)
G
(2)
+0
Gotovac, Tomislav (1937 - 2010)
G
(17)
+0
Grigorescu, Ion (*1945)
G
(17)
+0
Hilmar, Jiří (*1937)
G
(24)
+0
Horvat, Miljenko (1935 - 2012)
G
(5)
+0
Iveković, Sanja (*1949)
G
(51)
+0
Jevšovar, Marijan (1922 - 1998)
G
(3)
+0
Kelly, Ellsworth (1923 - 2015)
G
(346)
+0
Knifer, Julije (1924 - 2005)
G
(49)
+0
Knížák, Milan (*1940)
G
(42)
+0
Kolářová, Běla (1923 - 2010)
G
(14)
+0
Kostołowski, Andrzej (*1940)
G
(2)
+0
Kovanda, Jiří (*1953)
G
(31)
+0
Kozłowski, Jaroslaw (*1945)
G
(24)
+0
Kožarić, Ivan (1921 - 2020)
G
(15)
+0
Krasiński, Edward (1925 - 2004)
G
(28)
+0
Lamelas, David (*1946)
G
(68)
+0
Le Parc, Julio (*1928)
G
(143)
+0
Lenica, Jan (1928 - 2001)
G
(7)
+0
Loach, Ken (*1936)
G
(1)
+0
Lublin, Léa (1929 - 1999)
G
(12)
+0
Mach, Jan (*1943)
G
(1)
+0
Mach, Vit (*1945)
G
(1)
+0
Mangelos, [Dimitrije Bašicevic] (1921 - 1987)
G
(17)
+0
Manzoni, Piero (1933 - 1963)
G
(279)
+0
Marisol, [Maria Sol Escobar] (1930 - 2016)
G
(78)
+0
Matanović, Milenko (*1947)
G
(1)
+0
Maurer, Dóra (*1937)
G
(34)
+0
Mendieta, Ana Maria (1948 - 1985)
G
(120)
+0
Minujín, Marta (*1943)
G
(26)
+0
Morellet, François (1926 - 2016)
G
(286)
+0
Młodożeniec, Jan (1929 - 2000)
G
(3)
+0
Nez, David (*1949)
G
(2)
+0
OHO Group, [David Nez, Milenko Matanovič, Drago Dellabernardina] (1966 - 1971)
G
(14)
+0
Oiticica, Hélio (1937 - 1980)
G
(56)
+0
Partum, Ewa (*1945)
G
(11)
+0
Picelj, Ivan (1924 - 2011)
G
(48)
+0
Pinter, Harold (1930 - 2008)
G
(1)
+0
Porter, Liliana (*1941)
G
(55)
+0
Puente, Alejandro (1933 - 2013)
G
(9)
+0
Reboiro, Antonio Fernandez (*1935)
G
(1)
+0
Robakowski, Józef (*1939)
G
(37)
+0
Rojas, Miguel Ángel (*1946)
G
(25)
+0
Rostgaard, Alfredo (*1943)
G
(2)
+0
Roth, Dieter (Diter Rot) (1930 - 1998)
G
(293)
+0
Sawka, Jan (1946 - 2012)
G
(3)
+0
Schendel, Mira (1919 - 1988)
G
(36)
+0
Soto, Jesús Raphaël (1923 - 2005)
G
(218)
+0
Starowieyski, Franciszek (1930 - 2009)
G
(7)
+0
Stażewski, Henryk (1894 - 1988)
G
(78)
+0
Stilinović, Mladen (1947 - 2016)
G
(43)
+0
Trbuljak, Goran (*1948)
G
(22)
+0
Trtílek, Jan (*1938)
G
(1)
+0
Tót, Endre (*1937)
G
(32)
+0
Vaca, Karel (1919 - 1989)
G
(1)
+0
Vaništa, Josip (1924 - 2018)
G
(9)
+0
Vasarely, Victor [Győző Vásárhelyi] (1908 - 1997)
G
(339)
+0
Vigo, Edgardo Antonio (1928 - 1997)
G
(4)
+0
Walsh, Raoul (1887 - 1980)
G
(1)
+0
Wittmann, Robert (*1945)
G
(1)
+0
Ziegler, Zdenĕk (*1932)
G
(1)
+0
Zilio, Carlos (*1944)
G
(3)
+0
Zurita, Raúl (*1950)
G
(1)
+0
Švecová, Sonia (*1946)
G
(1)
+0
Comer, Stuart (*1968) (curator)
(5)
+0
Marcoci, Roxana (curator)
(10)
+0
Rattemeyer, Christian (curator)
(5)
+0