Non-Profit

| Ausstellungshallen auf dem Interimtheaterplatz

Konrad-Adenauer-Straße 3
D - 70173 Stuttgart - Germany Google Map
T.:
Web: Email:
https://www.artist-info.com/nonprofit/Interims-Theater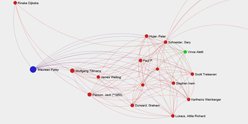 Interested in discovering more of this venue's networks?
3 easy steps: Register, buy a package for a visualization, select the exhibition place.
See examples how visualization looks like for an artist, a curator, or an exhibition place: Gallery, museum, non-profit place, or collector.

Exhibition History

SUMMARY

based on artist-info records. More details and Visualizing Art Networks on demand.
Venue types:

Gallery

/

Museum

/

Non-Profit

/

Collector

Exhibitions in artist-info
5 ( S 0/ G 5)

Shown Artists

- Top 5 of 251
(no. of shows) - all shows - Top 100

Artists in exhibitions
251
Curators in exhibitions
6
Linked to other venues through shown artists

1060: 415 / 336 / 295 / 14
artist-info records
May 1929 - Jul 1929

Curators -

Top 5 of 6 (no. of shows )
El [Lazar Markovich] Lissitzky (1)
László Móhóly-Nagy (1)
Hans Richter (1)
Franz Roh (1)
Jan Tschichold (1)


Linked through shown artists -

Top 5 of 1060 venues
Offers/Requests

Exhibition Announcement

Portfolio

S / G Solo/Group Exhibitions



(..) Exhibitions + Favorites

Beaumont, Harry (1888 - 1966)
G
Jun 1929 - Jun 1929
(1)
+0
Beyfuss, Edgar (*1893)
G
(4)
+0
Blum, Robert (1807 - 1848)
G
(1)
+0
Chaplin, Charles [Charlie] (1889 - 1977)
G
(10)
+0
Clair, René (1898 - 1981)
G
(7)
+0
Dekeukeleire, Charles (1905 - 1971)
G
(4)
+0
Deslaw, Eugène (1890 - 1966)
G
(3)
+0
Dovzhenko, Alexander Petrovich (1894 - 1956)
G
(3)
+0
Dreyer, Carl Theodor (1889 - 1968)
G
(5)
+0
Dulac, Germaine (1882 - 1942)
G
(9)
+0
Dupont, Ewald André (1891 - 1956)
G
(4)
+0
Eggeling, Helmuth Viking (1880 - 1925)
G
(35)
+0
Eisenstein, Sergej Michailowitsch (1898 - 1948)
G
(16)
+0
Ivens, Joris (1898 - 1989)
G
(4)
+0
Lacombe, Maurice Georges (1902 - 1990)
G
(3)
+0
Man Ray, [Emmanuel Rudinski] (1890 - 1976)
G
(495)
+0
Mol, Jan Cornelis (1891 - 1954)
G
(4)
+0
Pudovkin, Vsevolod Illarionovich (1893 - 1953)
G
(7)
+0
Reiniger, Lotte (1899 - 1981)
G
(6)
+0
Richter, Hans (1882 - 1971)
G
(15)
+0
Ruttmann, Walter (1887 - 1941)
G
(19)
+0
Schub, Esther [Esfir Šub] (1894 - 1959)
G
(6)
+0
Seeber, Guido (1879 - 1940)
G
(4)
+0
Strasser, Alexamder (1898 - 1974)
G
(5)
+0
Urson, Frank (1887 - 1928)
G
(4)
+0
Vertov [Werthoff], Dziga [Denis Arkadjewitsch Kaufman] (1896 - 1954)
G
(22)
+0
Wiene, Robert (1873 - 1938)
G
(5)
+0
Richter, Hans (1888 - 1976) (curator)
(1)
+0
Abbott, Bérénice (1898 - 1991)
G
May 1929 - Jul 1929
(118)
+0
Albiker, Karl (1878 - 1961)
G
(62)
+0
Allégret, Marc (1900 - 1973)
G
(3)
+0
Atelier C. H. Nolte,
G
(3)
+0
Atget, Jean Eugène Auguste (1857 - 1927)
G
(109)
+0
Baumeister, Willi (1889 - 1955)
G
(325)
+0
Baur, Clara (1872 - 1964)
G
(3)
+0
Baur, Otto (1875 - 1944)
G
(3)
+0
Bayer, Herbert (1900 - 1985)
G
(138)
+0
Bayer-Hecht, Irene (1898 - 1991)
G
(4)
+0
Beaton, Sir Cecil (1904 - 1980)
G
(36)
+0
Beaumont, Etienne de (1883 - 1956)
G
(2)
+0
Berssenbrugge, Henri (1873 - 1959)
G
(9)
+0
Beyfuss, Edgar (*1893)
G
(4)
+0
Bieber, Emil (1878 - 1962)
G
(5)
+0
Biermann, Aenne Sternefeld (1898 - 1933)
G
(40)
+0
Bildungsverband der Deutschen Buchdrucker,
G
(1)
+0
Blum, Albrecht Viktor (1888 - 1959)
G
(3)
+0
Brandt, Marianne (1893 - 1983)
G
(31)
+0
Bruckmann, Peter (1865 - 1937)
G
(3)
+0
Bruehl, Anton (1900 - 1982)
G
(22)
+0
Bruguière, Francis Joseph (1879 - 1945)
G
(40)
+0
Brunel, Adrian (1892 - 1958)
G
(3)
+0
Burchartz, Max (1887 - 1961)
G
(58)
+0
Burger-Kehl & Co.,
G
(1)
+0
Canis, Johannes (1895 - 1977)
G
(6)
+0
Cavalcanti, Alberto de Almeida (1897 - 1982)
G
(4)
+0
Chaplin, Charles [Charlie] (1889 - 1977)
G
(10)
+0
Clair, René (1898 - 1981)
G
(7)
+0
Collein, Edmund (1906 - 1992)
G
(8)
+0
Comeriner, Erich (1907 - 1978)
G
(21)
+0
Cristeller, Walter (1893 - 1960)
G
(4)
+0
Cunningham, Imogen (1883 - 1976)
G
(63)
+0
Cyliax, Walter (1899 - 1945)
G
(7)
+0
Dekeukeleire, Charles (1905 - 1971)
G
(4)
+0
Deslaw, Eugène (1890 - 1966)
G
(3)
+0
Dovzhenko, Alexander Petrovich (1894 - 1956)
G
(3)
+0
Dreyer, Carl Theodor (1889 - 1968)
G
(5)
+0
Duchamp, Marcel (1887 - 1968)
G
(415)
+0
Dulac, Germaine (1882 - 1942)
G
(9)
+0
Duoskop-Gesellschaft,
G
(1)
+0
Dupont, Ewald André (1891 - 1956)
G
(4)
+0
Dörner, Erhard (1888 - 1930)
G
(6)
+0
Ebneth, Lajos d' (1902 - 1982)
G
(11)
+0
Eggeling, Helmuth Viking (1880 - 1925)
G
(35)
+0
Eisenschink, Otto (1893 - 1944)
G
(4)
+0
Enderlin, Max (*1909)
G
(4)
+0
Erfurth, Hugo (1874 - 1948)
G
(45)
+0
Errell, Richard [Richard Levy] (1899 - 1992)
G
(8)
+0
Feininger, Andreas (1906 - 1999)
G
(58)
+0
Feininger, Theodor Lux (1910 - 2011)
G
(44)
+0
Feist, Werner David (1909 - 1998)
G
(17)
+0
Fiedler, Franz (1885 - 1956)
G
(14)
+0
Finsler, Hans (1891 - 1972)
G
(43)
+0
Flachslander, F. A.
G
(8)
+0
Folkwangschulen Essen,
G
(1)
+0
Fuchs, Bohuslav (1895 - 1972)
G
(8)
+0
Funkat, Walter (1906 - 2006)
G
(11)
+0
Fuß, Albert (1889 - 1969)
G
(6)
+0
Gerson-Collein, Lotte (1905 - 1995)
G
(6)
+0
Gide, André (1869 - 1951)
G
(2)
+0
Giedion, Siegfried (1888 - 1968)
G
(7)
+0
Graeff, Werner (1901 - 1978)
G
(26)
+0
Gramm, Josef (*1878)
G
(6)
+0
Grosz, George [Georg Ehrenfried] (1893 - 1959)
G
(369)
+0
Gubler, Friedrich Traugott (1900 - 1965)
G
(3)
+0
Gutschow, Arvid (1900 - 1984)
G
(9)
+0
Hausenblas, Josef (1907 - 1942)
G
(4)
+0
Heartfield, John [Helmut Herzfeld] (1891 - 1968)
G
(75)
+0
Heinze, Fritz [Walther Friedrich] (1904 - 1958)
G
(4)
+0
Henri, Florence (1893 - 1982)
G
(78)
+0
Herre, Richard (1885 - 1959)
G
(4)
+0
Hildebrandt, Hans (1878 - 1957)
G
(4)
+0
Hirschel-Prötsch, Günther (1902 - 1938)
G
(7)
+0
Hoinkis, Ewald (1897 - 1960)
G
(17)
+0
Hoyningen-Huené, George (1900 - 1968)
G
(19)
+0
Hubacher, Carl (*1897)
G
(5)
+0
Hubacher, Grete (*1896)
G
(5)
+0
Höch, Hannah (1889 - 1979)
G
(142)
+0
Ivens, Joris (1898 - 1989)
G
(4)
+0
Jackson, Werner [Werner Isaacson] (1904 - 1984)
G
(5)
+0
Jonas, Genja (1895 - 1938)
G
(4)
+0
Jungmittag, Willi (1908 - 1944)
G
(4)
+0
Kamman, Jan [Johan Willem Hendrik] (1898 - 1983)
G
(5)
+0
Kertész, André (1894 - 1985)
G
(145)
+0
Kiljan, Gerrit (1891 - 1968)
G
(4)
+0
Kozintsev, Grigori Mikhailovich (1905 - 1973)
G
(4)
+0
Kramer, Rudolf (1900 - 1949)
G
(11)
+0
Kretschmer, Anneliese (1903 - 1987)
G
(13)
+0
Krull, Germaine (1897 - 1985)
G
(49)
+0
Kuhr, Fritz (1899 - 1975)
G
(16)
+0
Kunstgewerbeschule Halle a.d. Saale,
G
(1)
+0
Käch, Walter (1901 - 1970)
G
(5)
+0
Lacombe, Maurice Georges (1902 - 1990)
G
(3)
+0
Lamprecht, Gerhard (1897 - 1974)
G
(3)
+0
Landau, Ergy [Erzsi Landau] (1896 - 1967)
G
(10)
+0
Leistikow, Hans (1892 - 1962)
G
(14)
+0
Leistikow-Hebebrand, Grete (1893 - 1989)
G
(6)
+0
Leon, Albert (*1891)
G
(10)
+0
Lerski, Helmar [Israel Schmuklerski] (1871 - 1956)
G
(31)
+0
Lex-Nerlinger, Alice (1893 - 1975)
G
(27)
+0
Loew, Heinz (1903 - 1981)
G
(12)
+0
Lossen, Otto [Dr. Lossen & Co.] (1875 - 1938)
G
(6)
+0
Lotar, Éli [Eliazar Lotar Teodorescu] (1905 - 1969)
G
(31)
+0
Léger, Fernand (1881 - 1955)
G
(483)
+2
Man Ray, [Emmanuel Rudinski] (1890 - 1976)
G
(495)
+0
Markalous, Evžen (1906 - 1971)
G
(5)
+0
Meisterschule für Deutsche Buchdrucker,
G
(1)
+0
Mesens, E.L.T. [Edouard Léon Théodore] (1903 - 1971)
G
(48)
+0
Mol, Jan Cornelis (1891 - 1954)
G
(4)
+0
Mosbacher, Änne (1888 - 1954)
G
(14)
+0
Mulder, Denis
G
(3)
+0
Móhóly, Lucia (1894 - 1989)
G
(54)
+0
Móhóly-Nagy, László (1895 - 1946)
G
(408)
+0
Nerlinger [R. Nilgreen], Oskar (1893 - 1969)
G
(56)
+0
Niessen, Andreas
G
(2)
+0
Ohler, Arthur (1883 - 1974)
G
(5)
+0
Outerbridge, Paul Everard (1896 - 1958)
G
(35)
+0
Pabst, Georg Wilhelm (1885 - 1967)
G
(5)
+0
Pankok, Bernhard (1872 - 1943)
G
(32)
+0
Peterhans, Walter A. (1897 - 1960)
G
(36)
+0
Petschow, Robert (1888 - 1945)
G
(15)
+0
Rasch, Heinz & Bodo (*1902) (*1903)
G
(3)
+0
Reiniger, Lotte (1899 - 1981)
G
(6)
+0
Renger-Patzsch, Albert (1897 - 1966)
G
(118)
+0
Renoir, Jean (1894 - 1979)
G
(7)
+0
Richter, Hans (1888 - 1976)
G
(98)
+0
Riebicke, Gerhard [Riebicke Presse-Photo] (1878 - 1957)
G
(12)
+0
Riethof, Willy (*1905)
G
(5)
+0
Rohde, Werner (1906 - 1990)
G
(19)
+0
Rossmann, Zdeněk (1905 - 1984)
G
(6)
+0
Rubinstein, Naftali Avnon (1910 - 1977)
G
(6)
+0
Ruttmann, Walter (1887 - 1941)
G
(19)
+0
Rémusat & Vox, [Claude Rémusat 1896-1982 & Maximilien Vox 1894-1974] (1896 - 1982)
G
(4)
+0
Schedele, Georg (1897 - 1957)
G
(5)
+0
Scheper, Hinnerk (1897 - 1957)
G
(12)
+0
Schieron, Richard (*1905)
G
(4)
+0
Schnieders, Theodor
G
(3)
+0
Schrenck-Notzing, Albert von (1862 - 1929)
G
(4)
+0
Schuitema, Paul (1897 - 1973)
G
(14)
+0
Schweizerische Luftverkehrs AG,
G
(1)
+0
Schwitters, Kurt (1887 - 1948)
G
(365)
+0
Seeber, Guido (1879 - 1940)
G
(4)
+0
Seeger, Mia (*1903)
G
(3)
+0
Sheeler, Charles Rettew (1883 - 1965)
G
(188)
+0
Simon, Gerty
G
(10)
+0
Steichen, Edward (1879 - 1973)
G
(126)
+0
Steiner, Ralph (1899 - 1986)
G
(33)
+0
Stenger, Erich (1878 - 1957)
G
(5)
+0
Stone, Cami [Camille] (1898 - 1975)
G
(10)
+0
Stone, Sasha [Aleksander Serge Steinsapir] (1895 - 1940)
G
(29)
+0
Strasser, Alexamder (1898 - 1974)
G
(5)
+0
Sturlevant, Roger (*1903)
G
(3)
+0
Tabard, Maurice (1897 - 1984)
G
(36)
+0
Teige, Karel (1900 - 1951)
G
(40)
+0
Trauberg, Leonid (1902 - 1990)
G
(2)
+0
Tschichold, Jan (1902 - 1974)
G
(16)
+0
Umbo, [Otto Umbehr] (1902 - 1980)
G
(58)
+0
Unger, Paul (*1866)
G
(7)
+0
Union Deutsche Verlagsgesellschaft,
G
(1)
+0
Urson, Frank (1887 - 1928)
G
(4)
+0
Vogue Verlag,
G
(1)
+0
Vordemberge-Gildewart, Friedrich (1899 - 1962)
G
(123)
+0
Vox, Maximilien (1894 - 1974)
G
(1)
+0
Walther, Hedda (1894 - 1979)
G
(13)
+0
Weston, Brett (1911 - 1993)
G
(45)
+0
Weston, Edward (1886 - 1958)
G
(136)
+0
Wiene, Robert (1873 - 1938)
G
(5)
+0
Willott, Charlotte [Willot Bildniskunst] (1887 - 1978)
G
(2)
+0
Wolff, Paul (1887 - 1951)
G
(22)
+0
Württembergische Staatliche Kunstgewerbeschule,
G
(1)
+0
Yva, [Else Ernestine Neuländer-Simon] (1900 - 1942)
G
(21)
+0
Zielke, Willy Otto (1902 - 1989)
G
(17)
+0
Zuber, René (1902 - 1979)
G
(14)
+0
Zwart, Piet (1885 - 1977)
G
(21)
+0
Stotz, Gustaf (curator)
(1)
+0
Agfa, I.G. Farbenwerke
G
May 1929 - Jul 1929
(2)
+0
Atlantic Photo Co.,
G
(1)
+0
Ballé, Oskar [Rapid Foto Ballé]
G
(2)
+0
Bayerische Film GmbH,
G
(1)
+0
Blossfeldt, Karl (1865 - 1932)
G
(70)
+0
Bruguière, Francis Joseph (1879 - 1945)
G
(40)
+0
Comeriner, Erich (1907 - 1978)
G
(21)
+0
Derussa, [Deutsch-Russische Film Allianz AG]
G
(1)
+0
Foto-Cristeller,
G
(1)
+0
Hansa Luftbild GmbH,
G
(1)
+0
Jackson, Werner [Werner Isaacson] (1904 - 1984)
G
(5)
+0
Kaiser Wilhelm Institut zur Förderung der Wissenschaften,
G
(1)
+0
Landau, Ergy [Erzsi Landau] (1896 - 1967)
G
(10)
+0
Letteverein, [Fotochemische Abteilung]
G
(2)
+0
Lossen, Otto [Dr. Lossen & Co.] (1875 - 1938)
G
(6)
+0
Luftschiffbau Zeppelin GmbH,
G
(1)
+0
Marlies-Foto,
G
(1)
+0
Móhóly, Lucia (1894 - 1989)
G
(54)
+0
Móhóly-Nagy, László (1895 - 1946)
G
(408)
+0
New York Times, Image Services
G
(2)
+0
Press-Cliché Moskau,
G
(1)
+0
Presse-Photo GmbH,
G
(3)
+0
Prometheus-Film Verleih- und Vertriebs GmbH,
G
(1)
+0
Reichsarchiv,
G
(2)
+0
Riebicke, Gerhard [Riebicke Presse-Photo] (1878 - 1957)
G
(12)
+0
Rohrbach, Adolf [Rohrbach Metall-Flugzeugbau]
G
(2)
+0
Scherl Bilddienst, [August Scherl 1849-1921]
G
(1)
+0
Staatliche Bildstelle,
G
(1)
+0
Stenger, Erich (1878 - 1957)
G
(5)
+0
Techno-Photographisches Archiv,
G
(2)
+0
Treptower Sternwarte,
G
(1)
+0
UFA-Foto,
G
(2)
+0
Ullstein Bilddienst,
G
(1)
+0
Unger, Paul (*1866)
G
(7)
+0
Walther, Hedda (1894 - 1979)
G
(13)
+0
Württembergisches Polizeipräsidium,
G
(2)
+0
Zoologischer Garten,
G
(1)
+0
Zuber, René (1902 - 1979)
G
(14)
+0
Móhóly-Nagy, László (1895 - 1946) (curator)
(3)
+0
Al'pert, Maks Vladimirovič (1899 - 1980)
G
May 1929 - Jul 1929
(16)
+0
Debabov, Dmitry Georgiyevich (1901 - 1949)
G
(9)
+0
Eisenstein, Sergej Michailowitsch (1898 - 1948)
G
(16)
+0
Fridlyand, Semyon Osipovic (1905 - 1964)
G
(12)
+1
Ignatovich, Boris Wsjewolodowitsch (1899 - 1976)
G
(22)
+0
Jelkin,
G
(2)
+0
Karmen, Roman Lasarewitsch (1906 - 1978)
G
(4)
+0
Kaufman, Michail Abramowitč (1897 - 1980)
G
(4)
+0
Klutsis, Gustav Gustavowitsch (1895 - 1938)
G
(89)
+0
Koslinskij, Wladimir Iwanowitsch (1891 - 1967)
G
(9)
+0
Krasinski, S. A.
G
(3)
+0
Kuleshov, Lew Vladimirovich (1899 - 1970)
G
(5)
+0
Lissitzky, El [Lazar Markovich] (1890 - 1941)
G
(267)
+0
Lissitzky-Küppers, Sophie (1891 - 1979)
G
(3)
+0
Mikulin, Viktor Petrowitsch (*1897)
G
(4)
+0
Nowitzki, Pjotr Karlowitsch
G
(4)
+0
Petrow, J.
G
(2)
+0
Pudovkin, Vsevolod Illarionovich (1893 - 1953)
G
(7)
+0
Rodchenko, Aleksander Mikhailovich (1891 - 1956)
G
(218)
+0
Room, Abram (1894 - 1976)
G
(3)
+0
Saitzew,
G
(2)
+0
Samsonow, A.
G
(4)
+0
Sawjeliew, W.
G
(4)
+0
Schub, Esther [Esfir Šub] (1894 - 1959)
G
(6)
+0
Shaikhet [Chaïkhet], Arkady Samoylovich (1898 - 1959)
G
(32)
+0
Sjenkin, Sergej (1894 - 1963)
G
(2)
+0
Smirnow-Chold, [Leonid Orestowitsch Smirnow]
G
(2)
+0
Stepanova, Varvara Fjodorowna (1894 - 1958)
G
(65)
+0
Telingater, Solomon Benediktowitsch (1903 - 1969)
G
(21)
+0
Tschenko, W.
G
(2)
+0
Vertov [Werthoff], Dziga [Denis Arkadjewitsch Kaufman] (1896 - 1954)
G
(22)
+0
Lissitzky, El [Lazar Markovich] (1890 - 1941) (curator)
(1)
+0
Aero-Kartographisches Institut Breslau,
G
May 1929 - Jul 1929
(1)
+0
Agfa, I.G. Farbenwerke
G
(2)
+0
Atget, Jean Eugène Auguste (1857 - 1927)
G
(109)
+0
Baumeister, Willi (1889 - 1955)
G
(325)
+0
Bayer, Herbert (1900 - 1985)
G
(138)
+0
Benesch-Müller,
G
(1)
+0
Burchartz, Max (1915 - 1941)
G
(7)
+0
Ernst, Max (1891 - 1976)
G
(588)
+0
Feininger, Andreas (1906 - 1999)
G
(58)
+0
Feuerstein & Krejcar & Sima & Teige, [Jaromir Krejcar & Bedrich Feuerstein & Josef Sima & Karel Teige]
G
(1)
+0
Finsler, Hans (1891 - 1972)
G
(43)
+0
Frank, S.
G
(1)
+0
Fridlyand, Semyon Osipovic (1905 - 1964)
G
(12)
+1
Funkat, Walter (1906 - 2006)
G
(11)
+0
Grosz, George [Georg Ehrenfried] (1893 - 1959)
G
(369)
+0
Grosz & Heartfield, [George Grosz & John Heartfiled]
G
(3)
+0
Gutschow, Arvid (1900 - 1984)
G
(9)
+0
Hahn, Paul Edmund (1897 - 1960)
G
(2)
+0
Heartfield, John [Helmut Herzfeld] (1891 - 1968)
G
(75)
+0
Henri, Florence (1893 - 1982)
G
(78)
+0
Höch, Hannah (1889 - 1979)
G
(142)
+0
Junkers Luftbild,
G
(1)
+0
Kamman, Jan [Johan Willem Hendrik] (1898 - 1983)
G
(5)
+0
Leistikow, Hans (1892 - 1962)
G
(14)
+0
Letteverein, [Fotochemische Abteilung]
G
(2)
+0
Lissitzky, El [Lazar Markovich] (1890 - 1941)
G
(267)
+0
Luftbild Hauptbahnhof Leipzig,
G
(1)
+0
Man Ray, [Emmanuel Rudinski] (1890 - 1976)
G
(495)
+0
Medizinisches Foto,
G
(1)
+0
Mesens, E.L.T. [Edouard Léon Théodore] (1903 - 1971)
G
(48)
+0
Mettler, Th. H.
G
(1)
+0
Mount Wilson Observatorium,
G
(2)
+0
Móhóly-Nagy, László (1895 - 1946)
G
(408)
+0
New York Times, Image Services
G
(2)
+0
Peterhans, Walter A. (1897 - 1960)
G
(36)
+0
Petschow, Robert (1888 - 1945)
G
(15)
+0
Presse-Photo GmbH,
G
(3)
+0
Reichsarchiv,
G
(2)
+0
Renger-Patzsch, Albert (1897 - 1966)
G
(118)
+0
Reporterfoto,
G
(1)
+0
Riebicke, Gerhard [Riebicke Presse-Photo] (1878 - 1957)
G
(12)
+0
Roh, Franz (1890 - 1965)
G
(40)
+0
Rohrbach, Adolf [Rohrbach Metall-Flugzeugbau]
G
(2)
+0
Schuitema, Paul (1897 - 1973)
G
(14)
+0
Stone, Sasha [Aleksander Serge Steinsapir] (1895 - 1940)
G
(29)
+0
Tabard, Maurice (1897 - 1984)
G
(36)
+0
Techno-Photographisches Archiv,
G
(2)
+0
Tschichold, Jan (1902 - 1974)
G
(16)
+0
Umbo, [Otto Umbehr] (1902 - 1980)
G
(58)
+0
Vertov [Werthoff], Dziga [Denis Arkadjewitsch Kaufman] (1896 - 1954)
G
(22)
+0
Vester, Grete
G
(1)
+0
Vordemberge-Gildewart, Friedrich (1899 - 1962)
G
(123)
+0
Weston, Brett (1911 - 1993)
G
(45)
+0
Weston, Edward (1886 - 1958)
G
(136)
+0
Württembergisches Polizeipräsidium,
G
(2)
+0
Zwart, Piet (1885 - 1977)
G
(21)
+0
Roh, Franz (1890 - 1965) (curator)
(1)
+0
Tschichold, Jan (1902 - 1974) (curator)
(1)
+0