Museum

| Whitney Biennial 1936 - Whitney Museum of American Art

99 Gansevoort Street
USA - New York NY 10014 - United States Google Map
T.: +1 - 212 - 570 3600
Web: https://www.whitney.org/ Email:
https://www.artist-info.com/museum/Whitney-Biennial-1936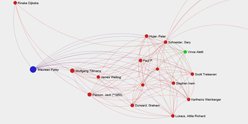 Interested in discovering more of this venue's networks?
3 easy steps: Register, buy a package for a visualization, select the exhibition place.
See examples how visualization looks like for an artist, a curator, or an exhibition place: Gallery, museum, non-profit place, or collector.

Exhibition History

SUMMARY

based on artist-info records. More details and Visualizing Art Networks on demand.
Venue types:

Gallery

/

Museum

/

Non-Profit

/

Collector

Exhibitions in artist-info
5 ( S 5/ G 0)

Shown Artists

- Top 5 of 324
(no. of shows) - all shows - Top 100

Artists in exhibitions
324
Curators in exhibitions
0
Linked to other venues through shown artists

561: 234 / 198 / 127 / 2
artist-info records
Jan 1936 - Dec 1936

Curators -

Top 0 of 0 (no. of shows )

Linked through shown artists -

Top 5 of 561 venues
Offers/Requests

Exhibition Announcement

Portfolio

S / G Solo/Group Exhibitions

(..) Exhibitions + Favorites

Aiken, Mary Hoover (1905 - 1992)
S
Nov 1936 - Dec 1936
(3)
+0
Albright, Malvin Marr [Zsissly] (1897 - 1983)
S
(7)
+0
Beal, Gifford (1879 - 1956)
S
(44)
+0
Becker, Maurice (1889 - 1975)
S
(7)
+0
Berman, Saul (1899 - 1975)
S
(5)
+0
Berresford, Virginia (1902 - 1995)
S
(8)
+0
Biberman, Edward (1904 - 1987)
S
(10)
+0
Billings, Henry (1901 - 1985)
S
(14)
+0
Bishop, Isabel (1902 - 1988)
S
(63)
+0
Blanch, Arnold (1896 - 1968)
S
(27)
+0
Blanch, Lucile (1895 - 1981)
S
(21)
+0
Bloch, Julius Thiengen (1888 - 1966)
S
(20)
+0
Bohrod, Aaron (1907 - 1992)
S
(37)
+0
Bouché, Louis (1896 - 1969)
S
(25)
+0
Boyd, Fiske (1895 - 1975)
S
(12)
+0
Brook, Alexander (1898 - 1980)
S
(50)
+0
Bruce, Edward (1879 - 1943)
S
(13)
+0
Buller, Audrey (1902 - 1984)
S
(8)
+0
Burlin, Paul (1886 - 1969)
S
(37)
+0
Cadmus, Paul (1904 - 1999)
S
(72)
+0
Carroll, John Wesley (1892 - 1959)
S
(23)
+0
Cikovsky, Nicolay Stepanovich (1894 - 1984)
S
(22)
+0
Corbin, Nathan
S
(2)
+0
Criss, Francis (1901 - 1973)
S
(18)
+0
Curry, John Steuart (1897 - 1946)
S
(47)
+0
Davis, Stuart (1892 - 1964)
S
(197)
+0
Dirk, Nathaniel (1895 - 1961)
S
(12)
+0
Donnelly, Thomas H. (1893 - 1971)
S
(12)
+0
Dove, Arthur Garfield (1880 - 1946)
S
(144)
+0
Etnier, Stephen Morgan (1903 - 1984)
S
(7)
+0
Etting, Emlen (1905 - 1993)
S
(10)
+0
Evergood, Philip [Howard Blashki] (1901 - 1973)
S
(65)
+0
Fiene, Ernest (1894 - 1965)
S
(51)
+0
Fife, Mary (1904 - 1990)
S
(4)
+0
Freeman, Don (1908 - 1978)
S
(20)
+0
French, Jared (1905 - 1988)
S
(34)
+0
Friedman, Arnold Aaron (1874 - 1946)
S
(15)
+0
Ganso, Emil (1895 - 1941)
S
(37)
+0
Gardner, Walter Henry (*1902)
S
(3)
+0
Glackens, William James (1870 - 1938)
S
(74)
+0
Gorky, Arshile [Vosdanig Manoog] (1904 - 1948)
S
(205)
+0
Gottlieb, Harry (1895 - 1992)
S
(21)
+0
Graham, John D. [Ivan Gratianovitch Dombrowsky] (1886 - 1961)
S
(55)
+0
Gropper, William (1897 - 1977)
S
(57)
+0
Guglielmi, O. Louis (1906 - 1956)
S
(48)
+0
Hartman, C. Bertram (1882 - 1960)
S
(21)
+0
Hecht, Zoltan (1890 - 1968)
S
(2)
+0
Higgins, Eugene (1874 - 1958)
S
(24)
+0
Hirsch, Stefan A. (1899 - 1964)
S
(31)
+0
Hogue, Alexandre (1898 - 1994)
S
(16)
+0
Hopper, Edward (1882 - 1967)
S
(177)
+0
Jones, Joe [Joseph John] (1909 - 1963)
S
(28)
+0
Kantor, Morris (1896 - 1974)
S
(54)
+0
Karfiol, Bernard (1886 - 1952)
S
(64)
+0
Kleinert, Hermine E. (1880 - 1943)
S
(2)
+0
Klitgaard, Georgina (1893 - 1976)
S
(16)
+0
Kopman, Benjamin D. (1887 - 1965)
S
(20)
+0
Kostellow, Alexander J. (1897 - 1954)
S
(3)
+0
Kroll, Leon (1884 - 1974)
S
(43)
+0
Kuehne, Max (1880 - 1968)
S
(22)
+0
Kuhn, Walt (1880 - 1949)
S
(73)
+0
Kuniyoshi, Yasuo (1889 - 1953)
S
(121)
+0
Lahey, Richard Francis (1893 - 1978)
S
(12)
+0
Laning, Edward (1906 - 1981)
S
(31)
+0
Lawson, Ernest (1873 - 1939)
S
(57)
+0
Lee, Doris Emrick (1905 - 1983)
S
(22)
+0
Lockwood, Ward (1894 - 1963)
S
(17)
+0
London, Frank Marsden (1876 - 1945)
S
(4)
+0
Luce, Molly (1896 - 1986)
S
(16)
+0
Lucioni, Luigi (1900 - 1988)
S
(24)
+0
Ludins, Eugene David (1904 - 1996)
S
(12)
+0
Mangravite, Peppino (1896 - 1978)
S
(19)
+0
Marin, John (1870 - 1953)
S
(201)
+0
Marsh, Reginald (1898 - 1954)
S
(101)
+0
Mattson, Henry Elis (1887 - 1971)
S
(27)
+0
Matulka, Jan (1890 - 1972)
S
(32)
+0
McFee, Henry Lee (1886 - 1953)
S
(33)
+0
Mechau, Frank Albert (1904 - 1946)
S
(8)
+0
Mecklem, Austin Merrill (1894 - 1951)
S
(15)
+0
Meyer, Herbert William (1882 - 1960)
S
(4)
+0
Miller, Kenneth Hayes (1876 - 1952)
S
(41)
+0
Mommer, Peter Paul (1899 - 1963)
S
(8)
+0
Myers, Jerome (1867 - 1940)
S
(35)
+0
Nelson, Carl Gustaf (1898 - 1988)
S
(7)
+0
Palmer, William C. (1906 - 1987)
S
(26)
+0
Peirce, Waldo (1884 - 1970)
S
(14)
+0
Perkins, Harley (1883 - 1964)
S
(3)
+0
Picken, George Alexander (1898 - 1971)
S
(26)
+0
Pollet, Joseph C. (1897 - 1979)
S
(26)
+0
Poor, Henry Varnum (1888 - 1970)
S
(39)
+0
Pougialis, Constantine (1894 - 1985)
S
(5)
+0
Prendergast, Charles E. (1863 - 1948)
S
(14)
+0
Quirt, Walter W. (1902 - 1968)
S
(21)
+0
Reindel, Edna M. (1900 - 1990)
S
(4)
+0
Ribak, Louis Leon (1902 - 1979)
S
(17)
+0
Rohland, Paul (1884 - 1953)
S
(15)
+0
Rosen, Charles (1878 - 1950)
S
(18)
+0
Rosenberg, Samuel (1896 - 1972)
S
(8)
+0
Roszak, Theodore J. (1907 - 1981)
S
(99)
+0
Rothschild, H.D.
S
(3)
+0
Schanker, Louis (1903 - 1981)
S
(44)
+0
Schary, Saul (1904 - 1978)
S
(14)
+0
Schnakenberg, Henry Ernest (1892 - 1970)
S
(35)
+0
Sheeler, Charles Rettew (1883 - 1965)
S
(183)
+0
Singer, Clyde J. (1908 - 1999)
S
(3)
+0
Sloan, John French (1871 - 1951)
S
(115)
+0
Smith, Judson De Jonge (1880 - 1962)
S
(11)
+0
Soyer, Moses (1899 - 1974)
S
(15)
+0
Soyer, Raphaël (1899 - 1987)
S
(72)
+0
Speicher, Eugene Edward (1883 - 1962)
S
(47)
+0
Spencer, Niles (1893 - 1952)
S
(58)
+0
Spruce, Everett Franklin (1908 - 2002)
S
(20)
+0
Stella, Joseph (1877 - 1946)
S
(113)
+0
Thomas, Byron (1902 - 1978)
S
(7)
+0
Tschacbasov, Nahum (1899 - 1984)
S
(11)
+0
Tucker, Allen (1866 - 1939)
S
(26)
+0
Varian, Dorothy (1895 - 1985)
S
(16)
+0
Watkins, Franklin Chenault (1894 - 1972)
S
(30)
+0
Watson, Nan Forbes (1876 - 1966)
S
(12)
+0
Weber, Max (1881 - 1961)
S
(145)
+0
Williams, Esther (1907 - 1969)
S
(9)
+0
Wiltz, Arnold (1889 - 1937)
S
(8)
+0
Yaghjian, Edmund K. (1903 - 1997)
S
(2)
+0
Aronson, Boris (1898 - 1980)
S
Feb 1936 - Mar 1936
(8)
+0
Avery, Milton (1885 - 1965)
S
(124)
+0
Bakos, Jozef G. (1891 - 1977)
S
(5)
+0
Baskerville, Charles (1896 - 1994)
S
(2)
+0
Beal, Reynolds (1867 - 1951)
S
(14)
+0
Bell, Cecil Crosley (1906 - 1970)
S
(13)
+0
Biddle, George (1885 - 1973)
S
(29)
+0
Blanch, Lucile (1895 - 1981)
S
(21)
+0
Bloch, Julius Thiengen (1888 - 1966)
S
(20)
+0
Bohlman, Edgar Lemoine (*1902)
S
(1)
+0
Bohrod, Aaron (1907 - 1992)
S
(37)
+0
Bowes, Arthur Wentworth (*1890)
S
(1)
+0
Boyd, Fiske (1895 - 1975)
S
(12)
+0
Britton, Edgar (1901 - 1982)
S
(6)
+0
Burchfield, Charles Ephraim (1893 - 1967)
S
(99)
+0
Burkhard, Henri (1892 - 1956)
S
(6)
+0
Burwash, Nathaniel C. (1906 - 2000)
S
(6)
+0
Carter, Clarence Holbrook (1904 - 2000)
S
(32)
+0
Chapin, Francis (1899 - 1965)
S
(19)
+0
Cooley, Lydia (1906 - 1998)
S
(3)
+0
Corcos, Lucille (1908 - 1973)
S
(13)
+0
Dalstrom, Gustaf Oscar (1893 - 1971)
S
(10)
+0
Dasburg, Andrew Michael (1887 - 1979)
S
(26)
+0
Davey, Randall Vernon (1887 - 1964)
S
(22)
+0
Davis, Stuart (1892 - 1964)
S
(197)
+0
Day, Horace Talmage (1909 - 1984)
S
(10)
+0
Dehner, Walter Leonard [Walt] (1898 - 1955)
S
(4)
+0
Dirk, Nathaniel (1895 - 1961)
S
(12)
+0
Dodds, Peggy (1900 - 1987)
S
(1)
+0
Dohanos, Stevan (1907 - 1994)
S
(8)
+0
Dowden, Raymond Baxter (1905 - 1982)
S
(2)
+0
Driggs, Elsie (1898 - 1992)
S
(12)
+0
Edie, Stuart Carson (1908 - 1974)
S
(17)
+0
Eilshemius, Louis Michel (1864 - 1941)
S
(33)
+0
Ferstadt, Louis Goodman (1900 - 1954)
S
(7)
+0
Fiene, Ernest (1894 - 1965)
S
(51)
+0
Franklin, George (*1898)
S
(2)
+0
Frazier, Susan Alice (1899 - 1975)
S
(5)
+0
Free, Karl (1903 - 1947)
S
(10)
+0
Ganso, Emil (1895 - 1941)
S
(37)
+0
Gottlieb, Harry (1895 - 1992)
S
(21)
+0
Greitzer, Jack J. (1910 - 1989)
S
(4)
+0
Grosz, George [Georg Ehrenfried] (1893 - 1959)
S
(358)
+0
Harnly, Perkins (1901 - 1986)
S
(4)
+0
Harriton, Abraham (1893 - 1986)
S
(9)
+0
Hartley, Marsden (1877 - 1943)
S
(155)
+0
Hering, Harry (1887 - 1967)
S
(5)
+0
Higgins, Eugene (1874 - 1958)
S
(24)
+0
Holzhauer, Emil (1887 - 1986)
S
(6)
+0
Hopper, Edward (1882 - 1967)
S
(177)
+0
Horter, Earl (1881 - 1940)
S
(23)
+0
Howard, Loretta Hines (1904 - 1982)
S
(2)
+0
Ives, Neil McDowell (1892 - 1946)
S
(1)
+0
Kaeselau, Charles Anton (1889 - 1972)
S
(2)
+0
Keller, Henry George (1870 - 1949)
S
(15)
+0
Kelpe, Paul (1902 - 1985)
S
(11)
+0
Klitgaard, Georgina (1893 - 1976)
S
(16)
+0
Klonis, Stewart (*1921)
S
(1)
+0
Knaths, Otto Karl (1891 - 1971)
S
(57)
+0
Lever, Hayley (1876 - 1958)
S
(32)
+0
Liberté, Lewis Jean (1896 - 1965)
S
(13)
+0
Lockwood, Ward (1894 - 1963)
S
(17)
+0
Lonergan, John (1897 - 1969)
S
(5)
+0
Margolies, Samuel L. (1897 - 1974)
S
(2)
+0
Marin, John (1870 - 1953)
S
(201)
+0
Marsh, Reginald (1898 - 1954)
S
(101)
+0
Matulka, Jan (1890 - 1972)
S
(32)
+0
McAuslan, Helen
S
(3)
+0
McCosh, David J. (1903 - 1980)
S
(8)
+0
Mecklem, Austin Merrill (1894 - 1951)
S
(15)
+0
Meyerowitz, William (1887 - 1981)
S
(5)
+0
Mitchell, Bruce (1908 - 1963)
S
(15)
+0
Orr, Elliot (1904 - 1997)
S
(8)
+0
Perkins, Harley (1883 - 1964)
S
(3)
+0
Picken, George Alexander (1898 - 1971)
S
(26)
+0
Pittman, Hobson Lafayette (1900 - 1972)
S
(12)
+0
Reisman, Philip (1904 - 1992)
S
(8)
+0
Ribak, Louis Leon (1902 - 1979)
S
(17)
+0
Rohland, Caroline Speare (1885 - 1965)
S
(10)
+0
Rohland, Paul (1884 - 1953)
S
(15)
+0
Ross, Sanford (1907 - 1954)
S
(4)
+0
Sample, Paul Starrett (1896 - 1974)
S
(19)
+0
Schary, Saul (1904 - 1978)
S
(14)
+0
Schnakenberg, Henry Ernest (1892 - 1970)
S
(35)
+0
Schreiber, Georges (1904 - 1977)
S
(28)
+0
Sheets, Millard Owen (1907 - 1989)
S
(19)
+0
Simpson, Martha Hoit (1877 - 1955)
S
(1)
+0
Smith, Alice Ravenel Huber (1876 - 1958)
S
(1)
+0
Smith, Jacob Getlar (1898 - 1958)
S
(10)
+0
Sokole, Miron (1901 - 1985)
S
(6)
+0
Soyer, Moses (1899 - 1974)
S
(15)
+0
Sprinchorn, Carl (1887 - 1971)
S
(3)
+0
Steiger, Harwood (1900 - 1980)
S
(4)
+0
Stella, Joseph (1877 - 1946)
S
(113)
+0
Todd Dowden, Anne Ophelia (1907 - 2007)
S
(1)
+0
Trunk, Herman (1899 - 1963)
S
(6)
+0
Tucker, Allen (1866 - 1939)
S
(26)
+0
Veen, Stuyvesant van (1910 - 1987)
S
(5)
+0
Walkowitz, Abraham (1878 - 1965)
S
(67)
+0
Weber, Max (1881 - 1961)
S
(145)
+0
Whitney, Isabel Lydia (1878 - 1962)
S
(2)
+0
Whorf, John (1903 - 1959)
S
(15)
+0
Zorach, William (1889 - 1966)
S
(124)
+0
Albrizio, Humbert (1901 - 1970)
S
Jan 1936 - Feb 1936
(2)
+0
Barthé, Richmond (1901 - 1989)
S
(12)
+0
Ben-Shmuel, Ahron (1903 - 1984)
S
(16)
+0
Bilotti, Salvatore F. (1879 - 1953)
S
(6)
+0
Cash, Harold (1895 - 1977)
S
(6)
+0
Cavallito, Albino (1905 - 1966)
S
(8)
+0
Corbino, Jon (1905 - 1964)
S
(21)
+0
Craig, Martin (*1906)
S
(7)
+0
Davidson, Jo (1883 - 1952)
S
(20)
+0
Davis, Gladys Rockmore (1901 - 1967)
S
(7)
+0
Decker, Alice (1901 - 1979)
S
(3)
+0
Diederich, Hunt (1884 - 1953)
S
(14)
+0
Esherick, Wharton (1887 - 1970)
S
(11)
+0
Ferguson, Duncan P. (1901 - 1974)
S
(9)
+0
Fiene, Paul (1899 - 1949)
S
(13)
+0
Flannagan, John Bernard (1895 - 1942)
S
(34)
+0
Gershoy, Eugenie (1905 - 1986)
S
(13)
+0
Glinsky, Vincent (1895 - 1975)
S
(7)
+0
Goodelman, Aaron J. (1890 - 1978)
S
(11)
+0
Gregory, Waylande De Santis (1905 - 1971)
S
(8)
+0
Gross, Chaïm (1904 - 1991)
S
(48)
+0
Hancock, Walker Kirtland (1901 - 1998)
S
(2)
+0
Harkavy, Minna (Rothenberg) (1887 - 1987)
S
(23)
+0
Haseltine, Herbert Chevalier (1877 - 1962)
S
(5)
+0
Hauser, Alonzo (1909 - 1988)
S
(3)
+0
Hoffman, Malvina (1887 - 1966)
S
(15)
+0
House, James Charles (*1902)
S
(4)
+0
Huntington, Anna Hyatt (1876 - 1973)
S
(10)
+0
Judson, Sylvia Shaw (1897 - 1978)
S
(4)
+0
Kelly, J. Wallace (1894 - 1976)
S
(4)
+0
Lachaise, Gaston (1882 - 1935)
S
(83)
+0
Lassaw, Ibram (1913 - 2003)
S
(58)
+0
Laurent, Robert (1890 - 1970)
S
(35)
+0
Lee, Arthur (1881 - 1961)
S
(12)
+0
Levy, Josephine 'Jo' (1909 - 1995)
S
(1)
+0
Lux, Gwen (1908 - 1987)
S
(4)
+0
Maldarelli, Oronzio (1892 - 1963)
S
(24)
+0
Margoulies, Berta O'Hare (1907 - 1996)
S
(7)
+0
Melicov, Dina (1905 - 1967)
S
(1)
+0
Moselsio, Simon (1890 - 1964)
S
(8)
+0
Nakian, Reuben (1897 - 1986)
S
(48)
+0
Nicolosi, Joseph (1893 - 1961)
S
(1)
+0
O'Brian, William B.
S
(1)
+0
Penning, Tomas (1905 - 1982)
S
(1)
+0
Robus, Hugo (1885 - 1964)
S
(30)
+0
Rosenbauer, William Wallace (1900 - 1968)
S
(2)
+0
Rothschild, Lincoln (1902 - 1983)
S
(5)
+0
Rudy, Charles (1904 - 1986)
S
(8)
+0
Ruiz, José A.
S
(2)
+0
Sambugnac, Alexander (1888 - 1965)
S
(1)
+0
Sardeau, Hélène (1899 - 1968)
S
(9)
+0
Scaravaglione, Concetta Maria (1900 - 1975)
S
(18)
+0
Schonbauer, Henry (1895 - 1973)
S
(6)
+0
Stoller, Alexander (1902 - 1994)
S
(3)
+0
Thomas, Lenore (1909 - 1988)
S
(1)
+0
Vagis, Polygnotos (1894 - 1965)
S
(4)
+0
Walters, Carl (1883 - 1955)
S
(25)
+0
Walton, Marion Putnam (1899 - 1996)
S
(12)
+0
Warneke, Heinz (1895 - 1983)
S
(10)
+0
Wasey, Jane Mortellito (1912 - 1992)
S
(9)
+0
Werner, Nat (1907 - 1991)
S
(10)
+0
Weschler, Anita (1903 - 2000)
S
(7)
+0
Wheelock, Warren Frank (1880 - 1960)
S
(15)
+0
Whitney, Gertrude Vanderbilt (1875 - 1942)
S
(19)
+0
Zorach, William (1889 - 1966)
S
(124)
+0
Bacon, Peggy (1895 - 1987)
S
Jan 1936 - Feb 1936
(48)
+0
Benton, Thomas Hart (1889 - 1975)
S
(91)
+0
Berresford, Virginia (1902 - 1995)
S
(8)
+0
Bishop, Isabel (1902 - 1988)
S
(63)
+0
Blume, Peter (1906 - 1992)
S
(70)
+0
Cadmus, Paul (1904 - 1999)
S
(72)
+0
Cook, Howard Norton (1901 - 1980)
S
(26)
+0
Cramer, Konrad (1888 - 1963)
S
(23)
+0
Curry, John Steuart (1897 - 1946)
S
(47)
+0
Davidson, Jo (1883 - 1952)
S
(20)
+0
Dehn, Adolf Arthur (1895 - 1968)
S
(48)
+0
Esherick, Wharton (1887 - 1970)
S
(11)
+0
Foy, Hans (1894 - 1971)
S
(4)
+0
French, Jared (1905 - 1988)
S
(34)
+0
Gropper, William (1897 - 1977)
S
(57)
+0
Gross, Chaïm (1904 - 1991)
S
(48)
+0
Hartman, Rosella (1894 - 1984)
S
(16)
+0
Kantor, Morris (1896 - 1974)
S
(54)
+0
Karfiol, Bernard (1886 - 1952)
S
(64)
+0
Kelly, Leon (1901 - 1982)
S
(21)
+0
Kroll, Leon (1884 - 1974)
S
(43)
+0
Kuhn, Walt (1880 - 1949)
S
(73)
+0
Lahey, Richard Francis (1893 - 1978)
S
(12)
+0
Laning, Edward (1906 - 1981)
S
(31)
+0
Levi, Julian Edwin (1900 - 1982)
S
(37)
+0
Lintott, Edward Barnard (1875 - 1951)
S
(2)
+0
Miller, Kenneth Hayes (1876 - 1952)
S
(41)
+0
Mousseau, Roland (1899 - 1980)
S
(2)
+0
Pickhardt, Carl Emile (1908 - 2004)
S
(3)
+0
Robinson, Boardman (1876 - 1952)
S
(21)
+0
Rollo, Joseph 'Jo' (1904 - 2001)
S
(3)
+0
Ruellan, Andrée (1905 - 2006)
S
(18)
+0
Sheeler, Charles Rettew (1883 - 1965)
S
(183)
+0
Sloan, John French (1871 - 1951)
S
(115)
+0
Speicher, Eugene Edward (1883 - 1962)
S
(47)
+0
Wood, Grant (1891 - 1941)
S
(51)
+0
Wortman, Denys (1887 - 1958)
S
(7)
+0
Anderson, Frank Hartley (1890 - 1947)
S
Jan 1936 - Feb 1936
(2)
+0
Arms, John Taylor (1887 - 1953)
S
(16)
+0
Bacon, Peggy (1895 - 1987)
S
(48)
+0
Bailey, Weldon (*1905)
S
(2)
+0
Beal, Gifford (1879 - 1956)
S
(44)
+0
Bervinchak, Nicholas (1903 - 1978)
S
(2)
+0
Brooks, James D. (1906 - 1992)
S
(72)
+0
Butler, Andrew (1896 - 1979)
S
(9)
+0
Carroll, John Wesley (1892 - 1959)
S
(23)
+0
Costigan, John Edward (1888 - 1972)
S
(12)
+0
Daniel, Lewis C. (1901 - 1952)
S
(18)
+0
Datz, Abraham Mark (1889 - 1969)
S
(6)
+0
Davis, Hubert (1902 - 1981)
S
(10)
+0
Dehn, Adolf Arthur (1895 - 1968)
S
(48)
+0
Durieux, Caroline Wogan (1896 - 1989)
S
(5)
+0
Dwight, Mabel (1876 - 1955)
S
(19)
+0
Fitsch, Eugene Camille (1892 - 1972)
S
(5)
+0
Foster, Gerald Sargent (1900 - 1987)
S
(2)
+0
Freelon, Allan Randall (1895 - 1960)
S
(3)
+0
Freeman, Don (1908 - 1978)
S
(20)
+0
Gág, Wanda (1893 - 1946)
S
(21)
+0
Handforth, Thomas Scofield (1897 - 1948)
S
(7)
+0
Heckman, Albert William (1893 - 1971)
S
(13)
+0
Hirsch, Stefan A. (1899 - 1964)
S
(31)
+0
Huntley, Victoria Hutson (1900 - 1971)
S
(13)
+0
Kruse, Alexander Zerdin (1888 - 1972)
S
(5)
+0
Kuehne, Max (1880 - 1968)
S
(22)
+0
Kuniyoshi, Yasuo (1889 - 1953)
S
(121)
+0
Locke, Charles Wheeler (1899 - 1983)
S
(32)
+0
Lozowick, Louis (1892 - 1973)
S
(50)
+0
Lucioni, Luigi (1900 - 1988)
S
(24)
+0
Markow, Jack (1905 - 1983)
S
(3)
+0
Morris, Dudley (1912 - 1966)
S
(4)
+0
Newton, Edith Whittlesey (1878 - 1964)
S
(4)
+0
Peets, Orville Houghton (1884 - 1964)
S
(2)
+0
Petrina, Carlotta [Charlotte Kennedy] (1901 - 1997)
S
(6)
+0
Pinto, Angelo (1908 - 1994)
S
(10)
+0
Pinto, Salvatore (1905 - 1966)
S
(13)
+0
Pollock, Charles Cecil (1902 - 1988)
S
(13)
+0
Reiss, Lionel S. (1894 - 1988)
S
(1)
+0
Riggs, Robert (1896 - 1970)
S
(15)
+0
Rogers, Jane
S
(1)
+0
Shackelford, Shelby (1899 - 1987)
S
(2)
+0
Skolfield, Raymond White (1909 - 1996)
S
(4)
+0
Smith, Charles William (1893 - 1987)
S
(14)
+0
Soyer, Raphaël (1899 - 1987)
S
(72)
+0
Spruance, Benton Murdoch (1904 - 1967)
S
(17)
+0
Sternberg, Harry (1904 - 2001)
S
(28)
+0
Taylor, John Williams (1897 - 1983)
S
(8)
+0
Taylor, Prentiss Hottel (1907 - 1991)
S
(10)
+0
Wengenroth, Stow (1906 - 1978)
S
(15)
+0
Wickey, Harry (1892 - 1968)
S
(15)
+0
Williams, Esther (1907 - 1969)
S
(9)
+0
Young, Mahonri MacKintosh (1877 - 1957)
S
(23)
+0