Artist

| James Ensor (1860 - 1949)
https://www.artist-info.com/artist/James-Ensor
Artist Portfolio Catalog Overview\ 1

Biography (français / deutsch / italiano)
Biography (français / deutsch / italiano)
Né en 1860 à Ostende, James Ensor passe la majeure partie de sa vie dans sa ville natale et y meurt en 1949. Jusqu'au milieu des années 80, le jeune artiste exécute avant tout des scènes d'intérieur, des paysages et des natures mortes aux couleurs riches, sombres et pâteuses qui, néanmoins, profitent largement d'effets éclaircissants et d'une luminosité vibrante empruntées aux impressionnistes. Parallèlement, Ensor attache un intérêt croissant à un style proche du symbolisme, marqué de l'empreinte inimitable des grands modèles flamands du passé tels que Hieronymus Bosch ou Pieter Bruegel le Vieux. Nul doute que par son audace, Ensor a su redonner une nouvelle dimension à toute la production artistique belge de son temps. Enraciné dans une esthétique internationale loin des références provinciales, Ensor se place néanmoins, comme beaucoup d'autres "grands", à l'écart des courants contemporains, si l'on fait abstration de sa liaison avec le "groupe des Vingt", dont il fut l'un des membres fondateurs. Au gré d'un travail essentiellement solitaire, le peintre développe un style d'une grande intensité mystérieuse, un langage immergé dans le fantastique et le grotesque, faisant souvent intervenir le masque pour souligner la virulence satirique qu'il oppose au monde bourgeois. Entreprise dès 1886, poursuivie avec passion les années suivantes, puis se faisant de plus en plus rare pour s'éteindre définitivement vers le milieu des années 30, toute la production graphique de James Ensor est placée, en quelque sorte, sous le signe du masque dans une intention symboliste fortement teintée d'ironie. En effet, l'intérêt pour cet aspect est double pour le peintre en ce sens qu'il produit, d'une part, un effet de miroir, et qu'il représente, d'autre part, la source d'inspiration première de l'artiste pour son activité picturale. C'est ainsi que l'oeuvre gravé accompagne comme un journal fidèle une période de création particulièrement féconde d'un des plus éminents représentants de l'art européen situé à cheval entre le 19'et le 20' siècle.


James Ensor kam 1860 in Ostende zur Welt, verbrachte den größten Teil seines Lebens in seiner Heimatstadt und starb daselbst im Jahre 1949. Bis Mitte der achtziger Jahre malte der junge Künstler vorwiegend häusliche Szenen, Landschaften und Stilleben, die sich durch eine reichhaltige Palette eher dunkler Töne und großzügigen Farbauftrag auszeichnen. Trotzdem stehen diese Arbeiten zum Teil noch unter dem Einfluss des Impressionismus, dem sie ihre ganz besondere Leuchtkraft und das vibrierende Licht verdanken. Zur selben Zeit begann Ensor bereits mit der Entwicklung eines neuartigen, dem Symbolismus verwandten Stils, mit dem er unmissverständlich auf typische Merkmale flämischer Vorbilder wie Hieronymus Bosch oder Pieter Bruegel d. Ae. zurückgriff. In der Reifezeit gelangte schließlich eine durchaus eigenständige und eigenwillige Ästhetik zum Durchbruch, mit welcher der Künstler in derben, feurigen, ja aggressiven Farben erste expressionistische Zeichen setzte. In fast völliger Abgeschiedenheit entwickelte der Künstler allmählich einen Stil von hoher Geheimniskraft, eine Sprache, die das Phantastische und Spukhafte der Dinge hervorhob. Immer wieder verwendete er dabei die Symbolik der Maske, mit deren Hilfe er seiner satirischen Verachtung der bürgerlichen Welt Ausdruck verlieh. Das karikaturistische Element durchzieht denn auch das gesamte grafische Werk, das der belgische Meister 1886 in Angriff nahm, dann mit großem Einsatz ein paar Jahre weiterführte, bis es allmählich in den Hintergrund trat und Mitte der dreißiger Jahr ganz versiegte. Kennzeichnend für sämtliche grafischen Arbeiten ist ein stark symbolistisches, ironisches Gepräge und eine Art Doppelbeziehung des Künstlers zu diesen Werken, die er zugleich als Spiegel, aber auch als vorrangige Inspirationsquelle für seine malerische Tätigkeit benutzte. So ist die in Lugano zusammengestellte Sammlung von großem Interesse als eine Art Tagebuch, das zum Verständnis eines wichtigen Abschnitts im Schaffen eines der bedeutendsten Exponenten europäischer Kunst der Jahrhundertwende beiträgt.


James Ensor nasce a Ostenda nel 1860, città dove trascorre gran parte della vita e dove muore nel 1949. Fino alla metà degli anni ottanta si dedica soprattutto a scene d'interni, paesaggi, nature morte, dipinti con colori ricchi, scuri, pastosi anche se spesso, particolarmente influenzato dalle tematiche e dalla tecnica impressionista, rischiarati da una vibrante impronta luministica. Negli stessi anni, però, sviluppa con sempre maggiore interesse una maniera stilistica molto vicina al Simbolismo, ispirato anche dall'inconfondibile segno di antichi maestri fiamminghi quali Hieronymus Bosch e Pieter Bruegel il Vecchio. Nella maturità finalmente giunge ad un linguaggio propriamente autonomo e personale che lo porta non solo ad anticipare il segno dell'Espressionismo con l'uso di una cromia aspra, accesa, talora violenta e a precorrere il Surrealismo con tematiche che vedono una ricorrente presenza dell'elemento onirico, ma a rinnovare profondamente l'intera arte belga. Internazionale in quanto esponente di un'arte non provinciale, Ensor restò tuttavia, come molti altri "grandi", sostanzialmente escluso dalla cultura del suo tempo, ad eccezione dell'adesione al gruppo d'avanguardia "Les XX", di cui fu membro fondatore: lavorò dunque sempre in solitudine, coniando un linguaggio intriso di mistero e immerso nel fantastico e nel grottesco, spesso esplicitato da maschere e da una satira molto Pungente contro la società borghese. Tutta la sua produzione grafica, iniziatasi nel 1886 e poi perseguita con grande fermento negli immediati anni a venire per poi diradarsi e concludersi alla metà degli anni '30, verte su questo aspetto caratterizzante, dove il simbolismo si carica di una forte componente ironica, configurandosi, nella sua doppia natura di specchio e, al contrario, fonte primaria d'ispirazione per il parallelo ambito pittorico, come il fedele "diario creativo" di uno tra i maggiori esponenti dell'arte europea tra Otto e Novecento.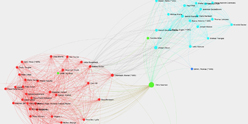 Interested in discovering more of this artist's networks?
3 easy steps: Register, buy a package for a visualization, select the artist.
See examples how visualization looks like for an artist, a curator, or an exhibition place: Gallery, museum, non-profit place, or collector.

Exhibition History

SUMMARY

based on artist-info records. More details and Visualizing Art Networks on demand.
Venue types:

Gallery

/

Museum

/

Non-Profit

/

Collector

Exhibitions in artist-info
160 (S 55/ G 105)

Did show together with

- Top 5 of 2555 artists
(no. of shows) - all shows - Top 100

Exhibitions by type

160: 38 / 67 / 53 / 2
Venues by type

110: 27 / 42 / 39 / 2
Curators
54
artist-info records
Oct 1895 - Jun 2021

Countries

- Top 5 of 12
Germany (59)
United States (40)
Switzerland (13)
Italy (11)
France (10)


Cities

- Top 5 of 57
New York (32)
München (10)
Venezia (9)
Paris (8)
Berlin (7)


Venues

(no. of shows ) Top 5 of 110
| | | |
| --- | --- | --- |
| | | Curators (no. of shows) Top 5 of 54 |