Artist

| Edgar Lissel (*1965)
https://www.artist-info.com/artist/Edgar-Lissel
Artist Portfolio Catalog Overview\ 1
Edgar Lissel

Serie "Bakterium"

0
Exhibition at L.A. Galerie
Exhibition at L.A. Galerie
12. Januar bis 2. März 2002, L.A. Galerie Lothar Albrecht, Domstraße 6, D-60311 Frankfurt am Main
Die Ausstellung wird am Sonnabend den 12. Januar um 16.00 Uhr mit einer Ansprache von Herrn Hubertus von Amelunxen, Canadian Center for Achitecture in Montreal, eröffnet.

Die L. A. Galerie zeigt neue Arbeiten des Hamburger Künstlers Edgar Lissel: "Bakterium-Wasser licht(et) Geschichte (1999/2000)", "Bakterium-Selbstzeugnisse (1999/2000)" und "Bakterium- Vanitas (2000/200 1)".

Allen Arbeiten der drei Serien ist ein besonderes Verfahren der Bilderzeugung gemein: Es beruht auf den phototaktischen Eigenschaften bestimmter Bakterien. Diese Bakterien orientieren sich zum Licht. In einer naturwissenschaftlichen Versuchsanordnung werden photographische Verfahren mit Bakterienkulturen nachvollzogen.

Während mehrerer Tage wachsen die Bakterienkulturen ihnen vorgegebenen Bildern nach. Der Bewegungs- und Wachstumsprozess der Bakterien in einer Agar-Nährlösung in durchsichtigen Petrischalen ähnelt dem der Belichtung von Photopapier: Die Stellen, auf die das Licht fällt, werden dunkel, die, auf die wenig Licht fällt, bleiben hell. Für "Bakterium-Wasser licht(et) Geschichte" und "Bakterium-Selbstzeugnisse" wurden, wie bei der klassischen Photographie, die Negative auf die Bakterienkulturen projiziert. Die Serie "Bakterium-Vanitas" folgt dem Verfahren des Photogramms: Die abzubildenden Gegenstände wurden zwischen die Petrischale und die von unten strahlende Lichtquelle gelegt.

Die Bilder, die durch den organischen Wachstumsprozess der Bakterien entstanden, wurden photographiert und auf ca. 80 x 80 cm vergrößert. Diese Arbeiten dokumentieren einen höchst ephemeren Zustand, einen Moment in einem organischen Prozess des Entstehens und des Zerfalls. Die Fragilität dieses Zustands strahlen die schattenhaften, an die Experimente der Frühzeit der Photographie erinnernden Bilder aus. Zugleich folgt das Verfahren einer wissenschaftlichen Versuchsanordnung und ihrer Dokumentation. Alle Bilder besitzen das selbe runde Format, vom Rand der Petrischale begrenzt.

Für "Bakterium-Selbstzeugnisse" wurden Mikroskopaufnahmen der Strukturen einzelner Bakterien auf mit Bakterienlösung gefüllte Petrischalen projiziert. Auf diese Weise bilden die Bakterienkulturen ihr eigenes Mikrobild nach. Eine Unmenge für das Auge nicht erkennbarer Organismen formiert sich zu einem Superzeichen eben dieser Organismen, deren Lebendigkeit in ihr Abbild eingeht.

Die Serie "Bakterium-Wasser licht(et) Geschichte" reflektiert die potentielle Verwandlung aller Architektur in Ruinen am Beispiel des (mittlerweile gesprengten) Kieler U-Boot-Bunkers Kilian. Im Inneren der Petrischalen erkennt man die Umrisse des teilweise zerstörten, riesenhaften Bunkers. Teile des Bunkers scheinen wie ein Schiffswrack im Wasser zu versinken, andere stehen noch aufrecht, mit dunklen Fensterhöhlen und offenbar meterdicken Betonwänden, vom Verfall jedoch bereits angegriffen. Dem Verfall des Gebäudes steht das Entstehen und wieder Vergehen seines Abbilds in der Petrischale gleichnishaft gegenüber.

Die Vergänglichkeit der Materie ist ein Hauptgedanke der dritten Serie, "Bakterium Vanitas". Edgar Lissel greift Motive klassischer Stilleben auf, wie Früchte oder tote Tiere. Ihr Zerfallen überträgt sich auf ihr Abbild in der Petrischale. Die Gegenstände erscheinen zwar als relativ deutlich sich abhebende helle Silhouetten; doch auch dort wo wenig Licht durch sie hindurchsickerte, begannen die Bakterien zu wachsen und dieser Wachstumsprozess wird das Abbild - stellvertretend für den Gegenstand - letztlich auflösen.

In diesem komplizierten Versuchsfeld der gegenseitigen Verweise führt die Photographie einen dritten Zeitindex ein. Der erste ist der des Gebäudes oder des Gegenstandes, die tatsächlich bestanden haben und zerfallen; der zweite ist der der Abbilder, die sich durch das Wachstum der Bakterien in mehreren Tagen formierten. Der dritte ist der der Photographie, die den ephemeren Zustand in einem Augenblick festhält und für lange Zeit dokumentiert.

Biography
Biography
1965   geboren
1986 - 91   Studium Kommunikationsdesign bei Pro. Puttnies und Prof. Bohnen, Fachhochschule Darmstadt
1988 - 91   Auslandsaufenthalt in Mailand
1998 - 99   Gastdozent an der HfK Bremen
seit 1966 Berufung in die Deutsche Fotografische Akademie (DFA)
lebt und arbeitet in Hamburg

Exhibitions (selection)
Exhibitions (selection)
1988   - Preisträger des KODAK Nachwuchsförderpreises, Photokina Köln
1988   - Treviso, Italien
1989   - "Melancolia", Städtische Galerie im Kornhaus, Kirchheim/Teck
1989   - Accademia di belle Arti, Urbino, Italien
1991   - Museo Ken Damy di fotografia contemporanea, Brescia, Italien
1991   - "Coup de lune", Postmuseum Paris
1991   - Galleria di Ken Damy, Mailand (S)
1991   - Fotogalerie Wien (S)
1992-   "Giovani Fotograf Italiani 1992", Mailand und Modena
1994   - Theseus Tempel, Wien, im Rahmen der Ausstellung "Kunst und Diktatur" des
1994   - Künstlerhauses Wien (S)
1994   - Photoszene Köln 1994, EXIT ART Cologne (S)
1995   - L.A. Galerie, Frankfurt am Main (S)
1995   - "Vom Umgang mit Veränderung", Neue Gesellschaft für Bildende KUNST (NGBK), Berlin
1995   - AEDES, Galerie und Architekturforum, Berlin (S)
1995   - "On the face of it", Fotofeis, City Art Center, Edinburgh, Scotland
1996   - "Gotteshäuser", Museum für Kunst und Gewerbe, Hamburg (S)
1996   - "La il-lusió del poder", Galeria Forum -Chantal Grande, Tarragona (S)
1996   - Biennale für Architektur in Venedig
1997   - "Fotografie als Geste", Staatliches Museum Schwerin
1997   -Dalamas Museum, Falan, Sweden
1997   - Galerie Gruppe Grün, Bremen (S)
1997   - "Räume", L. A. Galerie, Frankfurt ( S
1997   - Galerie Marianne Grob, Berlin (S)
1998   - "Konstruktionen der Bilder", Deutsche Fotografische Akademie, Städtische Galerie Leinfelden-Echterdingen
1999   - Sammlung Grothe, Küppersmühle, Duisburg
1999   - "Tomorrow for ever - Photographie als Ruine", Kunsthalle Krems, Österreich
1999    - Goethe Institut Paris (S)
1999   - "anonym" zur Fototriennale in Hamburg
2000   - "Zwischenzeit - Zwischenraum", KunstRaum 2000, Salzburg
2000   - Städtische Galerie Villa Zanders, Bergisch Gladbach (S)
2001   - Pillar Parra Galeria de Arte, Madrid (S)
2002   - L.A. Galerie Frankfurt am Main(S)

(S) Einzelausstellung (Solo Exhibition)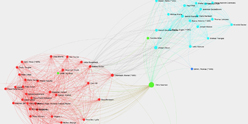 Interested in discovering more of this artist's networks?
3 easy steps: Register, buy a package for a visualization, select the artist.
See examples how visualization looks like for an artist, a curator, or an exhibition place: Gallery, museum, non-profit place, or collector.

Exhibition History

SUMMARY

based on artist-info records. More details and Visualizing Art Networks on demand.
Venue types:

Gallery

/

Museum

/

Non-Profit

/

Collector

Exhibitions in artist-info
25 (S 5/ G 20)

Did show together with

- Top 5 of 529 artists
(no. of shows) - all shows - Top 100

Exhibitions by type

25: 6 / 6 / 11 / 2
Venues by type

22: 4 / 6 / 11 / 1
Curators
13
artist-info records
May 1995 - Sep 2018

Countries

- Top 5 of 6
Germany (15)
United Kingdom (2)
France (1)
Canada (1)
Japan (1)


Cities

- Top 5 of 17
Frankfurt am Main (6)
Dresden (2)
London (2)
Berlin (2)
Köln (1)


Venues

(no. of shows ) Top 5 of 22
| | | |
| --- | --- | --- |
| | | Curators (no. of shows) Top 5 of 13 |