Museum

| Musée des Arts Décoratifs

Palais du Louvre - 107, rue de Rivoli
F - 75001 Paris - France Google Map
T.: +33 (0) 1 - 44 55 57 50
Web: Email:
https://www.artist-info.com/museum/Musee-des-Arts-Decoratifs-Paris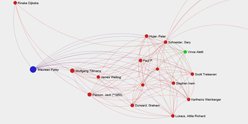 Interested in discovering more of this venue's networks?
3 easy steps: Register, buy a package for a visualization, select the exhibition place.
See examples how visualization looks like for an artist, a curator, or an exhibition place: Gallery, museum, non-profit place, or collector.

Exhibition History

SUMMARY

based on artist-info records. More details and Visualizing Art Networks on demand.
Venue types:

Gallery

/

Museum

/

Non-Profit

/

Collector

Exhibitions in artist-info
9 ( S 5/ G 4)

Shown Artists

- Top 5 of 240
(no. of shows) - all shows - Top 100

Artists in exhibitions
240
Curators in exhibitions
0
Linked to other venues through shown artists

2166: 1097 / 527 / 525 / 17
artist-info records
Jun 1959 - Nov 1997

Curators -

Top 0 of 0 (no. of shows )

Linked through shown artists -

Top 5 of 2167 venues
Offers/Requests

Exhibition Announcement

Portfolio

S / G Solo/Group Exhibitions

(..) Exhibitions + Favorites

Guillaumot, Marc
S
Nov 1997 - Nov 1997
(1)
+0
Dietman, Erik (1937 - 2002)
G
Nov 1997 - Nov 1997
(33)
+0
Othoniel, Jean-Michel (*1964)
G
(23)
+0
Rops, Félicien (1833 - 1898)
S
Jun 1985 - Jul 1985
(33)
+0
Ceroli, Mario (*1938)
G
Oct 1969 - Nov 1969
(86)
+0
Kounellis, Jannis (1936 - 2017)
G
(248)
+0
Marotta, Gino (1935 - 2012)
G
(24)
+0
Pascali, Pino (1935 - 1968)
G
(95)
+0
Vasarely, Victor [Győző Vásárhelyi] (1908 - 1997)
S
Mar 1963 - Apr 1963
(339)
+0
Adam, Henri Georges (1904 - 1967)
G
Mar 1962 - Nov 1962
(16)
+0
Agam, Yaacov [Yaacov Gipstein] (*1928)
G
(112)
+0
Alex, Kosta (1925 - 2005)
G
(4)
+0
Andréou, Constantin (1917 - 2007)
G
(3)
+0
Ashbee, Helen (1915 - 1956)
G
(4)
+0
Baschet, François (1920 - 2014)
G
(1)
+0
Benrath, Frédéric (1930 - 2007)
G
(13)
+0
Bertoia, Harry (1915 - 1978)
G
(33)
+0
Bischoffshausen, Hans (1927 - 1987)
G
(32)
+0
Bloc, André (1896 - 1966)
G
(40)
+0
Bocian, [Bohumit Strohalm] (1912 - 2002)
G
(2)
+0
Boileau, Martine (1923 - 2007)
G
(2)
+0
Borderie, André (1923 - 1998)
G
(6)
+0
Bourdonnaye, Alain de la (1930 - 2016)
G
(5)
+0
Boussac, Marc (1918 - 1982)
G
(5)
+0
Brown, James-Jacques (1918 - 1991)
G
(3)
+0
Brô, [René Brault] (1930 - 1987)
G
(5)
+0
Bülow-Hübe, Vivianna Torun (1927 - 2004)
G
(3)
+0
Calder, Alexander (1898 - 1976)
G
(442)
+0
Calos, Nino (1926 - 1990)
G
(16)
+0
Carrington, Leonora (1917 - 2011)
G
(48)
+0
Chaissac, Gaston (1910 - 1964)
G
(32)
+0
Champagnat, Jean-Claude (1923 - 1988)
G
(1)
+0
Chavignier, Louis (1922 - 1972)
G
(5)
+0
Chourgnoz, Jean-Marie (*1929)
G
(1)
+0
Cocteau, Jean (1889 - 1963)
G
(55)
+0
Coetzee, Christo (1929 - 2001)
G
(9)
+0
Colucci, Gio (1892 - 1974)
G
(1)
+0
Consagra, Pietro (1920 - 2005)
G
(73)
+0
Copley, William Nelson [Bill] [cply] (1919 - 1996)
G
(72)
+0
Coulentianos, Costas (1918 - 1995)
G
(6)
+0
Courcelle, Michel (*1926)
G
(1)
+0
Cousins, Harold B. (1916 - 1992)
G
(12)
+0
Crozals, Vincent de (1922 - 2009)
G
(1)
+0
Cyne, Gérard (1923 - 2006)
G
(2)
+0
Cárdenas, Agustín (1927 - 2001)
G
(16)
+0
César, [César Baldaccini] (1921 - 1998)
G
(120)
+0
Debré, Olivier (1920 - 1999)
G
(30)
+0
Delahaye, Jacques-Charles (1928 - 2010)
G
(10)
+0
Di Teana, [Francesco Marino] (1920 - 2012)
G
(21)
+0
Dubuffet, Jean (1901 - 1985)
G
(400)
+0
Effront, Nadine (1901 - 1974)
G
(3)
+0
Ernst, Max (1891 - 1976)
G
(586)
+0
Falkenstein, Claire (1909 - 1997)
G
(22)
+0
Filhos, Jean (1921 - 2002)
G
(3)
+0
Fontana, Lucio (1899 - 1968)
G
(475)
+0
Fruhtrunk, Günter (1923 - 1982)
G
(103)
+0
Gaillard, André (*1920)
G
(1)
+0
Geetere, Frans de (1895 - 1968)
G
(1)
+0
Genier & Kowalski & Muel, [Michel Genier *1924 & Piotr Kowalski *1923 & Philippe Muel *1926]
G
(1)
+0
Giacometti, Alberto (1901 - 1966)
G
(448)
+0
Giacometti, Diego (1902 - 1985)
G
(6)
+0
Gili, Marcel (1914 - 1993)
G
(5)
+0
Gilioli, Émile (1911 - 1977)
G
(33)
+0
González, Julio (1876 - 1942)
G
(133)
+0
Granet, Roseline (*1936)
G
(5)
+0
Gris, Juan [José Victoriano González-Pérez] (1887 - 1927)
G
(218)
+0
Guino, Michel (1926 - 2013)
G
(2)
+0
Gysin, Brion (1916 - 1986)
G
(23)
+0
HSIUNG, Ping-Ming (1922 - 2002)
G
(1)
+0
Haber, Shamai (1922 - 1995)
G
(4)
+0
Hajdú, Étienne (1907 - 1996)
G
(47)
+0
Hanich, Davos (*1922)
G
(3)
+0
Herry, [Pierre Hericher] (*1919)
G
(1)
+0
Him, George (1900 - 1982)
G
(2)
+0
Hiquily, Philippe (1925 - 2013)
G
(9)
+0
Hoeydonck, Paul van (*1925)
G
(50)
+0
Ipoustéguy, Jean Robert (1920 - 2006)
G
(61)
+0
Jacobsen, Robert (1912 - 1993)
G
(90)
+0
Jean, Marcel (1900 - 1993)
G
(31)
+0
Jenkins, Paul (1923 - 2012)
G
(51)
+0
Joulia, Élisabeth (1925 - 2003)
G
(2)
+0
Kapera, Iaroslav-Jean
G
(1)
+0
Kapera, Jean (1924 - 1986)
G
(2)
+0
Klein, Yves (1928 - 1962)
G
(312)
+0
Kowalski, Piotr (1927 - 2004)
G
(36)
+0
Kricke, Norbert (1922 - 1984)
G
(87)
+0
Lardera, Berto (1911 - 1989)
G
(62)
+0
Lartigue, Guy (*1927)
G
(1)
+0
Laurens, Henri (1885 - 1954)
G
(164)
+0
Le Corbusier, [Charles-Édouard Jeanneret-Gris] (1887 - 1965)
G
(166)
+0
Liegme, Adrien (*1922)
G
(2)
+0
Lipchitz, Jacques (1891 - 1973)
G
(183)
+0
Malina, Frank Joseph (1912 - 1981)
G
(28)
+0
Man Ray, [Emmanuel Rudinski] (1890 - 1976)
G
(495)
+0
Mangematin & Bruny, [Michel Mangematin *1928 & Roger Bruny *1926]
G
(1)
+0
Mathieu, Georges (1921 - 2012)
G
(92)
+0
Matschinsky-Denninghoff, Brigitte (1923 - 2011)
G
(41)
+0
Matta, [Roberto Antonio Sebastian Matta Echaurren] (1911 - 2002)
G
(298)
+0
Matthey, Janine (*1928)
G
(1)
+0
Mercier, Claude (*1924)
G
(1)
+0
Messagier, Jean (1920 - 1999)
G
(31)
+0
Metcalf, James (1925 - 2012)
G
(5)
+0
Meylan, Marcel (*1920)
G
(2)
+0
Miller, Luiza (1917 - 2003)
G
(2)
+0
Mortensen, Richard (1910 - 1993)
G
(127)
+0
Moï, Alicia (*1929)
G
(1)
+0
Noguchi, Isamu (1904 - 1988)
G
(133)
+0
Noll, Alexandre (1890 - 1970)
G
(3)
+0
Oppenheim, Méret (1913 - 1985)
G
(147)
+0
Palà, Joan (*1922)
G
(1)
+0
Pan, Martha (1923 - 2008)
G
(11)
+0
Patrix, Georges (1920 - 1992)
G
(1)
+0
Perriand, Charlotte (1903 - 1999)
G
(17)
+0
Peñalba, Alicia (1913 - 1981)
G
(27)
+0
Philolaos, Tloupas (1923 - 2010)
G
(3)
+0
Picasso, Pablo (1881 - 1973)
G
(1258)
+0
Pignon, Édouard (1905 - 1993)
G
(41)
+0
Pillet, Edgard (1912 - 1996)
G
(23)
+0
Pinto, Marie-Thérèse (1910 - 2000)
G
(5)
+0
Plantier, Marc du (1901 - 1975)
G
(1)
+0
Plisson, Henri (1908 - 2002)
G
(2)
+0
Pomodoro, Arnaldo (*1926)
G
(90)
+0
Pomodoro, Giò (1930 - 2002)
G
(67)
+0
Poncet, Antoine (*1928)
G
(16)
+0
Páez Vilaró, Carlos (1923 - 2014)
G
(1)
+0
Richier, Germaine (1902 - 1959)
G
(71)
+0
Rivers, Larry (1923 - 2002)
G
(125)
+0
Rodillon, Suzanne (1916 - 1988)
G
(4)
+0
Roulin, Félix (*1931)
G
(5)
+0
Saint-Maur, (1906 - 1979)
G
(2)
+0
Schlegel, Valentine (*1925)
G
(2)
+0
Schoeffer, Nicolas (1912 - 1992)
G
(100)
+0
Signori, Carlo Sergio (1906 - 1988)
G
(9)
+0
Sjöholm, Adam (1923 - 1999)
G
(3)
+0
Sklavos, Yerassimos (1927 - 1967)
G
(2)
+0
Sonderborg, KRH [Kurt Rudolf Hoffmann] (*1923)
G
(122)
+0
Sottsass, Ettore (1917 - 2007)
G
(40)
+0
Stahly, François (1911 - 2006)
G
(25)
+0
Starczewski, Antoni (1924 - 2000)
G
(13)
+0
Székely, Pierre (1923 - 2001)
G
(3)
+0
Takis, [Panayiotis Vassilakis] (*1925)
G
(77)
+0
Tanguy, Yves (1900 - 1955)
G
(224)
+0
Tanning, Dorothea (1910 - 2012)
G
(64)
+0
Vallorz, Paolo (1931 - 2017)
G
(6)
+0
Vasarely, Victor [Győző Vásárhelyi] (1908 - 1997)
G
(339)
+0
Veysset, Raymond (1913 - 1967)
G
(5)
+0
Vigneau, André (1892 - 1968)
G
(6)
+0
Viseux, Claude (1927 - 2008)
G
(13)
+0
Weinbaum, Jean (1926 - 2013)
G
(1)
+0
Witt, Jan Le (1907 - 1991)
G
(4)
+0
Zadkine, Ossip (1890 - 1967)
G
(101)
+0
Étienne-Martin, Henri (1913 - 1995)
G
(37)
+0
Chagall, Marc (1887 - 1985)
S
Jun 1961 - Sep 1961
(559)
+0
Agam, Yaacov [Yaacov Gipstein] (*1928)
G
Feb 1960 - Feb 1960
(112)
+0
Alechinsky, Pierre (*1927)
G
(157)
+0
Alonso, Ángel (1923 - 1994)
G
(3)
+0
Appel, Karel (1921 - 2006)
G
(220)
+0
Assar, Nasser (1928 - 2011)
G
(1)
+0
Bacon, Francis (1909 - 1992)
G
(217)
+0
Bellegarde, Claude (*1927)
G
(13)
+0
Benrath, Frédéric (1930 - 2007)
G
(13)
+0
Bettencourt, Pierre (1917 - 2006)
G
(7)
+0
Bogart, Bram (1921 - 2012)
G
(55)
+0
Bryen, Camille [Camille Briand] (1907 - 1977)
G
(57)
+0
Brô, [René Brault] (1930 - 1987)
G
(5)
+0
Brüning, Peter (1929 - 1970)
G
(94)
+0
Burne-Jones, Sir Edward Coley (1833 - 1898)
G
(15)
+0
Burri, Alberto (1915 - 1995)
G
(172)
+0
Carpeaux, Jean-Baptiste (1827 - 1875)
G
(13)
+0
Carrière, Eugène (1849 - 1906)
G
(40)
+0
Chassériau, Théodore (1819 - 1856)
G
(7)
+0
Compard, Emile François Jacque (1900 - 1977)
G
(3)
+0
Cuixart, Modest (1925 - 2001)
G
(27)
+0
Dado, [Miodrag Đurić] (1933 - 2010)
G
(35)
+0
Degottex, Jean (1918 - 1988)
G
(29)
+0
Delaney, Beauford (1901 - 1979)
G
(17)
+0
Dubuffet, Jean (1901 - 1985)
G
(400)
+0
Duque Domínguez, Manuel (1919 - 1998)
G
(2)
+0
Duvillier, René (1919 - 2002)
G
(10)
+0
Díaz de la Peña, Narcisse Virgilio (1808 - 1876)
G
(27)
+0
DŌMOTO, Hisao (1928 - 2013)
G
(18)
+0
Ensor, James (1860 - 1949)
G
(160)
+0
Fantin-Latour, Henri (1836 - 1904)
G
(36)
+0
Fautrier, Jean (1898 - 1964)
G
(107)
+0
Feito, Luis (*1929)
G
(28)
+0
Ferron, Marcelle (1924 - 2003)
G
(9)
+0
Flandrin, Jean Hippolythe (1809 - 1864)
G
(2)
+0
Fontana, Lucio (1899 - 1968)
G
(475)
+0
Francis, Sam (1923 - 1994)
G
(319)
+0
Garcia, Mario (*1927)
G
(7)
+0
Gaul, Winfred (1928 - 2003)
G
(93)
+0
Giacometti, Alberto (1901 - 1966)
G
(448)
+0
Graziani, Pierre Alexandre (*1932)
G
(3)
+0
Guitet, James (1925 - 2010)
G
(14)
+0
Götz, K.O. [Karl Otto] (1914 - 2017)
G
(163)
+0
Haardt, Georges van (1907 - 1980)
G
(11)
+0
Hantaï, Simon (1922 - 2008)
G
(59)
+0
Hartung, Hans (1904 - 1989)
G
(203)
+0
Hoehme, Gerhard (1920 - 1989)
G
(138)
+0
Hultberg, John (1922 - 2005)
G
(24)
+0
Hundertwasser, Friedensreich [Friedrich Strowasser] (1928 - 2000)
G
(92)
+0
Ionesco, Nicolas (*1919)
G
(3)
+0
Jacquemon, Pierre (1936 - 2002)
G
(4)
+0
Johannot, Tony (1803 - 1852)
G
(1)
+0
Kalinowski, H. E. [Horst Egon] (1924 - 2013)
G
(87)
+0
Kandinsky, Wassily (1866 - 1944)
G
(684)
+1
Karskaya, Ida (1905 - 1990)
G
(14)
+0
Kemény, Zoltán (1907 - 1965)
G
(40)
+0
Klein, Yves (1928 - 1962)
G
(312)
+0
Kline, Franz (1910 - 1962)
G
(158)
+0
Koenig, John Franklin (1924 - 2008)
G
(12)
+0
Koskas, Georges (*1926)
G
(4)
+0
Kujawski, Jerzy (1921 - 1998)
G
(12)
+0
Laubiès, René (1924 - 2006)
G
(15)
+0
Le Parc, Julio (*1928)
G
(143)
+0
Lerin, Fernando (1929 - 2016)
G
(1)
+0
Loubchansky, Marcelle (1917 - 1988)
G
(7)
+0
Maeda, Jōsaku (1926 - 2007)
G
(7)
+0
Masson, André (1896 - 1987)
G
(263)
+0
Mathieu, Georges (1921 - 2012)
G
(92)
+0
Matta, [Roberto Antonio Sebastian Matta Echaurren] (1911 - 2002)
G
(298)
+0
Matthews, Gene [Eugene E.] (1931 - 2002)
G
(2)
+0
Messagier, Jean (1920 - 1999)
G
(31)
+0
Michaux, Henri (1899 - 1984)
G
(117)
+0
Millares, Manolo (1926 - 1972)
G
(83)
+0
Mitchell, Joan (1925 - 1992)
G
(176)
+0
Moreau, Gustave (1826 - 1898)
G
(31)
+0
Mortensen, Richard (1910 - 1993)
G
(127)
+0
Nevelson, Louise (1899 - 1988)
G
(215)
+0
Pasternak, Leonid Osipovich (1862 - 1945)
G
(8)
+0
Prachensky, Markus (*1932)
G
(50)
+0
Riopelle, Jean-Paul (1923 - 2002)
G
(161)
+0
Rothko, Mark (1903 - 1970)
G
(242)
+0
Rozsda, Endre (1913 - 1999)
G
(2)
+0
Réquichot, Bernard (1929 - 1961)
G
(24)
+0
Sallès, Francis (1926 - 2003)
G
(2)
+0
Schultze, Bernard (1915 - 2005)
G
(206)
+0
Sonderborg, KRH [Kurt Rudolf Hoffmann] (*1923)
G
(122)
+0
Soto, Jesús Raphaël (1923 - 2005)
G
(218)
+0
Soulages, Pierre (1919 - 2022)
G
(116)
+0
Stubbing, Newton Haydn (Tony) (1921 - 1983)
G
(15)
+0
TANAKA [Flavio-Shiró], Shiró (*1928)
G
(12)
+0
Tal-Coat, Pierre Jacob [Pierre Jacob] (1905 - 1985)
G
(34)
+0
Ting, Walasse (1929 - 2010)
G
(22)
+0
Tinguely, Jean (1925 - 1991)
G
(278)
+0
Tobey, Mark (1890 - 1976)
G
(210)
+0
Tsingos, Thanos (1914 - 1965)
G
(1)
+0
Tàpies, Antoni (1923 - 2012)
G
(345)
+0
Ubac, Raoul (Rolf Ubach) (1910 - 1985)
G
(73)
+0
Vallorz, Paolo (1931 - 2017)
G
(6)
+0
Vandercam, Serge (1924 - 2005)
G
(22)
+0
Vasarely, Victor [Győző Vásárhelyi] (1908 - 1997)
G
(339)
+0
Whistler, James A. McNeill (1834 - 1903)
G
(113)
+0
Wols, [Alfred Otto Wolfgang Schulze] (1913 - 1951)
G
(161)
+0
ZAO, Wou-Ki (1921 - 2013)
G
(54)
+0