Museum

| Los Angeles County Museum of Art - LACMA

5905 Wilshire Boulevard
USA - Los Angeles - La Brea / Beverly CA CA 90036 - United States Google Map
T.: +1 - 213 - 857 6000
Web: http://www.lacma.org/ Email:
https://www.artist-info.com/museum/Los-Angeles-County-Museum-of-Art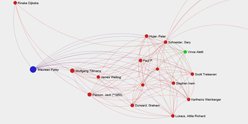 Interested in discovering more of this venue's networks?
3 easy steps: Register, buy a package for a visualization, select the exhibition place.
See examples how visualization looks like for an artist, a curator, or an exhibition place: Gallery, museum, non-profit place, or collector.

Exhibition History

SUMMARY

based on artist-info records. More details and Visualizing Art Networks on demand.
Venue types:

Gallery

/

Museum

/

Non-Profit

/

Collector

Exhibitions in artist-info
103 ( S 65/ G 38)

Shown Artists

- Top 5 of 1020
(no. of shows) - all shows - Top 100

Artists in exhibitions
1020
Curators in exhibitions
18
Linked to other venues through shown artists

3699: 1977 / 781 / 909 / 32
artist-info records
Jun 1926 - Jun 2019

Curators -

Top 5 of 18 (no. of shows )
Stephanie Barron (7)
Maurice Tuchman (7)
Judi Freeman (5)
Ilene Susan Fort (5)
Timothy O. Benson (3)


Linked through shown artists -

Top 5 of 3700 venues
Offers/Requests

Exhibition Announcement

Portfolio

S / G Solo/Group Exhibitions

(..) Exhibitions + Favorites

White, Charles Wilbert (1918 - 1979)
S
Feb 2019 - Jun 2019
(21)
+0
Fort, Ilene Susan (*1949) (curator)
(6)
+0
Móhóly-Nagy, László (1895 - 1946)
S
Feb 2017 - Jun 2017
(408)
+0

Read texts, reviews, comments, and Press Releases about this exhibition for more insight

Ballhause, Walter (1911 - 1991)
G
Oct 2015 - Jan 2016
(7)
+0
Beckmann, Max (1884 - 1950)
G
(526)
+1
Biermann, Aenne Sternefeld (1898 - 1933)
G
(40)
+0
Burmann, Fritz (1892 - 1945)
G
(14)
+0
Davringhausen, Heinrich Maria (1894 - 1970)
G
(46)
+0
Debschitz-Kunowski, Wanda von (1870 - 1935)
G
(12)
+0
Dischinger, Rudolf (1904 - 1988)
G
(18)
+0
Dix, Otto (1891 - 1969)
G
(349)
+0
Dressler, August Wilhelm (1886 - 1970)
G
(30)
+0
Dörries, Bernhard (1898 - 1978)
G
(23)
+0
Erfurth, Hugo (1874 - 1948)
G
(45)
+0
Finsler, Hans (1891 - 1972)
G
(43)
+0
Fuhr, Franz Xaver (1898 - 1973)
G
(64)
+0
Griebel, Otto (1895 - 1972)
G
(34)
+0
Grossberg, Carl (1894 - 1940)
G
(51)
+0
Grosz, George [Georg Ehrenfried] (1893 - 1959)
G
(369)
+0
Grundig, Hans (1901 - 1958)
G
(42)
+0
Günther, Kurt (1893 - 1955)
G
(7)
+0
Hubbuch, Karl (1891 - 1979)
G
(77)
+0
Jacobi, Lotte Johanna (1896 - 1990)
G
(43)
+0
Jürgens, Grethe (1899 - 1981)
G
(19)
+0
Kanoldt, Alexander (1881 - 1939)
G
(82)
+0
Kleinschmidt, Paul (1883 - 1949)
G
(35)
+0
Kulvianski, Issai (1892 - 1970)
G
(16)
+0
Köster, Arthur (1890 - 1965)
G
(6)
+0
Lachnit, Wilhelm (1899 - 1962)
G
(42)
+0
Lenk, Franz (1898 - 1968)
G
(43)
+0
Leo, Gerda (1909 - 1993)
G
(5)
+0
Lex-Nerlinger, Alice (1893 - 1975)
G
(27)
+0
Mammen, Jeanne (1890 - 1976)
G
(54)
+0
Man, Felix H. [Hans Felix Sigismund Baumann] (1893 - 1985)
G
(27)
+0
Mantz, Werner (1901 - 1983)
G
(29)
+0
Mense, Carlo [Otto Marto] (1886 - 1965)
G
(68)
+0
Mertens, Hans (1906 - 1944)
G
(13)
+0
Overbeck-Schenk, Gerta (1898 - 1977)
G
(17)
+0
Perckhammer, Heinz von (1895 - 1975)
G
(6)
+0
Ploberger, Herbert (1902 - 1977)
G
(16)
+0
Radler, Max (1904 - 1971)
G
(17)
+0
Radziwill, Franz (1895 - 1983)
G
(105)
+0
Renger-Patzsch, Albert (1897 - 1966)
G
(118)
+0
Roh, Franz (1890 - 1965)
G
(40)
+0
Räderscheidt, Anton (1892 - 1970)
G
(37)
+0
Sander, August (1876 - 1964)
G
(159)
+0
Schad, Christian (1894 - 1982)
G
(112)
+0
Schlichter, Rudolf (1890 - 1955)
G
(95)
+0
Schmidt, Leonhard (1892 - 1978)
G
(8)
+0
Schnarrenberger, Wilhelm (1892 - 1966)
G
(26)
+0
Scholz, Georg (1890 - 1945)
G
(45)
+0
Schrimpf, Georg (1889 - 1938)
G
(95)
+0
Seidenstücker, Friedrich (1882 - 1966)
G
(23)
+0
Völker, Karl (1889 - 1962)
G
(27)
+0
Wegner, Erich (1899 - 1980)
G
(21)
+0
Wollheim, Gert Heinrich (1894 - 1974)
G
(40)
+0
Wunderwald, Gustav (1882 - 1945)
G
(26)
+0
Bahlmann, Nana (curator)
(1)
+0
Barron, Stephanie (*1950) (curator)
(9)
+0
Eckmann, Sabine (curator)
(6)
+0
Cézanne, Paul (1839 - 1906)
G
Jun 2014 - Sep 2014
(276)
+0
Delaunay, Robert (1885 - 1941)
G
(223)
+0
Gauguin, Paul (1848 - 1903)
G
(243)
+0
Gogh, Vincent van (1853 - 1890)
G
(282)
+0
Kandinsky, Wassily (1866 - 1944)
G
(685)
+1
Kirchner, Ernst Ludwig (1880 - 1938)
G
(458)
+1
Marc, Franz (1880 - 1916)
G
(284)
+0
Matisse, Henri (1869 - 1954)
G
(607)
+1
Münter, Gabriele (1877 - 1962)
G
(127)
+0
Signac, Paul (1863 - 1935)
G
(124)
+0
Benjamin, Karl Stanley (1925 - 2012)
G
Dec 2013 - Jun 2014
(20)
+0
Feitelson, Lorser (1898 - 1978)
G
(33)
+0
Hammersley, Frederick (1919 - 2009)
G
(27)
+0
McLaughlin, John (1898 - 1976)
G
(68)
+0
Richter, Hans (1888 - 1976)
S
May 2013 - May 2013
(98)
+0
Benson, Timothy O. (curator)
(4)
+0
Caravaggio, Michelangelo Merisi da (1571 - 1610)
S
Nov 2012 - Feb 2013
(4)
+0
Abercrombie, Gertrude (1909 - 1977)
G
Jan 2012 - May 2012
(4)
+0
Bernhard, Ruth (1905 - 2006)
G
(11)
+0
Bona, [Bona Tibertelli de Pisis] (1926 - 2000)
G
(6)
+0
Bothwell, Dorr (1902 - 2000)
G
(6)
+0
Bourgeois, Louise (1911 - 2010)
G
(350)
+0
Bravo, Lola Álvarez (1907 - 1993)
G
(19)
+0
Breton, Jacqueline Lamba (1910 - 1993)
G
(14)
+0
Carrillo, Lilia (1930 - 1974)
G
(2)
+0
Carrington, Leonora (1917 - 2011)
G
(48)
+0
Clements, Grace (1905 - 1969)
G
(3)
+0
Costa, Olga (1913 - 1993)
G
(6)
+0
Covarrubias, Miguel [Rosa Rolanda] (1904 - 1957)
G
(24)
+0
Deren, Maya (1917 - 1961)
G
(20)
+0
Fein, Sylvia (*1919)
G
(6)
+0
Guccione, Juanita (1904 - 1999)
G
(1)
+0
Gutmann, Gerrie (1921 - 1969)
G
(1)
+0
Horna, Kati (1912 - 2000)
G
(7)
+0
Izquierdo, María (1902 - 1955)
G
(16)
+0
Kahlo, Frida (1907 - 1954)
G
(57)
+0
Kent, Adaline (1900 - 1957)
G
(7)
+0
Kiesler, Stefi (1897 - 1963)
G
(12)
+0
Knight, Madge (1895 - 1974)
G
(1)
+0
Krasner, Lee (1908 - 1984)
G
(83)
+0
Kusama, Yayoi (*1929)
G
(220)
+0
Levy, Muriel Streeter (1913 - 1995)
G
(4)
+0
Lewis, Doris Lindo (1909 - 1995)
G
(1)
+0
Loy, Mina (1882 - 1966)
G
(9)
+0
Lundeberg, Helen (1908 - 1999)
G
(29)
+0
MacIver, Loren (1909 - 1998)
G
(127)
+0
Mandel, Rose (1910 - 2002)
G
(3)
+0
Martins, Maria [Maria de Lourdes Alves Martins] (1894 - 1973)
G
(22)
+0
Miller [Lady Penrose], Lee [Elizabeth] (1907 - 1977)
G
(47)
+0
Morgan, Barbara (1900 - 1992)
G
(32)
+0
Nevelson, Louise (1899 - 1988)
G
(218)
+0
Paalen, Alice Rahon (1904 - 1987)
G
(8)
+0
Phillips, Helen Elizabeth (1913 - 1994)
G
(12)
+0
Reynal, Jeanne (1903 - 1983)
G
(14)
+0
Ryan, Anne (1889 - 1954)
G
(32)
+0
Sage, Kay (1898 - 1963)
G
(37)
+0
Snead, Stella (1910 - 2006)
G
(4)
+0
Sobel, Janet (1894 - 1968)
G
(11)
+0
Tanning, Dorothea (1910 - 2012)
G
(66)
+0
Thecla, Julia (1896 - 1973)
G
(7)
+0
Tichenor, Bridget (1917 - 1990)
G
(2)
+0
Tomkins, Margaret (1916 - 2002)
G
(4)
+0
Varo, Remedios Lizarraga (1908 - 1963)
G
(19)
+0
Waldberg, Isabelle (1911 - 1990)
G
(13)
+0
Woodman, Francesca (1958 - 1981)
G
(60)
+0
Arcq, Tere (curator)
(2)
+0
Fort, Ilene Susan (*1949) (curator)
(6)
+0