Artist

| Gerhard Richter (*1932)
Alias: Gerhard Richter [Gerd Richter]
https://www.artist-info.com/artist/Gerhard-Richter
Artist Portfolio Catalog Overview\ 2
Biography (deutsch)
Biography (deutsch)
Gerhard Richter wird 1932 in Waltersdorf, Oberlausitz, geboren. Er studiert von 1952-1957 an der Hochschule für Bildende Künste in Dresden und nach einem Wechsel nach West-Deutschland an der Staatlichen Kunstakademie in Düsseldorf. 1963 gründet er zusammen mit Sigmar Polke und Konrad Lueg die Gruppe des "Kapitalistischen Realismus". In den 60er Jahren ist die geistige Haltung seines Werkes der Pop Art verwandt, er entwickelt aber einen eigenen, von den amerikanischen Vorbildern unabhängigen Weg. Für seine Arbeit setzt er Fotografien als Material und Werkzeug ein; wenn Richter mit Fotografien arbeitet, so auch aus der Einsicht, daß die Wahrnehmung der Wirklichkeit wesentlich bestimmt wird durch das Medienbild, durch die Reproduktionen der Illustrierten und Zeitungen, durch Film und Fernsehen. Typisch erscheint eine eigene "verwischte" fotorealistische Technik. In den späten 60er Jahren beginnt Richter eine Serie großformatiger, abstrakter Musterbögen, die seine stete elementare Auseinandersetzung mit Malerei repräsentieren. Der permanente Stilbruch wird bei Richter zum Stilprinzip (Klaus Honnef). 1971 wird Richter Professor an der Düsseldorfer Kunstakademie und vertritt im Jahr darauf Deutschland auf der Biennale in Venedig. 1976 zeigt die Kunsthalle in Bremen eine erste Retrospektive. Ende der 80er Jahre entsteht, erneut schockierend im Kontrast zu seinen  abstrakten Bildern, der heftig diskutierte Bilderzyklus "18. Oktober 1977". Aus seiner umfassenden Fotosammlung entwickelt sich darüber hinaus der Werkkomplex "Atlas" als monumentale  fotografische Enzyklopädie, die u.a. auf der Documenta X 1997 in Kassel umfassend präsentiert wird.
About the work (english / deutsch)
About the work (english / deutsch)
The fifteen paintings of varying size shown here were completed in 1988 and bear the collective title October 18th 1977. This cycle is to be regarded as a single complete work.

A tragedy seems to be unfolding; its beginning and its end. Each painting is a work in itself. Nevertheless the twofold, sometimes threefold attempts to capture a situation, say "Arrest", or "Gunshot Victim" or "Dead Woman" seem like the insistence of disbelief: it is as if the artist cannot credit the things he is saying and doing; as though even after many years he were trying to paint the horror out of his body.
On October 18th, 1977, on the day after the freeing of the hostages at Mogadishu, Andreas Baader, Gudrun Ensslin and Jan-Carl Raspe were found dead in their cells in Stammheim prison. Like Ulrike Meinhof and Holger Meins, they belonged to the hard core of the RAF (Red Army Faction). Ulrike Meinhof had already committed suicide in her cell on the 8th of May 1976, and Meins starved himself to death. Richter completed a death bed painting of Meins' head, but decided in the end not to include this work.
The cycle is based on police photographs. The artistic alienation, the unfocused quality of the paintings is Gerhard Richter's deliberate choice. As far back as the Sixties he incorporated into his technique the idea that a photograph cannot strictly speaking be "out of focus", provided that the artist does not correct the picture in accordance with his own experience of the subject, but takes into account only the photograph, exactly as it stands. In this instance the police photographs were assuredly not out of focus, and Richter's first step was to paint the photographs exactly; in the second stage he introduced the fuzziness, which is part of his artistic technique for assimilating the subject matter. However, the fuzziness is achieved by means of different brush strokes in different paintings: horizontal in "Burial" and the "Arrest" pictures I and II (Holger Meins); vertical in "Cell"; and more indefinite in the "Portraits" and pictures of objects and dead bodies, as though directed towards a spatial penetration of our perception, working more or less from the clear toward the unclear.
This is a work against ideology and against delusion, because, as Richter says, ideologies lead to death. Even an artistic style can turn into an ideology, because it can take on a life of its own and lead the artist into the abyss (the so-called inconsistencies of style evident in Richter's oeuvre speak clearly to this point).
It is a work about mourning. Mourning for the fact that people will give themselves up to a radical idea und try to impose it on others by violence, thereby destroying both themselves and others.
Thus the work reaches far beyond the limited time span which it superficially establishes. It is a warning against ideologies in general, and especially against those that have driven this country and Europe to ruin.
What would it have signified, if Richter had also painted the victims, those who were expressly hunted down by the RAF? This question is raised from time to time. It would have meant that Richter was branding the victims as victims of their own ideology, or that he was ascribing an ideology to them, as if they were on the same level as the perpetrators. An absurd thought, from the artist's point of view.
From the outset, Richter intended this cycle for public viewing. Not out of presumption, rather because it seemed intolerable to him that these paintings could hang in private rooms.
Likewise from the outset, it was our desire to show the cycle in the Museum für Moderne Kunst over a long period. In general Frankfurt played a not inconsiderable role in the terrorist scene of the Seventies. Jürgen Ponto, head of the Dresdner Bank, was murdered here by the RAF in 1977, and Alfred Herrhausen, head of the Deutsche Bank, in 1989.

German text by Jean-Christophe Ammann / Translation by Barbara Norden (Birmingham)
(Extract - Full printed version available in the Museum)
MMK - Museum für Moderne Kunst, Frankfurt am Main





Die fünfzehn unterschiedlich großen Bilder aus dem Jahr 1988 tragen den Gesamttitel 18. Oktober 1977. Der Zyklus ist als einziges, geschlossenes Werk zu betrachten.

Eine Tragödie scheint sich hier abzuspielen, ihr Anfang und ihr Ende. Jedes Bild ist ein Werk für sich. Trotzdem erscheint das zweifache, ja dreifache Festhalten einer Situation, ob "Festnahme", "Erschossener" oder "Tote", wie ein ungläubiges Insistieren: als würde der Künstler dem, was er sieht und tut nicht trauen; als würde er sich das Entsetzen auch nach vielen Jahren aus dem Leib malen.
Am 18. Oktober 1977, am Tag nach der Geiselbefreiung in Mogadischu wurden Andreas Baader, Gudrun Ensslin und Jan-Carl Raspe tot in ihren Stammheimer Gefängniszellen aufgefunden. Sie gehörten wie Ulrike Meinhof und Holger Meins zum harten Kern der Roten Armee Fraktion (RAF). Ulrike Meinhof beging schon am 8. Mai 1976 in ihrer Zelle Selbstmord, Holger Meins hungerte sich zu Tode. Seinen Kopf auf dem Totenbett hatte Richter ebenfalls gemalt, konnte sich jedoch am Schluß nicht für das Werk entscheiden.
Dem Zyklus liegen Polizeifotos zugrunde. Die malerische Verfremdung, ihre Unschärfe, gehört zur künstlerischen Entscheidung von Gerhard Richter. Er hatte das Verfahren schon in den sechziger Jahren mit den Hinweis darauf praktiziert, daß genau genommen ein Foto nie "unscharf" sein könne, und zwar dann, wenn man vom Bild erfahrungsbedingt nicht korrigierend auf das Abgebildete schließt, sondern das Foto, so wie es sich darstellt, allein in Betracht zieht.
In diesem Falle waren die Polizeifotos sicher nicht unscharf, und Richter hat in einem ersten Schritt die Fotos auch präzis gemalt, in einem zweiten jene Unschärfe hineingebracht, die letztlich auch mit der malerischen Bewältigung der Bildmotive in Zusammenhang steht. Jedoch ist diese Unschärfe durch den Pinselduktus verschieden strukturiert, horizontal in "Beerdigung" und "Festnahme" I und II (Holger Meins), vertikal in "Zelle"; bei den "Bildnissen", Gegenständen und Toten eher unbestimmt, auf ein räumliches Durchdringen der Wahrnehmung ausgerichtet, gewissermaßen von deutlich bis undeutlich.

Es ist ein Werk gegen Ideologien und gegen den Wahn, weil, wie Richter sagt, Ideologien in den Tod führen. Sogar ein künstlerischer Stil kann zur Ideologie ausarten, insofern der Stil sich verselbständigt und den Künstler in den Abgrund zieht. (Die sogenannten Stilbrüche im gesamten Schaffen von Richter reden diesbezüglich eine deutliche Sprache.)
Es ist ein Werk über die Trauer. Die Trauer, daß Menschen sich einer radikalen Idee hingeben und diese mit Gewalt gegen andere Menschen durchzusetzen versuchen, sich und andere Menschen dabei zerstören.
Somit reicht dieses Werk weit über den begrenzten Zeitraum hinaus, den es vordergründig festschreibt. Es ist ein Menetekel gegen Ideologien schlechthin und jene im besonderen, die dieses Land und Europa ins Verderben gestürzt haben.
Was hätte es bedeutet, wenn Richter zusätzlich auch die Opfer gemalt hätte, jene von der RAF explizit ausgesuchten? Diese Frage taucht gelegentlich auf. Es hätte dazu geführt, daß Richter die Opfer zu Opfern ihrer eigenen "Ideologie" gestempelt hätte bzw. ihnen eine Ideologie unterschoben hätte, so als wären sie auf der gleichen Ebene wie die Täter zu sehen. Aus der Perspektive des Künstlers, ein absurder Gedanke.
Von Beginn an bestimmte Gerhard Richter den Zyklus für die Öffentlichkeit. Nicht aus Anmaßung, sondern weil es ihm unerträglich erschien, daß diese Bilder in privaten Räumen hängen könnten.
Ebenso von Beginn an, war es unser Wunsch, diesen Zyklus im Museum für Moderne Kunst langfristig zeigen zu können. Frankfurt spielte ganz allgemein in der Terroristenszene der siebziger Jahre eine nicht unbedeutende Rolle. Hier wurden zudem 1977 Jürgen Ponto, Chef der Dresdner Bank, und 1989 Alfred Herrhausen, Chef der Deutschen Bank, von der RAF ermordet.

Text von Jean-Christophe Ammann
(Auszug - Der vollständige Text ist als Informationsblatt beim Museum erhältlich)
MMK - Museum für Moderne Kunst, Frankfurt am Main
Bibliography
Bibliography
Gerhard Richter: Ausstellungs Katalog Kunstmuseum Luzern 1969.

Gerhard Richter: Bilder 1962-1985. Hrsg. Jürgen Harten, Ausstellungs Katatalog Düsseldorf, Berlin, Bern Wien 1986, DuMont Köln 1986.

Gerhard Richter: Werkübersicht 1962-93. Drei Bände. Kunst- und Ausstellungshalle der Bundesrepublik Deutschland, Edition Cantz 1993

Gerhard Richter: Text. Schriften und Interviews, Hrsg. Hans-Ulrich Obrist, Insel Verlag, Frankfurt 1993.
Exhibition Announcements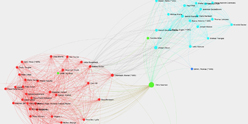 Interested in discovering more of this artist's networks?
3 easy steps: Register, buy a package for a visualization, select the artist.
See examples how visualization looks like for an artist, a curator, or an exhibition place: Gallery, museum, non-profit place, or collector.

Exhibition History

SUMMARY

based on artist-info records. More details and Visualizing Art Networks on demand.
Venue types:

Gallery

/

Museum

/

Non-Profit

/

Collector

Exhibitions in artist-info
527 (S 158/ G 369)

Did show together with

- Top 5 of 4956 artists
(no. of shows) - all shows - Top 100

Exhibitions by type

527: 151 / 202 / 165 / 9
Venues by type

289: 82 / 100 / 101 / 6
Curators
213
artist-info records
Sep 1962 - Jul 2023

Countries

- Top 5 of 24
Germany (260)
United States (75)
Switzerland (30)
United Kingdom (25)
France (22)


Cities

- Top 5 of 130
New York (53)
Berlin (43)
Frankfurt am Main (37)
Köln (27)
München (23)


Venues

(no. of shows ) Top 5 of 289
| | | |
| --- | --- | --- |
| | | Curators (no. of shows) Top 5 of 213 |