Non-Profit

| Rotonda della Besana

via Enrico Besana, 12
I - 20122 Milano - Italy Google Map
T.:
Web: Email:
https://www.artist-info.com/nonprofit/Rotonda-della-Besana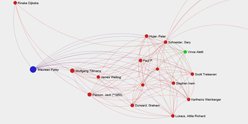 Interested in discovering more of this venue's networks?
3 easy steps: Register, buy a package for a visualization, select the exhibition place.
See examples how visualization looks like for an artist, a curator, or an exhibition place: Gallery, museum, non-profit place, or collector.

Exhibition History

SUMMARY

based on artist-info records. More details and Visualizing Art Networks on demand.
Venue types:

Gallery

/

Museum

/

Non-Profit

/

Collector

Exhibitions in artist-info
2 ( S 1/ G 1)

Shown Artists

- Top 5 of 121
(no. of shows) - all shows - Top 100

Artists in exhibitions
121
Curators in exhibitions
4
Linked to other venues through shown artists

1039: 459 / 225 / 342 / 13
artist-info records
Jan 1975 - May 2010

Curators -

Top 4 of 4 (no. of shows )
Luigi Cavadini (1)
Bruno Corà (1)
Guido Montana (1)
Giacinto di Pietrantonio (1)


Linked through shown artists -

Top 5 of 1040 venues
Offers/Requests

Exhibition Announcement

Portfolio

S / G Solo/Group Exhibitions



(..) Exhibitions + Favorites

9999, [Giorgio Birelli, Carlo Caldini, Fabrizio Fiumi, Paolo Galli] (1968 - 1972)
G
Feb 2010 - May 2010
(2)
+0
Accardi, Carla (1924 - 2014)
G
(94)
+0
Adami, Valerio (*1935)
G
(84)
+0
Agnetti, Vincenzo (1926 - 1981)
G
(47)
+0
Alfano, Carlo (1932 - 1990)
G
(18)
+0
Alviani, Getulio ['Getulio'] (1939 - 2018)
G
(141)
+0
Ambrosiano & Zanatta, [Ambrosiano & Giancarlo Zanatta]
G
(1)
+0
Anceschi, Giovanni (*1939)
G
(48)
+0
Angeli, Franco (1935 - 1988)
G
(35)
+0
Anselmo, Giovanni (*1934)
G
(134)
+0
Archizoom, [A. Branzi, G. Corretti, P. Deganello, M. Morozzi, D. Bartolini, L. Bartolini] (*1966)
G
(8)
+0
Aricò, Rodolfo (1930 - 2002)
G
(36)
+0
Ascani [Nuvolo], Giorgio (*1926)
G
(4)
+0
Baj, Enrico (1924 - 2003)
G
(103)
+0
Balestrini, Nanni (*1935)
G
(10)
+0
Bellini, Mario (*1935)
G
(4)
+0
Bellini, Mario & Dario
G
(1)
+0
Bello, Bruno di (*1938)
G
(16)
+0
Bendini, Vasco (1922 - 2015)
G
(19)
+0
Biasi, Alberto (*1937)
G
(87)
+0
Boetti, Alighiero (1940 - 1994)
G
(265)
+1
Bonalumi, Agostino (1935 - 2013)
G
(150)
+0
Boriani, Davide (*1936)
G
(75)
+0
Burri, Alberto (1915 - 1995)
G
(172)
+0
Calzolari, Pier Paolo (*1943)
G
(89)
+0
Carrino, Nicola (*1932)
G
(31)
+0
Casini, Vittorio
G
(1)
+0
Castellani, Enrico (1930 - 2017)
G
(222)
+0
Castiglioni, Achille & Pier Giacomo (1918-2002, 1913-1968)
G
(5)
+0
Ceroli, Mario (*1938)
G
(86)
+0
Chiari, Giuseppe (1926 - 2007)
G
(38)
+0
Chiggio, Ennio Ludovico (*1938)
G
(23)
+0
Colombo, Gianni (1937 - 1993)
G
(170)
+0
Colombo, Joe Cesare (1930 - 1971)
G
(7)
+0
Consagra, Pietro (1920 - 2005)
G
(73)
+0
Costa, Toni [Giovanni Antonio] (1935 - 2013)
G
(45)
+0
Dadamaino, [Eduarda Emilia Maino] (1930 - 2004)
G
(114)
+0
Dias, Antônio (1944 - 2018)
G
(63)
+0
Dominicis, Gino de (1947 - 1998)
G
(46)
+0
Donzelli & Carnielli, [Rinaldo Donzelli & Teodoro Carnielli]
G
(1)
+0
Fabro, Luciano (1936 - 2007)
G
(116)
+0
Festa, Tano (1938 - 1987)
G
(42)
+0
Fontana, Lucio (1899 - 1968)
G
(475)
+0
Gastini, Marco (1938 - 2018)
G
(58)
+0
Gatti, Paolini, Teodoro, [Piero Gatti, Cesare Paolini, Franco Teodoro]
G
(2)
+0
Gilardi, Piero (*1942)
G
(58)
+0
Griffa, Giorgio (*1936)
G
(53)
+0
Guarneri, Riccardo (*1933)
G
(46)
+0
Hsiao, Chin [Xiao Qin] [Jin Xiao] (*1935)
G
(17)
+0
Icaro, Paolo [Pietro Paolo Chissotti] (*1936)
G
(29)
+0
Isgrò, Emilio (*1937)
G
(36)
+0
Kounellis, Jannis (1936 - 2017)
G
(248)
+0
La Pietra, Ugo (*1938)
G
(17)
+0
La Rocca, Ketty (1938 - 1976)
G
(25)
+0
Landi, Edoardo (*1937)
G
(39)
+0
Lombardo, Sergio (*1939)
G
(21)
+0
Magistretti, Vico (1920 - 2006)
G
(6)
+0
Mambor, Renato (1936 - 2014)
G
(13)
+0
Manzoni, Piero (1933 - 1963)
G
(279)
+0
Marchegiani, Elio (*1929)
G
(18)
+0
Mari, Enzo (1932 - 2020)
G
(88)
+0
Mariani, Umberto (*1936)
G
(11)
+0
Marotta, Gino (1935 - 2012)
G
(24)
+0
Massironi, Manfredo (1937 - 2011)
G
(53)
+0
Mattiacci, Eliseo (*1940)
G
(39)
+0
Mauri, Fabio (1926 - 2009)
G
(38)
+0
Melani, Fernando (1907 - 1985)
G
(11)
+0
Melotti, Fausto (1901 - 1986)
G
(70)
+0
Merz, Mario (1925 - 2003)
G
(239)
+0
Merz, Marisa (1931 - 2019)
G
(41)
+0
Mochetti, Maurizio (*1940)
G
(19)
+0
Mondino, Aldo (1938 - 2005)
G
(47)
+0
Mulas, Ugo (1928 - 1973)
G
(29)
+0
Munari, Bruno (1907 - 1998)
G
(130)
+0
Nagasawa, Hidetoshi (*1940)
G
(25)
+0
Nigro, Mario (1917 - 1992)
G
(65)
+0
Novelli, Gastone (1925 - 1968)
G
(61)
+0
Olivieri, Claudio (*1934)
G
(43)
+0
Paolini, Giulio (*1940)
G
(192)
+0
Pardi, Gianfranco (1933 - 2012)
G
(22)
+0
Parmiggiani, Claudio (*1943)
G
(44)
+0
Pascali, Pino (1935 - 1968)
G
(95)
+0
Patella, Luca Maria (*1934)
G
(27)
+0
Penone, Giuseppe (*1947)
G
(148)
+0
Pettena, Gianni (*1940)
G
(9)
+0
Pezzo, Lucio Del (*1933)
G
(63)
+0
Piacentino, Gianni (*1945)
G
(23)
+0
Pinot-Gallizio, Giuseppe (1902 - 1964)
G
(24)
+0
Pisani, Vettor (1934 - 2011)
G
(26)
+0
Pistoletto, Michelangelo (*1933)
G
(225)
+0
Pomodoro, Arnaldo (*1926)
G
(90)
+0
Prini, Emilio (1943 - 2016)
G
(40)
+0
Ranaldi, Renato (*1941)
G
(12)
+0
Romagnoni, Giuseppe [Bepi] (1930 - 1964)
G
(12)
+0
Rotella, Mimmo (1918 - 2006)
G
(157)
+0
Salvo, [Salvatore Mangione] (*1947)
G
(43)
+0
Sapper, Richard (1932 - 2015)
G
(4)
+0
Savelli, Angelo (1911 - 1995)
G
(32)
+0
Savio, Francesco Lo (1935 - 1963)
G
(61)
+0
Scarpitta, Salvatore (1919 - 2007)
G
(79)
+0
Scheggi, Paolo (1940 - 1971)
G
(186)
+0
Schifano, Mario (1934 - 1998)
G
(97)
+0
Simonetti, Gianni Emilio (*1940)
G
(14)
+0
Spadari, Giangiacomo (1938 - 1997)
G
(8)
+0
Spagnulo, Giuseppe (1936 - 2016)
G
(82)
+0
Staccioli, Mauro (1937 - 2017)
G
(31)
+0
Studio 970 2, [Luciano Giaccari & G. C. Maud]
G
(1)
+0
Superstudio, [P. Frassinelli, A. Magris, R. Magris, A. Natalini, A. Poli, Ch. Toraldo di Francia] (1966 - 1978)
G
(16)
+0
Tacchi, Cesare (1940 - 2014)
G
(18)
+0
Tadini, Émilio (1927 - 2002)
G
(26)
+0
Tancredi, [Tancredi Parmeggiani] (1927 - 1964)
G
(47)
+0
UFO, Lapo Binazzi, Riccardo Foresi, Titti Maschietto, Carlo Bachi, Partizia Cammeo] (*1967)
G
(7)
+0
Uncini, Giuseppe (1929 - 2008)
G
(54)
+0
Vaccari, Franco (*1936)
G
(25)
+0
Varisco, Grazia (*1937)
G
(71)
+0
Vecchi, Gabriele de (1938 - 2011)
G
(54)
+0
Verna, Claudio (*1937)
G
(35)
+0
Zanuso & Sapper, [Marco Zanuso & Richard Sapper]
G
(1)
+0
Zaza, Michele (*1948)
G
(17)
+0
Zorio, Gilberto (*1944)
G
(112)
+0
Cavadini, Luigi (curator)
(2)
+0
Corà, Bruno (*1942) (curator)
(16)
+0
Pietrantonio, Giacinto di (curator)
(8)
+0
Grignani, Franco (1908 - 1999)
S
Jan 1975 - Feb 1975
(27)
+0
Montana, Guido (curator)
(2)
+0