Non-Profit

| Internationale Ausstellung Graphik der Gegenwart 1959 - NKV

Wilhelmstraße 15
D - 65185 Wiesbaden - Germany Google Map
T.:
Web: Email:
https://www.artist-info.com/nonprofit/Graphik-der-Gegenwart-1959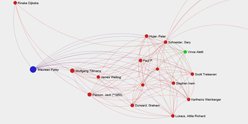 Interested in discovering more of this venue's networks?
3 easy steps: Register, buy a package for a visualization, select the exhibition place.
See examples how visualization looks like for an artist, a curator, or an exhibition place: Gallery, museum, non-profit place, or collector.

Exhibition History

SUMMARY

based on artist-info records. More details and Visualizing Art Networks on demand.
Venue types:

Gallery

/

Museum

/

Non-Profit

/

Collector

Exhibitions in artist-info
1 ( S 1/ G 0)

Shown Artists

- Top 5 of 243
(no. of shows) - all shows - Top 100

Artists in exhibitions
243
Curators in exhibitions
0
Linked to other venues through shown artists

1628: 849 / 383 / 382 / 14
artist-info records
Sep 1959 - Oct 1959

Curators -

Top 0 of 0 (no. of shows )

Linked through shown artists -

Top 5 of 1629 venues
Offers/Requests

Exhibition Announcement

Portfolio

S / G Solo/Group Exhibitions



(..) Exhibitions + Favorites

Adam, Henri Georges (1904 - 1967)
S
Sep 1959 - Oct 1959
(16)
+0
Aduatz, Friedrich (1907 - 1994)
S
(2)
+0
Afro, [Afro Basaldella] (1912 - 1976)
S
(77)
+0
Alcalay, Albert (1917 - 2008)
S
(7)
+0
Alps, Glen Earl (1914 - 1996)
S
(1)
+0
Angeli, Franco (1935 - 1988)
S
(35)
+0
Arp, Jean [Hans] (1886 - 1966)
S
(515)
+0
Assetto, Franco (1911 - 1994)
S
(11)
+0
Autzinger-Mrak, Louise (1923 - 1986)
S
(2)
+0
Avery, Milton (1885 - 1965)
S
(125)
+0
Baier, Jean (1932 - 1999)
S
(14)
+0
Barnet, Will R. (1911 - 2012)
S
(13)
+0
Battke, Heinz (1900 - 1966)
S
(49)
+0
Beck, Gustav Kurt (1902 - 1983)
S
(10)
+0
Bertoni, Wander (*1925)
S
(9)
+0
Bilger, Margret (1904 - 1971)
S
(11)
+0
Birolli, Renato (1905 - 1959)
S
(42)
+0
Bischoffshausen, Hans (1927 - 1987)
S
(32)
+0
Bissière, Roger (1886 - 1964)
S
(104)
+0
Bluhm, Norman (1920 - 1999)
S
(54)
+0
Bodmer, Walter [Gruppe 33] (1903 - 1973)
S
(41)
+0
Bolomey, Roger Henry (1918 - 2011)
S
(6)
+0
Boumeester, Christine (1904 - 1971)
S
(10)
+0
Bozzolini, Silvano (1911 - 1998)
S
(15)
+0
Braun, Theo (1922 - 2006)
S
(5)
+0
Brauner, Victor (1903 - 1966)
S
(119)
+0
Breiter, Herbert (1927 - 1999)
S
(10)
+0
Breustedt, Hans Joachim (1901 - 1984)
S
(8)
+0
Brody, Lilly (*1905)
S
(3)
+0
Bryen, Camille [Camille Briand] (1907 - 1977)
S
(57)
+0
Buffet, Bernard (1928 - 1999)
S
(42)
+0
Cajori, Charles (1921 - 2013)
S
(14)
+0
Calcagno, Lawrence (1913 - 1993)
S
(17)
+0
Campigli, Massimo [Max Ihlenfeld] (1895 - 1971)
S
(89)
+0
Capogrossi, Giuseppe (1900 - 1972)
S
(149)
+0
Carzou, Jean (1907 - 2000)
S
(10)
+0
Cavallaro, Jean (1930 - 2000)
S
(3)
+0
Cavaël, Rolf (1898 - 1979)
S
(83)
+0
Childs, Bernard (1910 - 1985)
S
(14)
+0
Chrostowska-Piotrowicz, Halina (1929 - 1990)
S
(6)
+0
Cicero, Carmen Louis (*1926)
S
(22)
+0
Cintoli, Claudio (*1935)
S
(9)
+0
Clavé, Antoni (1913 - 2005)
S
(54)
+0
Clerk, Pierre (*1928)
S
(8)
+0
Conover, Robert Fremont (1920 - 1998)
S
(13)
+0
Corneille, [Corneille Guillaume van Beverloo] (1922 - 2010)
S
(117)
+0
Corpora, Antonio (1909 - 2004)
S
(41)
+0
Crippa, Roberto Gaetano (1921 - 1972)
S
(66)
+0
Dahmen, Karl Fred (1917 - 1981)
S
(83)
+0
Decleva, Mario (1930 - 1979)
S
(5)
+0
Delaunay-Terk, Sonia (1885 - 1979)
S
(191)
+0
Deppe, Gustav (1913 - 1999)
S
(27)
+0
Deyrolle, Jean (1911 - 1967)
S
(76)
+0
Dikkenboer, Daniël den (1918 - 1979)
S
(4)
+0
Dorazio, Piero (1927 - 2005)
S
(226)
+0
Duboscq, Jean (*1928)
S
(1)
+0
Dubuffet, Jean (1901 - 1985)
S
(400)
+0
Eble, Theo [Gruppe 33] (1899 - 1974)
S
(23)
+0
Eckert, Walter (1913 - 2001)
S
(4)
+0
Elenbaas, Wally [Valdemar Hansen] (1912 - 2008)
S
(9)
+0
Embry, Norris (1921 - 1981)
S
(4)
+0
Ernst, Jimmy (1920 - 1984)
S
(39)
+0
Ernst, Max (1891 - 1976)
S
(587)
+0
Estève, Maurice (1904 - 2001)
S
(40)
+0
Falchi, Ettore (1913 - 1997)
S
(5)
+0
Feito, Luis (*1929)
S
(28)
+0
Fischer-Schuppach, Hans (1906 - 1987)
S
(8)
+0
Fontana, Lucio (1899 - 1968)
S
(475)
+0
Frasconi, Antonio (1919 - 2013)
S
(32)
+0
Freist, Greta (1904 - 1993)
S
(2)
+0
Friedlaender, Gotthard Johnny (1912 - 1992)
S
(25)
+0
Fruhmann, Johann (1928 - 1985)
S
(9)
+0
Garelli, Franco (1909 - 1973)
S
(13)
+0
Garino, Piero (1922 - 2009)
S
(2)
+0
Gaul, Winfred (1928 - 2003)
S
(93)
+0
Geiger, Rupprecht (1908 - 2009)
S
(177)
+0
Gentilini, Franco (1909 - 1981)
S
(48)
+0
Gigon, André (1924 - 1991)
S
(4)
+0
Gischia, Léon (1903 - 1991)
S
(19)
+0
Goebel, Gottfried (1906 - 1975)
S
(4)
+0
Graves, Morris (1910 - 2001)
S
(85)
+0
Grieshaber, HAP [Helmut Andreas Paul] (1909 - 1981)
S
(139)
+0
Guth, Hella (1908 - 1992)
S
(6)
+0
Götz, K.O. [Karl Otto] (1914 - 2017)
S
(163)
+0
Haass, Terry [Tereza] (1923 - 2016)
S
(13)
+0
Hansen-Bahia, Karl Heinz (1915 - 1978)
S
(6)
+0
Harnest, Fritz (1905 - 1999)
S
(13)
+0
Hartigan, Grace (1922 - 2008)
S
(61)
+0
Hartung, Hans (1904 - 1989)
S
(203)
+0
Hayter, Stanley William (1901 - 1988)
S
(92)
+0
Herbin, Auguste (1882 - 1960)
S
(179)
+0
Herzele-Kraus, Margarethe (*1931)
S
(2)
+0
Hirsch, Joseph (1910 - 1981)
S
(28)
+0
Hollegha, Wolfgang (*1929)
S
(27)
+0
Hradil, Rudolf (1925 - 2007)
S
(9)
+0
Hultberg, John (1922 - 2005)
S
(24)
+0
Hundertwasser, Friedensreich [Friedrich Strowasser] (1928 - 2000)
S
(92)
+0
Hutter, Wolfgang (1928 - 2014)
S
(11)
+0
Inokuma, Gen'ichirō (1902 - 1993)
S
(7)
+0
Jank-Leden, Johanna (*1920)
S
(1)
+0
Jarema, Jozef (1900 - 1974)
S
(7)
+0
Johns, Jasper (*1930)
S
(431)
+0
Johnson, Lester F. (1919 - 2010)
S
(36)
+0
Jürgen-Fischer, Klaus (*1930)
S
(36)
+0
Karskaya, Ida (1905 - 1990)
S
(14)
+0
Kerg, Théo (1909 - 1993)
S
(18)
+0
Koenig, John Franklin (1924 - 2008)
S
(12)
+0
Kramm, Willibald (1891 - 1969)
S
(8)
+0
Krasnitzky, Kay (1914 - 1978)
S
(3)
+0
Kraus, Günther (*1930)
S
(3)
+0
Kreutzberger, Karl (1916 - 1990)
S
(2)
+0
Kubovsky, Peter (1930 - 2014)
S
(3)
+0
Lacasse, Joseph (1894 - 1975)
S
(13)
+0
Lapoujade, Robert (1921 - 1993)
S
(12)
+0
Lasansky, Mauricio (1914 - 2012)
S
(28)
+0
Lassnig, Maria (1919 - 2014)
S
(160)
+0
Lebrun, Rico (1900 - 1964)
S
(51)
+0
Lehmden, Anton (1929 - 2018)
S
(15)
+0
Leiber, Gerson August (*1921)
S
(3)
+0
Leinfellner, Heinz (1911 - 1974)
S
(7)
+0
Leppien, Jean (1910 - 1991)
S
(34)
+0
Levee, John Harrison (1924 - 2017)
S
(16)
+0
Levine, Jack (1915 - 2010)
S
(87)
+0
Lewy, Kurt (1898 - 1963)
S
(2)
+0
Longo, Vincent John (*1923)
S
(6)
+0
Léon, Michael Ponce de (1922 - 2006)
S
(7)
+0
Magnelli, Alberto (1888 - 1971)
S
(137)
+0
Malfi, Walter (*1915)
S
(1)
+0
Manessier, Alfred (1911 - 1993)
S
(71)
+0
Marignoli, Filippo (1926 - 1995)
S
(7)
+0
Marini, Marino (1901 - 1980)
S
(185)
+0
Martinelli, Giuseppe (*1930)
S
(3)
+0
Mascherini, Marcello (1906 - 1983)
S
(22)
+0
Matta, [Roberto Antonio Sebastian Matta Echaurren] (1911 - 2002)
S
(298)
+0
Matuszczak, Edward [MATU] (1906 - 1965)
S
(3)
+0
Meissner, Paul (1907 - 1982)
S
(6)
+0
Mendelson, Marc (1915 - 2013)
S
(15)
+0
Merwart, Ludwig (1913 - 1979)
S
(5)
+0
Mikl, Josef (1929 - 2008)
S
(33)
+0
Miyashita, Tadash (1922 - 1979)
S
(2)
+0
Mortensen, Richard (1910 - 1993)
S
(127)
+0
Mušič, Zoran Antonio (1909 - 2005)
S
(79)
+0
Möser, Kurt (1926 - 1982)
S
(2)
+0
Müller, Jan (1922 - 1958)
S
(24)
+0
Negri, Nina (1901 - 1981)
S
(9)
+0
Nesch, Rolf (1893 - 1975)
S
(69)
+0
Neumann, Robert von (1888 - 1976)
S
(1)
+0
Neuwirth, Arnulf (1912 - 2012)
S
(1)
+0
Nigro, Mario (1917 - 1992)
S
(65)
+0
Nikos, [Nikos Kessanlis] (1930 - 2004)
S
(29)
+0
Niro, Robert de (1882 - 1946)
S
(2)
+0
Novak, Fred (1919 - 1974)
S
(1)
+0
Novelli, Gastone (1925 - 1968)
S
(61)
+0
Ober, Hermann (1920 - 1997)
S
(12)
+0
Panek, Jerzy (1918 - 2001)
S
(11)
+0
Peiffer Watenphul, Max (1896 - 1976)
S
(50)
+0
Perilli, Achille (*1927)
S
(86)
+0
Perizi, Nino (1917 - 1994)
S
(6)
+0
Petlevski, Ordan (1930 - 1997)
S
(8)
+0
Pick, Robert
S
(1)
+0
Pignon, Édouard (1905 - 1993)
S
(41)
+0
Pink, Lutka (1906 - 1998)
S
(4)
+0
Piza, Arthur Luiz (1928 - 2017)
S
(24)
+0
Platschek, Hans (1923 - 2000)
S
(54)
+0
Pointer, Rudolf
S
(1)
+0
Polasek, Martin (*1924)
S
(2)
+0
Prampolini, Enrico (1894 - 1956)
S
(90)
+0
Prassinos, Mario (1916 - 1985)
S
(33)
+0
Pregartbauer, Lois (1899 - 1971)
S
(3)
+0
Profohs, Lotte (1934 - 2012)
S
(1)
+0
Pálffy, Peter (1899 - 1988)
S
(3)
+0
Rabus, Carl (1898 - 1983)
S
(12)
+0
Rainer, Arnulf (*1929)
S
(364)
+0
Raspi, Piero (*1926)
S
(8)
+0
Reggiani, Mauro (1897 - 1980)
S
(67)
+0
Resnick, Milton (1917 - 2004)
S
(40)
+0
Restek, Josip (1915 - 1987)
S
(7)
+0
Richier, Germaine (1902 - 1959)
S
(71)
+0
Rivers, Larry (1923 - 2002)
S
(125)
+0
Rudziński, Andrzej (1910 - 1980)
S
(5)
+0
Rusche Wolters, Ursula (1914 - 2003)
S
(8)
+0
Russell, George Gordon (*1932)
S
(3)
+0
Sablić, Rudolf (*1916)
S
(2)
+0
Saetti, Bruno (1902 - 1984)
S
(18)
+0
Sandig, Armin (1929 - 2015)
S
(24)
+0
Sanfilippo, Antonio (1923 - 1980)
S
(32)
+0
Sanmartí, Maria (1886 - 1959)
S
(3)
+0
Saroni, Sergio (1934 - 1991)
S
(8)
+0
Scanavino, Emilio (1922 - 1986)
S
(71)
+0
Schneider, Gérard Ernest (1896 - 1986)
S
(55)
+0
Schreib, Werner (1925 - 1969)
S
(35)
+0
Schumacher, Emil (1912 - 1999)
S
(236)
+0
Schwarz, Hannes (*1926)
S
(3)
+0
Schwarzmann,
S
(1)
+0
Schütz-Leinfellner, Therese (1922 - 1967)
S
(1)
+0
Schütz-Wolff, Johanna (1896 - 1965)
S
(24)
+0
Scialoja, Toti (1914 - 1998)
S
(48)
+0
Seuphor, Michel [Fernand Berckelaers] (1901 - 1999)
S
(53)
+0
Severini, Gino (1883 - 1966)
S
(202)
+0
Shahn, Ben (1898 - 1969)
S
(176)
+0
Singier, Gustave (1909 - 1984)
S
(44)
+0
Soulages, Pierre (1919 - 2022)
S
(116)
+0
Souček, Slavi (1898 - 1980)
S
(6)
+0
Spacal, Lojze [Luigi] (1907 - 2000)
S
(15)
+0
Sperling, Maria (1898 - 1995)
S
(2)
+0
Springer, Ferdinand (1908 - 1998)
S
(19)
+0
Srbinović, Mladen (*1925)
S
(9)
+0
Stadler, Walter (*1910)
S
(3)
+0
Staudacher, Hans (*1923)
S
(56)
+0
Stein, Walter (*1924)
S
(3)
+0
Steinhart, Anton (1889 - 1964)
S
(3)
+0
Sterpini, Ugo (1927 - 2000)
S
(5)
+0
Stockbauer, Hans (1910 - 1982)
S
(2)
+0
Stoitzner-Millinger, Josef (1911 - 1982)
S
(1)
+0
Stoltenberg, Donald (*1927)
S
(3)
+0
Stout, Myron (1908 - 1987)
S
(22)
+0
Stransky, Ferdinand (1904 - 1981)
S
(3)
+0
Sugaï, Kumi (1919 - 1996)
S
(46)
+0
Swoboda, Gerhard (1923 - 1975)
S
(5)
+0
Szeni, Maria (*1914)
S
(3)
+0
Takal, Peter (1905 - 1995)
S
(5)
+0
Terbois, Pierre (1932 - 2006)
S
(8)
+0
Tharrats, Juan-José (1918 - 2001)
S
(23)
+0
Thayan, Jean (1907 - 1991)
S
(3)
+0
Thieler, Fred (1916 - 1999)
S
(110)
+0
Treiman, Joyce Wahl (1922 - 1991)
S
(24)
+0
Unger, Carl (1915 - 1995)
S
(4)
+0
Vasarely, Victor [Győző Vásárhelyi] (1908 - 1997)
S
(339)
+0
Vicente, Esteban (1903 - 2001)
S
(43)
+0
Villon, Jacques [Gaston Duchamp] (1875 - 1963)
S
(133)
+0
Weiler, Max (1910 - 2001)
S
(26)
+0
Weissauer, Rudolf (1924 - 1996)
S
(5)
+0
Westpfahl, Conrad (1891 - 1976)
S
(47)
+0
Wibmer, Franziska (1925 - 1982)
S
(3)
+0
Wicht, John van (1888 - 1970)
S
(18)
+0
Wilthelm, Heinrich (1913 - 1969)
S
(6)
+0
Winter, Fritz (1905 - 1976)
S
(174)
+0
Woelffer, Emerson (1914 - 2003)
S
(34)
+0
Yppen, Grete (1917 - 2008)
S
(3)
+0
ZAO, Wou-Ki (1921 - 2013)
S
(54)
+0
Zerbe, Karl (1903 - 1972)
S
(47)
+0
Ziemann, Richard Claude (*1932)
S
(3)
+0
Zimmermann, Mac (1912 - 1995)
S
(41)
+0