Non-Profit

| Performa 2009

100 West 23rd St, Fl 5
USA New York NY 10011
T.: +1 - 212 - 366-5700
Web: http://performa-arts.org Email:
https://www.artist-info.com/nonprofit/Performa-2009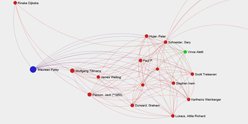 Interested in discovering more of this venue's networks?
3 easy steps: Register, buy a package for a visualization, select the exhibition place.
See examples how visualization looks like for an artist, a curator, or an exhibition place: Gallery, museum, non-profit place, or collector.

Exhibition History

SUMMARY

based on artist-info records. More details and Visualizing Art Networks on demand.
Venue types:

Gallery

/

Museum

/

Non-Profit

/

Collector

Exhibitions in artist-info
1 ( S 0/ G 1)

Shown Artists

- Top 5 of 189
(no. of shows) - all shows - Top 100

Artists in exhibitions
189
Curators in exhibitions
0
Linked to other venues through shown artists

1282: 523 / 306 / 433 / 20
artist-info records
Nov 2009 - Nov 2009

Curators -

Top 0 of 0 (no. of shows )

Linked through shown artists -

Top 5 of 1282 venues
Offers/Requests

Exhibition Announcement

Portfolio

S / G Solo/Group Exhibitions



(..) Exhibitions + Favorites

Ackermann, Rita (*1968)
G
Nov 2009 - Nov 2009
(49)
+0
Aerts, Michaël (*1979)
G
(5)
+0
Amir, Einat
G
(4)
+0
Arahmajani, (*1961)
G
(6)
+0
Auder, Michel (*1945)
G
(27)
+0
Backström, Fia (*1970)
G
(20)
+0
Bader, Darren (*1978)
G
(17)
+0
Baga, Trisha (*1985)
G
(11)
+0
Ballos, Felicia
G
(1)
+0
Balula, Davide (*1978)
G
(15)
+0
Barbara, John La
G
(3)
+0
Bargeld, Blixa (*1959)
G
(8)
+0
Bassanini, Katia (*1969)
G
(4)
+0
Bech, Nils
G
(2)
+0
Becker, Serge (*1961)
G
(2)
+0
Ben-Ner, Guy (*1969)
G
(33)
+0
Benfield, Guy
G
(3)
+0
Benjamin-Meyers, Ari (*1972)
G
(3)
+0
Bernstein, Charles
G
(1)
+0
Bismuth, Pierre (*1963)
G
(45)
+0
Bond, Justin
G
(1)
+0
Breitz, Candice (*1972)
G
(70)
+0
Breuning, Olaf (*1970)
G
(75)
+0
Broadside, [Alexander Fleming, Emily Bellingham]
G
(1)
+0
Buck, Joan Juliet
G
(1)
+0
Butcher, John
G
(1)
+0
Cage, John (1912 - 1992)
G
(153)
+0
Carter, Kabir
G
(1)
+0
Chemin, Charles
G
(1)
+0
Chessa, Luciano
G
(1)
+0
Chopra, Nikhil (*1974)
G
(14)
+0
City of Tomorrows, [Jenifer Kaminsky, Lizwe Mogel, Stephanie Rothenberg]
G
(1)
+0
Cleandenim, Patrick
G
(1)
+0
Clifton, Tony
G
(1)
+0
Coates, Emily
G
(1)
+0
Colburn, Martha (*1971)
G
(15)
+0
Collod, Anne
G
(1)
+0
Condon, Brody (*1974)
G
(8)
+0
Conrad, Tony (1940 - 2016)
G
(37)
+0
Coonley, Ben
G
(2)
+0
Crouse, Jeff
G
(1)
+0
Cummings, Neil (*1958)
G
(11)
+0
Cytter, Keren (*1977)
G
(47)
+0
DeNike, Jen (*1971)
G
(16)
+0
Dean, Tacita (*1965)
G
(149)
+0
Deball, Mariana Castillo (*1975)
G
(25)
+0
Dexter Sinister, [David Reinfurt *1973 & Stuart Bailey *1971]
G
(19)
+0
Dion, Mark (*1961)
G
(122)
+0
Draeger, Christoph (*1965)
G
(41)
+0
Drew, Benedict (*1977)
G
(7)
+0
Duncan, John
G
(17)
+0
Désanges, Guillaume
G
(2)
+0
Elliman, Paul
G
(3)
+0
Emin, Tracey (*1963)
G
(85)
+0
Eros, Bradley
G
(3)
+0
Ettun, Tamar (*1982)
G
(3)
+0
Fast, Omer (*1972)
G
(60)
+0
Faustino, Didier Fiuza (*1968)
G
(8)
+0
Fischerspooner, [Casey Spooner *1970, Warren Fischer *1968]
G
(1)
+0
Fleury, Sylvie (*1961)
G
(135)
+0
Fontaine, Lucie (*1982)
G
(3)
+0
Fowler, Brendan (*1978)
G
(16)
+0
Framis, Alicia (*1967)
G
(47)
+0
Freakley, Danielle
G
(1)
+0
Frith, Fred
G
(1)
+0
Froment, Aurélien (*1976)
G
(23)
+0
Gaillard, Cyprien (*1980)
G
(52)
+0
Ganahl, Rainer (*1961)
G
(51)
+0
Genesis BREYER P-ORRIDGE, [Neil Andrew Megson] (1950 - 2020)
G
(22)
+0
Gibson, Sandra
G
(3)
+0
Gonzalez-Foerster, Dominique (*1965)
G
(82)
+1
Granat, Amy (*1976)
G
(19)
+0
Grigely, Joseph (*1956)
G
(47)
+0
Gréaud, Loris (*1979)
G
(11)
+0
Grønli, Lina Viste
G
(7)
+0
Gui, Luisa
G
(1)
+0
Guixé, Martí
G
(5)
+0
Hallett, Nick
G
(1)
+0
Halprin, Anna (1920 - 2021)
G
(7)
+0
Hart, Emma (*1974)
G
(11)
+0
Hassabi, Maria (*1973)
G
(4)
+0
Hay, Deborah (*1941)
G
(8)
+0
Hernández, Diango (*1970)
G
(41)
+0
Herring, Oliver (*1964)
G
(21)
+0
Hershman Leeson, Lynn (*1941)
G
(55)
+0
Hirsch, Shelley
G
(2)
+0
Hoff, James
G
(5)
+0
JUNG, Yeondoo (*1969)
G
(13)
+0
Jasienski, Bruno
G
(1)
+0
Johnson, Rashid (*1977)
G
(43)
+0
Jonas, Joan (*1936)
G
(128)
+1
Kaino, Glenn (*1972)
G
(6)
+0
Keightley, Scott
G
(1)
+0
Kelley, Mike (1954 - 2012)
G
(254)
+0
Kentridge, William (*1955)
G
(154)
+0
Kim, Sung Hwan (*1975)
G
(12)
+0
Kirk, Lisa (*1967)
G
(10)
+0
Kjartansson, Ragnar (*1976)
G
(58)
+0
Koh, Terence (*1980)
G
(28)
+0
Kopelman, Irene (*1971)
G
(8)
+0
Krauß, Bernd (*1970)
G
(20)
+0
Kuchar, George (1942 - 2011)
G
(9)
+0
Kurant, Agnieszka (*1978)
G
(8)
+0
Laurette, Mathieu (*1970)
G
(15)
+0
Lazzarini, Robert (*1965)
G
(17)
+0
Lee, Margaret
G
(7)
+0
Lester, Gabriël (*1972)
G
(24)
+0
Lewandowska, Marysia (*1955)
G
(10)
+0
Lin, Tan (*1957)
G
(4)
+0
Lincoln, Paul Etienne (*1959)
G
(22)
+0
Lindsay, Arto (*1953)
G
(3)
+0
Linzy, Kalup (*1977)
G
(22)
+0
Lutker, Shana (*1978)
G
(6)
+0
Maciá, Oswaldo (*1960)
G
(13)
+0
Malinowska, Joanna (*1972)
G
(11)
+0
Maloberti, Marcello (*1966)
G
(9)
+0
Malpede, John
G
(2)
+0
Margulies, Lynne
G
(1)
+0
Mast, Emily
G
(4)
+0
Mattes, Eva & Franco (*1976)
G
(11)
+0
Maximo, Gloria
G
(1)
+0
McDonald, Danny
G
(8)
+0
McNamara, Ryan
G
(5)
+0
Meagher, Patrick (*1974)
G
(5)
+0
Mekas, Jonas (*1922)
G
(29)
+0
Mellin, Haley
G
(5)
+0
Meyers, Aaron
G
(1)
+0
Miessen, Markus (*1978)
G
(5)
+0
Mikšys, Darius (*1969)
G
(13)
+0
Monk, Ian
G
(1)
+0
Moore, Thurston (*1958)
G
(2)
+0
Moulton, Shana (*1976)
G
(9)
+0
Mroué, Rabih (*1967)
G
(21)
+0
Mutu, Wangechi (*1972)
G
(39)
+0
Nauman, Bruce (*1941)
G
(614)
+0
Neuhaus, Max (*1939)
G
(26)
+0
O'Neill, Tom
G
(1)
+0
Ogland, Ylva (*1974)
G
(5)
+0
Oliveros, Pauline (*1932)
G
(7)
+0
Ostojić, Tanja (*1972)
G
(10)
+0
Paterson, Katie (*1981)
G
(27)
+0
Patton, Mike
G
(1)
+0
Payne & Relph, [Oliver Payne *1977 & Nick Relph *1979] (*1999)
G
(15)
+0
Pendleton, Adam (*1980)
G
(17)
+0
Pick, Anat
G
(1)
+0
Pisano, Falke (*1978)
G
(25)
+0
Plumb, Shannon
G
(7)
+0
Rainer, Yvonne (*1934)
G
(37)
+0
Rancourt / Yatsuk, [Justin Rancourt *1982 & Chuck Yatsuk *1984]
G
(5)
+0
Raskin, Jimmy
G
(4)
+0
Rasmussen, Lilibeth Cuenca (*1970)
G
(17)
+0
Raven, Lucy (*1977)
G
(9)
+0
Recoder, Luis (*1971)
G
(5)
+0
Rosenfeld, Marina (*1968)
G
(13)
+0
Ruilova, Aïda (*1974)
G
(29)
+0
Russom, Gavin (*1974)
G
(3)
+0
Sacks, Ruth
G
(1)
+0
Sasamoto, Aki (*1980)
G
(9)
+0
Sawyer, Ryan
G
(1)
+0
Sharp, Elliott
G
(1)
+0
Sherman, Stuart (1945 - 2001)
G
(17)
+0
Sierra, Santiago (*1966)
G
(88)
+0
Singh, Alexandre (*1980)
G
(21)
+0
Smit, Guy Richards (*1970)
G
(10)
+0
Smith, Michael (*1951)
G
(46)
+0
Soto, Carlos
G
(1)
+0
Stuart, Meg
G
(3)
+0
Sundblad, Emily (*1977)
G
(11)
+0
Tambellini, Aldo (*1930)
G
(7)
+0
The Future, [Matthew Silver & Shoval Zohar]
G
(1)
+0
Tomaszewski, Christian (*1971)
G
(6)
+0
Ueda, Mai (*1978)
G
(2)
+0
Uzuri, Imani
G
(1)
+0
Vale, Mindy
G
(1)
+0
Vanzo, Marcella
G
(2)
+0
Vautier, Ben (*1935)
G
(136)
+0
Vitale, Marianne (*1973)
G
(14)
+0
Vogelzang, Marije
G
(1)
+0
Vosters, Vadim
G
(3)
+0
Walshe, Jennifer (*1974)
G
(2)
+0
Wassmann, Christian
G
(1)
+0
Waterman, Alex
G
(3)
+0
Werve, Guido van der (*1977)
G
(34)
+0
Wilson, Robert (*1941)
G
(76)
+0
Woolfalk, Saya (*1979)
G
(7)
+0
Yau, John (*1950)
G
(2)
+0
Zanni, Carlo (*1975)
G
(7)
+0
Zorn, John
G
(2)
+0
Öğüt, Ahmet (*1981)
G
(32)
+0