Museum

| Museo Correr

Piazza S. Marco 52
I - 30100 Venezia - Italy Google Map
T.: +39 (0) 41 - 522 5623
Web: Email:
https://www.artist-info.com/museum/Museo-Correr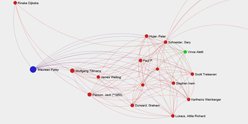 Interested in discovering more of this venue's networks?
3 easy steps: Register, buy a package for a visualization, select the exhibition place.
See examples how visualization looks like for an artist, a curator, or an exhibition place: Gallery, museum, non-profit place, or collector.

Exhibition History

SUMMARY

based on artist-info records. More details and Visualizing Art Networks on demand.
Venue types:

Gallery

/

Museum

/

Non-Profit

/

Collector

Exhibitions in artist-info
4 ( S 1/ G 3)

Shown Artists

- Top 5 of 159
(no. of shows) - all shows - Top 100

Artists in exhibitions
159
Curators in exhibitions
0
Linked to other venues through shown artists

1796: 820 / 507 / 449 / 20
artist-info records
Jun 1972 - Aug 2015

Curators -

Top 0 of 0 (no. of shows )

Linked through shown artists -

Top 5 of 1797 venues
Offers/Requests

Exhibition Announcement

Portfolio

S / G Solo/Group Exhibitions

(..) Exhibitions + Favorites

Ballhause, Walter (1911 - 1991)
G
May 2015 - Aug 2015
(7)
+0
Beckmann, Max (1884 - 1950)
G
(525)
+1
Biermann, Aenne Sternefeld (1898 - 1933)
G
(40)
+0
Burmann, Fritz (1892 - 1945)
G
(14)
+0
Davringhausen, Heinrich Maria (1894 - 1970)
G
(46)
+0
Debschitz-Kunowski, Wanda von (1870 - 1935)
G
(12)
+0
Dischinger, Rudolf (1904 - 1988)
G
(18)
+0
Dix, Otto (1891 - 1969)
G
(346)
+0
Dressler, August Wilhelm (1886 - 1970)
G
(30)
+0
Dörries, Bernhard (1898 - 1978)
G
(23)
+0
Erfurth, Hugo (1874 - 1948)
G
(45)
+0
Finsler, Hans (1891 - 1972)
G
(43)
+0
Fuhr, Franz Xaver (1898 - 1973)
G
(64)
+0
Griebel, Otto (1895 - 1972)
G
(34)
+0
Grossberg, Carl (1894 - 1940)
G
(51)
+0
Grosz, George [Georg Ehrenfried] (1893 - 1959)
G
(362)
+0
Grundig, Hans (1901 - 1958)
G
(42)
+0
Günther, Kurt (1893 - 1955)
G
(7)
+0
Hubbuch, Karl (1891 - 1979)
G
(77)
+0
Jacobi, Lotte Johanna (1896 - 1990)
G
(42)
+0
Jürgens, Grethe (1899 - 1981)
G
(19)
+0
Kanoldt, Alexander (1881 - 1939)
G
(81)
+0
Kleinschmidt, Paul (1883 - 1949)
G
(35)
+0
Kulvianski, Issai (1892 - 1970)
G
(16)
+0
Köster, Arthur (1890 - 1965)
G
(6)
+0
Lachnit, Wilhelm (1899 - 1962)
G
(42)
+0
Lenk, Franz (1898 - 1968)
G
(43)
+0
Leo, Gerda (1909 - 1993)
G
(5)
+0
Lex-Nerlinger, Alice (1893 - 1975)
G
(27)
+0
Mammen, Jeanne (1890 - 1976)
G
(54)
+0
Man, Felix H. [Hans Felix Sigismund Baumann] (1893 - 1985)
G
(27)
+0
Mantz, Werner (1901 - 1983)
G
(29)
+0
Mense, Carlo [Otto Marto] (1886 - 1965)
G
(68)
+0
Mertens, Hans (1906 - 1944)
G
(13)
+0
Overbeck-Schenk, Gerta (1898 - 1977)
G
(17)
+0
Perckhammer, Heinz von (1895 - 1975)
G
(6)
+0
Ploberger, Herbert (1902 - 1977)
G
(16)
+0
Radler, Max (1904 - 1971)
G
(17)
+0
Radziwill, Franz (1895 - 1983)
G
(105)
+0
Renger-Patzsch, Albert (1897 - 1966)
G
(118)
+0
Roh, Franz (1890 - 1965)
G
(40)
+0
Räderscheidt, Anton (1892 - 1970)
G
(37)
+0
Sander, August (1876 - 1964)
G
(159)
+0
Schad, Christian (1894 - 1982)
G
(112)
+0
Schlichter, Rudolf (1890 - 1955)
G
(92)
+0
Schmidt, Leonhard (1892 - 1978)
G
(8)
+0
Schnarrenberger, Wilhelm (1892 - 1966)
G
(26)
+0
Scholz, Georg (1890 - 1945)
G
(45)
+0
Schrimpf, Georg (1889 - 1938)
G
(95)
+0
Seidenstücker, Friedrich (1882 - 1966)
G
(23)
+0
Völker, Karl (1889 - 1962)
G
(27)
+0
Wegner, Erich (1899 - 1980)
G
(21)
+0
Wollheim, Gert Heinrich (1894 - 1974)
G
(40)
+0
Wunderwald, Gustav (1882 - 1945)
G
(26)
+0
Kiefer, Anselm (*1945)
S
Jun 1997 - Jun 1997
(190)
+0
Bazille, Frédéric (1841 - 1870)
G
May 1989 - Sep 1989
(10)
+0
Bonnard, Pierre (1867 - 1947)
G
(300)
+0
Boudin, Eugène Louis (1824 - 1898)
G
(49)
+0
Cassatt, Mary (1844 - 1926)
G
(84)
+0
Corot, Jean-Baptiste Camille (1796 - 1875)
G
(126)
+0
Courbet, Gustave (1819 - 1877)
G
(132)
+0
Cézanne, Paul (1839 - 1906)
G
(276)
+0
Degas, Edgar (1834 - 1917)
G
(202)
+0
Gauguin, Paul (1848 - 1903)
G
(243)
+0
Gogh, Vincent van (1853 - 1890)
G
(280)
+0
Manet, Édouard (1832 - 1883)
G
(181)
+0
Matisse, Henri (1869 - 1954)
G
(607)
+1
Monet, Claude (1840 - 1926)
G
(225)
+0
Morisot, Berthe (1841 - 1895)
G
(49)
+0
Pissarro, Camille (1830 - 1903)
G
(154)
+0
Redon, Odilon (1840 - 1916)
G
(160)
+0
Renoir, Auguste [Pierre-Auguste] (1841 - 1919)
G
(227)
+0
Seurat, Georges-Pierre (1859 - 1891)
G
(100)
+0
Sisley, Alfred (1839 - 1899)
G
(111)
+0
Vuillard, Jean Édouard (1868 - 1940)
G
(178)
+0
BALTHUS, [Balthasar Klossowski de Rola] (1908 - 2001)
G
Jun 1972 - Oct 1972
(106)
+0
Balla, Giacomo (1871 - 1958)
G
(164)
+0
Baumeister, Willi (1889 - 1955)
G
(321)
+0
Beaudin, André Gustave (1895 - 1979)
G
(44)
+0
Beckmann, Max (1884 - 1950)
G
(525)
+1
Bissière, Roger (1886 - 1964)
G
(104)
+0
Boccioni, Umberto (1882 - 1916)
G
(136)
+0
Bonnard, Pierre (1867 - 1947)
G
(300)
+0
Braque, Georges (1882 - 1963)
G
(408)
+0
Brauner, Victor (1903 - 1966)
G
(119)
+0
Campigli, Massimo [Max Ihlenfeld] (1895 - 1971)
G
(89)
+0
Carrà, Carlo (1881 - 1966)
G
(143)
+0
Casorati, Felice (1883 - 1963)
G
(52)
+0
Chagall, Marc (1887 - 1985)
G
(559)
+0
Chirico, Giorgio de (1888 - 1978)
G
(291)
+0
Delaunay, Robert (1885 - 1941)
G
(223)
+0
Delaunay-Terk, Sonia (1885 - 1979)
G
(190)
+0
Delvaux, Paul (1897 - 1994)
G
(92)
+0
Derain, André (1880 - 1954)
G
(290)
+0
Dix, Otto (1891 - 1969)
G
(346)
+0
Dongen, Kees van (1877 - 1968)
G
(128)
+0
Dufy, Raoul (1877 - 1953)
G
(215)
+0
Ensor, James (1860 - 1949)
G
(160)
+0
Ernst, Max (1891 - 1976)
G
(586)
+0
Fautrier, Jean (1898 - 1964)
G
(107)
+0
Feininger, Lyonel (1871 - 1956)
G
(375)
+0
Gleizes, Albert Léon (1881 - 1953)
G
(163)
+0
Gris, Juan [José Victoriano González-Pérez] (1887 - 1927)
G
(218)
+0
Gromaire, Marcel (1892 - 1971)
G
(65)
+0
Gruber, Francis (1912 - 1948)
G
(14)
+0
Guidi, Virgilio (1891 - 1984)
G
(41)
+0
Guttuso, Renato (1912 - 1987)
G
(90)
+0
Hartung, Hans (1904 - 1989)
G
(203)
+0
Heckel, Erich (1883 - 1970)
G
(354)
+0
Herbin, Auguste (1882 - 1960)
G
(179)
+0
Kandinsky, Wassily (1866 - 1944)
G
(684)
+1
Kirchner, Ernst Ludwig (1880 - 1938)
G
(458)
+1
Klee, Paul (1879 - 1940)
G
(716)
+0
Klimt, Gustav (1862 - 1918)
G
(79)
+0
Kokoschka, Oscar (1886 - 1980)
G
(325)
+0
Kubišta, Bohumil (1884 - 1918)
G
(16)
+0
Kupka, František (1871 - 1957)
G
(158)
+0
Licini, Osvaldo (1894 - 1958)
G
(47)
+0
Lurçat, Jean (1892 - 1966)
G
(80)
+0
Léger, Fernand (1881 - 1955)
G
(483)
+1
Macke, August (1887 - 1914)
G
(208)
+0
Magnelli, Alberto (1888 - 1971)
G
(137)
+0
Magritte, René (1898 - 1967)
G
(248)
+0
Malevich, Kazimir Severinovich (1879 - 1935)
G
(287)
+0
Marc, Franz (1880 - 1916)
G
(284)
+0
Marquet, Albert (1875 - 1947)
G
(174)
+0
Masson, André (1896 - 1987)
G
(263)
+0
Matisse, Henri (1869 - 1954)
G
(607)
+1
Metzinger, Jean (1883 - 1956)
G
(115)
+0
Miró, Joan (1893 - 1983)
G
(677)
+0
Modigliani, Amedeo (1884 - 1920)
G
(161)
+0
Mondrian, Piet (1872 - 1944)
G
(310)
+0
Morandi, Giorgio (1890 - 1964)
G
(158)
+0
Munch, Edvard (1863 - 1944)
G
(302)
+1
Móhóly-Nagy, László (1895 - 1946)
G
(408)
+0
Nay, Ernst Wilhelm (1902 - 1968)
G
(252)
+0
Nicholson, Ben (1894 - 1982)
G
(167)
+0
Nolde, Emil (1867 - 1953)
G
(441)
+0
Orozco, José Clemente (1883 - 1949)
G
(68)
+0
Picabia, Francis (1879 - 1953)
G
(264)
+0
Picasso, Pablo (1881 - 1973)
G
(1258)
+0
Pisis, Filippo de [Luigi Filippo Tibertelli] (1896 - 1956)
G
(60)
+0
Rivera, Diego Maria (1886 - 1957)
G
(100)
+0
Rosai, Ottone (1895 - 1957)
G
(76)
+0
Rouault, Georges Henri (1871 - 1958)
G
(252)
+0
Schiele, Egon (1890 - 1918)
G
(103)
+0
Schlemmer, Oskar (1888 - 1943)
G
(230)
+0
Schmidt-Rottluff, Karl (1884 - 1976)
G
(366)
+0
Schwitters, Kurt (1887 - 1948)
G
(365)
+0
Scipione, [Gino Bonichi] (1904 - 1933)
G
(22)
+0
Severini, Gino (1883 - 1966)
G
(202)
+0
Shahn, Ben (1898 - 1969)
G
(176)
+0
Sironi, Mario (1885 - 1961)
G
(105)
+0
Soldati, Atanasio (1896 - 1953)
G
(53)
+0
Soutine, Chaïm (1893 - 1943)
G
(73)
+0
Tal-Coat, Pierre Jacob [Pierre Jacob] (1905 - 1985)
G
(34)
+0
Tanguy, Yves (1900 - 1955)
G
(224)
+0
Tobey, Mark (1890 - 1976)
G
(210)
+0
Torres-García, Joaquín (1874 - 1949)
G
(87)
+0
Vlaminck, Maurice de (1876 - 1958)
G
(149)
+0
Werner, Theodor (1886 - 1969)
G
(67)
+0
Winter, Fritz (1905 - 1976)
G
(174)
+0
Šíma, Josef (1891 - 1971)
G
(29)
+0