Museum

| MoMA (5/7) - The Family of Man

11 West 53rd Street
USA - New York NY 10019| - United States Google Map
T.: +1 - 212 - 708 9400
Web: http://www.moma.org/ Email:
https://www.artist-info.com/museum/MoMA-The-Family-of-Man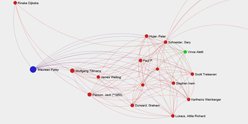 Interested in discovering more of this venue's networks?
3 easy steps: Register, buy a package for a visualization, select the exhibition place.
See examples how visualization looks like for an artist, a curator, or an exhibition place: Gallery, museum, non-profit place, or collector.

Exhibition History

SUMMARY

based on artist-info records. More details and Visualizing Art Networks on demand.
Venue types:

Gallery

/

Museum

/

Non-Profit

/

Collector

Exhibitions in artist-info
1 ( S 0/ G 1)

Shown Artists

- Top 5 of 259
(no. of shows) - all shows - Top 100

Artists in exhibitions
259
Curators in exhibitions
1
Linked to other venues through shown artists

640: 216 / 229 / 187 / 8
artist-info records
Jan 1955 - May 1955

Curators -

Top 1 of 1 (no. of shows )
Edward Jean Steichen (1)


Linked through shown artists -

Top 5 of 640 venues
Offers/Requests

Exhibition Announcement

Portfolio

S / G Solo/Group Exhibitions

(..) Exhibitions + Favorites

Read texts, reviews, comments, and Press Releases about this exhibition for more insight

Adams, Ansel (1902 - 1984)
G
Jan 1955 - May 1955
(120)
+0
Andres, Erich (1905 - 1992)
G
(2)
+0
Andriesse, Emmy (1914 - 1953)
G
(5)
+0
Arbus, Diane & Allan (1923-1971, 1918-2013)
G
(2)
+0
Arnold, Eve (1912 - 2012)
G
(21)
+0
Avedon, Richard (1923 - 2004)
G
(69)
+0
Baruch, Ruth-Marion (1922 - 1997)
G
(6)
+0
Bell, Hugh (*1927)
G
(5)
+0
Bendtsen, Wermund
G
(1)
+0
Berg, Paul
G
(1)
+0
Bernstein, Lou (1911 - 2005)
G
(2)
+0
Bertolino, John
G
(1)
+0
Besnyö, Eva (1910 - 2003)
G
(11)
+0
Bischof, Werner (1916 - 1954)
G
(32)
+0
Bordy, Maria
G
(1)
+0
Boubat, Édouard (1923 - 1999)
G
(38)
+0
Bourke-White, Margaret (1904 - 1971)
G
(68)
+0
Brady, Mathew B. (1823 - 1896)
G
(26)
+0
Brandt, Bill (1904 - 1983)
G
(69)
+0
Brassaï, [Gyula Halász] (1899 - 1984)
G
(120)
+0
Bravo, Lola Álvarez (1907 - 1993)
G
(19)
+0
Breitenbach, Josef (1896 - 1984)
G
(26)
+0
Brooks, David
G
(1)
+0
Brooks, Reva (1913 - 2004)
G
(2)
+0
Brunner, Ernst (1901 - 1979)
G
(4)
+0
Bubley, Esther (1921 - 1998)
G
(4)
+0
Bullock, Wynn (1902 - 1975)
G
(24)
+0
Burden, Shirley C. (1908 - 1989)
G
(15)
+0
Busler, Rudolf
G
(1)
+0
Callahan, Harry M. (1912 - 1999)
G
(96)
+0
Capa, Cornell (1918 - 2008)
G
(9)
+0
Capa, Robert [Endre Ernö Friedmann] (1913 - 1954)
G
(64)
+0
Carrington, Robert
G
(1)
+0
Carroll, Lewis (1832 - 1898)
G
(18)
+0
Cartier-Bresson, Henri (1908 - 2004)
G
(175)
+0
Castle, Ted (1907 - 1979)
G
(1)
+0
Chamudes, Marcos (1907 - 2002)
G
(1)
+0
Chang, Al
G
(1)
+0
Claasen, Hermann (1899 - 1987)
G
(17)
+0
Clark, Edward (1911 - 2000)
G
(5)
+0
Collier, John (1913 - 1992)
G
(5)
+0
Cooke, Jerry
G
(2)
+0
Coster, Gordon (1906 - 1988)
G
(7)
+0
Cowherd, Barney (1923 - 1972)
G
(1)
+0
Crane, Ralph (1913 - 1988)
G
(3)
+0
Davis, Ruth
G
(3)
+0
DeCarava, Roy (1919 - 2009)
G
(33)
+0
Dean, Loomis (1917 - 2005)
G
(5)
+0
Delanó, Jack (1914 - 1997)
G
(11)
+0
Diament, Robert (1907 - 1987)
G
(2)
+0
Doisneau, Robert (1912 - 1994)
G
(58)
+0
Dorr, Nell (1893 - 1988)
G
(2)
+0
Dumas, Nora [Kelenföldi Telkes Nóra] (1890 - 1979)
G
(4)
+0
Duncan, David Douglas (*1916)
G
(12)
+0
Eisenstaedt, Alfred (1898 - 1995)
G
(32)
+0
Elisofon, Eliot (1911 - 1973)
G
(13)
+0
Elsken, Edouard van der (1925 - 1990)
G
(28)
+0
English, Pat
G
(1)
+0
Erwitt, Elliott (*1928)
G
(79)
+0
Eyerman, J.R. (1906 - 1985)
G
(4)
+0
Falk, Sam (1901 - 1991)
G
(1)
+0
Farbman, Nat (1907 - 1988)
G
(3)
+0
Fast, Eleanor
G
(1)
+0
Faurer, Louis (1916 - 2001)
G
(16)
+0
Feingersh, Ed (1925 - 1961)
G
(2)
+0
Feininger, Andreas (1906 - 1999)
G
(58)
+0
Fennel, Charles C.
G
(1)
+0
Fiorenza, Vito (1927 - 2015)
G
(1)
+0
Fischer, Leopold
G
(2)
+0
Florea, John (1916 - 2000)
G
(3)
+0
Frank, Robert (1924 - 2019)
G
(114)
+0
Frissell, Toni (1907 - 1988)
G
(3)
+0
Gamou, Unosuke
G
(1)
+0
Garnett, William A. (1916 - 2006)
G
(15)
+0
Gehr, Herbert [Edmund Bert Gerard] (1911 - 1983)
G
(3)
+0
Gillette, Guy (1922 - 2013)
G
(2)
+0
Glinn, Burt (1925 - 2008)
G
(5)
+0
Goro, Fritz (1901 - 1986)
G
(5)
+0
Goro & Campbell, [Fritz Goro & Robert Campbell]
G
(1)
+0
Grant, Allan (*1920)
G
(2)
+0
Grehan, Farrell (*1926)
G
(2)
+0
Groebli, René (*1927)
G
(31)
+0
Grossman, Mildred (1916 - 1988)
G
(1)
+0
Guay, Laurence Le (1917 - 1990)
G
(1)
+0
Gullers, Karl Werner (1916 - 1998)
G
(2)
+0
Haas, Ernst (1921 - 1986)
G
(35)
+0
Haga, Hideo (*1921)
G
(1)
+0
Hagel, Otto (1909 - 1973)
G
(5)
+0
Halmi, Robert
G
(1)
+0
Hamaya, Hiroshi (1915 - 1999)
G
(9)
+0
Hammarskiöld, Hans (1925 - 2012)
G
(12)
+0
Hammid, Hella (1921 - 1992)
G
(2)
+0
Hardy, Bert (1913 - 1995)
G
(14)
+0
Harissiadis, Dimitris (1911 - 1993)
G
(3)
+0
Harrington, Richard (1911 - 2005)
G
(4)
+0
Harris, Eugene
G
(1)
+0
Heyer, George
G
(1)
+0
Himmel, Paul (1914 - 2009)
G
(8)
+0
Hoban, Tana (1917 - 2006)
G
(7)
+0
Horvat, Frank (*1928)
G
(23)
+0
Huhle, Kurt (1911 - 1997)
G
(1)
+0
Huttig, Willi
G
(1)
+0
Häberlin, Peter Werner (1912 - 1953)
G
(3)
+0
Ishimoto, Yasuhiro (1921 - 2012)
G
(13)
+0
Izis, [Israelis Biedermanas] (1911 - 1980)
G
(11)
+0
Jacobs, Fenno (1904 - 1974)
G
(2)
+0
Jacobs, Raymond
G
(1)
+0
Jakobsen, Robert K. (1918 - 2002)
G
(1)
+0
Jaques, Ronny (1910 - 2008)
G
(5)
+0
Jesse, Nico (1911 - 1976)
G
(9)
+0
Jones, Carter
G
(1)
+0
Jonker, Henk [Hendrik Peter] (1912 - 2002)
G
(5)
+0
Jorgensen, Victor (1913 - 1994)
G
(3)
+0
Kalischer, Clemens (*1921)
G
(11)
+0
Kalisher, Simpson (*1926)
G
(16)
+0
Kanaga, Consuelo (1894 - 1978)
G
(8)
+0
Kessel, Dmitri (1902 - 1995)
G
(5)
+0
Kimura, Ihee [Ihei] (1901 - 1974)
G
(5)
+0
Kitchen, Martha
G
(1)
+0
Kolli, Nikolaj Jakowlewitsch [Dschemsowitsch] (1894 - 1966)
G
(11)
+0
Korling, Torkel (1903 - 1998)
G
(3)
+0
Koslovsky,
G
(1)
+0
Krainin, Ewing (1913 - 2004)
G
(1)
+0
Kreider, Herman
G
(1)
+0
Lane, Walter B.
G
(1)
+0
Lange, Dorothea (1895 - 1965)
G
(73)
+0
Lapow, Harry (1909 - 1982)
G
(1)
+0
Larsen, Lisa (1925 - 1959)
G
(6)
+0
Lavenson, Alma R. (1897 - 1989)
G
(4)
+0
Lavine, Arthur (*1922)
G
(2)
+0
Lee, Russell (1903 - 1986)
G
(17)
+0
Leen, Nina (1909 - 1995)
G
(3)
+0
Leighton, Henri
G
(1)
+0
Leipzig, Arthur (*1918)
G
(10)
+0
Leirens, Charles (1888 - 1963)
G
(3)
+0
Lenz, Gita (*1910)
G
(3)
+0
Levinstein, Leon (1910 - 1998)
G
(16)
+0
Levitt, Helen (1913 - 2009)
G
(87)
+0
Lewis, Margery
G
(1)
+0
Libsohn, Sol (1914 - 2001)
G
(3)
+0
Linton, David
G
(2)
+0
List, Herbert (1903 - 1975)
G
(71)
+0
Lofman, Jacob
G
(1)
+0
Lorner, Jack
G
(1)
+0
Maahs, Arnold (1909 - 1985)
G
(1)
+0
Malmberg, Hans (1927 - 1977)
G
(11)
+0
Marquis, Jean (*1926)
G
(1)
+0
Marshak, Alexander (1918 - 2004)
G
(1)
+0
McAvoy, Thomas D.
G
(2)
+0
McCombe, Leonard (*1923)
G
(8)
+0
Mehta, Abdul Razay
G
(1)
+0
Metcalf, G. H.
G
(1)
+0
Mili, Gjon (1904 - 1984)
G
(19)
+0
Miller, Francis
G
(1)
+0
Miller, Joan B. (1921 - 2014)
G
(1)
+0
Miller, Wayne F. (1918 - 2013)
G
(14)
+0
Miller [Lady Penrose], Lee [Elizabeth] (1907 - 1977)
G
(47)
+0
Mirin, May
G
(1)
+0
Model, Lisette (1901 - 1983)
G
(48)
+0
Moeschlin, Peter (1924 - 2003)
G
(2)
+0
Moore, David Murray (1927 - 2003)
G
(1)
+0
Morgan, Barbara (1900 - 1992)
G
(32)
+0
Morgoli, Nick de (1916 - 2004)
G
(1)
+0
Morrison, Hedda H. (1908 - 1991)
G
(2)
+0
Morse, Ralph (*1917)
G
(3)
+0
Mottar, Robert
G
(1)
+0
Mydans, Carl (*1907)
G
(10)
+0
Myers, Dave
G
(1)
+0
Neugass, Fritz W. (*1917)
G
(3)
+0
Nilsson, Lennart (1922 - 2017)
G
(11)
+0
Nilsson, Pål-Nils (1929 - 2002)
G
(11)
+0
OKAMOTO, Yoichi Robert (1915 - 1985)
G
(9)
+0
Obrovsky, Emil
G
(2)
+0
Oorthuy's, [Casparus Bernardus] Cas (1908 - 1975)
G
(9)
+0
Orkin, Ruth (1921 - 1985)
G
(12)
+0
Ornitz, Don (*1920)
G
(2)
+0
Otaki, Eiju
G
(1)
+0
Page, Homer (1918 - 1985)
G
(12)
+0
Palfi, Marion (1917 - 1978)
G
(5)
+0
Parks, Gordon (1912 - 2006)
G
(46)
+0
Partridge, Rondal
G
(2)
+0
Penn, Irving (1917 - 2009)
G
(99)
+0
Perutz, Carl
G
(1)
+0
Phillips, John (1914 - 1996)
G
(4)
+0
Pietro, J. de
G
(1)
+0
Planskoy, Leonti
G
(2)
+0
Platnick, Rachel
G
(1)
+0
Plaut, Frederick (1907 - 1985)
G
(3)
+0
Pollak, Rudolf
G
(1)
+0
Rainer, Gottfried
G
(1)
+0
Ransohoff, Daniel J.
G
(2)
+0
Rauhauser, W. C.
G
(1)
+0
Ray, Satyajit (1921 - 1992)
G
(2)
+0
Riwkin, Anna (1908 - 1970)
G
(6)
+0
Rodger, George (1908 - 1995)
G
(9)
+0
Ronis, Willy (1910 - 2009)
G
(28)
+0
Rosenberg, Annelise
G
(1)
+0
Rosenberg, Hannes
G
(1)
+0
Roth, Sanford (1906 - 1962)
G
(2)
+0
Rotkin, Charles (1916 - 2004)
G
(2)
+0
Rougier, Michael
G
(2)
+0
Ruohomaa, Kosti (1913 - 1961)
G
(2)
+0
Sander, August (1876 - 1964)
G
(159)
+0
Sanders, Walter [Walter Süßmann] (1897 - 1985)
G
(3)
+0
Sandes, Karl
G
(1)
+0
Scherschel, Frank (1907 - 1981)
G
(5)
+0
Schreiner, Hans A.
G
(1)
+0
Schuh, Gotthard (1897 - 1969)
G
(24)
+0
Schwab, Eric (*1943)
G
(1)
+0
Schwalberg, Bob
G
(1)
+0
Severin, Kurt
G
(1)
+0
Seymour, David [Dawid Szymin] - Chim (1911 - 1956)
G
(23)
+0
Shahn, Ben (1898 - 1969)
G
(176)
+0
Sheeler, Musya Sokolova (1908 - 1981)
G
(2)
+0
Shu, Le
G
(1)
+0
Silk, George (1916 - 2004)
G
(4)
+0
Smith, Bradley
G
(4)
+0
Smith, Ian
G
(1)
+0
Smith, W. Eugene (1918 - 1978)
G
(43)
+0
Sochurek, Howard (1925 - 1994)
G
(2)
+0
Stackpole, Peter (1913 - 1997)
G
(9)
+0
Statler, Alfred
G
(1)
+0
Steed, Gitel
G
(2)
+0
Steichen, Edward (1879 - 1973)
G
(126)
+0
Steinheimer, C. E.
G
(1)
+0
Stoumen, Louis Clyde (1917 - 1991)
G
(6)
+0
Strock, George
G
(2)
+0
Stuart, Constance
G
(1)
+0
Sved, Etienne
G
(1)
+0
Szasz, Suzanne
G
(1)
+0
Terao, Yoshisuke
G
(1)
+0
Thorlichen, Gustavo (1908 - 1986)
G
(1)
+0
Trieschmann, Charles
G
(1)
+0
Tuefferd, François
G
(3)
+0
Tuggener, Jakob (1904 - 1988)
G
(22)
+0
Turoff, Allan
G
(1)
+0
Ulmann, Doris [Doris Jaeger] (1882 - 1934)
G
(15)
+0
Uzlyan, Alexander (*1908)
G
(1)
+0
Vandivert, William D. (1912 - 1989)
G
(9)
+0
Verger, Pierre [Pierre Edouard Leopold] [Fátúmbi] (1902 - 1996)
G
(8)
+0
Vern, Ike
G
(1)
+0
Vero,
G
(1)
+0
Vishniac, Roman (1897 - 1990)
G
(13)
+0
Vitullo, Carmel
G
(1)
+0
Wallowitch, Edward (1932 - 1981)
G
(2)
+0
Webb, Todd (1905 - 2000)
G
(27)
+0
Weiner, Dan (1919 - 1959)
G
(11)
+0
Weiss, Sabine (1924 - 2021)
G
(15)
+0
Weston, Edward (1886 - 1958)
G
(136)
+0
Wild, Hans (1912 - 1969)
G
(3)
+0
Willoughby, Bob (*1927)
G
(6)
+0
Winburn, Jay Te (*1890)
G
(1)
+0
Winogrand, Garry (1928 - 1984)
G
(85)
+0
Wittmann, Arthur (1902 - 1991)
G
(1)
+0
Wood, Jasper (1921 - 2002)
G
(2)
+0
Wright, Cedric (1889 - 1959)
G
(6)
+0
YAMAMOTO, Shizuo
G
(1)
+0
Yamahata, Yōsuke (1917 - 1966)
G
(2)
+0
Álvarez-Bravo, Manuel (1902 - 2002)
G
(86)
+0
Steichen, Edward Jean (1879 - 1973) (curator)
(22)
+0