Museum

| The National Museum of Modern Art, Tokyo - MOMAT

3-1 Kitanomaru-koen, Chiyoda-ku
J - 102-8322 Tōkyō - Japan Google Map
T.: +81 (0) 3 - 5777-8600
Web: http://www.momat.go.jp/ Email:
https://www.artist-info.com/museum/MOMAT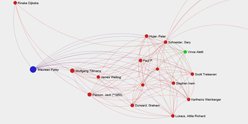 Interested in discovering more of this venue's networks?
3 easy steps: Register, buy a package for a visualization, select the exhibition place.
See examples how visualization looks like for an artist, a curator, or an exhibition place: Gallery, museum, non-profit place, or collector.

Exhibition History

SUMMARY

based on artist-info records. More details and Visualizing Art Networks on demand.
Venue types:

Gallery

/

Museum

/

Non-Profit

/

Collector

Exhibitions in artist-info
8 ( S 2/ G 6)

Shown Artists

- Top 5 of 228
(no. of shows) - all shows - Top 100

Artists in exhibitions
228
Curators in exhibitions
2
Linked to other venues through shown artists

2167: 1141 / 478 / 526 / 22
artist-info records
Oct 1966 - Mar 2015

Curators -

Top 2 of 2 (no. of shows )
Waldo Rasmussen (1)
Beate Sydhoff (1)


Linked through shown artists -

Top 5 of 2167 venues
Offers/Requests

Exhibition Announcement

Portfolio

S / G Solo/Group Exhibitions

(..) Exhibitions + Favorites

TAKAMATSU, Jirō (1936 - 1998)
S
Dec 2014 - Mar 2015
(27)
+0
Narahara, Ikkō (*1931)
S
Nov 2014 - Mar 2015
(9)
+0
Anatol, [Karl-Heinz Herzfeld] (*1931)
G
Jul 1984 - Sep 1984
(17)
+0
Bandau, Joachim (*1936)
G
(57)
+0
Bernhard, Franz (1934 - 2013)
G
(70)
+0
Boll, Otto (*1952)
G
(13)
+0
Brodwolf, Jürgen (*1932)
G
(69)
+0
Christian, Abraham David (*1952)
G
(48)
+0
Croissant, Michael (1928 - 2002)
G
(93)
+0
Freimann, Christoph (*1940)
G
(22)
+0
Frisch, Mechtild [Mechthild Nemeczek] (*1943)
G
(22)
+0
Genzken, Isa (*1948)
G
(142)
+0
Gloßner, Wolf (*1945)
G
(1)
+0
Gutbub, Edgar (*1940)
G
(39)
+0
Hagebölling, Wilfried (*1941)
G
(6)
+0
Isenrath, Hans Paul (*1936)
G
(10)
+0
Jacobi, Peter (*1935)
G
(11)
+0
Jacobi, Ritzi (*1941)
G
(14)
+0
Knoebel, Imi [Klaus Wolf] (*1940)
G
(253)
+0
Kornbrust, Leo D. (*1929)
G
(23)
+0
Könitz, Peter (*1942)
G
(12)
+0
Lechner, Alf (1925 - 2017)
G
(29)
+0
Liesen, Wolfgang (*1936)
G
(10)
+0
Mertel, Walther (*1946)
G
(4)
+0
Möbus, Christiane (*1947)
G
(57)
+0
Nestler, Wolfgang (*1943)
G
(43)
+0
Nierhoff, Ansgar (1941 - 2010)
G
(47)
+0
Pistol, Heinz Ludwig (1940 - 2009)
G
(9)
+0
Prager, Heinz-Günter (*1944)
G
(47)
+0
Reusch, Erich (*1925)
G
(47)
+0
Ruthenbeck, Reiner (*1937)
G
(127)
+0
Rückriem, Ulrich (*1938)
G
(137)
+0
Schiltsky, Michael-Peter (*1947)
G
(6)
+0
Schoenholtz, Michael (*1937)
G
(47)
+0
Schuler, Alf [Alfred] (*1945)
G
(31)
+0
Stoll, Artur (1947 - 2003)
G
(39)
+0
Thorn, Günter (*1954)
G
(7)
+0
Trantenroth, Artur Dieter (*1940)
G
(10)
+0
Ulrichs, Timm (*1940)
G
(140)
+0
Wachter, Rudolf (1923 - 2011)
G
(21)
+0
Walther, Franz Erhard (*1939)
G
(149)
+0
Wortelkamp, Erwin (*1938)
G
(22)
+0
Arp, Hans (Jean) (1886 - 1966)
G
Sep 1975 - Nov 1975
(456)
+0
Breton, André (1896 - 1966)
G
(59)
+0
Breton, Jacqueline Lamba (1910 - 1993)
G
(11)
+0
Chirico, Giorgio de (1888 - 1978)
G
(264)
+0
Dalí, Salvador (1904 - 1989)
G
(254)
+0
Domínguez, Óscar (1906 - 1958)
G
(49)
+0
Duchamp, Marcel (1887 - 1968)
G
(375)
+0
Ernst, Max (1891 - 1976)
G
(516)
+0
Giacometti, Alberto (1901 - 1966)
G
(407)
+0
Lam, Wifredo (1902 - 1982)
G
(133)
+0
Magritte, René (1898 - 1967)
G
(210)
+0
Man Ray, [Emmanuel Rudinski] (1890 - 1976)
G
(459)
+0
Masson, André (1896 - 1987)
G
(228)
+0
Matta, [Roberto Antonio Sebastian Matta Echaurren] (1911 - 2002)
G
(257)
+0
Miró, Joan (1893 - 1983)
G
(622)
+0
Penrose, Roland Algernon (1900 - 1984)
G
(24)
+0
Picabia, Francis (1879 - 1953)
G
(222)
+0
Tanguy, Yves (1900 - 1955)
G
(179)
+0
Aulio-Paananen, Thelma (*1931)
G
Apr 1972 - May 1972
(3)
+0
Billgren, Ola (1940 - 2001)
G
(22)
+0
Bolter, Leif (*1941)
G
(2)
+0
Bærtling, Olle (1911 - 1981)
G
(68)
+0
Böckman, Bengt (*1936)
G
(4)
+0
Eklund, Sten (*1942)
G
(5)
+0
Emilson, Tony (*1925)
G
(3)
+0
Fahlström, Öyvind (1928 - 1976)
G
(116)
+0
Friberg, Roj (*1934)
G
(6)
+0
Gierow, Gösta (*1931)
G
(4)
+0
Hillersberg, Lars (*1937)
G
(9)
+0
Jones, Arne (1914 - 1976)
G
(10)
+0
Kleen, Lars (*1941)
G
(9)
+0
Lindblom, Sivert (*1931)
G
(10)
+0
Lindell, Lage (1920 - 1980)
G
(7)
+0
Nordenborg, Bengt (*1938)
G
(2)
+0
Peterson, Peter (*1942)
G
(3)
+0
Pettersson, Gun Maria (*1943)
G
(2)
+0
Rahmberg, Ulf (*1935)
G
(3)
+0
Renqvist, Torsten (1924 - 2007)
G
(10)
+0
Schantz, Philip von (1928 - 1998)
G
(9)
+0
Svanberg, Max Walter (1912 - 1994)
G
(14)
+0
Svedberg, Lena (*1946)
G
(5)
+0
Svensson, Per (*1935)
G
(4)
+0
Söderberg, Lasse (*1941)
G
(2)
+0
Ultvedt, Per Olof (1927 - 2006)
G
(26)
+0
Vicken, Hans (*1926)
G
(2)
+0
Wahlberg, Ulf (*1938)
G
(4)
+0
Wiggen, Ulla (*1942)
G
(8)
+0
Sydhoff, Beate (curator)
(2)
+0
ASAI, Kan'uemon (1901 - 1983)
G
Feb 1972 - Mar 1972
(1)
+0
ASAKURA, Setsu
G
(1)
+0
ASŌ, Saburō (1913 - 2000)
G
(8)
+0
CHŌKAI, Seiji (1902 - 1972)
G
(2)
+0
Cascella, Andrea (1919 - 1990)
G
(28)
+0
EBIHARA, Kinosuke (1904 - 1970)
G
(1)
+0
FUJIMATSU, Hiroshi (1922 - 1996)
G
(1)
+0
FUJITA, Yoshika (1929 - 1999)
G
(1)
+0
FUKUDA, Toyoshirō (1904 - 1970)
G
(2)
+0
FUNAKOSHI, Yasutake (1912 - 2002)
G
(7)
+0
Fukuzawa, Ichirō (1898 - 1992)
G
(6)
+0
HAMADA, Chimei (*1917)
G
(5)
+0
HAYASHI, Takeshi (1896 - 1975)
G
(2)
+0
HONGŌ, Shin (1905 - 1980)
G
(1)
+0
HORIUTI, Masakazu (1911 - 2001)
G
(2)
+0
IKEDA, Masuo (1934 - 1997)
G
(8)
+0
INOUE, Chōsaburō
G
(1)
+0
ISHIMOTO, Shō (*1920)
G
(1)
+0
ITOZONO, Wasaburō (1911 - 2001)
G
(1)
+0
IWAHASHI, Eien (1903 - 1999)
G
(1)
+0
KATAOKA, Tamako (1905 - 2008)
G
(2)
+0
KAYAMA, Matazō (*1927)
G
(3)
+0
KAZUKI, Yasuo (1911 - 1974)
G
(1)
+0
KINOUCHI, Yoshi (1892 - 1977)
G
(1)
+0
KITAGAWA, Tamiji (1894 - 1989)
G
(4)
+0
KONDŌ, Kōmeì
G
(1)
+0
Kawara, On (1933 - 2014)
G
(175)
+0
Kitawaki, Noboru (1901 - 1951)
G
(7)
+0
MATSUMOTO, Shunsuke (1912 - 1948)
G
(9)
+0
MIO, Kōzō (1923 - 2000)
G
(1)
+0
NAKAMURA, Masayoshi
G
(1)
+0
NAKATANI, Tai (1909 - 1993)
G
(4)
+0
NODA, Tetsuya (*1940)
G
(2)
+0
NOGUCHI, Yatarō
G
(1)
+0
NOMIYAMA, Gyōji (*1920)
G
(2)
+0
OKAMOTO, Shinjirō (*1933)
G
(3)
+0
ONO, Gutei
G
(1)
+0
OYAMADA, Jirō (1914 - 1991)
G
(2)
+0
SATŌ, Chūryō (1912 - 2011)
G
(4)
+0
SHINKAI, Takezō (1897 - 1968)
G
(1)
+0
TAKAMATSU, Jirō (1936 - 1998)
G
(27)
+0
TAKAYAMA, Tatsuo (1912 - 2007)
G
(2)
+0
TANAKA, Akira (1918 - 1982)
G
(2)
+0
TERADA, Masaaki
G
(1)
+0
TOYOFUKU, Tomonori (*1925)
G
(12)
+0
Tsuruoka, Masao (1907 - 1979)
G
(2)
+0
UENO, Yasuo (*1926)
G
(1)
+0
USAMI, Keiji (*1940)
G
(5)
+0
WAKABAYASHI, Isamu (*1936)
G
(30)
+0
WAKITA, Kazu (1908 - 2005)
G
(1)
+0
WATANABE, Gaku (1916 - 2000)
G
(1)
+0
YAMAMOTO, Toyoichi
G
(1)
+0
YANAGIHARA, Yoshitatsu (1910 - 2004)
G
(5)
+0
YOKOYAMA, Misao (1920 - 1973)
G
(3)
+0
YOSHIOKA, Kenji
G
(1)
+0
Yamaguchi, Kaoru (1907 - 1968)
G
(6)
+0
ŌSAWA, Shōsuke (1903 - 1997)
G
(1)
+0
Accardi, Carla (1924 - 2014)
G
Sep 1967 - Oct 1967
(93)
+0
Adami, Valerio (*1935)
G
(82)
+0
Afro, [Afro Basaldella] (1912 - 1976)
G
(75)
+0
Alviani, Getulio ['Getulio'] (1939 - 2018)
G
(134)
+0
Aricò, Rodolfo (1930 - 2002)
G
(36)
+0
Baj, Enrico (1924 - 2003)
G
(95)
+0
Bianco, Remo (1922 - 1988)
G
(18)
+0
Biasi & Landi, [Alberto Biasi & Edoardo Landi]
G
(1)
+0
Bonalumi, Agostino (1935 - 2013)
G
(150)
+0
Boriani, Davide (*1936)
G
(69)
+0
Burri, Alberto (1915 - 1995)
G
(161)
+0
Capogrossi, Giuseppe (1900 - 1972)
G
(145)
+0
Carrino, Nicola (*1932)
G
(31)
+0
Castellani, Enrico (1930 - 2017)
G
(217)
+0
Ceroli, Mario (*1938)
G
(83)
+0
Colla, Ettore (1896 - 1968)
G
(43)
+0
Colombo, Gianni (1937 - 1993)
G
(164)
+0
Consagra, Pietro (1920 - 2005)
G
(67)
+0
Costa, Toni [Giovanni Antonio] (1935 - 2013)
G
(39)
+0
Dorazio, Piero (1927 - 2005)
G
(222)
+0
Fabro, Luciano (1936 - 2007)
G
(114)
+0
Festa, Tano (1938 - 1987)
G
(40)
+0
Fontana, Lucio (1899 - 1968)
G
(446)
+0
Lombardo, Sergio (*1939)
G
(20)
+0
Manzoni, Piero (1933 - 1963)
G
(271)
+0
Mari, Enzo (*1932)
G
(81)
+0
Marotta, Gino (1935 - 2012)
G
(24)
+0
Moriconi, Angelo (1932 - 1977)
G
(8)
+0
Novelli, Gastone (1925 - 1968)
G
(60)
+0
Pascali, Pino (1936 - 1968)
G
(93)
+0
Patelli, Paolo (*1934)
G
(12)
+0
Perilli, Achille (*1927)
G
(84)
+0
Pezzo, Lucio Del (*1933)
G
(63)
+0
Pistoletto, Michelangelo (*1933)
G
(204)
+0
Pomodoro, Arnaldo (*1926)
G
(88)
+0
Pomodoro, Giò (1930 - 2002)
G
(63)
+0
Remotti, Remo (1924 - 2015)
G
(10)
+0
Rotella, Mimmo (1918 - 2006)
G
(150)
+0
Santomaso, Giuseppe (1907 - 1990)
G
(83)
+0
Santoro, Pasquale Ninì (*1933)
G
(18)
+0
Savio, Francesco Lo (1935 - 1963)
G
(62)
+0
Scanavino, Emilio (1922 - 1986)
G
(70)
+0
Scarpitta, Salvatore (1919 - 2007)
G
(78)
+0
Schifano, Mario (1934 - 1998)
G
(92)
+0
Somaini, Francesco (1926 - 2005)
G
(32)
+0
Tancredi, [Tancredi Parmeggiani] (1927 - 1964)
G
(46)
+0
Turcato, Giulio (1912 - 1995)
G
(96)
+0
Vedova, Emilio (1919 - 2006)
G
(134)
+0