Artist

| Marc Chagall (1887 - 1985)
https://www.artist-info.com/artist/Marc-Chagall
Artist Portfolio Catalog
Image
Artist
Title
Year
Material
Measurement

Marc Chagall
Esther
1960
Originallithographie (Mourlot 252)
35 x 26 cm

Marc Chagall (1887 - 1985)

Esther

| | |
| --- | --- |
| Year | 1960 |
| Technique | Originallithographie (Mourlot 252) |
| Measurement | 35 x 26 cm (H x W x D) |
| Copyright | Marc Chagall |
| Courtesy | Galerie Gerersdorfer, Wien |
| Description | |
| Sort No. | 0 |
| Modified | |
| Image file | 2036.jpg |

Marc Chagall
Drucktechnik nach Alois Senefeld...
0
Erklärung unter Curriculum Vita...

Marc Chagall (1887 - 1985)

Drucktechnik nach Alois Senefelder (1797)

| | |
| --- | --- |
| Year | 0 |
| Technique | Erklärung unter Curriculum Vitae, "Printed Work" |
| Measurement | (H x W x D) |
| Copyright | Marc Chagall |
| Courtesy | Galerie Gerersdorfer, Wien |
| Description | |
| Sort No. | 0 |
| Modified | |
| Image file | 2037.jpg |
Biography
Biography
Chagall, Marc (geboren 1887 Witebsk, gestorben 1985 St.-Paul-de-Vence)
Russisch-französischer Maler und Illustrator aus jüdischer Familie.
Nach der Malausbildung in Witebsk und an der Petersburger Akademie bei Bakst löste er sich 1910 - 14 während eines Parisaufenthalts vom Impressionismus und integrierte kubistische und fauvistische Stilmerkmale in seine Malerei. Nach Rußland zurückgekehrt, entwickelte Chagall seinen eigenen Stil aus Elementen der russischen Volkskunst und aus der jüdisch-religiösen Erlebniswelt seiner Kindheit. Nach der Oktoberrevolution stattete er 1919 unter der Förderung von Lunatscharskij das jüdische Theater in Moskau aus.
1922/23 emigrierte Chagall über Berlin nach Paris. In Paris entstanden, im Auftrag des Kunsthändlers A. Vollard, seine Illustrationen zu Gogols »Die toten Seelen«, an denen Chagall bis 1927 arbeitete (96 Radierungen). Außerdem begann er 1927 mit der Ausführung einer Serie von Illustrationen zu La Fontaines »Fabeln« (100 Radierungen).
Von 1930 an arbeitetet er an seinen Bibel-illustrationen (105 Blätter, 1930-39) und unternahm Reisen nach Palästina, Syrien, Ägypten, Holland, England und Spanien.
1941 floh Chagall vor der Okkupation in die USA, wo er die Kostüme und Bühnenbilder für Tschaikowskys Ballett »Aleko«  (1942) und Strawinskys »Feuervogel« (1945) entwarf.
1947 kehrte er nach Frankreich zurück, wo er seit 1950 in St.-Paul-de-Vence lebte.
Das Werk Chagalls ist gekennzeichnet durch starke, glühende Farben und eine phantastische, irreale Zusammenführung symbolischer Bildmotive. Seine bevorzugten Themen sind die Jüdische Mystik, das Bäuerliche Rußland, die Zirkuswelt, die Liebenden auf dem Pferd (Zirkusreiterin, 1931), Liebespaare, Blumen (Blumenstrauß mit Liebespaar und Geiger, 1928) und Tiere. Neben Gemälden fertigte Chagall ein umfangreiches graphisches Oeuvre an, sowie Glasfensterentwürfe (Kirche von Assy 1957; Kathedrale von Metz 1958; Hadassah-Klinik, Jerusalem 1962), Keramik und Plastik.
About the work
About the work
"Seit meiner frühen Jugend hat mich die Bibel gefesselt, sie erschien mir immer und erscheint mir auch heute noch als die größte Quelle der Poesie aller Zeiten. Stets habe ich ihre Spiegelungen im Leben und in der Kunst gesucht. Die Bibel ist wie ein Widerhall in der Natur, und dieses Geheimnis habe ich weiterzugeben versucht."
"Beugte ich mich über einen lithographischen Stein, so war es mir, als ob ich einen Talisman berührte. Es schien mir, darin all meine Betrübnisse und all meine Freuden bergen zu können ...
Schon in meiner frühen Jugend, wo ich zu zeichnen begann, suchte ich nach einem Ausdrucksmittel, das große Welten eröffnet, so wie ein breiter Strom, der nach entfernten und lockeren Ufern fließt. Mir kommt es vor, als würde mir irgend etwas fehlen, wenn ich mich von einer bestimmten Zeit meines Lebens ab außerhalb der Malerei nicht auch mit der Gravüre und der Lithographie befaßt haben würde."
Marc Chagall
Printed Work
Printed Work
Chagall und die Druckgraphik
Marc Chagall hatte eine Vorliebe für Mappenwerke und illustrierte Bücher. Einige dieser Folgen gehören zu seinen bedeutendsten graphischen Arbeiten, wie zum Beispiel die "Bibel". Verschiedentlich wurde von den Originalgraphiken eine Teilauflage, die sich meist durch die Papierart oder das Blattformat von den unsignierten Blättern unterscheidet, signiert. Im Grunde entstanden die Arbeiten jedoch, um in der Mappen- oder Buchauflage unsigniert zu bleiben.
Die "Illustrationen für die Bibel" sind Originallithographien von Marc Chagall und im "Mourlot Werkverzeichnis der Lithographien" abgebildet und beschrieben.

Die Originallithographie
Diese heute bedeutendste graphische Drucktechnik wurde im Jahre 1797 von Alois Senefelder erfunden. Im Gegensatz zur Radierung wird nicht von einem zuvor geschaffenen Relief gedruckt. Das Prinzip des bei der Lithographie angewandten Flachdruckes beruht auf der Fähigkeit feinporiger Kalksteinplatten sowohl Fett wie auch Wasser aufzusaugen, sowie auf der gegenseitigen Abstoßung von Wasser und fettiger Farbe. Der Künstler zeichnet sein Motiv mit fetthaltiger Tusche  oder Kreide auf eine ca. 10 cm dicke Solnhofer Kalksteinplatte. Eine Mischung aus schwacher Salpetersäure, Wasser und Gummiarabikum wird auf den Stein aufgetragen und bewirkt einerseits das Eindringen des Fettanteils der Lithofarbe in den Stein, anderseits schließt das Gummiarabikum die offenen ungeschützten Steinporen und sorgt mit seiner guten Quellfähigkeit für eine leichte Wasseraufnahme und Farbabstoßung dieser Stellen. Nach sorgfältiger Reinigung des Steins wird nun mit einer Walze Farbe aufgetragen, welche nur an den fetthaltigen Stellen haftet. Beim anschliessenden Druck wird der auf dem Stein liegende Papierbogen mit Druck unter der Reiberkante der Reiberpresse hindurchgefahren. Natürlich ist für jede Farbe eine separate Platte notwendig.
In Abgrenzung zur Reproduktionsgraphik gelten als Originalgraphik Blätter, die von einer oder mehreren vom Künstler vollständig handgearbeiteten Platten unmittelbar abgezogen werden. Hierbei ist es unerheblich ob die Blätter vom Künstler signiert sind.

Galerie Gerersdorfer, Wien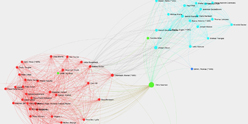 Interested in discovering more of this artist's networks?
3 easy steps: Register, buy a package for a visualization, select the artist.
See examples how visualization looks like for an artist, a curator, or an exhibition place: Gallery, museum, non-profit place, or collector.

Exhibition History

SUMMARY

based on artist-info records. More details and Visualizing Art Networks on demand.
Venue types:

Gallery

/

Museum

/

Non-Profit

/

Collector

Exhibitions in artist-info
559 (S 176/ G 383)

Did show together with

- Top 5 of 5204 artists
(no. of shows) - all shows - Top 100

Exhibitions by type

559: 250 / 207 / 98 / 4
Venues by type

273: 110 / 95 / 65 / 3
Curators
125
artist-info records
Sep 1913 - Aug 2022

Countries

- Top 5 of 23
United States (182)
Germany (178)
France (58)
Switzerland (31)
Italy (28)


Cities

- Top 5 of 121
New York (136)
Berlin (43)
Paris (40)
London (20)
Frankfurt am Main (20)


Venues

(no. of shows ) Top 5 of 273
| | | |
| --- | --- | --- |
| | | Curators (no. of shows) Top 5 of 125 |