Artist

| Paul Cézanne (1839 - 1906)
https://www.artist-info.com/artist/Paul-Cezanne
Artist Portfolio Catalog
Image
Artist
Title
Year
Material
Measurement

Paul Cézanne
Selbstbildnis mit Hut
1886
Öl auf Leinwand
44,5 x 35,5 cm

Paul Cézanne (1839 - 1906)

Selbstbildnis mit Hut

| | |
| --- | --- |
| Year | 1886 |
| Technique | Öl auf Leinwand |
| Measurement | 44,5 x 35,5 cm (H x W x D) |
| Copyright | Paul Cézanne |
| Courtesy | Ny Carlsberg Glyptothek, Kopenhagen |
| Description | |
| Sort No. | 0 |
| Modified | |
| Image file | 3565.jpg |
1839
1839
Geboren am 19. Jänner in Aix-en-Provence als Sohn des
Hutmachers und späteren Bankiers Louis-Auguste Cézanne.
1844 - 1849
1844 - 1849
Volksschule in Aix; erster Zeichenunterricht bei einem spani-schen
Mönch.
1849 - 1852
1849 - 1852
Klosterschule St.Joseph in Aix.
1852 - 1858
1852 - 1858
Gymnasiast im Collège Bourbon, Mitschüler Émile Zola;
seit 1854 Zeichenunterricht am Musée Municipal.
1859 - 1861
1859 - 1861
Auf Wunsch seines Vaters Hörer an der juridischen Fakultät in
Aix; besteht
1. Staatsexamen mit Erfolg. Der Vater erwirbt das Herrenhaus
"Jas de Bouffan", in dessen Dachgeschoß sich Cézanne sein
erstes Atelier einrichtet.
1861
1861
Cézannes Vater läßt sich dazu bewegen, mit dem Sohn nach
Paris zu reisen. April bis September: Besuch der Académie
Suisse, trifft dort Pissarro; intensives Studium des Louvre. Bei
der Bewerbung um die Aufnahme in die École des Beaux-Arts
abgewiesen. Im Oktober zurück nach Aix, Angestellter in der
Bank seines Vaters.
1862 - 1864
1862 - 1864
Zweiter Aufenthalt in Paris. Wieder an der Académie Suisse;
Bekanntschaft mit Renoir, Monet, Sislex, Bazille.
1863: Alle vom "Salon" zurückgewiesenen Maler, unter ihnen
auch Cézanne, veranstalten den "Salon des Refusés".
Cézanne wird neuerlich von der École des Beaux-Arts abge-lehnt.
1865 - 1870
1865 - 1870
1865-1870 Arbeitet in verschiedenen Orten, hauptsächlich
aber in Aix und Paris, ständiger Wohnungswechsel.
1870 - 1871
1870 - 1871
Deutsch-Französischer Krieg, während dessen Cézanne in
L´Estaque bei Marseille arbeitet und bereits mit Hortense
Fiquet, einer 19-jährigen Buchbinderin, seiner späteren Gattin
zusammenlebt.
1872 - 1873
1872 - 1873
Arbeitet in Auvers-sur-Oise unter Einfluß Pissarros, der selbst
im nahen Pontoise lebt; lernt dort Dr. Gachet, den späteren
Freund Van Goghs, kennen.
1874
1874
Erste Impressionisten-Ausstellung in Paris (Galerie Nadar),
bei der Cézanne sich beteiligt; die Ausstellung erregt beim
Publikum großen Unwillen.
1877
1877
Beteiligung an der dritten Impressionisten-Ausstellung in Paris
mit 17 Bildern, ebenfalls ohne Erfolg beim Publikum.
1879 - 1881
1879 - 1881
Unternimmt von Paris aus verschiedene Fahrten nach
Nordfrankreich, z.B. Melun, Médan (zu Zola), zu Pissarro
nach Pontoise, wo er dann jeweils längere Zeit arbeitet.
1882
1882
Wird ein Bild Cézannes zum erstenmal im "Salon" angenom-men,
allerdings nur über Intervention seines Malerfreundes
Guillemet.
1883
1883
Einige Wochen bei Renoir in La Roche-Guyon eingeladen;
reist mit dem Maler Monticelli in der Provence herum; erhält
Gegenbesuche von Renoir und Monet.
1886
1886
Endgültiger Bruch mit Zola wegen dessen Romans
"L´Oeuvre", in dem sich Cézanne in der Figur eines Malers,
der künstlerisch scheitert und Selbstmord begeht, wiederer-kennt.
Oktober: Tod des Vaters, der ihm ein beträchtliches
Vermögen hinterläßt, das Cézanne für den Rest seines
Lebens finanzielle Unabhängigkeit garantiert.
1889
1889
Weltausstellung in Paris bringt ein Gemälde Cézannes.
1895
1895
Erste große Cézanne-Ausstellung in Paris, bei Ambroise
Vollard. Erfolg bei Künstlern und einigen Kunstfreunden.
1899
1899
Drei Bilder im "Salon des Indépendants". Verkauf des "Jas de
Bouffan"; Cézanne lebt nun in Aix im väterlichen Wohnhaus.
1900
1900
Anfänge internationaler Anerkennung auf der
Jahrhundertausstellung in Paris (Drei Bilder).
Die Nationalgalerie Berlin erwirbt als erstes Museum der Welt
eine Landschaft Cézannes.
1901 / 02
1901 / 02
Beteiligt sich am "Salon des Indépendants" in Paris.
Bau eines Ateliers am "Chemin des Lauves" in Aix.
1904
1904
Im "Salon d´Automne" in Paris wird ihm ein Saal für zehn
Gemälde gewidmet. Stellt neun Bilder in Brüssel aus.
1905
1905
Zehn Bilder im "Salon des Indépendants".
1906
1906
Gestorben am 22. Oktober in Aix an einer Erkältung, die er
sich beim Malen im Freien zugezogen hatte.
1907
1907
Im "Salon d´Autonome" in Paris findet eine große
Gedächtnisausstellung mit 56 Bildern statt.
Exhibition Announcements
Filter
Image

Opening

Closing

City/Country

Exhibition Place

Exhibition Title
Feb 13, 2014 07:00 pm
Jun 01, 2014
Wiesbaden
Museum Wiesbaden
Horizont Jawlensky

Wiesbaden

Horizont Jawlensky

Alexej von Jawlensky as reflected in his artistic encounters 1900–1914

| | |
| --- | --- |
| Opening | Feb 13, 2014 at 07:00 pm |
| Start date | Feb 14, 2014 |
| End date | Jun 01, 2014 |

The anniversary of Alexej von Jawlensky's 150th birthday takes place in 2014 (born in Torschok/Russia in 1864, deceased 1941 in Wiesbaden). On this occasion, the Museum Wiesbaden, owner of the world's most notable collection of the painter who was a member of the inner circle of the Blauer Reiter (Blue Rider) group of artists, is presenting the exhibition "Horizont Jawlensky - Alexej von Jawlensky as reflected in his artistic encounters 1900–1914". The centre of the exhibition is Jawlensky's Munich period during which he achieved his powerful, colourfully expressive style through varied encounters with renowned artists in Germany, France and Switzerland. These fateful relationships have barely been studied in direct contrast to date. The works presented in the exhibition document Jawlensky's encounter with the art of Vincent van Gogh, Paul Gaugin, Paul Cézanne, Henri Matisse or Ferdinand Hodler and Edvard Munch among others as well as the German painters of the Leibl Circle or the secessionist Lovis Corinth.

In addition to some 75 works by Alexej von Jawlensky, around 50 paintings by those artists with whom he dealt intensely in those years will be presented – including Carl Schuch, Lovis Corinth, Anton Ažbe or Franz von Lenbach who were still of interest to him around 1900, then the painter colleagues he met in Germany with Gabriele Münter, Wassily Kandinsky, Marianne Werefkin.

Alexej von Jawlensky - Cuno Amiet - Anton Ažbe - Émile Henri Bernard - Erma Bossi - Auguste Chabaud - Paul Cézanne - Lovis Corinth - Robert Delaunay - Sonia Delaunay-Terk - Kees van Dongen - Raoul Dufy - Paul Gauguin - Pierre Girieud - Vincent van Gogh - Ferdinand Hodler - Wassily Kandinsky - Alexander Kanoldt - Wilhelm Leibl - Franz von Lenbach - August Macke - Franz Marc - Henri Matisse - Edvard Munch - Gabriele Münter - Leo Putz - Ilja Jefimowitsch Repin - Carl Schuch - Paul Signac - Alfred Sisley - Wladyslaw Ślewiński - Franz von Stuck - Wilhelm Trübner - Jan [Pater Willibrord] Verkade - Maurice de Vlaminck - Marianne von Werefkin - Anders Leonard Zorn -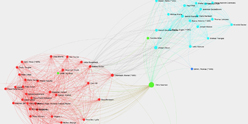 Interested in discovering more of this artist's networks?
3 easy steps: Register, buy a package for a visualization, select the artist.
See examples how visualization looks like for an artist, a curator, or an exhibition place: Gallery, museum, non-profit place, or collector.

Exhibition History

SUMMARY

based on artist-info records. More details and Visualizing Art Networks on demand.
Venue types:

Gallery

/

Museum

/

Non-Profit

/

Collector

Exhibitions in artist-info
276 (S 55/ G 221)

Did show together with

- Top 5 of 3295 artists
(no. of shows) - all shows - Top 100

Exhibitions by type

276: 83 / 133 / 60 / 0
Venues by type

135: 32 / 66 / 37 / 0
Curators
96
artist-info records
Nov 1895 - Jan 2023

Countries

- Top 5 of 15
Germany (91)
United States (83)
France (39)
Switzerland (23)
United Kingdom (15)


Cities

- Top 5 of 68
New York (59)
Paris (36)
Berlin (36)
Basel (13)
London (11)


Venues

(no. of shows ) Top 5 of 135
| | | |
| --- | --- | --- |
| | | Curators (no. of shows) Top 5 of 96 |
Offers/Requests

Exhibition Announcement

S / G Solo/Group Exhibitions

(..) Exhibitions + Favorites

Read texts, reviews, comments, and Press Releases about this exhibition for more insight

Von der Heydt-Museum
G
Aug 2022 - Jan 2023
Wuppertal
(131)
+0
Storm, Anna (Curator)
+0
Ashmolean Museum
G
Feb 2022 - Jun 2022
Oxford
(14)
+0
Royal Academy of Arts
G
Aug 2020 - Oct 2020
London
(49)
+0
Ferrari, Anna (Curator)
+0
Kunstmuseum Basel
G
Mar 2019 - Aug 2019
Basel
(70)
+0
Reifert, Eva (Curator)
+0
Centre Pompidou - Musée National d'Art Moderne
G
Oct 2018 - Feb 2019
Paris
(142)
+0
Briend, Christian (Curator)
+0
Léal, Brigitte (Curator)
+0
Coulondre, Ariane (Curator)
+0
Saarland Museum, Moderne Galerie
G
Sep 2018 - Jan 2019
Saarbrücken
(71)
+0
Elvers-Švamberk, Kathrin (Curator)
+0