Artist

| Dirk Rausch (*1975)
https://www.artist-info.com/artist/Dirk-Rausch
Artist Portfolio Catalog
Image
Artist
Title
Year
Material
Measurement

Dirk Rausch
Ohne Titel
2017
Serigraphie und Aquarell
22,5 x 30,5 cm

Dirk Rausch (*1975)

Ohne Titel

| | |
| --- | --- |
| Year | 2017 |
| Technique | Serigraphie und Aquarell |
| Measurement | 22,5 x 30,5 cm (H x W x D) |
| Copyright | Dirk Rausch |
| Courtesy | Galerie Wack, Kaiserslautern |
| Description | |
| Sort No. | 3 |
| Modified | |
| Image file | 6446.jpg |

Dirk Rausch
Ohne Titel
2015
Siebdruck auf Karton, Unikat
68,5 x 98,5 cm

Dirk Rausch (*1975)

Ohne Titel

| | |
| --- | --- |
| Year | 2015 |
| Technique | Siebdruck auf Karton, Unikat |
| Measurement | 68,5 x 98,5 cm (H x W x D) |
| Copyright | Dirk Rausch |
| Courtesy | Galerie Wack, Kaiserslautern |
| Description | |
| Sort No. | 4 |
| Modified | 2019-04-19 16:37:05 |
| Image file | 6349.jpg |

Dirk Rausch
O.T.
2012
Siebdruck (Unikat) auf Papier
50 x 50 cm

Dirk Rausch (*1975)

O.T.

| | |
| --- | --- |
| Year | 2012 |
| Technique | Siebdruck (Unikat) auf Papier |
| Measurement | 50 x 50 cm (H x W x D) |
| Copyright | Dirk Rausch |
| Courtesy | Galerie Wack, Kaiserslautern |
| Description | |
| Sort No. | 5 |
| Modified | 2019-04-19 16:36:54 |
| Image file | 6229.jpg |
Exhibition at Galerie Wack 08.02. - 22.03.2014
Exhibition at Galerie Wack 08.02. - 22.03.2014
Eine Doppelausstellung mit István Haász und Dirk Rausch
wird am Samstag 8. Februar um 18 Uhr in der
Galerie Wack, D-67567 Kaiserslautern, Morlautererstr. 80
eröffnet.

Es sind Reliefs des bekannten Budapester Künstlers István Haász und Papierarbeiten von Dirk Rausch aus Saarbrücken, die in der Ausstellung gegenübergestellt werden und auch mit ihren Farben beeindrucken.

Die Werke beider Künstler treten miteinander in einen Dialog zu Themen wie etwa: Monochromie und Farbschichtung, Fläche und Raum, Transparenz und Verdichtung, Schattenwirkung und Überlagerung - um nur einige zu nennen.

Zur Eröffnung der Ausstellung, die bis 22.3.2014 zu sehen ist, sind István Haász und Dirk Rausch anwesend.
Dr. Petra Wilhelmy (Kunsthistorikerin, Wadgassen) spricht zur Einführung.
Exhibition at Galerie Wack 23.04. - 04.06.2016
Exhibition at Galerie Wack 23.04. - 04.06.2016
Dirk Rausch: Siebdruckunikate und Aquarelle von Dirk Rausch
Eröffnung 23.04. um 18 Uhr
Dirk Rausch ist bei der Ausstellungseröffnung anwesend.
Dr. Petra Wilhelmy, Kunsthistorikerin aus Wadgassen spricht zur Einführung
Galerie Wack, Morlautererstraße 80, 67657 Kauserslautern

Es sind die Überlagerungen verschiedener Farbflächen, Farbbahnen, Farbformen, die bei Dirk Rausch das Bildgeschehen bestimmen. Von scharf konturiert, opak bis hin zu transparent, weich, erscheinen seine Farb-Formen, die mit jeder Schichtung neue Farb- und Formvariationen entstehen lassen.
Vor dem weißen Bildgrund ereignet sich so viel, dass sich der Betrachter auf Entdeckungsreise begibt und vielfältig überrascht wird.
Exhibition at Galerie Wack 03.05. - 27.06.2019
Exhibition at Galerie Wack 03.05. - 27.06.2019
Dirk Rausch: Serigraphie und Aquarell
Eröffnung am Freitag, 03.05. um 18 Uhr
Der Künstler ist zur Eröffnunganwesend.
Zur Einführung spricht Dr. Roland Mönig, Direktor des Saarlandmuseums, Saarbrücken.

Im Siebdruckverfahren, das üblicherweise der Vervielfältigung dient, stellt Dirk Rausch Unikate her. Dabei ist die anschauliche Thematisierung der Korrelation von Form und Farbe innerhalb des bild-kompositionellen Gefüges eines der Hauptanliegen des Künstlers. Er arbeitet zunächst mit schlicht anmutenden Elementen wie balkenförmigen Formationen, die sich in ihrer verschiedenfarbigen Erscheinung so überlagern, dass nuancenreiche Farbdurchdringungen entstehen. Die Positionierung der formalen Aspekte innerhalb des Bildfeldes zeugt von einem ebenso experimentellen wie auch genau durchdachten Anliegen, bei dem Bildfläche und Bildformat ebenso wie der freie Bildgrund als originärer Bestandteil der gesamten Gestaltung gelten.

Die über die Arbeit im Siebdruck gewonnenen Erkenntnisse und Erfahrungen überträgt Dirk Rausch in eine neue Werkgruppe von Aquarellen in transparent-weicher Farbigkeit, die trotz der eher minimalistischen Formanlage einen hohen sinnlichen Reichtum entfalten. Teilweise werden die Aquarelle mit gedruckten farbigen Flächen kombiniert und zu einander so in Beziehung gesetzt, dass spannungsreiche bildnerische Kompositionen entstehen.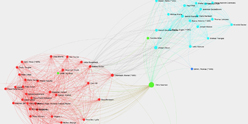 Interested in discovering more of this artist's networks?
3 easy steps: Register, buy a package for a visualization, select the artist.
See examples how visualization looks like for an artist, a curator, or an exhibition place: Gallery, museum, non-profit place, or collector.

Exhibition History

SUMMARY

based on artist-info records. More details and Visualizing Art Networks on demand.
Venue types:

Gallery

/

Museum

/

Non-Profit

/

Collector

Exhibitions in artist-info
12 (S 2/ G 10)

Did show together with

- Top 5 of 170 artists
(no. of shows) - all shows - Top 100

Exhibitions by type

12: 12 / 0 / 0 / 0
Venues by type

3: 3 / 0 / 0 / 0
Curators
0
artist-info records
Dec 2004 - Jun 2019

Countries

- Top 1 of 1
Germany (12)


Cities

2 - Top of 2
Saarbrücken (7)
Kaiserslautern (5)


Venues

(no. of shows ) Top 3 of 3
| | | |
| --- | --- | --- |
| | | Curators (no. of shows) Top 0 of 0 |
Offers/Requests

Exhibition Announcement

S / G Solo/Group Exhibitions

(..) Exhibitions + Favorites

Galerie Wack
S
May 2019 - Jun 2019
Kaiserslautern
(156)
+0
Galerie Wack
G
Jan 2017 - Feb 2017
Kaiserslautern
(156)
+0
Galerie Wack
S
Apr 2016 - Jun 2016
Kaiserslautern
(156)
+0
Galerie Wack
G
Jan 2016 - Feb 2016
Kaiserslautern
(156)
+0
Galerie Wack
G
Feb 2014 - Mar 2014
Kaiserslautern
(156)
+0
Galerie St. Johann
G
Dec 2012 - Jan 2013
Saarbrücken
(91)
+0