Artist

| [Gudmundur Gudmundsson] ERRÓ (*1932)
Alias: ERRÓ [Gudmundur Gudmundsson] [Gudmundur Ferró]
https://www.artist-info.com/artist/Erro
Artist Portfolio Catalog Overview\ 1
[Gudmundur Gudmundsson] ERRÓ

0
Exhibition at Binz & Kraemer
Exhibition at Binz & Kraemer
ERRÓ Collagen
ROTELLA Décollagen
Zwei Positionen im Nouveau Réalisme

05. Juli 2002 - 07.September 2002
Galerie Binz & Krämer, Elsaßstrasse 9, D-50677 Köln

Erró, der Jongleur der "Alltäglichen Mythologien"

Ironie und Skepsis, subversiver Humor und verborgener Moralismus prägen die bunte, fast barocke, unglaublich vielfältige Bildwelt des legendären Künstlers der "Narrativen Figuration", Erró. Seine Tätigkeit verbindet die turbulenten, radikalen, exzentrischen, revoltierenden sechziger Jahre mit den skeptischen, mißtrauischen, medienorientierten neunziger Jahren.

Der Name Erró ist untrennbar mit dem Begriff Pop Art verbunden. In der Fachliteratur beschreibt man diese Periode mit der Entstehung der sogenannten englischen Pop Art beziehungsweise des amerikanischen New Realism und des französisch-italienischen Nouveau Réalisme.

Der isländische Maler Erró, der als zwanzigjähriger Kunststudent aus Reykjavik nach Oslo, und dann später, 1955, nach Florenz gegangen war und bis 1958 in Italien, später in Paris lebte, gehörte zu jenen radikalen Künstlern, die im Laufe der sechziger Jahre in Paris eine Reihe von thematischen Gruppenausstellungen organisierten, welche die Kunstbetrachtung und die politische Position einer neuen Künstlergeneration der gesellschaftskritischen, gegenständlichen Kunst vertraten.

Die radikalen neuen figurativen Maler strebten eine tiefe Veränderung der Kunstbetrachtung an, vor allem im Bereich der Funktionsdefinition der Kunst: Sie wollten eine gesellschaftskritische, analytische und am Reformprozess der Gesellschaft aktiv teilnehmende Kunst schaffen, welche durch die schockierende Ironie der Konfrontation beliebiger Klischeebilder mit der drastischen Realität das Bewußtsein der Macht des Bildes wecken sollte. Erró versuchte von Anfang an, die Motive der neuen technischen Welt, vor allem Maschinen und Konstruktionen, in seine Bilder aufzunehmen. Das Kennenlernen der amerikanischen Pop Art und die Diskussionen mit den neuen Künstlern in den Vereinigten Staaten und in Frankreich drängten ihn mehr und mehr, eine neue Form der Gegenständlichkeit in der Malerei auszuarbeiten.

Wenn Erró Bildfragmente, welche eine andere Art von ideologischer und ästhetischer Manipulation darstellen, aus der Kunstgeschichte herausnimmt, reflektiert er damit die Problematik des konstruierten Bildes und anaylisiert das Potenzial des Bildes, Wertvorstellungen zu vermitteln. Das Bild ist nicht nur fähig, die sichtbare Wirklichkeit so oder so wiederzugeben, sondern vermag auch beim Betrachter gewisse Absichten und Klischees zu wecken, durch welche er die Wirklichkeit betrachten soll. So gewinnt die Bedeutungsstruktur eines Erró-Bildes einen Doppelcharakter: Einerseits manifestiert der Künstler die Macht des Bildes, welche sich in dem Kontext der zeitgenössischen Politik eindeutig in einer negativen Weise interpretieren lässt – und dieses Gefahrenpotenzial wird durch das Anschauen und durch das Verstehen des Bildes klar; andererseits weist er indirekt auf die moderne Konsumgesellschaft und deren Massenmedien hin und nimmt mit dieser Kritik eine aktive Rolle in dem Kampf um die Enthüllung der Manipulationssysteme ein.

Erró zeigt uns die Welt gleichzeitig als diabolisch und grotesk, wobei die Klischees und Vorurteile, naive Verherrlichungen und schreckliche Erfahrungen die eindeutige, klare Orientierung unsere Wertsysteme und Weltanschauung vollkommen fragwürdig machen. Das unerträgliche Gewicht der leeren Klischees zeigt gleichzeitig die Oberflächlichkeit des durch die Massenmedien geprägten Bildnerischen und die hinter diesen absichtlich theatralisierten, scheinbar reichen und vielfältigen, scheinbar abenteuerlichen Kulissen verborgenen wahren Gefahren der Manipuliertheit, Aggressivität, Repression und hoffnungslosen Orientierungslosigkeit.

Errós Macht ist die Macht des souveränen Bildes, die Suggestivität des unaufhaltbaren, fruchtbaren, unvermeidbaren Bilderstroms, welche unsere Gefühle und Projektionen, intellektuelle Überlegungen und emotionelle Erfahrungen, unsere Ängste und Hoffnungen, Enttäuschungen und Illusionen zu bunten, kräftigen Bildern macht, wobei das Bild  – durch die subversive Ironie – uns gegenüber als ein mächtiger Spiegel erscheint.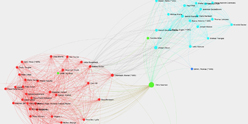 Interested in discovering more of this artist's networks?
3 easy steps: Register, buy a package for a visualization, select the artist.
See examples how visualization looks like for an artist, a curator, or an exhibition place: Gallery, museum, non-profit place, or collector.

Exhibition History

SUMMARY

based on artist-info records. More details and Visualizing Art Networks on demand.
Venue types:

Gallery

/

Museum

/

Non-Profit

/

Collector

Exhibitions in artist-info
83 (S 29/ G 54)

Did show together with

- Top 5 of 1456 artists
(no. of shows) - all shows - Top 100

Exhibitions by type

83: 30 / 24 / 26 / 3
Venues by type

61: 20 / 15 / 24 / 2
Curators
33
artist-info records
Jan 1961 - Jan 2016

Countries

- Top 5 of 13
Germany (29)
France (21)
Italy (6)
Switzerland (5)
Austria (2)


Cities

- Top 5 of 41
Paris (17)
München (7)
Wien (6)
Berlin (5)
Milano (4)


Venues

(no. of shows ) Top 5 of 61
| | | |
| --- | --- | --- |
| | | Curators (no. of shows) Top 5 of 33 |
Offers/Requests

Exhibition Announcement

S / G Solo/Group Exhibitions

(..) Exhibitions + Favorites

Read texts, reviews, comments, and Press Releases about this exhibition for more insight

Tate Modern
G
Sep 2015 - Jan 2016
London
(149)
+0
Morgan, Jessica (Curator)
+0
Frigeri, Flavia (Curator)
+0
Nordiska Akvarellmuseet
G
May 2015 - Sep 2015
Skärhamn
(75)
+0

Read texts, reviews, comments, and Press Releases about this exhibition for more insight

Walker Art Center
G
Apr 2015 - Sep 2015
Minneapolis
(298)
+0
Alexander, Darsie (Curator)
+0
Ryan, Bartholomew (Curator)
+0
Reykjavik Art Museum - Hafnarhús
S
Sep 2014 - Sep 2015
Reykjavík
(13)
+0
Kunsthalle Recklinghausen
G
May 2014 - Jul 2014
Recklinghausen
(69)
+0
Ullrich, Ferdinand (Curator)
+0
Schwalm, Hans-Jürgen (Curator)
+0
Runólfsson, Halldór Björn (Curator)
+0
Weber, Norbert (Curator)
+0
12e Biennale de Lyon
S
Sep 2013 - Jan 2014
Lyon
(1)
+0
Kvaran, Gunnar B. (Curator)
+0
Insight Basic

Display the full interactive exhibition history and all related artist, exhibition venue, and curator pages for your research. The SUMMARY above shows today's available scope.
Insight Basic 10 Days USD 378 / EUR 394

Insight Basic 1 Day USD 42 / EUR 44

To use Insight Basic or Insight Analytics
Sign-up for free first
Insight Analytics
Use Analytics tools for more insight based on documented exhibitions. More details on your RESEARCH user page.
(Includes Inisght Basic)
COMING SOON