Artist

| Leo Erb (1923 - 2012)
https://www.artist-info.com/artist/Leo-Erb
Artist Portfolio Catalog Overview\ 3
Exhibition at Galerie Wack 08.12. - 02.02.2008
Exhibition at Galerie Wack 08.12. - 02.02.2008
Am Samstag, 8.12., 18 Uhr wird in der Galerie Wack Kaiserslautern eine Ausstellung des "Linienkünstlers" Leo Erb eröffnet.
Folgerichtig sind also weiße Linienbilder und Linienplastiken, aber auch frühe Tuschezeichnungen und großformatige, rhythmische Blätter aus den 70ern zu sehen. "Heute erkennen wir, daß Erbs rein bildnerische Entscheidung kein Verfallsdatum hat."
Diese Worte Manfred Schneckenburgers, des früheren documenta-Chefs, könnten Motto zur Ausstellung sein. Sie findet anläßlich des 85. Geburtstages statt, den der im In- und Ausland be¬kannte Künstler im Januar 2008 feiert.
Am Eröffnungsabend spricht Prof. Dr. Lorenz Dittmann (Saarbrücken) zur Einführung.
Exhibition at Galerie Wack 03.02. - 07.04.2013
Exhibition at Galerie Wack 03.02. - 07.04.2013
Im Januar 2013 wäre der saarpfälzische Künstler Prof. Leo Erb neunzig Jahre alt geworden. Anlaß für eine Ausstellung, die am Sonntag, 3. Februar, 11 Uhr in der Galerie Wack, Kaiserslautern eröffnet wird.
Dr. Petra Wilhelmy (Kunsthistorikerin, Wadgassen) spricht zur Einführung.
Bilder, Zeichnungen und Plastiken zum Thema "Linie", dem Erbs gesamtes Lebenswerk, von den späten 40er Jahren des letzten Jahrhunderts an, gewidmet war, sind bis 7.4. zu sehen.
Sie belegen eine kreative Kraft, einen Erfindungsreichtum, der Erbs strenges, stilles Werk im In- und Ausland bekannt machte und seinen kunsthistorischen Stellenwert mitbegründete. Daß unsere Region eine hochkarätige Künstlerpersönlichkeit verloren hat, wird erfahrbar.
Exhibition at Galerie Wack 06.01. - 17.02.2018
Exhibition at Galerie Wack 06.01. - 17.02.2018
Leo Erb - Die Linie
Zeichnunge, Reliefs, Plastiken, Bilder und Drucke
06.01. – 17.02.2018
Eröffnung am 06.01.2018 um 18 Uhr
Zur Eröffnung spricht Dr. Petra Wilhelmy

Leo Erb wurde 1923 in St.Ingbert geborenen, 2012 verstarb der Künstler in Kaiserslautern. An der dortigen Kunstgewerbeschule hatte 1940 sein künstlerischer Weg begonnen. Es folgten: Bauhauslehre bei Prof. Dr. Kleint/Saarbrücken, ZERO-Umfeld in der Folgezeit und Schaffensjahre in Paris. Sein Werk hat Leo Erb dem Thema "Linie" gewidmet und setzte damit auch international Ak-zente, wie viele Einzelausstellungen, auch im außereuropäischen Ausland belegen. 
Die Teilnahme an der documenta VI/1977 und zahlreiche Auszeichnungen in Würdigung seines Le-benswerkes verweisen auf den Stellenwert seines Schaffens, dem auch Saarlandmuseum, Kunsthalle Mannheim, Wilhelm-Hack-Museum und Museum Pfalzgalerie Kaiserslautern unvergessene Ausstel-lungen eingerichtet hatten.
"Leo Erb hat der Linie einen neuen – künstlerischen – Gehalt gegeben…." schrieb Prof. Dr. Büchner, Direktor des Sprengel Museum Hannover  1975.

Exhibition Announcements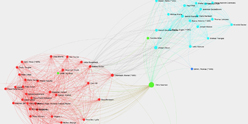 Interested in discovering more of this artist's networks?
3 easy steps: Register, buy a package for a visualization, select the artist.
See examples how visualization looks like for an artist, a curator, or an exhibition place: Gallery, museum, non-profit place, or collector.

Exhibition History

SUMMARY

based on artist-info records. More details and Visualizing Art Networks on demand.
Venue types:

Gallery

/

Museum

/

Non-Profit

/

Collector

Exhibitions in artist-info
50 (S 17/ G 33)

Did show together with

- Top 5 of 583 artists
(no. of shows) - all shows - Top 100

Exhibitions by type

50: 30 / 13 / 5 / 2
Venues by type

21: 5 / 9 / 5 / 2
Curators
6
artist-info records
Apr 1958 - Feb 2018

Countries

- Top 3 of 3
Germany (43)
Switzerland (1)
Netherlands (1)


Cities

- Top 5 of 18
Kaiserslautern (25)
Köln (5)
Würzburg (4)
Düren (2)
Düsseldorf (1)


Venues

(no. of shows ) Top 5 of 21
| | | |
| --- | --- | --- |
| | | Curators (no. of shows) Top 5 of 6 |