Artist

| István Haász (*1946)
https://www.artist-info.com/artist/Istvan-Haasz
Artist Portfolio Catalog Overview\ 2
Exhibition at Galerie Wack 08.02. - 22.03.2014
Exhibition at Galerie Wack 08.02. - 22.03.2014
Eine Doppelausstellung mit István Haász und Dirk Rausch
wird am Samstag 8. Februar um 18 Uhr in der
Galerie Wack, D-67567 Kaiserslautern, Morlautererstr. 80
eröffnet.

Es sind Reliefs des bekannten Budapester Künstlers István Haász und Papierarbeiten von Dirk Rausch aus Saarbrücken, die in der Ausstellung gegenübergestellt werden und auch mit ihren Farben beeindrucken.

Die Werke beider Künstler treten miteinander in einen Dialog zu Themen wie etwa: Monochromie und Farbschichtung, Fläche und Raum, Transparenz und Verdichtung, Schattenwirkung und Überlagerung - um nur einige zu nennen.

Zur Eröffnung der Ausstellung, die bis 22.3.2014 zu sehen ist, sind István Haász und Dirk Rausch anwesend.
Dr. Petra Wilhelmy (Kunsthistorikerin, Wadgassen) spricht zur Einführung.
Exhibition at Galerie Wack 27.02. - 09.04.2016
Exhibition at Galerie Wack 27.02. - 09.04.2016
István Haász: Pastelle
Eröffnung 27.02. um 18 Uhr
István Haász kommt aus Budapest zur Ausstellungseröffnung
Dr. Petra Wilhelmy, Kunsthistorikerin aus Wadgassen spricht zur Einführung
Galerie Wack, Morlautererstraße 80, 67657 Kauserslautern

Als 2014 in einer Doppelausstellung der Galerie Wack 3-dimensionale Objekte von István Haász gezeigt wurden, blieben Arbeiten aus seinen anderen Werkgruppen ganz ausgeklammert. Es war nämlich geplant, z.B. den Pastellen des bekannten ungarischen Künstlers eine spätere Präsentation zu widmen.

Zu sehen sind nun in dieser Ausstellung Pastelle aus unterschiedlichen Werkphasen des Künstlers.
Ihre Farbskala reicht von Schwarz-Weiß, über warmes Rot und Braun, vom tiefen Blau bis zu den typischen Gelb-Tönen von Haász.
Formal geht er von Quadrat und Rechteck bis zu Win-kelformen, die miteinander in Verbindung treten, sich mitunter auch überlagern oder an-schneiden.
Spannend für den Betrachter, wie Haász Flächen lebendig macht, Geometrie mit maleri-schem Farbauftrag verbindet und wie so  unterschiedliche Gestaltungsmittel in Einklang kommen!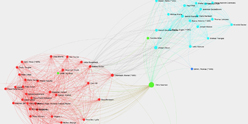 Interested in discovering more of this artist's networks?
3 easy steps: Register, buy a package for a visualization, select the artist.
See examples how visualization looks like for an artist, a curator, or an exhibition place: Gallery, museum, non-profit place, or collector.

Exhibition History

SUMMARY

based on artist-info records. More details and Visualizing Art Networks on demand.
Venue types:

Gallery

/

Museum

/

Non-Profit

/

Collector

Exhibitions in artist-info
24 (S 7/ G 17)

Did show together with

- Top 5 of 500 artists
(no. of shows) - all shows - Top 100

Exhibitions by type

24: 17 / 1 / 5 / 1
Venues by type

12: 6 / 1 / 4 / 1
Curators
2
artist-info records
Nov 1990 - Dec 2018

Countries

- Top 3 of 3
Germany (15)
Switzerland (4)
Italy (1)


Cities

- Top 5 of 12
Saarbrücken (7)
Kaiserslautern (4)
Basel (3)
Erfurt (2)
Zürich (1)


Venues

(no. of shows ) Top 5 of 12
| | | |
| --- | --- | --- |
| | | Curators (no. of shows) Top 2 of 2 |
Insight Basic

Display the full interactive exhibition history and all related artist, exhibition venue, and curator pages for your research. The SUMMARY above shows today's available scope.
Insight Basic 10 Days USD 378 / EUR 394

Insight Basic 1 Day USD 42 / EUR 44

To use Insight Basic or Insight Analytics
Sign-up for free first
Insight Analytics
Use Analytics tools for more insight based on documented exhibitions. More details on your RESEARCH user page.
(Includes Inisght Basic)
COMING SOON