Artist

| Gundula Schulze el Dowy (*1954)
Alias: Gundula Schulze el Dowy [Gundula Schulze Eldowy]
https://www.artist-info.com/artist/Gundula-Schulze-el-Dowy
Artist Portfolio Catalog Overview\ 1
Gundula Schulze el Dowy

Konstantinopel

1997
Exhibition at Galerie Kasten
Exhibition at Galerie Kasten
Gundula Schulze Eldowy
Gold - Das lebendige Bild
Vernissage am 12. Januar 2003 um 16.00 Uhr
Ausstellung vom 12. Januar bis 15. Februar 2003
Galerie Kasten  -  Werderstr. 18  -  68165 Mannheim - Telefon 0621 / 40 70 38

Gundula Schulze Eldowy ist eine Grenzgaengerin. Als Fotografin passt sie laengst nicht mehr in eine der ueblichen Genre-, Sujet-und/oder Technikschablonen. Als Kuenstlerin, die die Welt zu ihrem Atelier gemacht hat, entzieht sie sich immer mehr dem ueblichen Kunstbetrieb und ist letztlich nur noch ueber fotografische Arbeiten fassbar. Die Werkgruppe "Gold - Das lebendige Bild" entstand in Folge einer Einladung zu einer Gruppenaustellung Berliner Kuenstler nach Istanbul. Bei ihren Streifzuegen durch die Stadt zu beiden Seiten des Bosporus stiess Gundula Schulze Eldowy auf die Mosaiken und Fresken der byzantinischen Zeit. Fuer die Fotografin strahlten die vom Zahn der Zeit angegriffenen Fresken, die um ihren Goldgrund beraubten Mosaiken jenseits ihrer kunst- und kulturhistorischen Wertigkeit eine ganz eigene, unverwechselbare Aesthetik des Zerfalls, eine urspruengliche Schoenheit aus. Die fotografische Dokumentation bildete den Ausgangspunkt zu einer intensiven bildhaften Beschaeftigung. Es begann der Dialog aus Dokumentation und aesthetischer Rekonstruktion, den man auch als den Versuch einer posthumen Heilung der zerstoerten Wandbilder verstehen kann. Gundula Schulze Eldowy greift gestaltend in ihre Fotografien ein und ueberzieht die Fehlstellen grossflaechig, mit in der Struktur reliefartig belassenem Silber- und Blattgold. Das Abbild wird in eine neue bildnerische Totalitaet ueberfuehrt, die aus einer subtilen "Mischung verschiedener Ebenen von Zeit und Materiali" resultiert. Die Werkgruppe "Gold - Das lebendige Bild" ist Nostalgie und Utopie zugleich. Die Fotografien sind Zeugnis vergangener Pracht und Groesse, die auch der Gegenwart ihre Vergaenglichkeit vorhaelt. Die Vorstellung von Vanitas und Arkadien liegt nahe. Der aufgebrachte Goldgrund gibt den zerstoerten Fresken und Mosaiken zumindest in der Reproduktion einen Teil ihrer urspruenglichen Wuerde zurueck. Jenseits aller kulturgeschichtlichen und aesthetischen Ansaetze ist der Gold- und Silbergrund auch eine Zurueckfuehrung ins Licht, fuer die Fotografin ein Motiv der Hoffnung in duesteren Zeiten.

Biography
Biography
Die kuenstlerische Entwicklung von Gundula Schulze Eldowy (geb.1954 in Erfurt) vollzieht sich in Zyklen, die den Charakter von umfangreichen Werkgruppen tragen.
Angefangen bei den Photographien aus dem Zyklus "Berlin. In einer Hundenacht" Ende der siebziger Jahre, schlaegt ihr Œuvre einen Kreis bis zu den kuenstlerischen Tafelbildern der japanischen Serie "Das fluessige Ohr ? Die vier Elemente" (1996), der russischen Serie "Das Blatt verliert den Baum - Moskau 1997", der tuerkischen Serie "Gold - Das lebendige Bild" (1997/99), sowie ihrer neuesten Arbeit aus Perú "Der Schoepfer".
Gundula Schulze Eldowy ist eine Einzelgaengerin, Abenteurerin, Dichterin und Nomadin. Ihr kuenstlerischer Durchbruch gelang ihr 1988 bei den Rencontres Internationales de la Photographie in Arles.
Zwei Jahre spaeter, 1990, holte Robert Frank die Fotografin nach New York. Es folgen Ausstellungen in zahlreichen Kunstmetropolen Europas, Asiens und Amerikas.
1991 stellt die Neue Nationalgalerie Berlin Gundala Schulze Eldowys Selbstinszenierungen "Waldo's Schatten" aus.
1992 wird die Werkgruppe im Museum of Modern Art, New York, gezeigt. Klaus Biesenbach von Kunst?Werke Berlin stellt ihre Serie "Der große und der kleine Schritt" in der Schau "Getrennte Welten" 1992 zusammen mit Nan Goldin aus.
1996 bekommt Gundula Schulze Eldowy den internationalen Fotopreis Japans "The 12th Prize for Overseas Photographers of Higashikawa Photo Fiesta '96". Die Galeria de la Municipalidad in Peru zeigte 2001 ihre Serie "Berlin. En una noche de perros", die schon zuvor im Jahr 2000 im Historischen Postfuhramt Berlin von der Galerie Rosemarie Schwarzwaelder, Wien, praesentiert wurde.
Ihre Fotografien wurden vom Museum of Modern Art in New York oder der Bibliothèque Nationale in Paris angekauft.
Gundula Schulze Eldowy lebt auf Reisen.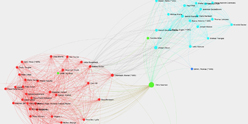 Interested in discovering more of this artist's networks?
3 easy steps: Register, buy a package for a visualization, select the artist.
See examples how visualization looks like for an artist, a curator, or an exhibition place: Gallery, museum, non-profit place, or collector.

Exhibition History

SUMMARY

based on artist-info records. More details and Visualizing Art Networks on demand.
Venue types:

Gallery

/

Museum

/

Non-Profit

/

Collector

Exhibitions in artist-info
40 (S 12/ G 28)

Did show together with

- Top 5 of 621 artists
(no. of shows) - all shows - Top 100

Exhibitions by type

40: 15 / 10 / 13 / 2
Venues by type

36: 13 / 9 / 13 / 1
Curators
21
artist-info records
Jan 1987 - Apr 2017

Countries

- Top 5 of 6
Germany (32)
United States (2)
Switzerland (2)
United Kingdom (1)
Austria (1)


Cities

- Top 5 of 19
Berlin (13)
Frankfurt am Main (4)
Leipzig (3)
Dresden (2)
Hannover (2)


Venues

(no. of shows ) Top 5 of 36
| | | |
| --- | --- | --- |
| | | Curators (no. of shows) Top 5 of 21 |