Artist

| Werner Tübke (1929 - 2004)
https://www.artist-info.com/artist/Werner-Tuebke
Artist Portfolio Catalog Overview\ 1

Biography
Biography
30.07.1929   Geboren in Schönebeck/Elbe
1935 - 45   Schulbesuch
1946 - 47   Malerlehre in Schönebeck; pararallel Besuch der Meisterschule für das deutsche Handwerk in Magdeburg
1947 - 48   Abschluß der Oberschule in Schönebeck mit Abitur
1948 - 49   Studium an der Hochschule für Grafik und Buchkunst Leipzig (unter anderen bei Elisabeth Voigt und Ernst Hassebrauk)
1950 - 52    Studium der Kunsterziehung und Psychologie an der Universität Greifswald; Staatsexamen
1952 - 54   Wissenschaftlicher Mitarbeiter am Zentralhaus für Laienkunst in Leipzig
seit 1954   freischaffend als Maler und Grafiker in Leipzig
1955   Assistent, dann Oberassistent an der Hochschule für Grafik und Buchkunst Leipzig
1956   Mitglied des Bundes deutscher Buchkünstler
1961 - 62   Studienaufenthalt in der Sowjetunion
1964   Dozent an der Hochschule für Grafik und Buchkunst Leipzig
1972   Ernennung zum ordentlichen Professor und Übernahme des Lehrstuhles für Malerei an der Leipziger Hochschule
1973 - 76   Rektor der Hochschule für Grafik und Buchkunst Leipzig
1976-87   Arbeit am Monumentalbild "Frühbürgerliche Revolution in Deutschland" für das Panorama Museum bei Bad Frankenhausen
1984   Gastprofessur an der Sommerakademie in Salzburg
1985   Dr.h.c.phil. der Universität Leipzig
1989   Eröffnung des Panoramabildes "Bauernkrieg"
1991 - 93   Arbeit am Bühnenbild zu Carl Maria von Webers "Der Freischütz" für die Oper in Bonn
1993 - 96   Arbeit am Altarretabel für St. Salvatoris in Clausthal-Zellerfeld
About the work (deutsch)
About the work (deutsch)
Werner Tübke ist fraglos einer der wohl bedeutendsten, aber auch umstrittensten Maler am Ausgang dieses künstlerisch so schnellebigen 20. Jahrhunderts, in dem die verbreitete Aufgabe tradierter Werte der Kunst längst zur Implosion der leeren Formen geführt hat. Einsam beharrt er auf dem für ihn allein maßstabsetzenden Vorbild der Großen der Vergangenheit. Dabei erscheint sein immenses bildkünstlerisches Werk verwirrend vielschichtig und komplex als Ergebnis polarer Spannungen zwischen Idealvorstellungen und einer als problematisch empfundenen Wirklichkeit, zwischen Realitätsbefund und irrationalem Impuls, zwischen dem eigenen, letztlich unergründlichen Innenleben und Reflexionen der Außenwelt. In ihm manifestiert sich ein höchst prekäres, in seiner artifiziellen Strategie konsequent historisiertes, doch um so kunstvoller arrangiertes Universum, das in seinem Zentrum großes Welttheater mit ganz privaten, intimen Phantasien bruchlos verbindet.

Welthaltigkeit, geschöpft aus einem weiträumigen Denken in Jahrhunderten und immer wieder befestigt an den ganz wenigen wirklich existentiellen Archethemen, die es in der Welt- und Kunstgeschichte gibt, ist bei aller Rätselhaftigkeit und bizarren Hieroglyphik der Erfindung ein wesentliches Charakteristikum seiner Kunst, die geistvolle, sensible Spielerei mit Formen und Gedanken keineswegs ausschließt. Abseits der endlosen Verlängerung der Moderne, aber auch unbeeindruckt vom kunstpolitischen Erwartungsgefüge staatlicher Auftraggeber hat er einen genuin eigenständigen, ambivalent-metaphorischen Manierismus begründet, der bewußt in der ganzen Wandlungsfülle der christlich-abendländischen Bildtradition wurzelt, ja inzwischen selbst schon als kunstgeschichtliches Phänomen zu werten ist  eine Leistung, die Anfang der siebziger Jahre zuerst in Italien erkannt wurde, jedoch hierzulande teilweise noch immer gravierend unterschätzt wird.

Im Rückblick erscheint die Genesis dieses einzigartigen, opulenten Lebenswerkes gleichsam wie natur-gesetzlich vorgegeben und von einer geheimen inneren Logik erfüllt. Ihn interessierende Bildstoffe fand Werner Tübke in weltumspannenden Gesellschaftskonflikten (»Fünf Kontinente«, 1958), in der »Geschichte der deutschen Arbeiterbewegung« (1961), in Themen wie Neofaschismus (»Lebens-erinnerungen des Dr. jur. Schulze«, 1965-67) und »Nationalkommitee Freies Deutschland« (1969/70), aber auch in dramatisierten Strandszenen (1967-71) und ltalienmotiven (1971-75). Zu Hauptwerken seines Schaffens wurden großformatige Mehrtafelbilder und Panoramen, so die große Gesellschaftsutopie des Ausgleichs der Gegensätze (»Arbeiterklasse und Intelligenz«, 1970-73), die Vision vom letztendlichen Triumph des Humanismus in »Der Mensch -  Maß aller Dinge« (1975), natürlich das universale Geschichtspanorama zum Umbruch vom Spätmittelalter zur Neuzeit (1976-87), das zugleich ein Pandämonium menschlicher Leidenschaften in einem aufbrechenden Jahrhundert und komplexer Spiegel eigener Befindlichkeiten geworden ist, dann die Bonner Bühnenentwürfe zu Webers »Freischütz« (1990-93) als schon sehr intime Seelenlandschaften zwischen lyrischer Naturversenkung und dämonischer Phantasmagorie und schließlich  als krönende Vollendung seines Werkes der große Flügelaltar für St. Salvatoris zu Clausthal-Zellerfeld (1993-96), ein Opus der Versöhnung und des inneren Friedens, das in höchsten Grade vergeistigt und distanziert   erscheint. Dazu kommen immer wieder sehr private Sujets, Harlekinaden etwa, Einzelfiguren oder Porträts.

Bei aller Kontinuität gibt es in dieser Abfolge unübersehbar eine Tendenz, einen Wandel von stärker zeitpolitisch intendierten Ansätzen hin zu prinzipiell zeitlos verallgemeinerter Sinnbildhaftigkeit, ein Changieren von a priori gesellschaftlich-historischen Realitätsbezügen über visionäre Utopien bis zu extrem subjektivistischer Innerlichkeit, die gerade die letzten Bilder so nachhaltig bestimmt. Ja, Tübkes Bildwelten sind, ausgehend von der ganz privaten »Nebenproduktion« zu seinem epochalen Frankenhäuser Geschichtspanorama der ewigen Wiederkehr von Aufstieg und Niedergang, längst in ein entlegenes Arkadien entrückt, das ein verlorenes Paradies von schicksalhafter Verstrickungen, nervöser Spannungen und Tragik, das voller Ironie und ohne Unschuld ist. Auf dieser Sühne zelebriert der Maler in absurden Ritualen und seltsamen, traum-, ja tranceartigen, halluzinativen Zeremonien sein Welttheater, ein alchimistisches Spiel existentieller Befindlichkeiten von geheimnisvollem morbidem Reiz, dessen Protagonisten vorzugsweise gebrochene Existenzen, problematische Gestalten mit schwerem Schicksal, kostümierte Erscheinungen, Obdachlose, Bettler und andere, im Leben zu kurz Gekommene, aber auch Harlekine, Gaukler, comrnedia-dellyx´arte-Figuren und Narren sind. Ja, der Künstler selbst offenbart sich uns in seinem Werk letztlich vielfach als ein gratwandernder Seiltänzer, Epuilibrist und Harlekin.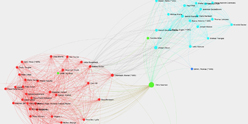 Interested in discovering more of this artist's networks?
3 easy steps: Register, buy a package for a visualization, select the artist.
See examples how visualization looks like for an artist, a curator, or an exhibition place: Gallery, museum, non-profit place, or collector.

Exhibition History

SUMMARY

based on artist-info records. More details and Visualizing Art Networks on demand.
Venue types:

Gallery

/

Museum

/

Non-Profit

/

Collector

Exhibitions in artist-info
43 (S 18/ G 25)

Did show together with

- Top 5 of 736 artists
(no. of shows) - all shows - Top 100

Exhibitions by type

43: 21 / 7 / 13 / 2
Venues by type

35: 16 / 7 / 10 / 2
Curators
7
artist-info records
Oct 1968 - Apr 2015

Countries

- Top 3 of 3
Germany (36)
Italy (3)
France (2)


Cities

- Top 5 of 18
Leipzig (11)
Frankfurt am Main (8)
Berlin (8)
Paris (2)
Erfurt (1)


Venues

(no. of shows ) Top 5 of 35
| | | |
| --- | --- | --- |
| | | Curators (no. of shows) Top 5 of 7 |
Insight Basic

Display the full interactive exhibition history and all related artist, exhibition venue, and curator pages for your research. The SUMMARY above shows today's available scope.
Insight Basic 10 Days USD 378 / EUR 394

Insight Basic 1 Day USD 42 / EUR 44

To use Insight Basic or Insight Analytics
Sign-up for free first
Insight Analytics
Use Analytics tools for more insight based on documented exhibitions. More details on your RESEARCH user page.
(Includes Inisght Basic)
COMING SOON