Artist

| Josef Scharl (1896 - 1954)
Alias: Josef Scharl [Joseph Scharl]
https://www.artist-info.com/artist/Josef-Scharl
Artist Portfolio Catalog Overview\ 2
Biography
Biography
1896   geboren in München
1919 - 1921   Kunstakademie in München, dann freier Maler
seit 1923   Erste Erfolge und Ausstellungen in der Münchner Neuen Sezession
1927   Berlin-Aufenthalt. Kontakte zu Albert Einstein, dem Kunsthistoriker Julius Meier-Graefe und dem Galeristen Karl Nierendorf
1929   Ausstellung bei den Juryfreien in München.
seit 1933   Wird seine Kunst von den Nationalsozialisten als "entartet" diffamiert
1938   Auswanderung ins Exil in die USA, wodurch Scharl - wie viele seiner Zeitgenossen - in der Heimat in Vergessenheit gerät
seit 1945   Erste Erfolge in den USA, vor allem durch Buchillustrationen
1954   Stirbt Josef Scharl in New York
About the work (deutsch)
About the work (deutsch)
Im Mittelpunkt der Bildwelt Josef Scharls steht stets der Mensch. Mit seiner scharfen, rückhaltlosen Beobachtungsgabe nimmt der Künstler Stellung zum sozialen Elend seiner Zeit, ohne dabei beißender Satire oder emotionsloser Objektivität zu verfallen. Sein Interesse am Menschen mündet in einem Plädoyer für die Menschlichkeit schlechthin. Scharls Solidarität gilt dem kleinen Mann, dessen Not in der Zeit der Weimarer Republik besonders groß ist. Das künstlerische Schaffen Josef Scharls (1896-1954), dessen Hauptwerk zwischen 1926 und 1938 in München entsteht, wird von den politischen Umständen seiner Zeit geprägt: Die "Kulturpolitik" der Nationalsozialisten zwingt ihn zur Emigration in die USA. Damit ereilt auch Scharl - wie viele seiner Kollegen - das Schicksal des Vergessens in seinem Heimatland.

Josef Scharl wird 1896 in München geboren. Nach seiner Teilnahme am Ersten Weltkrieg, besucht er von 1919 an die Kunstakademie in München. Die dem Spätimpressionismus verpflichtete Ausbildung erfüllt den jungen Maler jedoch nicht, so daß er die Akademie 1921 bereits verläßt. Von nun an bildet er sich autodidaktisch weiter und orientiert sich dabei zunächst vor altem an Vincent van Gogh. Schon zu Beginn der zwanziger Jahre ist Scharl in München kein Unbekannter mehr: Die Münchner Neue Sezession veranstaltet zahlreiche Ausstellungen mit ihm. Bereits um 1925 findet Scharl zu seiner unverwechselbaren Formensprache und Themenwahl. Die protetarischen und sozial engagierten Sujets verleihen seinen Darstellungen eine unverwechselbare Note. So versucht er, gesellschaftlich Deklassierte wie zum Beispiel Bettler, Kriegskrüppel und Blinde sowie das soziale Elend kinderreicher Familien und Mütter realitätsnah darzustellen. Gleichzeitig ist es ihm ein Anliegen, den Unterschied zu den wohlhabenden und herrschenden Klassen in ihrer Dekadenz und Gleichgültigkeit zu schildern. Auffällig bleibt der Verzicht auf jegliche Überspitzung in der Darstellung. Er thematisiert die ihm vertraute Lebenswelt, um die sozialen Mißstände bewußt zu machen. Er klagt an, enthält sich aber jeglichen Zynismus.

Während eines längeren Aufenthalts in Berlin knüpft Scharl 1927 wichtige Beziehungen zu Albert Einstein, dem Kunsthistoriker Julius Meler-Graefe und dem Galeristen Karl Nierendorf, der ihn künftig vertreten wird. Wieder in München wechselt er 1929 zu der progressiven Künstlergruppe der Juryfreien. Mit seinen anschließenden Ausstellungen feiert Scharl erste Erfolge der Anerkennung als Künstler. Seit der Machtübernahme der Nationalsozialisten 1933 verschlechtert sich seine Lage rapide. Aufgrund seiner engagierten Malerei erhält Scharl Ausstellungsverbot und wird schließlich als "entartet" diffamiert. In dieser politisch und künstlerisch gefährlichen Zeit konzentriert er sich nun auf gesellschaftlich unkritische Themen. Landschaften, Porträts und Stilleben werden zunehmend zum Motiv. Im Dezember 1938 sieht er sich gezwungen, München zu verlassen und in die USA zu emigrieren. Aus allen Bindungen gerissen, findet er nun seine künstlerische Identität gerade bei jenen Sujets, die er erst nach 1933 zu seinem thematischen Schwerpunkt gewählt hat. Stilistisch und technisch sind diese ersten Arbeiten in New York zunächst eine Fortsetzung seiner letzten Münchner Bilder. Die Erfolge bleiben jedoch aus, und er ist auf die Unterstützung seiner Freunde angewiesen. Anfang der vierziger Jahre setzt ein stilistischer Wandel ein, der eine Reduzierung auf einfache Bildstrukturen und die Aufhellung der Farbpalette zur Folge hat. Als Illustrator erfährt Schar[ mit "Grimms Fairy Tales" 1945 dann schließlich auch in den USA künstlerische Anerkennung. 1954 stirbt er in New York.

Ausstellung im Sinclair-Haus, Bad Homburg v.d.H.
Die Ausstellung zeigt Werke Josef Scharls aus allen Phasen seines Schaffens. Der Schwerpunkt liegt bei den Bildern der zwanziger und dreißiger Jahre. Neben ca. 70 Ölgemälden umfaßt die Retrospektive eine Auswahl von Zeichnungen und Grafiken. Das Gesamtprojekt wurde gefördert durch den Ernst von Siemens-Kunstfonds.
Bibliography
Bibliography
Zur Ausstellung im sinclair-Haus, Bad Homburg v.d.H., Februar - April 2000, erscheint ein Katalog von 224 Seiten und 92 farbigen sowie 153 schwarz-weißen Abbildungen. Preis an der Museumskasse DM 40,- (Monographie mit Werkverzeichnis DM 128.- im Wienand Verlag, Köln).
Exhibition Announcements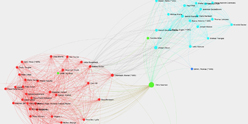 Interested in discovering more of this artist's networks?
3 easy steps: Register, buy a package for a visualization, select the artist.
See examples how visualization looks like for an artist, a curator, or an exhibition place: Gallery, museum, non-profit place, or collector.

Exhibition History

SUMMARY

based on artist-info records. More details and Visualizing Art Networks on demand.
Venue types:

Gallery

/

Museum

/

Non-Profit

/

Collector

Exhibitions in artist-info
58 (S 24/ G 34)

Did show together with

- Top 5 of 1171 artists
(no. of shows) - all shows - Top 100

Exhibitions by type

58: 31 / 9 / 18 / 0
Venues by type

30: 8 / 6 / 16 / 0
Curators
9
artist-info records
Jan 1929 - Jan 2023

Countries

- Top 3 of 3
Germany (42)
United States (14)
Italy (1)


Cities

- Top 5 of 18
München (15)
New York (14)
Berlin (10)
Frankfurt am Main (4)
Aschaffenburg (2)


Venues

(no. of shows ) Top 5 of 30
| | | |
| --- | --- | --- |
| | | Curators (no. of shows) Top 5 of 9 |