Artist

| Alexandra Ranner (*1967)
https://www.artist-info.com/artist/Alexandra-Ranner
Artist Portfolio Catalog Overview\ 1
Alexandra Ranner
Exhibition at Voges & Partner
Exhibition at Voges & Partner
Alexandra Ranner
Telegraph

(please find german version below)
March 22 until April 27, 2002
gallery voges + partner, Frankfurt am Main, is proud to present a solo show by Alexandra Ranner. 
In 2001 Alexandra Ranner garnered significant international attention with her works at both the Venice Bienniale and the Yokohama Triennale of Contemporary Art. This year Alexandra Ranner has already won the reputed Staatlichen Förderpreis Bayern for young artists and has been just announced as the winner of the prestigious Schmidt-Rottluff-Stipendium, a generous grant for outstanding emerging artists.
Alexandra Ranner¹s work was born from an interest in the three-dimensional reconstruction of photographs. In her own words, she describes the development of her working method: "An important aspect of the process was to preserve the technical determinants of the photographic image, i.e. light and perspective, and to use them in creating a palpable surface. Over the years, the principle has changed. The motifs take shape without the aid of photographic originals; they are freely invented" Since then this aspect of the free invention has been emphasized.
For Ranner, the sculptural aspect of her work is just as important as the pictorial. The structure appears initially in the form of a box, closed off by a pane of glass on its front side, a three-dimensional object whose form and physical characteristics repeat on the outside what is shown within: a model-like replica of a particular spatial arrangement. The interior elements are always artificial, made of various different plastic materials and their surfaces are colored and structured accordingly. It is because of this accentuated artificiality that they present themselves in an uncanny balance between real presence and complete detachment. In her work to date, the themes have been interiors; rooms that portray a scenario that lies between the interchangeable anonymity of cheap motel rooms and the non-specific intimacy of furnished apartments ­ rooms situated between stasis and anticipation.
(Excerpts taken from the article: "Self Portrait: Alexandra Ranner.² Published in tema celeste #90, March-April 2002, p.64)

Alexandra Ranner (born 1967 in Osterhofen) lives and works in Munich, Germany.


Alexandra Ranner
Telegraph
22. Maerz bis 27. April 2002.

galerie voges + partner, Frankfurt am Main, freut sich eine Einzelausstellung mit Arbeiten von Alexandra Ranner ankündigen zu können. Im vergangenen Jahr hatte Alexandra Ranner internationale Beachtung gefunden durch ihre Beiträge zur Biennale in Venedig und Yokohama Triennale of Contemporary Art.
In diesem Jahr nun erhielt Alexandra Ranner unter anderen den Staatlichen Förderpreis für Bildende KünstlerInnen Bayerns und wurde gerade als diesjährige Preisträgerin für das angesehene Schmidt-Rottluff-Stipendium gewählt.
Vor einigen Jahren begann Alexandra Ranner, Photos nachzubauen, sie in dreidimensionale Stücke zu transformieren. Ihre Arbeitsprinzip beschreibt sie wie folgt: "Ein wichtiger Aspekt waren die technischen Bedingungen des photographischen Bildes, nämlich Licht, Perspektive zu erhalten und sie zu einer greifbaren Oberfläche zu machen. Im Laufe der Zeit hat sich dieses Prinzip aber geändert: die Motive entstehen nun ohne photographische Vorlage, sie sind frei erfunden. Dieser Aspekt der freien Erfindung wurde dann in den darauffolgenden Arbeiten immer wichtiger.
Ranner betont aber immer den skulpturale Aspekt ihrer Arbeit. Der Betrachter steht vor einem Gebilde, das sich zunächst in Form einer Box zeigt, die mit einer Glasscheibe an der Frontseite verschlossen ist, ein aus der Welt ausgeschnittener Korpus, dessen Form und Beschaffenheit aussen wiederholt, was sich im Innern zeigt: ein modellhaft nachgebildetes Szenario eines Raumarrangements. Die Interieurelemente sind immer künstlich, sie entstehen aus diversen Kunststoffen, ihre Oberflächen sind gefärbt und entsprechend oberflächenstrukturiert. Durch diese Künstlichkeit zeigen sie sich in einem Zustand von eigenartiger realer Präsenz und völliger Entzogenheit.
Die Motive waren bislang Interieurs, die Situationen zwischen der austauschbaren Anonymität billiger Hotelzimmer und der unspezifischen Intimität möblierter Appartements zeigen. Räume, die sich zwischen Stillstand und Erwartung befinden.
(Auszüge aus dem Artikel: Self Portrait: Alexandra Ranner. Veroeffentlicht in temeceleste #90, Maerz 2002, S.64f)

Alexandra Ranner (geb.1967 in Osterhofen) lebt und arbeitet in Muenchen.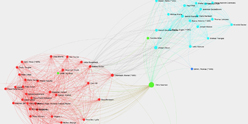 Interested in discovering more of this artist's networks?
3 easy steps: Register, buy a package for a visualization, select the artist.
See examples how visualization looks like for an artist, a curator, or an exhibition place: Gallery, museum, non-profit place, or collector.

Exhibition History

SUMMARY

based on artist-info records. More details and Visualizing Art Networks on demand.
Venue types:

Gallery

/

Museum

/

Non-Profit

/

Collector

Exhibitions in artist-info
19 (S 9/ G 10)

Did show together with

- Top 5 of 107 artists
(no. of shows) - all shows - Top 100

Exhibitions by type

19: 9 / 3 / 7 / 0
Venues by type

17: 7 / 3 / 7 / 0
Curators
6
artist-info records
Sep 1997 - Oct 2015

Countries

- Top 1 of 1
Germany (14)


Cities

- Top 5 of 14
Frankfurt am Main (3)
Berlin (3)
München (2)
Ludwigsburg (1)
Fellbach (1)


Venues

(no. of shows ) Top 5 of 17
| | | |
| --- | --- | --- |
| | | Curators (no. of shows) Top 5 of 6 |