Artist

| Isamu Noguchi (1904 - 1988)
https://www.artist-info.com/artist/Isamu-Noguchi
Artist Portfolio Catalog Overview\ 1
Isamu Noguchi

Garden for Connecticut General Life Insurance Company, Bloomfield, Connecticut, 1956-57. Four Gardens.

0
Exhibition at IVAM
Exhibition at IVAM
Isamu Noguchi: Sculpture of Space
November 6, 2001 - January 13, 2002
Instituto Valenciano de Arte Moderno IVAM Center del Carme, Valencia, Spain
Curator   Ana Maria Torres

Traveling
2001   May - July, Guigiaro/Italdesign, Torino
2002 February - April, Courtyard Gallery, World Financial Center, New York.


ISAMU NOGUCHI: SCULPTURE OF SPACE
The traveling exhibition Isamu Noguchi: Sculpture of Space introduces viewers to the sculptor Isamu Noguchi's pioneering concept of a "Sculpture of Space." The exhibition reveals how Noguchi's unique approach to his work affected his sculpture and the designs of his gardens, plazas and public spaces. Twenty-two projects are presented through drawings, photographs and a number of Noguchi's original models. Included are models for the United Nations Playground, New York's Riverside Drive Playground, California Scenario in Costa Mesa, CA and Tengoku for Sogetsu Flower Arranging School in Tokyo.

As the projects make evident, Noguchi's pursuit of the "Sculpture of Space" resulted in work deeply tied to ancient ritual spaces, Japanese Gardens and Utopian modernism. Noguchi always insisted that the architecture of the modern movement, the work of his peers, typically identified with International Style buildings, must be alert to symbolic expression, sensitive to materials, and realize the spirit in which modern architecture was founded.  The exhibit will help foster a better understanding of how Noguchi's approach to space expanded the notion of sculpture beyond the object and into architecture's social spaces. Ultimately the exhibition makes clear that "Sculpture of Space" was a made manifest in Noguchi's work in sculpture, design, landscape and architecture.

Isamu Noguchi: Sculpture of Space is based on curator Ana Maria Torres' book Isamu Noguchi: A Study of Space published by The Monacelli Press. Isamu Noguchi: A Study of Space has been translated into Spanish by IVAM and serves as the exhibition catalogue.


Isamu Noguchi (1904-1988) was born in Los Angeles, California, to a Japanese father, the novelist and poet Yonejirõ Noguchi, and an American mother of Native American descent, Leonie Gilmour.  Noguchi's father abandoned him before he was born. From the time he was four he and his mother lived in Japan; when he was thirteen she sent him back to America to boarding school in Indiana. Noguchi felt deserted. His rootless childhood made him a restless and peripatetic adult -- a prototypical 20th Century individual.

As a result of the often conflicting dualities of this tumultuous age and the artist's own history, Noguchi's projects were consistently rooted in two cultures. They straddled the spaces between the East and the West, between historical traditions and the spirit of the mechanical age, between the past and the future. Noguchi's embrace of these dualities is emblematic of the artist's deepest feelings about humanity and art. He was able to balance the many influences pulling at him and to create lasting, meaningful physical environments. His success is at once reflective of his drive and energy, his inventiveness, the strength of his dreams, and, not least, his intuitive comprehension of site.

Throughout his life, Noguchi sought an identity to reconcile his dual Japanese and American heritage. In this pursuit the artist's oeuvre, like his life, was perennially subject to a process of restless transformation.  In part, this may be seen as the manifestation of Noguchi's life-long self-perceived identity as a 'loner.'  His own idiosyncrasies forced him beyond cultural and personal boundaries and enabled him to pursue concepts of universality and exhibit, what Buckminster Fuller admiringly termed, a 'global vision.'  Noguchi embodied the individual who, again according to Fuller, "habitually sees reality, not in its pure form, but in accordance with his own peculiar model of being which identifies him with the existing space and history."

Noguchi's concept of a "Sculpture of Space" is his most significant contribution to modern sculpture.  It lies at the heart of this exhibition. Noguchi conceived larger spaces as gardens, as public spaces -- he stated that they were developed "… not as sites with objects but as relationships to a whole."

Noguchi's refusal to use any single sculptural style or material, his frequently changing, trans-global residences, and his eclecticism led to disparate opinions among critics and art historians, who were often unable to adequately label him or even fully familiarize themselves with his work. Ultimately, Noguchi's lifelong aesthetic and cultural pursuits reflected the social turbulence and restlessness characteristic of the twentieth century.  It is through this lens that his achievements should be evaluated.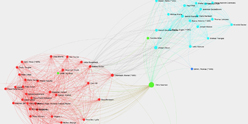 Interested in discovering more of this artist's networks?
3 easy steps: Register, buy a package for a visualization, select the artist.
See examples how visualization looks like for an artist, a curator, or an exhibition place: Gallery, museum, non-profit place, or collector.

Exhibition History

SUMMARY

based on artist-info records. More details and Visualizing Art Networks on demand.
Venue types:

Gallery

/

Museum

/

Non-Profit

/

Collector

Exhibitions in artist-info
138 (S 33/ G 105)

Did show together with

- Top 5 of 2726 artists
(no. of shows) - all shows - Top 100

Exhibitions by type

138: 22 / 87 / 28 / 1
Venues by type

83: 18 / 41 / 23 / 1
Curators
74
artist-info records
Jan 1927 - Jan 2023

Countries

- Top 5 of 11
United States (96)
Germany (13)
France (11)
United Kingdom (5)
Switzerland (2)


Cities

- Top 5 of 46
New York (66)
Paris (7)
Chicago (6)
Berlin (3)
Washington DC (3)


Venues

(no. of shows ) Top 5 of 83
| | | |
| --- | --- | --- |
| | | Curators (no. of shows) Top 5 of 74 |
Offers/Requests

Exhibition Announcement

S / G Solo/Group Exhibitions

(..) Exhibitions + Favorites

Zentrum Paul Klee
S
Sep 2022 - Jan 2023
Bern
(14)
+0
Eggelhöfer, Fabienne (Curator)
+0
Dössegger, Myriam (Curator)
+0
Portland Museum of Art - PMA
S
Oct 2018 - Jan 2019
Portland
(50)
+0
Eschelbacher, Andrew (Curator)
+0
Centre Pompidou - Metz
G
Mar 2017 - Aug 2017
Metz
(27)
+0
Lavigne, Emma (Curator)
+0
Meisel, Hélène (Curator)
+0
Smithsonian American Art Museum - Renwick Gallery
S
Nov 2016 - Mar 2017
Washington D.C.
(23)
+0
Hart, Dakin (Curator)
+0
Lemmey, Karen (Curator)
+0
Haus der Kunst
G
Oct 2016 - Mar 2017
München
(188)
+0
Wilmes, Ulrich (Curator)
+0
Lorz, Julienne (Curator)
+0
Brantl, Sabine (Curator)
+0
Schneider, Anna (Curator)
+0
Milnes, Daniel (Curator)
+0
Centre Pompidou - Metz
G
Feb 2016 - Sep 2016
Metz
(27)
+0
Guenin, Hélène (Curator)
+0
Meisel, Hélène (Curator)
+0