Artist

| Willem de Kooning (1904 - 1997)
Alias: Willem de Kooning [Willem DeKooning]
https://www.artist-info.com/artist/Willem-de-Kooning
Artist Portfolio Catalog Overview\ 1
Willem de Kooning

Woman Accabonac

1966
Biography
Biography
Willem de Kooning was born in Rotterdam in 1904. His father was a successful wine and beer distributor, his mother was a bartender in a café. At the age of twelve he was apprenticed to a firm of commercial artists and then enrolled at the Rotterdam Academy of Fine Arts, which he attended for eight years. The training he received there was technically extremely thorough - he learnt, for example, to produce drawings of impeccable realism. He emerged as an all round professional: painter, illustrator, designer, decorator.
In 1926 de Kooning emigrated as a stowaway to America where he worked first as a house painter, then set himself up in New York City as a commercial artist. He soon became involved with avant-garde artists, notably Arshile Gorky, who became a close friend, and the artist, critic and connoisseur John Graham, who had lived in Paris and knew Picasso. About 1936 he began to paint full-time and experienced a long period of often extreme poverty, until his work finally began to sell in the early 1950s. But during this period his reputation in the artistic 'underground' burgeoned, de Kooning becoming a celebrated and revered figure among his fellow artists.
About the work (english / deutsch)
About the work (english / deutsch)
Woman Accabonac
Woman Accabonac, painted in 1966, is an important example from this phase. The pink flesh color of the life-size female figure, which almost thrusts itself upon the viewer, predominates. All the shapes of form - and above all the breasts and extremities - are spread out over the surface and contoured with red. The tan surroundings blend with the figure to form a painted surface which foregrounds less the bodily, carnal or erotic aspects, and more the painterly side to the composition. This also shifts the figure closer to the viewer, in that, juxtaposed to the yellow, the pink starts to vibrate and pulsate. In de Kooning's work, color becomes tangible, haptic material. This material character blends with the corporeality of the figure to form a unit consisting of the sexual attraction of the female body and the energetic force of painting.


Woman Accabonac
Das Werk Woman Accabonac von 1966 gehört einer Phase an, in der die Figur wieder in den Vordergrund des bildnerischen Interesses tritt. Die sich dem Betrachter geradezu aufdrängende rosa Fleischfarbe, der in Lebensgröße gemalten Frauenfigur, dominiert das gesamte Bild. Alle Körperformen vor allem die Brust und die Extremitäten - sind in die Fläche gebreitet und mit roter Farbe konturiert. Die gelbbraune Farbe des Umraumes endlich verschmilzt mit der Figur zu einer Flächenmalerei, rückt sie aber auch in die Nähe des Betrachters, indem das Rosa gegenüber dem Gelb in eine vibrierende, pulsierende Bewegung gerät. Farbe wird bei de Kooning zu einer fühlbaren und tastbaren Materie. Ihre Materialität verbindet sich mit der betonten Fleischlichkeit der Figur zu einer Einheit aus sexueller Ausstrahlung des weiblichen Körpers und energetischer Kraft der Malerei.

German text by Rolf Lauter / Translation by Jerema Gaines
(Extract - Full printed version available in the Museum)
MMK - Museum für Moderne Kunst, Frankfurt am Main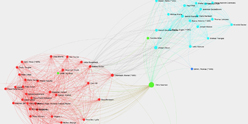 Interested in discovering more of this artist's networks?
3 easy steps: Register, buy a package for a visualization, select the artist.
See examples how visualization looks like for an artist, a curator, or an exhibition place: Gallery, museum, non-profit place, or collector.

Exhibition History

SUMMARY

based on artist-info records. More details and Visualizing Art Networks on demand.
Venue types:

Gallery

/

Museum

/

Non-Profit

/

Collector

Exhibitions in artist-info
331 (S 83/ G 248)

Did show together with

- Top 5 of 3327 artists
(no. of shows) - all shows - Top 100

Exhibitions by type

331: 114 / 151 / 62 / 4
Venues by type

191: 68 / 71 / 49 / 3
Curators
138
artist-info records
Sep 1936 - Sep 2022

Countries

- Top 5 of 15
United States (189)
Germany (41)
Italy (24)
United Kingdom (15)
Switzerland (13)


Cities

- Top 5 of 78
New York (133)
Venezia (14)
London (14)
Berlin (10)
Paris (10)


Venues

(no. of shows ) Top 5 of 191
| | | |
| --- | --- | --- |
| | | Curators (no. of shows) Top 5 of 138 |
Offers/Requests

Exhibition Announcement

S / G Solo/Group Exhibitions

(..) Exhibitions + Favorites

Read texts, reviews, comments, and Press Releases about this exhibition for more insight

Museum Barberini
G
Jun 2022 - Sep 2022
Potsdam
(6)
+0
Zamani, Daniel (Curator)
+0
Staatsgalerie Stuttgart
G
Jul 2017 - Nov 2017
Stuttgart
(68)
+0
Haus der Kunst
G
Oct 2016 - Mar 2017
München
(188)
+0
Wilmes, Ulrich (Curator)
+0
Lorz, Julienne (Curator)
+0
Brantl, Sabine (Curator)
+0
Schneider, Anna (Curator)
+0
Milnes, Daniel (Curator)
+0
Royal Academy of Arts
G
Sep 2016 - Jan 2017
London
(49)
+0
Anfam, David (Curator)
+0
Devaney, Edith (Curator)
+0
The Met Breuer
G
Mar 2016 - Sep 2016
New York
(7)
+0
Kunstmuseum Stuttgart
G
Oct 2015 - Mar 2016
Stuttgart
(90)
+0
Groos, Ulrike (Curator)
+0
Beckstette, Sven (Curator)
+0
Müller, Markus (Curator)
+0
Milnes, Daniel (Curator)
+0