Museum

| J. Paul Getty Museum

1200 Getty Center Drive
USA - Brentwood / Westwood, CA CA 90049-1681 - United States Google Map
T.: +1 - 310 - 440 7300
Web: http://www.getty.edu Email:
https://www.artist-info.com/museum/J-Paul-Getty-Museum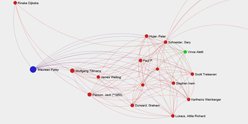 Interested in discovering more of this venue's networks?
3 easy steps: Register, buy a package for a visualization, select the exhibition place.
See examples how visualization looks like for an artist, a curator, or an exhibition place: Gallery, museum, non-profit place, or collector.

Exhibition History

SUMMARY

based on artist-info records. More details and Visualizing Art Networks on demand.
Venue types:

Gallery

/

Museum

/

Non-Profit

/

Collector

Exhibitions in artist-info
36 ( S 21/ G 15)

Shown Artists

- Top 5 of 353
(no. of shows) - all shows - Top 100

Artists in exhibitions
353
Curators in exhibitions
11
Linked to other venues through shown artists

2405: 1176 / 562 / 640 / 27
artist-info records
Aug 1993 - Jun 2019

Curators -

Top 5 of 11 (no. of shows )
Judith Keller (5)
Elena Shtromberg (1)
Andrew Perchuk (1)
Rani Singh (1)
John Tain (1)


Linked through shown artists -

Top 5 of 2405 venues
Offers/Requests

Exhibition Announcement

Portfolio

S / G Solo/Group Exhibitions



(..) Exhibitions + Favorites

Rejlander, O.G. [Oscar Gustave] (1813 - 1875)
S
Mar 2019 - Jun 2019
(11)
+0
Adams, Dennis (*1948)
G
Dec 2018 - Apr 2019
(41)
+0
Alloatti & Bentivoglio, [Annalisa Alloatti & Mirella Bentivoglio]
G
(1)
+0
Banham, Reyner (1922 - 1988)
G
(1)
+0
Barden, Lane
G
(1)
+0
Becket, Welton (1902 - 1969)
G
(1)
+0
Benedetta, [Benedetta Cappa Marinetti] (1897 - 1977)
G
(14)
+0
Bonifacio, Natale (1538 - 1592)
G
(1)
+0
Braquehais, Auguste Bruno (1823 - 1875)
G
(2)
+0
Burylin, Sergej Petrowitsch (1876 - 1942)
G
(6)
+0
Charnay, Claude-Joseph Désiré (1828 - 1915)
G
(4)
+0
Cutler-Shaw, Joyce (*1932)
G
(1)
+0
Dean, Tacita (*1965)
G
(149)
+0
Dechamps & Hudson, [Ruben Woodin Dechamps and Oscar Hudson]
G
(1)
+0
Gates, Theaster (*1973)
G
(18)
+0
Gorgoni, Gianfranco (*1941)
G
(8)
+0
Karasik, Michail (1953 - 2017)
G
(3)
+0
Katz, Leandro (*1938)
G
(18)
+0
Kuehn, Karl Gernot (*1940)
G
(3)
+0
Liberman, Alexander (1912 - 1999)
G
(64)
+0
Light, Michael (*1963)
G
(7)
+0
Matveyeva, Raissa Gavrilovna (1906 - 1986)
G
(2)
+0
Piranesi, Giovanni Battista (1720 - 1778)
G
(14)
+0
Pátzay, Pál után (1896 - 1979)
G
(1)
+0
Ranney, Edward (*1942)
G
(13)
+0
Ruscha, Edward (*1937)
G
(396)
+0
Schulz-Dornburg, Ursula (*1938)
G
(25)
+0
Smithson, Robert (1938 - 1973)
G
(207)
+0
Vignes, Louis (1831 - 1896)
G
(1)
+0
Woods, Lebbeus (1940 - 2012)
G
(13)
+0
Mann, Sally (*1951)
S
Nov 2018 - Feb 2019
(48)
+0
Bruguière, Francis Joseph (1879 - 1945)
G
Feb 2018 - May 2018
(40)
+0
Demand, Thomas (*1964)
G
(163)
+0
Eikyū, [Ei-Q] [Hideo Sugita] (1911 - 1960)
G
(6)
+0
Feser, Christiane (*1977)
G
(15)
+0
Gordon, Daniel (*1980)
G
(9)
+0
Kim, Soo (*1969)
G
(7)
+0
Lipps, Matt (*1975)
G
(2)
+0
Rodchenko, Aleksander Mikhailovich (1891 - 1956)
G
(218)
+0
Russell, Christopher (*1974)
G
(1)
+0
Sommer, Frederick (1905 - 1999)
G
(50)
+0
Álvarez-Bravo, Manuel (1902 - 2002)
G
(86)
+0
Asseff, Ananké (*1971)
G
Sep 2017 - Jan 2018
(2)
+0
Aveta, Hugo (*1965)
G
(1)
+0
Ayerza, Francisco (1860 - 1901)
G
(2)
+0
Baia, Eduardo Di (*1946)
G
(1)
+0
Blanco, Florencia (*1971)
G
(1)
+0
Boote, Arthur Wood (1861 - 1936)
G
(1)
+0
Boote, Samuel (1844 - 1921)
G
(2)
+0
Boote y Cía, Arturo W. (1861 - 1936)
G
(1)
+0
Coppola, Horacio (1906 - 2012)
G
(11)
+0
Costantino, Nicola (*1964)
G
(13)
+0
Davidovich, Jaime (1936 - 2016)
G
(13)
+0
Etcétera, (*1997)
G
(4)
+0
Foto 'Vales' de Merlín,
G
(1)
+0
Foto Pou,
G
(1)
+0
Fotografía Ansenes y Juanes,
G
(1)
+0
Fotografía Arte Moderno,
G
(1)
+0
Fotografía Artística de Emilio Galassi,
G
(1)
+0
Fotografía Balvanera,
G
(1)
+0
Fotografía G.D. Speken,
G
(1)
+0
Fotografía J.L. Sadovsky,
G
(1)
+0
Fotografía Juan Pía,
G
(1)
+0
Fotografía Paronzin Hnos,
G
(1)
+0
Fotografía S. Borio,
G
(1)
+0
Fotografía T. Gioia,
G
(1)
+0
Fredricks, Charles DeForest (1823 - 1894)
G
(1)
+0
Freund, Gisèle (1908 - 2000)
G
(39)
+0
Friedman, Sebastián (*1973)
G
(1)
+0
Gil, Eduardo (*1948)
G
(7)
+0
Ginzburg, Carlos (*1946)
G
(3)
+0
Gonnet, Esteban (1830 - 1868)
G
(1)
+0
Greco, Alberto (1931 - 1965)
G
(12)
+0
Grupo Escombros, (*1988)
G
(2)
+0
Heinrich, Annemarie (1912 - 2005)
G
(6)
+0
Junior, Christiano (1832 - 1902)
G
(2)
+0
Katz, Leandro (*1938)
G
(18)
+0
Lestido, Adriana (*1955)
G
(7)
+0
Longoni, Eduardo (*1959)
G
(1)
+0
Luna, Leonel (*1965)
G
(1)
+0
López, Marcos (*1958)
G
(4)
+0
Makarius, Sameer F. (1924 - 2009)
G
(4)
+0
Mangiante, Nuna (*1962)
G
(1)
+0
Mario, Gustavo Di (*1969)
G
(1)
+0
Miles, Guadalupe (*1971)
G
(2)
+0
Minelli, Gian Paolo (*1968)
G
(3)
+0
Pantoja, Julio (*1961)
G
(1)
+0
Panunzi, Benito (1835 - 1886)
G
(2)
+0
Pastorino, Esteban (*1972)
G
(3)
+0
Petit, Pierre (1832 - 1909)
G
(2)
+0
Porter, Liliana (*1941)
G
(55)
+0
Porter, Santiago (*1971)
G
(2)
+0
Pozzo, Antonio (1829 - 1910)
G
(1)
+0
RES, (*1957)
G
(6)
+0
Rimathé, Samuel (*1863)
G
(1)
+0
Romberg, Osvaldo (1938 - 2019)
G
(30)
+0
Romero, Juan Carlos (1931 - 2017)
G
(6)
+0
SUB, [Cooperativa de Fotógrafos] (*2004)
G
(1)
+0
Sacco, Graciela (*1956)
G
(9)
+0
Sandro, Juan Di (1898 - 1988)
G
(3)
+0
Sanguinetti, Alessandra (*1968)
G
(12)
+0
Schumacher, Werner
G
(1)
+0
Sociedad Fotográfica Argentina de Aficionados, (1889 - 1926)
G
(1)
+0
Spegazzini, Carlo Luigi (1858 - 1926)
G
(1)
+0
Stern [ringl + pit], Grete (1904 - 1999)
G
(17)
+0
Stoppani, Saverio
G
(1)
+0
Uriburu, Nicolás García (1937 - 2016)
G
(10)
+0
Valansi, Gabriel (*1959)
G
(1)
+0
Vigo, Edgardo Antonio (1928 - 1997)
G
(4)
+0
Webér, Martín (*1968)
G
(9)
+0
Zimmermann, Marcos (*1950)
G
(1)
+0
Alonso, Idurre (curator)
(1)
+0
Keller, Judith (curator)
(5)
+0
Leyva-Barragan, Fabian (curator)
(2)
+0
Hockney, David (*1937)
S
Jul 2017 - Nov 2017
(335)
+0
Hockney, David (*1937)
S
Jun 2017 - Nov 2017
(335)
+0