Artist

| Lijun FANG (*1963)
https://www.artist-info.com/artist/Fang-Lijun
Artist Portfolio Catalogue Overview \ 1
Lijun FANG
Exhibition at Ludwig Forum fuer Internationale Kunst
Exhibition at Ludwig Forum fuer Internationale Kunst
Zwischen Peking und Dali (1989 - 2002)
26.4.- 16.6.2002, Ludwig Forum für Internationale Kunst, Aachen (Germany)

Das Ludwig Forum für Internationale Kunst in Aachen zeigt vom 26.04.2002 bis zum 16.06.2002 eine Einzelausstellung des in Peking lebenden chinesischen Künstlers Fang Lijun. Es ist die erste Retrospektive seines Werkes in Europa. Sie umfasst Arbeiten von den Anfängen 1989 bis zur aktuellen Entwicklung 2002. Insgesamt werden rund 40 hochkarätige Werke Fang Lijuns zu sehen sein, unter anderem auch Arbeiten, die der Künstler gerade erst fertig stellte.

Fang Lijun gilt als einer der wichtigsten Vertreter der Avantgarde in China. 1963 geboren, gehört er einer Generation an, die durch die Geschehnisse von 1989 und durch die letzten Jahre der Kulturrevolution geprägt wurden. Seine Bilder der frühen 90'er Jahre offenbaren einen eher spöttischen Blick auf eine uniformierte Gesellschaft und ihr Spannungsverhältnis zwischen Ziel und Ziellosigkeit, Individuum und Masse. Der chinesische Kunsthistoriker und Kritiker Li Xianting gab dieser Richtung den Namen "Zynischer Realismus"; in deren Zusammenhang Fang Lijun sich als Vertreter einer ironischen Position verstand. Zu einem der zentralen Motive im Werk Fang Lijuns gehört der Mensch. Seine Protagonisten sind kahlköpfige, junge Männer, teilweise mit teilnahmslosem, teilweise mit grinsendem Gesichtsausdruck. Oft kann man kaum entscheiden, ob es ein Gähnen, ein Lachen oder ein Schrei ist. Fang Lijun malt zwar im Stil des Realismus, doch sind seine Personen entindividualisiert, das scheinbar Konkrete ist letztlich nicht fassbar. Seine Figuren stehen meist allein, abgewandt von der Gruppe, oder tauchen - einsam schwimmend - in tiefblaues Wasser.

Die Elemente Wasser, Himmel und Horizont spielen eine beherrschende Rolle in Fang Lijuns Bildern und auch in seinen späteren Holzschnitten. Die Figuren scheinen zu treiben, zu schwimmen und manchmal sogar gegen etwas anzukämpfen. Sie wirken verloren in der Schwerelosigkeit. Für den Künstler symbolisiert Wasser die Verwirrung und Unentschiedenheit, zugleich ist es jedoch auch ein wesentliches Naturelement, das es zu beherrschen gilt.

Viele der Arbeiten lassen die Enttäuschung und Orientierungslosigkeit einer Generation erkennen, die mit dem Scheitern der Kulturrevolution und dem großen gesellschaftspolitischen Wandel einherging. Der farbenfrohe Blumenregen und die kräftigen Komplementärfarben sind Symbole für Glück und Harmonie, die auf einen bis heute ungebrochenen - allerdings ziellosen - Enthusiasmus anspielen. Wie kaum einem anderen chinesischen Künstler gelingt es Fang Lijun immer wieder, den Betrachter zu verunsichern - indem er westlich und asiatisch geprägte Betrachtungsweisen gegeneinander ausspielt.

Zwei wesentliche Arbeiten aus den frühen 90er Jahren befinden sich seit 1993 in der Sammlung Ludwig. Heute ist der Künstler auf richtungsweisenden Ausstellungen in Europa ebenso wie in China vertreten. So wurde Fang Lijun 1998 beispielsweise eine Solo-Ausstellung im Stedelijk Museum in Amsterdam eingerichtet und auch auf der letzten Shanghai-Biennale war sein Werk angemessen repräsentiert.

Exhibition Announcements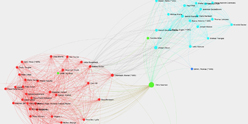 Interested in discovering more of this artist's networks?
3 easy steps: Register, buy a package for a visualization, select the artist.
See examples how visualization looks like for an artist, a curator, or an exhibition place: Gallery, museum, non-profit place, or collector.

Exhibition History

SUMMARY

based on artist-info records. More details and Visualizing Art Networks on demand.
Venue types:

Gallery

/

Museum

/

Non-Profit

/

Collector

Exhibitions in artist-info
28 (S 8/ G 20)

Did show together with

- Top 5 of 452 artists
(no. of shows) - all shows - Top 100

Exhibitions by type

28: 12 / 6 / 9 / 1
Venues by type

25: 9 / 6 / 9 / 1
Curators
16
artist-info records
Jan 1993 - Mar 2015

Countries

- Top 5 of 10
Germany (7)
Netherlands (3)
United States (3)
Austria (2)
United Kingdom (2)


Cities

- Top 5 of 17
Berlin (4)
New York (4)
Amsterdam (3)
London (3)
Venezia (2)


Venues

(no. of shows ) Top 5 of 25
| | | |
| --- | --- | --- |
| | | Curators (no. of shows) Top 5 of 16 |
Insight Basic

Display the full interactive exhibition history and all related artist, exhibition venue, and curator pages for your research. The SUMMARY above shows today's available scope.
To use Insight Basic or Insight Analytics
Sign-up for free first
Insight Analytics
Use Analytics tools for more insight based on documented exhibitions. More details on your RESEARCH user page.
(Includes Inisght Basic)
COMING SOON