Artist

| Damien Hirst (*1965)
https://www.artist-info.com/artist/Damien-Hirst
Artist Portfolio Catalogue Overview \ 1
Damien Hirst

Love Lost

2000
Biography
Biography
1965      born in Bristol
1989      Graduated, Goldsmiths College, London
Currently lives and works in Devon
Solo Exhibitions
Solo Exhibitions
1999      Pharmacy, Tate Gallery, London
1998      Damien Hirst, Southampton City Art Gallery, Southampton
1997      The Beautiful Afterlife, Bruno Bischofberger, Zurich 
1997      Solo Exhibition, Astrup Fearnley Museum, Oslo
1996      No Sense of Absolute Corruption, Gagosian Gallery, New York 
1995      Pharmacy, Kukje Gallery, Seoul
1995      Still, Jay Jopling/White Cube, London 
1995      Prix Eliette von Karajan '95, Max Gandolph-Bibliothek, Salzburg 
1994      Making Beautiful Drawings, Bruno Brunnet Fine Arts, Berlin 
1994      Currents 23, Milwaukee Art Museum, Wisconsin  
1994      A Bad Environment for White Monchrome Paintings, Mattress Factory, Pittsburgh 
1994      A Good Environment for Coloured Monochrome Paintings, DAAD Gallery, Berlin
1994      Pharmacy, Dallas Museum, Texas
1993      Visual Candy, Regen Projects, Los Angeles
1993      Damien Hirst, Galerie Jablonka, Cologne
1992      Where's God Now, Jay & Donatella Chiat, New York
1992      Marianne, Hildegard, Unfair/Jay Jopling, Cologne
1992      Damien Hirst : Third International Istanbul Biennial, British Council, Istanbul
1992      Pharmacy, Cohen Gallery, New York
1991      When Logics Die, Emmanuel Perrotin, Paris
1991      Internal Affairs, Institute of Contemporary Art, London 
1991      In & Out of Love, Woodstock Street, London
Group Exhibitions
Group Exhibitions
2000       Balls, James Cohan Gallery, New York
2000      After Life, 11 Duke Street, London
2000      The History of the Turner Prize, 1984-1999 and People's Show 2: 
2000      Pictures selected by the public, Victoria Art Gallery, Bath
2000      Video Vibe. Art, Music and Video in the UK, The British School at Rome, Rome
2000      Minding, Le Garage, Geneva
2000      On the Edge of the Western World, Yerba Buena Center of the Arts, San Francisco
2000      Out There, White Cube², Hoxton, London
2000      Ant Noises, Saatchi Gallery, London
2000      Art in Sacred Spaces, St. Stephen's Church, London
2000      Psycho, Anne Faggionato, London
2000      Blue: borrowed and new, The New At Gallery, Walsall
2000      Sincerely yours. British art from the 90s, Astrup Fearnley Museum of Modern Art, Oslo
1999      The History of the Turner Prize, ArtSway, Sway
1999      Wallworks, Museum Villa Stuck, Munich
1999      Thin Ice, Stedelijk Museum, Amsterdam
1999      Leeds 13 - Fine Arts. The Degree Show, University of Leeds Fine Art, Leeds
1999      Now It's My Turn to Scream. Works by Contemporary British Artists from the Logan Collection, Haines Gallery, San Francisco
1999      Fourth Wall. Turner on the Thames, Southbank, London
1999      Fun de Siècle, Group Show, Walsall Museum and Art Gallery, Walsall
1999      Examining Pictures, Whitechapel Art Gallery, London; Museum of Contemporary Art, Chicago
1999      Infra-slim spaces, Birmingham Museum of Art, Birmingham, Alabama
1999      Group Exhibition, Rhyl Library, Museum and Art Centre, Liverpool
1999      ...On the sublime..., Rooseum Center for Contemporary Art, Malmö, Sweden
1998      Potrait of Our Times: An Introduction to the Logan Collection, San Francisco Museum of Modern Art, San Francisco
1998      UK Maximum Diversity, Galerie Krinzinger, Benger Fabrik Bregenz, Bregenz, Austria
1998      Wall Projects: Damien Hirst, Museum of Contemporary Art, Chicago
1998      Fun de Siècle, Walsall Museum and Art Gallery, Walsall
1998      Pandaemonium. The London Festival of Moving Image, LEA, London
1998      Fifty Years of British Sculpture: Works from the Arts Council Collection, Lothbury Gallery, London
1998      Damien Hirst, Jeff Koons, Charles Ray, 11 Duke Street, London
1998      The Colony Room 50th Anniversary Art Exhibition, A22 Projects, London
1998      London Calling. Contemporary British art from Italian private Collections, Part II: The Eighties and Nineties, The British School at Rome/Galleria Nazionale d'Arte Moderna
1998      Zone, Fondazione Sandretto Re Rebaudengo, Palazzo Re Rebaudengo, Guarene, Italy 
1998      Inner Eye. Contemporary Art from the Marc and Livia Straus Collection, Samuel P. Harn Museum of Art, University of Florida, Gainesville, Florida
1998      Modern British Art, Tate Gallery, Liverpool
1998      Noir, Triennale di Milano, Milan
1998      Veronica's Revenge (Lambert Art Collection, Geneva), Deichtorhallen, Hamburg, Arken Museum for Moderne Kunst, Copenhagen
1998      Wild/Life, -or-, The Impossibility of Mistaking Nature for Culture, Weatherspoon Art Gallery, North Carolina
1997      Dimensions Variable, British Council Touring Exhibition Sensation, Royal Academy of Arts, London; Hamburger Bahnhof, Berlin; Brooklyn Museum, New York
1997      Picture Britanica. Art from Britain, Museum of Contemporary Art, Sydney; Art Gallery of South Australia, Adelaide;Te Papa, Wellington, New Zealand
1997      Turning Up #4, Kunstmuseum Wolfsburg, Germany      
1997      Package Holiday, Hydra Workshops, Hydra, Greece
1997         Sunny Days / Critical Times. An Exhibition of Works from the Bohen Foundation's Collection, The Bohen Foundation, New York
1997      Veronica's Revenge : Oeuvres photographiques de la Lambert Art Collection, Centre d'Art Contemporain, Geneva
1997      Material Culture, Hayward Gallery, London   
1997      A Ilha do Tesouro, Fundaçao Calouste Gulbenkian, Lisbon 
1997      The Lost Ark, Centre for Contemporary Arts, Glasgow
1996      Life/Live, Musee d'Art Moderne de la Ville de Paris, Paris; 
1996      Centro de Exposições do Centro Cultural de Belém, Lisbon 
1996      Zeit-Spiegel I, Städtisches Museum Schloß Morsbroich, Leverkusen
1996      Other Men's Flowers, Galerie Aurel Scheibler, Cologne
1996      Faustrecht der Freiheit (Volkmann Collection), Kunstsammlung Gera, Berlin; Neues Museum Weserburg, Bremen 
1996      Do It, Raum Aktueller Kunst, Vienna
1996      Private View, The Bowes Museum, Barnard Castle, County Durham 1996      Twentieth Century British Sculpture, Jeu de Paume, Paris 
1996      A Small Shifting Sphere of Serious Culture, Institute of  Contemporary Art, London  
1996      Spellbound, Hayward Gallery, London 
1996      Works on Paper, Irish Museum of Modern Art, Dublin 
1996      Happy End, Kunsthalle, Dusseldorf 
1996      Chaos, Madness - Moods in Contemporary Art, Kunsthalle Krems, Austria
1995      Drawing the Line, (National Touring Exhibition from the South Bank Centre) Southampton City Art Gallery; Manchester City Art Gallery;  Ferens Art Gallery, Hull; Whitechapel Art Gallery, London 
1995      New Art in Britain, Museum Sztuki, Poland
1995      Sings and Wonders, Kunsthaus, Zurich
1995      Minky Manky, South London Gallery, London; Arnolfini Gallery, Bristol 
1995      From Here, Waddington Galleries, London/Karsten Schubert, London
1995      A Bonnie Situation: Truth and Fiction, Contemporary Fine Arts, Berlin
1995      Laboratories, Galerie Art et Essai, University of Rennes, Brittany 
1995      The Reflected Image, Museo Pecci, Prato, Italy
1995      Turner Prize Exhibition, Tate Gallery, London [winner]
1995      Brilliant! Art from London, Walker Art Centre, Minneapolis; Contemporary Arts Museum, Houston 
1995British Art Show 4, National Touring Exhibition Organised by the Hayward Gallery, London; Manchester; Edinburgh; Cardiff 
1994      Some Went Mad, Some Ran Away, (curated by Damien Hirst), Serpentine Gallery, London; Nordic Arts Centre, Helsinki; Kunstverein, Hannover; Museum of Contemporary Art, Chicago; Portalen, Copenhagen 
1994      Domestic Violence, Gio Marconi, Milan
1994      Virtual Reality, National Gallery of Australia, Canberra 
1994      Cocido Y Crudo, Reina Sofia, Madrid 
1994      Nature Morte, Tanya Bonakdar Gallery, New York
1994      Art Unlimited, Centre for Contemporary Art, Glasgow; Leeds Metropolitan University Gallery; Corner House, Manchester; South Bank Centre, London; Christchurch Mansion, Ipswich; Brighton University Gallery
1994      From Beyond the Pale, The Irish Museum of Modern Art, Dublin 
1993      Here and Now: Twenty Three Years of the Serpentine Gallery, Serpentine Gallery, London  
1993      The 21st Century, Kunsthalle, Basel 
1993      The Nightshade Family, Museum Fridericianum, Kassel 
1993      Aperto: Venice Biennial, Aperto Section, Venice 
1993      Displace, Cohen Gallery, New York
1993      A Wonderful Life, Lisson Gallery, London
1992      Young British Artists, Saatchi Collection, London 
1992      Made for Arolsen, Schloss, Arolsen, Germany  
1992      Moltiplici / Cultura, Rome 
1992      London Portfolio, Karsten Schubert Ltd., London
1992      Posthuman, Fondation Asher Edelman, Lausanne; Museo D'Arte Contemporanea, Torino; Deichtorhallen, Hamburg 
1992      Group Exhibition, Luis Campaña Gallery, Frankfurt
1992      Strange Developments, Anthony d'Offay Gallery, London
1992      British Art, Barbara Gladstone Gallery, New York 
1992      Avantgarde & Kampagne, Stadtische Kunsthalle, Dusseldorf
1992      Turner Prize Exhibition, Tate Gallery, London
1992      Under Thirty, Galerie Metropol, Vienna
1991      Damien Hirst, Institute of Contemporary Art, London
1991      Louder Than Words, The Cornerhouse, Manchester  
1991      Broken English, Serpentine Gallery, London 
1990      Modern Medicine, Building One, London
1990      Gambler, Building One, London  
1989      New Contemporaries, Institute of Contemporary Art, London
1989      Third Eye Centre, Glasgow
1988      Freeze, Surrey Docks, London
Public Collections
Public Collections
Arts Council of Great Britain
Astrup Fearnley Museum, Oslo
Beckman Foundation, New York, NY
Bohen Foundation, New York, NY
British Council
Caldic Collection, Rotterdam
Denver Art Museum, CO
DESTE Foundation for Contemporary Art, Athens
Deutsche Bank, London
Fondazione Sandretto, Turin
Fondazione Prada, Milan
Groeninge Group, Belgium
Hirshhorn Museum, Washington, D.C.
Israel Museum, Jerusalem
Kunst Museum, Wolfsburg
Museum of Modern Art, New York, NY
Paine Webber Art Collection, New York, NY
Rubell Family Foundation, Miami, FL
Saatchi Gallery, London
Sammlung Goetz, Munich
San Diego Museum of Contemporary Art, San Diego, CA
Scottish National Gallery of Modern Art, Edinburgh
Stedelijk Museum, Amsterdam
Tate Gallery, London
Weltkunst Foundation, Dublin
Yale Center for British Art, New Haven, CT
Bibliography
Bibliography
Freeze. London: 1988.
Modern Medicine. London: Building One, 1990.
Gambler. London: Building One, 1990.
Louder than Words. Manchester: The Cornerhouse, 1991.
Broken English. London: Serpentine Gallery, 1991.
Damien Hirst. London: ICA, 1991.
Young British Artists. London: Saatchi Collection, 1992
Commissions and Collaborations. London: BBC, 1992.
Made for Arolsen. Arolsen: Veit Loers, 1992.
Moltiplici/Cultura. Rome: 1992.
Post Human. Lausanne: Foundation Asher Edelman, 1992.
British Art. New York: Liam Gillick, SteinGladstone, 1992.
Damien Hirst. London: The British Council for Turkish Biennial, 1992.
The 21st Century. Basel: Kunsthalle, 1993.
The Nightshade Family. Kassel: Museum Fridericianum, 1993.
Aperto, Italy: Flash Art for the Venice Biennial, 1993.
Making Beautiful Drawings. Berlin: Bruno Brunnet Fine Arts, 1994.
Damien Hirst.  Köln: Jablonka Galerie, 1994.
Some Went Mad, Some Ran Away. London: Serpentine Gallery, 1994.
Virtual Reality. Canberra: National Gallery of Australia, 1994.
From Beyond the Pale. Dublin: The Irish Museum of Modern Art, 1994.
Drawing the Line.  London: The South Bank Centre, 1995.
Signs and Wonders. Zurich: Kunsthaus, 1995.
From Here. London: Waddington Galleries, 1995. 
London: Karsten Schubert, 1995.
No Sense of Absolute Corruption, New York:  Gagosian Gallery, 1996
Sensation.  London:  Royal Academy of Arts, 1997
I Want to Spend the Rest of My Life Everywhere, with Everyone, One to One, 
Always, Forever, Now.  New York:  Monicelli Press. 1997
Snowblind.  Edinburgh:  Rebel Inc., 1998
Bukowski, Elizabeth. "Damien Hirst Now Deconstructs Camels", The Wall Street Journal, January 31, 2000.
Exhibition Announcements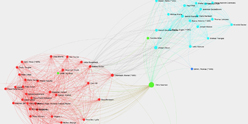 Interested in discovering more of this artist's networks?
3 easy steps: Register, buy a package for a visualization, select the artist.
See examples how visualization looks like for an artist, a curator, or an exhibition place: Gallery, museum, non-profit place, or collector.

Exhibition History

SUMMARY

based on artist-info records. More details and Visualizing Art Networks on demand.
Venue types:

Gallery

/

Museum

/

Non-Profit

/

Collector

Exhibitions in artist-info
166 (S 48/ G 118)

Did show together with

- Top 5 of 1394 artists
(no. of shows) - all shows - Top 100

Exhibitions by type

166: 86 / 34 / 43 / 3
Venues by type

116: 50 / 27 / 36 / 3
Curators
63
artist-info records
Aug 1988 - Jul 2022

Countries

- Top 5 of 20
United States (52)
Germany (27)
United Kingdom (24)
Switzerland (6)
France (5)


Cities

- Top 5 of 62
London (36)
New York (33)
Los Angeles (7)
Berlin (5)
Oslo (5)


Venues

(no. of shows ) Top 5 of 116
| | | |
| --- | --- | --- |
| | | Curators (no. of shows) Top 5 of 63 |