Non-Profit

| Neues Städtisches Ausstellungsgebäude

Lennéstraße 1
D - 01069 Dresden - Germany Google Map
T.:
Web: Email:
https://www.artist-info.com/nonprofit/Neues-Staedtisches-Ausstellungsgebaeude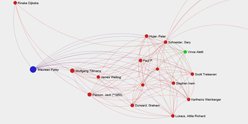 Interested in discovering more of this venue's networks?
3 easy steps: Register, buy a package for a visualization, select the exhibition place.
See examples how visualization looks like for an artist, a curator, or an exhibition place: Gallery, museum, non-profit place, or collector.

Exhibition History

SUMMARY

based on artist-info records. More details and Visualizing Art Networks on demand.
Venue types:

Gallery

/

Museum

/

Non-Profit

/

Collector

Exhibitions in artist-info
3 ( S 0/ G 3)

Shown Artists

- Top 5 of 163
(no. of shows) - all shows - Top 100

Artists in exhibitions
163
Curators in exhibitions
0
Linked to other venues through shown artists

353: 100 / 114 / 133 / 6
artist-info records
Aug 1933 - Oct 1933

Curators -

Top 0 of 0 (no. of shows )

Linked through shown artists -

Top 5 of 353 venues
Offers/Requests

Exhibition Announcement

Portfolio

S / G Solo/Group Exhibitions



(..) Exhibitions + Favorites

Altenkirch, Otto (1875 - 1945)
G
Aug 1933 - Oct 1933
(12)
+0
Aurich, Oscar (1877 - 1968)
G
(1)
+0
Bachmann, Alfred 'Alf' (1863 - 1956)
G
(10)
+0
Beschorner, Gertrud
G
(1)
+0
Best, Josef Maria (*1892)
G
(1)
+0
Birnstengel, Richard (1881 - 1968)
G
(15)
+0
Breunig, August Erich
G
(1)
+0
Burkhardt, Oskar (1884 - 1960)
G
(2)
+0
Bär, Arthur (1884 - 1972)
G
(4)
+0
Dietrich, Heinz (*1882)
G
(2)
+0
Droop, Hermann Theodor (1879 - 1957)
G
(1)
+0
Elßner, Felix
G
(1)
+0
Fechner, Werner (1892 - 1973)
G
(1)
+0
Friederici, Walter (1874 - 1943)
G
(6)
+0
Gablenz, Hans Otto
G
(1)
+0
Geißler, Arthur (1887 - 1863)
G
(2)
+0
Gerlach, Josef (*1860)
G
(2)
+0
Goeßler, Richard
G
(1)
+0
Hamisch, Willy (*1873)
G
(1)
+0
Heinsdorff, Emil Ernst (1887 - 1948)
G
(4)
+0
Herzing, Hanns (1890 - 1971)
G
(1)
+0
Hesse, Alfred (1904 - 1988)
G
(2)
+0
Hochmann, Franz Gustav (1861 - 1936)
G
(10)
+0
Hänel, Georg (1879 - 1945)
G
(4)
+0
Hösel, Oskar Erich (1869 - 1953)
G
(5)
+0
Junck, Walter (*1893)
G
(1)
+0
Kaiser, Richard (1868 - 1941)
G
(46)
+0
Kind, L. Georg (1897 - 1945)
G
(8)
+0
Kleditzsch, Max (*1868)
G
(1)
+0
Krebs-Jakobs, Erich
G
(1)
+0
Kretzschmar, Paul (1867 - 1936)
G
(1)
+0
Kurth, Curt
G
(1)
+0
Liebermann, Ernst (1869 - 1960)
G
(14)
+0
Liebscher, Bruno
G
(1)
+0
Macholz, Margarete (1874 - 1965)
G
(2)
+0
Moritz, Fritz [Friedrich] (*1866)
G
(4)
+0
Müller, Richard (1874 - 1954)
G
(38)
+0
Müller, Wolfgang [Wolfgangmüller] (1877 - 1949)
G
(10)
+0
Müller-Müller, Emmy (*1878)
G
(1)
+0
Neumann, Horst
G
(1)
+0
Olszewski, Karl Ewald (1884 - 1965)
G
(4)
+0
Peschke, Rudolf (*1895)
G
(2)
+0
Pilz, Otto (1876 - 1934)
G
(8)
+0
Poeschmann, Rudolf (1878 - 1954)
G
(6)
+0
Popp, Oskar (1875 - 1954)
G
(4)
+0
Preissler, Kurt (1893 - 1968)
G
(2)
+0
Quarck, Karl (1869 - 1949)
G
(4)
+0
Queck, Arthur
G
(1)
+0
Richter, Georg (1891 - 1938)
G
(2)
+0
Röhl, Martin
G
(2)
+0
Rübner, Kurt (1875 - 1965)
G
(1)
+0
Salzmann, Georg
G
(1)
+0
Scheibe, Kurt (*1891)
G
(1)
+0
Schenke, Max (1891 - 1957)
G
(2)
+0
Schubert, Otto (1892 - 1970)
G
(26)
+0
Schultze-Görlitz, Hans (1872 - 1952)
G
(5)
+0
Schulz, Ernst Georg Wilhelm
G
(1)
+0
Sebaldt, Otto Friedrich Wilhelm (*1873)
G
(3)
+0
Sende, Konrad
G
(1)
+0
Sieck, Rudolf (1877 - 1957)
G
(14)
+0
Starke, Oskar (*1870)
G
(2)
+0
Striegler, Kurt Andreas (1887 - 1956)
G
(1)
+0
Tag, Willy (1886 - 1980)
G
(4)
+0
Thein, Heinrich (1888 - 1969)
G
(1)
+0
Thomas, Alfred (1876 - 1961)
G
(7)
+0
Undeutsch, Rudolph (*1884)
G
(1)
+0
Waldapfel, Willy (1883 - 1965)
G
(2)
+0
Willrich, Wolfgang (1897 - 1948)
G
(4)
+0
Winkler, Margarete (*1879)
G
(1)
+0
Wohlrab, Karl (*1873)
G
(5)
+0
Zink, Rudolf
G
(1)
+0
Albiker, Karl (1878 - 1961)
G
Aug 1933 - Oct 1933
(55)
+0
Bertelsson, Alexander (1890 - 1975)
G
(4)
+0
Britze, Marianne (1883 - 1980)
G
(5)
+0
Brodauf, Friedrich (1872 - 1939)
G
(2)
+0
Buchwald-Zinnwald, Erich (1884 - 1972)
G
(12)
+0
Böckstiegel, Peter August (1889 - 1951)
G
(49)
+0
Dannebauer, Arthur-Hermann (*1900)
G
(1)
+0
Dienst, Paul (*1883)
G
(3)
+0
Dietze, Ernst Richard (1880 - 1961)
G
(20)
+0
Donndorf, Siegfried (1900 - 1957)
G
(7)
+0
Dorsch, Ferdinand (1875 - 1938)
G
(17)
+0
Feldbauer, Max Joseph (1869 - 1948)
G
(33)
+0
Felixmüller, Conrad (1897 - 1977)
G
(120)
+0
Fischer, Otto (1870 - 1947)
G
(37)
+0
Garten, Otto (1902 - 2000)
G
(4)
+0
Gelbke, Georg Hermann (1882 - 1947)
G
(14)
+0
Hegenbarth, Josef (1884 - 1962)
G
(65)
+0
Henke, Ulrich (*1896)
G
(4)
+0
Hettner, Roland (1905 - 1978)
G
(2)
+0
Hofmann, Ludwig von (1861 - 1945)
G
(91)
+0
Kressner, Magdalene (1899 - 1975)
G
(3)
+0
Kreß, Hermann (1894 - 2000)
G
(2)
+0
Kriegel, Willy (1901 - 1966)
G
(13)
+0
Kröner, Karl (1887 - 1972)
G
(15)
+0
Lenk, Franz (1898 - 1968)
G
(43)
+0
Löhner, Rudolf (1890 - 1971)
G
(5)
+0
Lüdecke, Karl August (1896 - 1977)
G
(8)
+0
Mann, Albert (1902 - 1964)
G
(3)
+0
Meister, Otto (1887 - 1969)
G
(9)
+0
Moeller, Edmund (1885 - 1956)
G
(9)
+0
Mühler, Ernst Alfred (1898 - 1968)
G
(5)
+0
Müller, Bernhard (1880 - 1965)
G
(9)
+0
Nadler, Hans (1879 - 1958)
G
(7)
+0
Neugebauer, Georg Ludwig (1889 - 1984)
G
(5)
+0
Oehme, Hanns (1899 - 1944)
G
(8)
+0
Peters, Hugo
G
(2)
+0
Piroch, Max (1900 - 1984)
G
(2)
+0
Polte, Paul (1877 - 1952)
G
(2)
+0
Raddatz, Hermann Alfred (1907 - 1962)
G
(3)
+0
Rehn, Richard Walter (1884 - 1951)
G
(6)
+0
Richter, Hans Theo (1902 - 1969)
G
(28)
+0
Ritter, Martin (1905 - 2001)
G
(4)
+0
Rohstock, Hans
G
(1)
+0
Rost, Otto (1887 - 1970)
G
(7)
+0
Rothe, Curt (1899 - 1973)
G
(5)
+0
Rudolph, Wilhelm (1889 - 1982)
G
(32)
+0
Rössler, Paul Otto (1873 - 1957)
G
(8)
+0
Rüther, Hubert (1886 - 1945)
G
(4)
+0
Sander, Richard (1906 - 1987)
G
(4)
+0
Schaefer, Karl Erich (1905 - 1982)
G
(4)
+0
Schaffer, Gustav Adolf (1881 - 1937)
G
(9)
+0
Schaller, Robert (1902 - 1965)
G
(1)
+0
Scharowsky, Ella
G
(1)
+0
Schlossar, Horst (1903 - 1964)
G
(2)
+0
Schmidt, Gustav (1888 - 1972)
G
(6)
+0
Sinkwitz, Paul (1899 - 1981)
G
(5)
+0
Spank, Hans (1893 - 1962)
G
(5)
+0
Sperling, Gerhard (1908 - 1975)
G
(4)
+0
Teuber, Hermann (1894 - 1985)
G
(39)
+0
Tröger, Hans (1894 - 1963)
G
(2)
+0
Walter, Arn
G
(2)
+0
Wilhelm, Paul (1886 - 1965)
G
(22)
+0
Winkelmann, Sergius (*1888)
G
(4)
+0
Winkler, Fritz (1894 - 1964)
G
(15)
+0
Wittig, Rudolf (1900 - 1978)
G
(2)
+0
Berger-Bergner, Paul (1904 - 1978)
G
Aug 1933 - Oct 1933
(9)
+0
Beutner, Johannes (1890 - 1960)
G
(13)
+0
Burkhardt, Heinrich (1904 - 1985)
G
(6)
+0
Bursche, Ernst (1907 - 1989)
G
(4)
+0
Christoph, Hans (1901 - 1992)
G
(22)
+0
Dix, Otto (1891 - 1969)
G
(336)
+0
Ebersbach, Herbert (1902 - 1984)
G
(4)
+0
Fraass, Erich (1893 - 1974)
G
(13)
+0
Glöckner, Hermann (1889 - 1987)
G
(75)
+0
Griebel, Otto (1895 - 1972)
G
(33)
+0
Heuer, Joachim (1900 - 1994)
G
(7)
+0
Hoffmann, Eugen (1892 - 1955)
G
(31)
+0
Jüchser, Hans (1894 - 1977)
G
(35)
+0
Kesting, Edmund (1892 - 1970)
G
(58)
+0
Kinder, Hans (1900 - 1986)
G
(14)
+0
Kretzschmar, Bernhard (1889 - 1972)
G
(45)
+0
Lachnit, Wilhelm (1899 - 1962)
G
(39)
+0
Lange, Hermann (1890 - 1939)
G
(4)
+0
Lincke, Erna (1899 - 1986)
G
(8)
+0
Ockert, Erich (1889 - 1953)
G
(10)
+0
Querner, Curt (1904 - 1976)
G
(31)
+0
Richter, Hermann Theodor (1894 - 1942)
G
(5)
+0
Siebert, Georg (1896 - 1984)
G
(16)
+0
Skade, Friedrich (1898 - 1971)
G
(14)
+0
Sperling, Walter (1900 - 1942)
G
(1)
+0
Tillmann, Rolf (*1895)
G
(5)
+0
Westphal-Rudolstadt, Otto (1902 - 1945)
G
(1)
+0