Non-Profit

| 1. Biennale di Venezia

Giardini di Castello
I - 3200 Venezia - Italy Google Map
T.:
Web: Email:
https://www.artist-info.com/nonprofit/1-Biennale-di-Venezia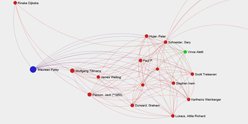 Interested in discovering more of this venue's networks?
3 easy steps: Register, buy a package for a visualization, select the exhibition place.
See examples how visualization looks like for an artist, a curator, or an exhibition place: Gallery, museum, non-profit place, or collector.

Exhibition History

SUMMARY

based on artist-info records. More details and Visualizing Art Networks on demand.
Venue types:

Gallery

/

Museum

/

Non-Profit

/

Collector

Exhibitions in artist-info
3 ( S 3/ G 0)

Shown Artists

- Top 5 of 272
(no. of shows) - all shows - Top 100

Artists in exhibitions
272
Curators in exhibitions
0
Linked to other venues through shown artists

390: 92 / 154 / 140 / 4
artist-info records
Apr 1895 - Oct 1895

Curators -

Top 0 of 0 (no. of shows )

Linked through shown artists -

Top 5 of 390 venues
Offers/Requests

Exhibition Announcement

Portfolio

S / G Solo/Group Exhibitions



(..) Exhibitions + Favorites

Achen, Georg Nicolaj (1860 - 1912)
S
Apr 1895 - Oct 1895
(7)
+0
Acqua, Cesare Dell' (1821 - 1904)
S
(1)
+0
Alberti, Giuseppe Vizzotto (1862 - 1931)
S
(5)
+0
Alexander, John White (1856 - 1915)
S
(16)
+0
Alma-Tadema, Sir Lawrence (1836 - 1912)
S
(12)
+0
Ancher, Michael Peter (1849 - 1927)
S
(12)
+0
Apol, Louis (1850 - 1936)
S
(7)
+0
Avanzi, Vittorio (1850 - 1913)
S
(4)
+0
Bartels, Hans von (1856 - 1913)
S
(34)
+0
Belloni, Giorgio (1861 - 1944)
S
(8)
+0
Benlliure y Gil, José (1855 - 1937)
S
(8)
+0
Benson, Eugene (1839 - 1908)
S
(4)
+0
Bergh, Sven Richard (1858 - 1919)
S
(3)
+0
Besnard, Paul Albert (1849 - 1934)
S
(34)
+0
Bezzi, Bartolomeo (1851 - 1923)
S
(9)
+0
Bianchi, Mosè di Giosuè (1840 - 1904)
S
(7)
+0
Bilbao y Martinez, Gonzalo (1860 - 1938)
S
(5)
+0
Bisschop, Christoffel (1828 - 1904)
S
(9)
+0
Björck, Oscar Gustaf (1860 - 1929)
S
(7)
+0
Blaas, Eugen Alfons von (1843 - 1931)
S
(22)
+0
Blaauw, Anna Maria [Marie Wuytiers] (1865 - 1944)
S
(2)
+0
Boldini, Giovanni (1842 - 1931)
S
(21)
+0
Bonnat, Léon Joseph Florentin (1833 - 1922)
S
(9)
+0
Borsa, Emilio (1857 - 1931)
S
(4)
+0
Bortoluzzi, Camillo 'Milo' (1868 - 1933)
S
(5)
+0
Brancaccio, Carlo (1861 - 1920)
S
(4)
+0
Brass, Italico (1870 - 1943)
S
(8)
+0
Bricherasio, Sofia Cacherano di (1867 - 1950)
S
(2)
+0
Burne-Jones, Sir Edward Coley (1833 - 1898)
S
(15)
+0
Béraud, Jean (1849 - 1936)
S
(6)
+0
Cabianca, Vincenzo (1827 - 1902)
S
(4)
+0
Calderini, Marco (1850 - 1941)
S
(2)
+0
Campriani, Alceste (1848 - 1933)
S
(6)
+0
Caprile, Vincenzo (1856 - 1936)
S
(7)
+0
Carcano, Filippo (1840 - 1914)
S
(6)
+0
Cargnel, Vittore Antonio (1872 - 1931)
S
(3)
+0
Carozzi, Giuseppe (1864 - 1938)
S
(4)
+0
Carpanetto, Giovanni Battista (1863 - 1928)
S
(1)
+0
Casciaro, Giuseppe (1861 - 1941)
S
(6)
+0
Cavalleri, Vittorio (1860 - 1938)
S
(5)
+0
Cazin, Jean-Charles (1841 - 1901)
S
(17)
+0
Chattel, Fredericus du (1856 - 1917)
S
(9)
+0
Ciardi, Guglielmo (1842 - 1917)
S
(14)
+0
Cima, Luigi (1860 - 1944)
S
(2)
+0
Coleman, Enrico (1846 - 1911)
S
(6)
+0
Collier, John (1850 - 1934)
S
(3)
+0
Corelli, Augusto (1853 - 1918)
S
(7)
+0
Costa, Giovanni 'Nino' (1826 - 1903)
S
(4)
+0
Courtens, Franz (1854 - 1943)
S
(9)
+0
Dagnan-Bouveret, Pascal Adolphe Jean (1852 - 1929)
S
(12)
+0
Dalbono, Edoardo (1841 - 1915)
S
(4)
+0
Danieli, Francesco (1853 - 1922)
S
(1)
+0
Davis, Henry William Banks (1833 - 1914)
S
(2)
+0
Delleani, Lorenzo (1840 - 1908)
S
(6)
+0
Delug, Alois (1859 - 1930)
S
(6)
+0
Dettmann, Ludwig (1865 - 1944)
S
(40)
+0
Dragon, Vittore Grubicy de (1851 - 1920)
S
(9)
+0
Duez, Ernest Ange (1843 - 1896)
S
(4)
+0
Dupré, Julien (1851 - 1910)
S
(9)
+0
East, Alfred (1844 - 1913)
S
(13)
+0
Engelhart, Josef (1864 - 1941)
S
(15)
+0
Esposito, Gaetano (1858 - 1911)
S
(1)
+0
Facchinetti, Nicolò Antonio (1824 - 1900)
S
(1)
+0
Fattori, Giovanni (1825 - 1908)
S
(11)
+0
Ferrari, Giuseppe (1840 - 1905)
S
(2)
+0
Filosa, Giovanni Battista (1850 - 1935)
S
(2)
+0
Firle, Walther (1859 - 1929)
S
(28)
+0
Fisher, Samuel Melton (1859 - 1939)
S
(4)
+0
Follini, Carlo (1848 - 1938)
S
(3)
+0
Forain, Jean-Louis (1852 - 1931)
S
(48)
+0
Fragiacomo, Pietro (1856 - 1922)
S
(14)
+0
Gabriël, Paul Joseph Constantin (1828 - 1903)
S
(12)
+0
Garcia y Ramos, José (1852 - 1912)
S
(1)
+0
Garnelo y Alda, José Santiago (1866 - 1944)
S
(5)
+0
Giannetti, Raffaele (1832 - 1916)
S
(1)
+0
Gioli, Francesco (1846 - 1922)
S
(5)
+0
Gioli, Luigi (1854 - 1947)
S
(5)
+0
Giuliano, Bartolomeo (1825 - 1909)
S
(2)
+0
Gola, Emilio (1851 - 1923)
S
(12)
+0
Grosso, Giacomo (1860 - 1938)
S
(7)
+0
Gude, Hans Frederik (1825 - 1903)
S
(11)
+0
Haanen, Cecil van (1844 - 1914)
S
(1)
+0
Hartmann, Carl (1861 - 1927)
S
(10)
+0
Herkomer, Hubert von (1849 - 1914)
S
(9)
+0
Hierl-Deronco, Otto (1859 - 1935)
S
(18)
+0
Hughes, Arthur (1832 - 1915)
S
(8)
+0
Hughes, Edward Robert (1851 - 1914)
S
(2)
+0
Hulton, William Stokes (1851 - 1921)
S
(3)
+0
Hunt, William Holman (1827 - 1919)
S
(10)
+0
Höcker, Paul (1854 - 1910)
S
(14)
+0
Israëls, Jozef (1824 - 1911)
S
(48)
+0
Jerace, Vincenzo L. (1862 - 1947)
S
(5)
+0
Jiménez y Aranda, José (1837 - 1903)
S
(4)
+0
Kolstø, Ole Fredrik (1860 - 1945)
S
(4)
+0
Koner, Max Johann Bernhard (1854 - 1900)
S
(14)
+0
Krämer, Johann Viktor (1861 - 1949)
S
(7)
+0
Krøyer, Peter Severin (1851 - 1909)
S
(12)
+0
Larsson, Carl Olof (1853 - 1919)
S
(26)
+0
Laurenti, Césare (1854 - 1936)
S
(6)
+0
Lebiedzki, Eduard (1862 - 1915)
S
(4)
+0
Leempoels, Josef (1867 - 1935)
S
(9)
+0
Leemputten, Franz van (1850 - 1914)
S
(6)
+0
Lehnert, Hildegard (1857 - 1943)
S
(5)
+0
Leighton, Sir Frederic (1830 - 1896)
S
(12)
+0
Leistikow, Walter (1865 - 1908)
S
(109)
+0
Lenbach, Franz von (1836 - 1904)
S
(67)
+0
Lenz, Maximilian (1860 - 1948)
S
(2)
+0
Lhermitte, Léon Augustin (1844 - 1925)
S
(13)
+0
Liebermann, Max (1847 - 1935)
S
(304)
+0
Liljefors, Bruno Andreas (1860 - 1939)
S
(12)
+0
Logsdail, William (1859 - 1944)
S
(2)
+0
Lojacono, Francesco (1838 - 1915)
S
(3)
+0
Lombardini, Bice
S
(1)
+0
László, Philip Alexius de [Elek Laub Fülöp] (1869 - 1937)
S
(13)
+0
Mancini, Antonio (1852 - 1930)
S
(15)
+0
Marcette, Alexandre (1853 - 1929)
S
(8)
+0
Maria, Mario de [Marius de, Marius Pictor] (1852 - 1924)
S
(8)
+0
Mariani, Pompeo (1857 - 1927)
S
(7)
+0
Maris, Willem (1844 - 1910)
S
(15)
+0
Marr, Carl von (1858 - 1936)
S
(18)
+0
Mentessi, Giuseppe (1857 - 1931)
S
(4)
+0
Menzel, Adolph von (1815 - 1905)
S
(102)
+0
Mesdag, Hendrik Willem (1831 - 1915)
S
(20)
+0
Mesdag-van Houten, Sientje (1834 - 1909)
S
(9)
+0
Meulen, Frans Pieter ter (1843 - 1927)
S
(10)
+0
Meyerheim, Paul Friedrich (1842 - 1915)
S
(28)
+0
Michetti, Francesco Paolo (1851 - 1929)
S
(12)
+0
Milesi, Alessandro (1856 - 1945)
S
(6)
+0
Millais, Sir John Everett (1829 - 1896)
S
(11)
+0
Molin, Oreste da (1856 - 1921)
S
(3)
+0
Mols, Niels Pedersen (1859 - 1921)
S
(6)
+0
Montalba, Clara Federica (1840 - 1929)
S
(4)
+0
Montrésor, Emilia
S
(1)
+0
Morbelli, Angelo (1853 - 1919)
S
(10)
+0
Morelli, Domenico (1823 - 1901)
S
(6)
+0
Munthe, Gerhard (1849 - 1929)
S
(7)
+0
Muzzioli, Giovanni (1854 - 1894)
S
(1)
+0
Netti, Francesco (1832 - 1894)
S
(1)
+0
Neuhuys, Albert Johannes (1844 - 1914)
S
(11)
+0
Niss, Thorvald Simon (1842 - 1905)
S
(5)
+0
Noirot, Émile (1853 - 1924)
S
(1)
+0
Nordström, Karl Fredrik (1855 - 1923)
S
(4)
+0
Oppler, Ernst (1867 - 1929)
S
(48)
+0
Orto, Uberto dell' (1848 - 1895)
S
(1)
+0
Ouless, Walter William (1848 - 1933)
S
(2)
+0
Oyens, David (1842 - 1902)
S
(4)
+0
Pajetta, Pietro (1845 - 1911)
S
(2)
+0
Parsons, Alfred William (1847 - 1920)
S
(1)
+0
Pasini, Alberto (1826 - 1899)
S
(8)
+0
Paulsen, Julius (1860 - 1940)
S
(9)
+0
Pedersen, Ole (1856 - 1898)
S
(4)
+0
Pedersen, Viggo Christien (1854 - 1926)
S
(5)
+0
Peterssen, Eilif (1852 - 1928)
S
(10)
+0
Prati, Eugenio (1842 - 1907)
S
(1)
+0
Prati, Giulio Cesare (1860 - 1940)
S
(1)
+0
Previati, Gaëtano (1852 - 1920)
S
(17)
+0
Pusterla, Attilio (1862 - 1941)
S
(2)
+0
Puvis de Chavannes, Pierre Cécile (1824 - 1898)
S
(39)
+0
Quadrone, Giovanni Battista (1844 - 1898)
S
(2)
+0
Redon, Odilon (1840 - 1916)
S
(160)
+0
Reycend, Enrico (1855 - 1928)
S
(3)
+0
Ribarz, Rudolf (1848 - 1904)
S
(4)
+0
Richmond, William Blake (1842 - 1921)
S
(4)
+0
Rios, Ricardo De Los (1846 - 1929)
S
(6)
+0
Rosa, Luigi (1850 - 1919)
S
(3)
+0
Rossi, Luigi (1853 - 1923)
S
(7)
+0
Rotta, Silvio Giulio (1853 - 1913)
S
(2)
+0
Ruben, Franz Leo (1842 - 1920)
S
(3)
+0
Saccaggi, Cesare (*1868)
S
(2)
+0
Sala y Francès, Emilio (1850 - 1910)
S
(4)
+0
Sanctis, Giuseppe de (1858 - 1924)
S
(3)
+0
Sartorelli, Francesco (1856 - 1939)
S
(5)
+0
Sartorio, Giulio Aristide (1860 - 1932)
S
(15)
+0
Savini, Alfonso (1836 - 1908)
S
(2)
+0
Scattola, Ferruccio (1873 - 1950)
S
(10)
+0
Schmaedel, Max von (1856 - 1939)
S
(3)
+0
Schmidt, Theodor (1855 - 1937)
S
(3)
+0
Schönberger, Martin (*1864)
S
(3)
+0
Schönleber, Gustav (1851 - 1917)
S
(35)
+0
Segantini, Giovanni (1858 - 1899)
S
(59)
+0
Sezanne, Augusto (1856 - 1935)
S
(5)
+0
Sigmundt, Ludwig (1861 - 1936)
S
(7)
+0
Simi, Filadelfo (1849 - 1923)
S
(2)
+0
Skarbina, Franz (1849 - 1910)
S
(56)
+0
Skredsvig, Christian (1854 - 1924)
S
(10)
+0
Sorolla y Bastida, Joaquín (1863 - 1923)
S
(19)
+0
Spreafico, Eugenio (1856 - 1919)
S
(1)
+0
Stefani, Vincenzo de (1859 - 1937)
S
(8)
+0
Strobentz, Frigyes [Fritz] (1856 - 1929)
S
(15)
+0
Stuck, Franz von (1863 - 1928)
S
(115)
+0
Sánchez Barbudo, Salvador (1857 - 1917)
S
(7)
+0
Tallone, Cesare (1853 - 1919)
S
(3)
+0
Tessari, Vittorio (1860 - 1947)
S
(2)
+0
Thoma, Hans (1839 - 1924)
S
(155)
+0
Tichy, Hans (1861 - 1925)
S
(4)
+0
Tito, Ettore (1859 - 1941)
S
(9)
+0
Tommasi, Adolfo (1851 - 1933)
S
(4)
+0
Tusquets y Maignon, Ramón (1838 - 1904)
S
(2)
+0
Tuxen, Laurits Regner (1853 - 1927)
S
(8)
+0
Uhde, Fritz von (1848 - 1911)
S
(77)
+0
Vanaise, Gustave (1854 - 1902)
S
(5)
+0
Vannutelli, Scipione (1834 - 1894)
S
(2)
+0
Villegas y Cordero, José (1844 - 1921)
S
(10)
+0
Voerman, Jan (1857 - 1941)
S
(2)
+0
Vogel, Hugo (1855 - 1934)
S
(22)
+0
Volpedo, Giuseppe Pellizza da (1868 - 1907)
S
(13)
+0
Watts, George Frederick (1817 - 1904)
S
(10)
+0
Weele, Herman Johannes van der (1852 - 1930)
S
(6)
+0
Whistler, James A. McNeill (1834 - 1903)
S
(113)
+0
Zahrtmann, Kristian (1843 - 1917)
S
(4)
+0
Zanetti, Giuseppe Miti (1859 - 1929)
S
(10)
+0
Zezzos, Alessandro (1848 - 1914)
S
(9)
+0
Zorn, Anders Leonard (1860 - 1920)
S
(61)
+0
Zuber, Jean Henri (1844 - 1909)
S
(2)
+0
Bartholomé, Albert (1848 - 1928)
S
Apr 1895 - Oct 1895
(8)
+0
Bazzaro, Ernesto (1859 - 1937)
S
(6)
+0
Benlliure y Gil, Mariano (1862 - 1947)
S
(6)
+0
Bernstamm, Léopold Bernard (1859 - 1939)
S
(2)
+0
Betta, Corrado (1870 - 1935)
S
(1)
+0
Bistolfi, Leonardo (1859 - 1933)
S
(7)
+0
Bortotti, Girolamo (1857 - 1925)
S
(3)
+0
Bottasso, Urbano (1868 - 1917)
S
(3)
+0
Busetti, Ferdinando (1866 - 1905)
S
(2)
+0
Canonica, Pietro (1869 - 1959)
S
(7)
+0
Carminati, Antonio (1859 - 1908)
S
(2)
+0
Civiletti, Benedetto (1845 - 1899)
S
(1)
+0
Frémiet, Emmanuel (1824 - 1910)
S
(4)
+0
Gabrici, Giacomo (1846 - 1904)
S
(2)
+0
Giudici, Primo (1852 - 1905)
S
(1)
+0
Jerace, Francesco (1853 - 1937)
S
(5)
+0
Jerace, Vincenzo L. (1862 - 1947)
S
(5)
+0
Lorenzetti, Carlo (1858 - 1945)
S
(5)
+0
Maltoni, Attilio (1862 - 1911)
S
(1)
+0
Marini, Luigi (*1857)
S
(1)
+0
Marsili, Emilio (1841 - 1926)
S
(7)
+0
Mayer, Giovanni (1863 - 1943)
S
(1)
+0
Mazzuchelli, Alfonso (*1867)
S
(1)
+0
Nono, Urbano (1849 - 1925)
S
(5)
+0
Panzeri, Luigi (1865 - 1939)
S
(2)
+0
Paoli, Luigi de (1857 - 1947)
S
(1)
+0
Pardo, Vito (1872 - 1936)
S
(1)
+0
Quadrelli, Emilio (1863 - 1925)
S
(2)
+0
Rajano, Gennaro
S
(1)
+0
Ramazzotti, Serafino (1846 - 1920)
S
(1)
+0
Roncoroni, Riccardo
S
(1)
+0
Rossi, Edoardo (1867 - 1926)
S
(3)
+0
Stappen, Pierre Charles van der (1843 - 1910)
S
(9)
+0
Stuck, Franz von (1863 - 1928)
S
(115)
+0
Tilgner, Viktor Oskar (1844 - 1896)
S
(4)
+0
Trentacoste, Domenico (1859 - 1933)
S
(7)
+0
Ugo, Antonio (1870 - 1950)
S
(4)
+0
Vigne, Paul de (1843 - 1901)
S
(3)
+0
Ximenes, Ettore (1855 - 1926)
S
(2)
+0
Bauer, Marius Alexander Jacques [Rusticus] (1867 - 1932)
S
Apr 1895 - Oct 1895
(14)
+0
Bosch, Etienne (1863 - 1933)
S
(7)
+0
Fles, Etha (1857 - 1948)
S
(2)
+0
Gravesande, Carel Nicolaas Storm van's (1841 - 1924)
S
(13)
+0
Haverman, Hendrik Johannes (1857 - 1928)
S
(12)
+0
Israëls, Jozef (1824 - 1911)
S
(48)
+0
Jong, Pieter de Josselin de (1861 - 1906)
S
(6)
+0
Karsen, Johann Eduard (1860 - 1941)
S
(5)
+0
Kop, Johanna Behrend-Croiset van der (1861 - 1943)
S
(1)
+0
Koster, Antonie Lodewijk (1859 - 1937)
S
(6)
+0
Maris, Jacob Hendricus (1837 - 1899)
S
(20)
+0
Maris, Matthijs (1839 - 1917)
S
(5)
+0
Mauve, Anthonij Rudolf (1838 - 1888)
S
(26)
+0
Mesdag, Hendrik Willem (1831 - 1915)
S
(20)
+0
Reicher, Albrecht Felix (1858 - 1938)
S
(3)
+0
Roggen, Joannes Mattheus Graadt van (1867 - 1959)
S
(5)
+0
Stark, Elias (1849 - 1933)
S
(2)
+0
Valk, Maurits Willem van der (1857 - 1935)
S
(3)
+0
Verster, Floris Hendrik (1861 - 1927)
S
(5)
+0
Veth, Jan Pieter (1864 - 1925)
S
(16)
+0
Vries, Henriëtte Susanna Cornelia de (1867 - 1942)
S
(2)
+0
Witsen, Willem Arnold (1860 - 1923)
S
(9)
+0
Zilcken, Charles Louis Philip (1857 - 1930)
S
(16)
+0