Non-Profit

| Central Art Collecting Point - Amerikahaus

Katharina-von-Bora-Straße 10
D - 8033 München - Germany Google Map
T.:
Web: Email:
https://www.artist-info.com/nonprofit/Central-Art-Collecting-Point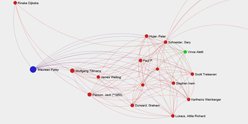 Interested in discovering more of this venue's networks?
3 easy steps: Register, buy a package for a visualization, select the exhibition place.
See examples how visualization looks like for an artist, a curator, or an exhibition place: Gallery, museum, non-profit place, or collector.

Exhibition History

SUMMARY

based on artist-info records. More details and Visualizing Art Networks on demand.
Venue types:

Gallery

/

Museum

/

Non-Profit

/

Collector

Exhibitions in artist-info
4 ( S 1/ G 3)

Shown Artists

- Top 5 of 134
(no. of shows) - all shows - Top 100

Artists in exhibitions
134
Curators in exhibitions
0
Linked to other venues through shown artists

1095: 472 / 322 / 285 / 16
artist-info records
Jun 1949 - Feb 1965

Curators -

Top 0 of 0 (no. of shows )

Linked through shown artists -

Top 5 of 1096 venues
Offers/Requests

Exhibition Announcement

Portfolio

S / G Solo/Group Exhibitions



(..) Exhibitions + Favorites

Rauschenberg, Robert (1925 - 2008)
S
Jan 1965 - Feb 1965
(667)
+0
Baumeister, Willi (1889 - 1955)
G
Jun 1951 - Jul 1951
(317)
+0
Berke, Hubert (1908 - 1979)
G
(64)
+0
Faßbender, Joseph (1903 - 1974)
G
(50)
+0
Fietz, Gerhard (1910 - 1997)
G
(56)
+0
Geiger, Rupprecht (1908 - 2009)
G
(176)
+0
Hartung, Hans (1904 - 1989)
G
(203)
+0
Hartung, Karl (1908 - 1967)
G
(83)
+0
Matschinsky-Denninghoff, Brigitte (1923 - 2011)
G
(41)
+0
Soulages, Pierre (*1919)
G
(116)
+0
Trier, Hann (1915 - 1999)
G
(117)
+0
Uhlmann, Hans (1900 - 1975)
G
(110)
+0
Werner, Theodor (1886 - 1969)
G
(67)
+0
Winter, Fritz (1905 - 1976)
G
(174)
+0
Ackermann, Max (1887 - 1975)
G
Apr 1950 - Apr 1950
(84)
+0
Barlach, Ernst (1870 - 1938)
G
(226)
+0
Baumeister, Willi (1889 - 1955)
G
(317)
+0
Cavaël, Rolf (1898 - 1979)
G
(83)
+0
Fathwinter, [Franz Alfred Theophil Winter] (1906 - 1974)
G
(19)
+0
Fietz, Gerhard (1910 - 1997)
G
(56)
+0
Fuchs, Erich (1916 - 1990)
G
(12)
+0
Geiger, Rupprecht (1908 - 2009)
G
(176)
+0
Hempel, Willy (1906 - 1985)
G
(8)
+0
Hildesheimer, Wolfgang (1916 - 1991)
G
(4)
+0
Imkamp, Wilhelm (1906 - 1990)
G
(19)
+0
Matschinsky-Denninghoff, Brigitte (1923 - 2011)
G
(41)
+0
Rebay, Hilla von (1890 - 1967)
G
(38)
+0
Sandig, Armin (1929 - 2015)
G
(24)
+0
Schott, Erwin (*1913)
G
(4)
+0
Spitzer-Brendel, Bettina (*1922)
G
(8)
+0
Thieler, Fred (1916 - 1999)
G
(110)
+0
Walot, Frederique
G
(2)
+0
Wildemann, Heinrich (1904 - 1964)
G
(21)
+0
Winter, Fritz (1905 - 1976)
G
(174)
+0
Ackermann, Max (1887 - 1975)
G
Jun 1949 - Jul 1949
(84)
+0
Bargheer, Eduard (1901 - 1979)
G
(76)
+0
Baum, Otto (1900 - 1977)
G
(15)
+0
Baumeister, Willi (1889 - 1955)
G
(317)
+0
Becker, Curth Georg (1904 - 1972)
G
(21)
+0
Becker, Walter (1893 - 1984)
G
(14)
+0
Beckmann, Max (1884 - 1950)
G
(523)
+1
Berke, Hubert (1908 - 1979)
G
(64)
+0
Berninger, Helmut (*1927)
G
(2)
+0
Bissier, Julius Heinrich (1893 - 1965)
G
(106)
+0
Blumenthal, Hermann (1905 - 1942)
G
(55)
+0
Bluth, Manfred (1926 - 2002)
G
(25)
+0
Camaro, Alexander [Alphons Bernhard Kamarofski] (1901 - 1992)
G
(44)
+0
Caspar, Karl (1879 - 1956)
G
(50)
+0
Caspar-Filser, Maria (1878 - 1968)
G
(49)
+0
Cavaël, Rolf (1898 - 1979)
G
(83)
+0
Coester, Oscar (1886 - 1955)
G
(19)
+0
Crodel, Charles (1894 - 1973)
G
(33)
+0
Dix, Otto (1891 - 1969)
G
(344)
+0
Fauser, Arthur (1911 - 1990)
G
(31)
+0
Faßbender, Joseph (1903 - 1974)
G
(50)
+0
Fietz, Gerhard (1910 - 1997)
G
(56)
+0
Fischer, Peter (1891 - 1964)
G
(3)
+0
Fritsch, Ernst (1892 - 1965)
G
(47)
+0
Fuhr, Franz Xaver (1898 - 1973)
G
(63)
+0
Geigenberger, Otto (1881 - 1946)
G
(12)
+0
Geiger, Rupprecht (1908 - 2009)
G
(176)
+0
Geyer, Wilhelm (1900 - 1968)
G
(5)
+0
Gilles, Werner (1894 - 1961)
G
(98)
+0
Gleichmann, Otto (1887 - 1963)
G
(45)
+0
Glette, Erich (1896 - 1980)
G
(8)
+0
Glette & Barthel, [Erich Glette & Thomas Barthel]
G
(1)
+0
Goller, Bruno (1901 - 1998)
G
(38)
+0
Grimm, Willem (1904 - 1986)
G
(28)
+0
Götz, K.O. [Karl Otto] (1914 - 2017)
G
(163)
+0
Hahn, Alfred (1886 - 1965)
G
(1)
+0
Harth, Philipp (1885 - 1968)
G
(30)
+0
Hartung, Karl (1908 - 1967)
G
(83)
+0
Hauth, Emil van (1899 - 1974)
G
(9)
+0
Heckel, Erich (1883 - 1970)
G
(351)
+0
Hegenbarth, Josef (1884 - 1962)
G
(65)
+0
Heiliger, Bernhard (1915 - 1995)
G
(92)
+0
Heldt, Werner (1904 - 1954)
G
(69)
+0
Hempel, Willy (1906 - 1985)
G
(8)
+0
Hiller, Anton (1893 - 1985)
G
(28)
+0
Hofer, Karl [Carl] (1878 - 1955)
G
(237)
+0
Houwald, Werner von (1901 - 1974)
G
(8)
+0
Huber, Josef Karl [JoKarl] (1902 - 1996)
G
(3)
+0
Imkamp, Wilhelm (1906 - 1990)
G
(19)
+0
Jaenisch, Hans (1907 - 1989)
G
(31)
+0
Kadow, Gerhard (1909 - 1981)
G
(8)
+0
Kalckreuth, Jo von (1912 - 1984)
G
(5)
+0
Kasper, Ludwig (1893 - 1945)
G
(24)
+0
Kaus, Max (1891 - 1977)
G
(59)
+0
Kerkovius, Ida (1879 - 1970)
G
(79)
+0
Kerschbaumer, Anton (1885 - 1931)
G
(36)
+0
Kirchner, Heinrich (1902 - 1984)
G
(24)
+0
Kleinschmidt, Karl (*1883)
G
(2)
+0
Kluth, Karl (1898 - 1972)
G
(25)
+0
Knappe, Karl (1884 - 1970)
G
(16)
+0
Kolbe, Georg (1877 - 1947)
G
(158)
+0
Kováts, Georg von (1912 - 1997)
G
(11)
+0
Krone, Horst (*1926)
G
(1)
+0
Kronenberg, Fritz (1901 - 1960)
G
(14)
+0
Krüger, Paul [Werner] (1911 - 1964)
G
(3)
+0
Kubin, Alfred (1877 - 1959)
G
(121)
+0
Kuhn, Hans (1905 - 1991)
G
(37)
+0
Kunz, Karl Lorenz (1905 - 1971)
G
(41)
+0
Lehmann, Kurt (1905 - 2000)
G
(33)
+0
Levedag, Fritz (1899 - 1951)
G
(11)
+0
Mahlau, Alfred (1894 - 1967)
G
(29)
+0
Marcks, Gerhard (1889 - 1981)
G
(176)
+0
Mataré, Ewald (1887 - 1965)
G
(110)
+0
Meistermann, Georg (1911 - 1990)
G
(74)
+0
Mettel, Hans (1903 - 1966)
G
(42)
+0
Meyboden, Hans (1901 - 1965)
G
(23)
+0
Nay, Ernst Wilhelm (1902 - 1968)
G
(250)
+0
Nesch, Rolf (1893 - 1975)
G
(69)
+0
Nolde, Emil (1867 - 1953)
G
(441)
+0
Oesterle, Leonhard (1915 - 2009)
G
(4)
+0
Ott, Richard (1908 - 1974)
G
(3)
+0
Pankok, Otto (1893 - 1966)
G
(50)
+0
Pechstein, Max (1881 - 1955)
G
(269)
+0
Richter, Hans Theo (1902 - 1969)
G
(28)
+0
Riester, Rudolf (1904 - 1999)
G
(13)
+0
Roeder, Emy (1890 - 1971)
G
(64)
+0
Scharff, Edwin (1887 - 1955)
G
(64)
+0
Scharl, Josef (1896 - 1954)
G
(54)
+0
Scheibe, Richard (1879 - 1964)
G
(45)
+0
Schlemmer, Oskar (1888 - 1943)
G
(229)
+0
Schmidt-Rottluff, Karl (1884 - 1976)
G
(364)
+0
Scholz, Werner (1898 - 1982)
G
(38)
+0
Schrieber, Ludwig Gabriel (1907 - 1973)
G
(25)
+0
Schrimpf, Georg (1889 - 1938)
G
(94)
+0
Schumacher, Ernst (1905 - 1963)
G
(28)
+0
Seitz, Gustav (1906 - 1969)
G
(60)
+0
Sintenis, Renée [Renate Alice] (1888 - 1965)
G
(97)
+0
Spangenberg, Herbert (1907 - 1984)
G
(10)
+0
Späth, Jakob Richard (*1906)
G
(5)
+0
Stadler, Toni (1888 - 1982)
G
(51)
+0
Stangl, Hans (1888 - 1963)
G
(9)
+0
Strecker, Paul (1898 - 1950)
G
(22)
+0
Stryk, Gory von (1907 - 1975)
G
(4)
+0
Teuber, Hermann (1894 - 1985)
G
(40)
+0
Thieler, Fred (1916 - 1999)
G
(110)
+0
Thiemann, Hans (1910 - 1977)
G
(24)
+0
Trier, Hann (1915 - 1999)
G
(117)
+0
Trökes, Heinz (1913 - 1997)
G
(96)
+0
Uhlmann, Hans (1900 - 1975)
G
(110)
+0
Weiers, Ernst (1909 - 1978)
G
(13)
+0
Weil, Ernst (1919 - 1981)
G
(30)
+0
Werner, Theodor (1886 - 1969)
G
(67)
+0
Westpfahl, Conrad (1891 - 1976)
G
(47)
+0
Wiegand, Gottfried (1926 - 2005)
G
(19)
+0
Wildemann, Heinrich (1904 - 1964)
G
(21)
+0
Wimmer, Hans (1907 - 1992)
G
(31)
+0
Winter, Fritz (1905 - 1976)
G
(174)
+0
Wrampe, Fritz (1893 - 1934)
G
(16)
+0
Zell, Otto (*1921)
G
(1)
+0
Zimmermann, Kurt (1910 - 1961)
G
(11)
+0
Zimmermann, Mac (1912 - 1995)
G
(41)
+0