Non-Profit

| Leipziger Kunstverein

Augustusplatz 8
D - 04109 Leipzig - Germany Google Map
T.:
Web: Email:
https://www.artist-info.com/nonprofit/Leipziger-Kunstverein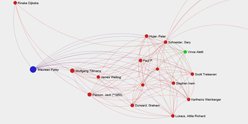 Interested in discovering more of this venue's networks?
3 easy steps: Register, buy a package for a visualization, select the exhibition place.
See examples how visualization looks like for an artist, a curator, or an exhibition place: Gallery, museum, non-profit place, or collector.

Exhibition History

SUMMARY

based on artist-info records. More details and Visualizing Art Networks on demand.
Venue types:

Gallery

/

Museum

/

Non-Profit

/

Collector

Exhibitions in artist-info
10 ( S 8/ G 2)

Shown Artists

- Top 5 of 206
(no. of shows) - all shows - Top 100

Artists in exhibitions
206
Curators in exhibitions
0
Linked to other venues through shown artists

456: 133 / 153 / 163 / 7
artist-info records
Dec 1901 - Mar 1936

Curators -

Top 0 of 0 (no. of shows )

Linked through shown artists -

Top 5 of 456 venues
Offers/Requests

Exhibition Announcement

Portfolio

S / G Solo/Group Exhibitions



(..) Exhibitions + Favorites

Abel, Adolf (1902 - 1945)
G
Mar 1936 - Mar 1936
(8)
+0
Amersdorffer, Heinrich (1905 - 1985)
G
(5)
+0
Baer, Otto
G
(1)
+0
Ball, Walter
G
(1)
+0
Bartelt, Otto
G
(3)
+0
Barth, Carl (1896 - 1976)
G
(16)
+0
Baum, Wilhelm Adolf (1891 - 1977)
G
(4)
+0
Beck, Curt Edu
G
(2)
+0
Beier, Ottohans (1892 - 1979)
G
(10)
+0
Bernstein, Walter
G
(1)
+0
Best, Jakob
G
(1)
+0
Bichl, Toni
G
(2)
+0
Bremer, Hans (1885 - 1959)
G
(8)
+0
Buchwald-Zinnwald, Erich (1884 - 1972)
G
(12)
+0
Buhe, Walter (1882 - 1958)
G
(7)
+0
Bullion, Irene von
G
(1)
+0
Burdensky, Gustav
G
(1)
+0
Buschmann, Arthur
G
(1)
+0
Böckstiegel, Peter August (1889 - 1951)
G
(49)
+0
Bönninghausen, Hans (*1906)
G
(1)
+0
Büttner, Erich (1889 - 1936)
G
(32)
+0
Coester, Otto (1902 - 1990)
G
(10)
+0
Consentius, Elisabeth (1878 - 1936)
G
(6)
+0
Deutsch, Meta (1891 - 1989)
G
(2)
+0
Diehl, Gottfried (1896 - 1956)
G
(18)
+0
Dolezich, Norbert (1906 - 1996)
G
(3)
+0
Doll, Franz (1899 - 1982)
G
(10)
+0
Dombrowsky, Ernst von (1896 - 1985)
G
(1)
+0
Döhler, Willi (1905 - 1973)
G
(4)
+0
Eckener, Alexander (1870 - 1944)
G
(11)
+0
Eitner, Ernst (1867 - 1955)
G
(20)
+0
Erbslöh, Adolf (1881 - 1947)
G
(56)
+0
Eschner, Max
G
(1)
+0
Fellinger, Wolfgang
G
(1)
+0
Feyerabend, Erich (1889 - 1943)
G
(10)
+0
Finsterer, Alfred (1908 - 1996)
G
(12)
+0
Fraass, Erich (1893 - 1974)
G
(13)
+0
Frank, Sepp (1889 - 1969)
G
(2)
+0
Franke, Hermann
G
(2)
+0
Freytag, Paul
G
(3)
+0
Friedrich, Alexander (1895 - 1968)
G
(3)
+0
Friß, Georg
G
(1)
+0
Gampp, Josua Leander von (1889 - 1969)
G
(3)
+0
Gebürsch, Teo (1899 - 1958)
G
(4)
+0
Geißler, Wilhelm [Willi] (1848 - 1928)
G
(8)
+0
Giese, Wilhelm (1883 - 1945)
G
(7)
+0
Gißinger, Peter
G
(1)
+0
Graul, Ernst
G
(1)
+0
Grimm-Sachsenberg, Richard (1873 - 1952)
G
(3)
+0
Großmann, Rudolf (1882 - 1941)
G
(67)
+0
Hacke, Rudolf (1881 - 1952)
G
(3)
+0
Haider, Ernst (1890 - 1988)
G
(3)
+0
Hartmann, Anton
G
(1)
+0
Hasse, Sella (1878 - 1963)
G
(16)
+0
Hedloff, Kurt (*1908)
G
(2)
+0
Hegenbarth, Josef (1884 - 1962)
G
(65)
+0
Heise, Wilhelm (1892 - 1965)
G
(24)
+0
Hennemann, Karl (1884 - 1972)
G
(9)
+0
Hennig, Karl Friedrich (1871 - 1959)
G
(2)
+0
Herrmann, Paul [Henri Héran] (1864 - 1946)
G
(14)
+0
Hiefe, Cäsilie
G
(1)
+0
Hoerschelmann, Rolf von (1885 - 1947)
G
(4)
+0
Horst-Schulze, Paul (1876 - 1937)
G
(9)
+0
Hotter, Ludwig Magnus (1892 - 1962)
G
(2)
+0
Héroux, Bruno (1868 - 1944)
G
(6)
+0
Hölscher, Theo (1895 - 1966)
G
(4)
+0
Jahn, Georg (1869 - 1941)
G
(12)
+0
Jansen, Franz Maria [Franz Lambert] (1885 - 1958)
G
(28)
+0
Johnsen, Günther
G
(1)
+0
Jüchter, Hans
G
(1)
+0
Kaus, Max (1891 - 1977)
G
(58)
+0
Kempe, Fritz (1909 - 1988)
G
(6)
+0
Kiwitz, Heinz (1910 - 1938)
G
(3)
+0
Kiwitz, Willy (1896 - 1978)
G
(4)
+0
Klemm, Walther (1883 - 1957)
G
(40)
+0
Klinkert, Walter (1901 - 1959)
G
(7)
+0
Klipstein, Felix (1880 - 1941)
G
(3)
+0
Klöckner, Walter (*1901)
G
(1)
+0
Kolb, Alois (1875 - 1942)
G
(10)
+0
Kraaz, Gerhart (1909 - 1971)
G
(6)
+0
Kraft, Otto (1900 - 1979)
G
(2)
+0
Kretzschmar, Bernhard (1889 - 1972)
G
(45)
+0
Krieg, Wilhelm
G
(1)
+0
Kubin, Alfred (1877 - 1959)
G
(118)
+0
Kälberer, Paul (1896 - 1974)
G
(3)
+0
Köck, Alfred
G
(1)
+0
Langeweyde, Georg Sluyterman von (1903 - 1978)
G
(3)
+0
Lebek, Johannes (1901 - 1985)
G
(1)
+0
Lerbs-Bernecker, Gertrud
G
(1)
+0
Liebing, Alfred (1864 - 1957)
G
(2)
+0
Lillfeström, Emmi von
G
(1)
+0
Linprun, Hans von (1907 - 1978)
G
(3)
+0
Lohmeyer, Walter
G
(1)
+0
Lutz, Joachim (1906 - 1954)
G
(5)
+0
Mahlau, Alfred (1894 - 1967)
G
(29)
+0
Mahr, Karl (1890 - 1945)
G
(2)
+0
Marxmüller, Anton (1898 - 1984)
G
(5)
+0
Mayrhofer-Passau, Hermann (1901 - 1976)
G
(7)
+0
Meier, Ruth
G
(2)
+0
Mertens, Rudolf
G
(1)
+0
Meseck, Felix (1883 - 1955)
G
(12)
+0
Midda, Anna-Gela Krug von
G
(1)
+0
Mäder, Kurt
G
(1)
+0
Müller, Bernhard (1880 - 1965)
G
(9)
+0
Müller, Ewlad
G
(1)
+0
Müller, Giob
G
(1)
+0
Müller, Hans Alexander (1888 - 1962)
G
(5)
+0
Nerud, Josef Karl (1900 - 1982)
G
(8)
+0
Nückel, Otto (1888 - 1956)
G
(5)
+0
Ockert, Erich (1889 - 1953)
G
(10)
+0
Orlowski, Hans Otto (1894 - 1967)
G
(16)
+0
Othegraven, Reinhard Pfaehler von (1875 - 1932)
G
(5)
+0
Paling, Richard (1901 - 1955)
G
(2)
+0
Pankok, Otto (1893 - 1966)
G
(49)
+0
Paulsen, Ingwer (1883 - 1943)
G
(6)
+0
Peschel, Hugo (1905 - 1980)
G
(4)
+0
Peschke, Rudolf (*1895)
G
(2)
+0
Pflaumer, Ernst
G
(1)
+0
Pieper, Josef (1907 - 1977)
G
(7)
+0
Pietschmann, Karl
G
(1)
+0
Poppen, Johannes (1893 - 1944)
G
(3)
+0
Preiss, Fritz (*1883)
G
(2)
+0
Quante, Otto (1875 - 1947)
G
(3)
+0
Quenzel, Georg
G
(3)
+0
Reder, Alfred
G
(1)
+0
Reifferscheid, Heinrich (1872 - 1945)
G
(25)
+0
Rhein, Rudi
G
(1)
+0
Richtel, Friedrich
G
(1)
+0
Richter, Fritz (1904 - 1981)
G
(5)
+0
Richter, Hans Theo (1902 - 1969)
G
(28)
+0
Riege, Rudolf (1892 - 1959)
G
(4)
+0
Rohland, Marianne Margarete (1897 - 1980)
G
(2)
+0
Romberg, Walter
G
(1)
+0
Rudolph, Wilhelm (1889 - 1982)
G
(32)
+0
Röhrs, Fritz
G
(1)
+0
Schaffer, Gustav Adolf (1881 - 1937)
G
(9)
+0
Schardt, Hermann (1912 - 1984)
G
(3)
+0
Scheele, Kurt (1905 - 1944)
G
(3)
+0
Scheidt, Werner vom (1894 - 1984)
G
(3)
+0
Scherer, Marie Luise
G
(1)
+0
Schiebel, Hermann
G
(1)
+0
Schinnerer, Adolph (1876 - 1949)
G
(27)
+0
Schmedes, Grete [Margarete] (1889 - 1985)
G
(3)
+0
Schorling, Adolf (1895 - 1973)
G
(6)
+0
Schott, G. W.
G
(1)
+0
Schreiber, Otto Andreas (1907 - 1978)
G
(5)
+0
Schröder, Anny (1898 - 1972)
G
(2)
+0
Schultheiss, Karl Max (1885 - 1961)
G
(3)
+0
Seeliger, Rudolf
G
(1)
+0
Seidl, Alois (1897 - 1970)
G
(5)
+0
Sinkwitz, Paul (1899 - 1981)
G
(5)
+0
Sommer-Peters, Hildegard
G
(1)
+0
Sperl, Lothar (1910 - 1987)
G
(4)
+0
Sperling, Erich
G
(1)
+0
Sprauer, Hermann (1905 - 1996)
G
(7)
+0
Staeger, Ferdinand (1880 - 1974)
G
(10)
+0
Stegemann, Heinrich (1888 - 1945)
G
(13)
+0
Steib, Josef (1898 - 1957)
G
(6)
+0
Stockmann, Walther Georg
G
(1)
+0
Strausfeld, Peter
G
(1)
+0
Tanck, Walter (1894 - 1954)
G
(14)
+0
Tekmann, Kurt
G
(1)
+0
Teuber, Hermann (1894 - 1985)
G
(38)
+0
Teutsch, Walther (1883 - 1964)
G
(13)
+0
Trumm, Peter (1888 - 1966)
G
(6)
+0
Trumm-Witzel, Hedwig (1881 - 1957)
G
(4)
+0
Tucholski, Herbert (1896 - 1984)
G
(13)
+0
Tyroller, Georg (1897 - 1945)
G
(2)
+0
Voigt, Elisabeth (1893 - 1977)
G
(11)
+0
Voigt, Richard Otto (1895 - 1971)
G
(5)
+0
Volkert, Konrad (1906 - 1999)
G
(4)
+0
Vollmar, Alfred (1893 - 1980)
G
(2)
+0
Weiß, Erwin (1899 - 1942)
G
(2)
+0
Weiß, Josef
G
(1)
+0
Wessel, Wilhelm (1904 - 1971)
G
(25)
+0
Wessel-Zumloh, Irmgart (1907 - 1980)
G
(10)
+0
Wild-Wall, Curt (1898 - 1990)
G
(2)
+0
Wildemann, Heinrich (1904 - 1964)
G
(21)
+0
Wilhelm, Hermann
G
(1)
+0
Wilke, Erich (1879 - 1936)
G
(2)
+0
Winckel, Richard (1870 - 1941)
G
(6)
+0
Winkler, Curt (1903 - 1974)
G
(3)
+0
Winkler, Eduard (1884 - 1978)
G
(4)
+0
Winkler, Fritz (1894 - 1964)
G
(15)
+0
Wolff, Anton
G
(1)
+0
Wolff, Heinrich (1875 - 1940)
G
(12)
+0
Wrage, Claus (1891 - 1984)
G
(5)
+0
Zaborsky-Wahlstätten, Oskar von
G
(1)
+0
Zethmeyer, Hanns (1891 - 1969)
G
(1)
+0
Ziegler, Philipp
G
(1)
+0
Zilken, Lorenz (1901 - 1991)
G
(2)
+0
Zill, Rudolf Gerhard (*1913)
G
(3)
+0
Zimbal, Hans (1889 - 1961)
G
(4)
+0
Zimmermann, Bodo (1902 - 1945)
G
(4)
+0
Zulkowski, Reinhold (1899 - 1966)
G
(1)
+0
Hauptmann, Ivo (1886 - 1973)
G
Nov 1922 - Dec 1922
(23)
+0
Jawlensky, Alexej von (1864 - 1941)
G
(245)
+0
Mathéy, Georg Alexander (1884 - 1968)
G
(14)
+0
Greiner, Otto (1869 - 1916)
S
Feb 1917 - Mar 1917
(37)
+0
Liebermann, Max (1847 - 1935)
S
Oct 1907 - Nov 1907
(295)
+0
Klinger, Max (1857 - 1920)
S
Feb 1907 - Feb 1907
(110)
+0
Kuehl, Gotthardt Johann (1850 - 1915)
S
Oct 1905 - Oct 1905
(56)
+0
Baum, Paul (1859 - 1932)
S
Sep 1905 - Sep 1905
(63)
+0