Gallery

| Galerie Ernst Arnold - Wrocław

Plac Tadeusza Kościuszki 1 (Tauentzienplatz)
PL - 50-024 Wrocław (Breslau) - Poland Google Map
T.:
Web: Email:
https://www.artist-info.com/gallery/Galerie-Ernst-Arnold-Wroclaw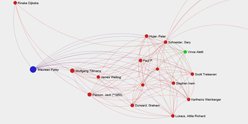 Interested in discovering more of this venue's networks?
3 easy steps: Register, buy a package for a visualization, select the exhibition place.
See examples how visualization looks like for an artist, a curator, or an exhibition place: Gallery, museum, non-profit place, or collector.

Exhibition History

SUMMARY

based on artist-info records. More details and Visualizing Art Networks on demand.
Venue types:

Gallery

/

Museum

/

Non-Profit

/

Collector

Exhibitions in artist-info
10 ( S 3/ G 7)

Shown Artists

- Top 5 of 202
(no. of shows) - all shows - Top 100

Artists in exhibitions
202
Curators in exhibitions
0
Linked to other venues through shown artists

1015: 403 / 326 / 278 / 8
artist-info records
Mar 1912 - May 1919

Curators -

Top 0 of 0 (no. of shows )

Linked through shown artists -

Top 5 of 1015 venues
Offers/Requests

Exhibition Announcement

Portfolio

S / G Solo/Group Exhibitions



(..) Exhibitions + Favorites

Arnold, Christian (1889 - 1960)
G
May 1919 - May 1919
(9)
+0
Berend-Corinth, Charlotte (1880 - 1967)
G
(31)
+0
Boehle, Fritz (1873 - 1916)
G
(31)
+0
Burger, Ludwig (1825 - 1884)
G
(3)
+0
Busch, Wilhelm (1832 - 1908)
G
(17)
+0
Böckstiegel, Peter August (1889 - 1951)
G
(50)
+0
Conz, Walter (1872 - 1947)
G
(22)
+0
Corinth, Lovis (1858 - 1925)
G
(303)
+0
Diez, Wilhelm von (1839 - 1907)
G
(27)
+0
Dreber [Franz Dreber], Karl Heinrich (1822 - 1875)
G
(10)
+0
Dreher, Richard (1875 - 1932)
G
(18)
+0
Engel, Otto Heinrich (1866 - 1949)
G
(31)
+0
Erler, Fritz (1868 - 1940)
G
(31)
+0
Fischer, Otto (1870 - 1947)
G
(37)
+0
Friedrich, Caspar David (1774 - 1840)
G
(22)
+0
Fröhlich, Ernst (1810 - 1882)
G
(3)
+0
Geiger, Willi (1878 - 1971)
G
(32)
+0
Goebel, Hermann (1885 - 1945)
G
(16)
+0
Greiner, Otto (1869 - 1916)
G
(37)
+0
Grethe, Carlos (1864 - 1913)
G
(32)
+0
Hettner, Hermann Otto (1875 - 1931)
G
(23)
+0
Hodler, Ferdinand (1853 - 1918)
G
(162)
+1
Hofer, Karl [Carl] (1878 - 1955)
G
(241)
+0
Hoffmann, Alexander (*1878)
G
(9)
+0
Hofmann, Ludwig von (1861 - 1945)
G
(94)
+0
Hübner, Ulrich (1872 - 1932)
G
(102)
+0
Klinger, Max (1857 - 1920)
G
(117)
+0
Klossowski, Erich (1875 - 1949)
G
(11)
+0
Kollwitz, Käthe (1867 - 1945)
G
(245)
+0
Kröner, Karl (1887 - 1972)
G
(15)
+0
Lange, Otto [Ottolange] (1879 - 1944)
G
(47)
+0
Leibl, Wilhelm (1844 - 1900)
G
(84)
+0
Liebermann, Max (1847 - 1935)
G
(304)
+0
Lier, Adolf Heinrich (1826 - 1882)
G
(25)
+0
Marées, Hans von (1837 - 1887)
G
(48)
+0
Mayrshofer, Max (1875 - 1950)
G
(10)
+0
Meid, Hans (1883 - 1957)
G
(44)
+0
Menzel, Adolph von (1815 - 1905)
G
(102)
+0
Mitschke-Collande, Constantin von (1884 - 1956)
G
(27)
+0
Mueller, Otto (1874 - 1930)
G
(181)
+0
Müller, Richard (1874 - 1954)
G
(40)
+0
Olivier, Woldemar Friedrich von (1791 - 1859)
G
(4)
+0
Paeschke, Paul (1875 - 1943)
G
(30)
+0
Preller, Friedrich Johann Christian (1804 - 1878)
G
(10)
+0
Richter, Adrian Ludwig (1803 - 1884)
G
(16)
+0
Ritter, Wilhelm Georg (1850 - 1926)
G
(18)
+0
Schneider, Sascha (1870 - 1927)
G
(17)
+0
Scholtz, Julius (1825 - 1893)
G
(8)
+0
Schubert, Otto (1892 - 1970)
G
(26)
+0
Schwind, Moritz von (1804 - 1871)
G
(26)
+0
Slevogt, Max (1868 - 1932)
G
(184)
+0
Spitzweg, Carl (1808 - 1885)
G
(49)
+0
Steinhausen, Wilhelm (1846 - 1924)
G
(29)
+0
Sterl, Robert Hermann (1867 - 1932)
G
(44)
+0
Stuck, Franz von (1863 - 1928)
G
(115)
+0
Thoma, Hans (1839 - 1924)
G
(155)
+0
Trübner, Wilhelm (1851 - 1917)
G
(142)
+0
Walser, Karl (1877 - 1943)
G
(38)
+0
Weinzheimer, Friedrich August (1882 - 1947)
G
(12)
+0
Weisgerber, Albert (1878 - 1915)
G
(46)
+0
Wenban, Sion Longley (1848 - 1897)
G
(10)
+0
Westphal, Otto (1878 - 1975)
G
(10)
+0
Böcklin, Arnold (1827 - 1901)
G
Apr 1917 - May 1917
(87)
+0
Hagn, Ludwig von (1820 - 1898)
G
(7)
+0
Hengeler, Adolf (1863 - 1927)
G
(33)
+0
Keller, Albert von (1844 - 1920)
G
(30)
+0
Liebermann, Max (1847 - 1935)
G
(304)
+0
Marées, Hans von (1837 - 1887)
G
(48)
+0
Schuch, Carl (1846 - 1903)
G
(40)
+0
Slevogt, Max (1868 - 1932)
G
(184)
+0
Sperl, Johann (1840 - 1914)
G
(30)
+0
Thoma, Hans (1839 - 1924)
G
(155)
+0
Trübner, Wilhelm (1851 - 1917)
G
(142)
+0
Boehle, Fritz (1873 - 1916)
G
Feb 1917 - Feb 1917
(31)
+0
Corinth, Lovis (1858 - 1925)
G
(303)
+0
Greiner, Otto (1869 - 1916)
G
(37)
+0
Halm, Peter (1854 - 1923)
G
(13)
+0
Klinger, Max (1857 - 1920)
G
(117)
+0
Meid, Hans (1883 - 1957)
G
(44)
+0
Menzel, Adolph von (1815 - 1905)
G
(102)
+0
Rath, Heine (1873 - 1920)
G
(19)
+0
Thoma, Hans (1839 - 1924)
G
(155)
+0
Albrecht-Königsberg, Carl (1826 - 1926)
G
Mar 1916 - Apr 1916
(1)
+0
Alt, Theodor (1846 - 1937)
G
(17)
+0
Conz, Walter (1872 - 1947)
G
(22)
+0
Corinth, Lovis (1858 - 1925)
G
(303)
+0
Feuerbach, Anselm (1829 - 1880)
G
(39)
+0
Grimm, Walter Otto (1894 - 1919)
G
(2)
+0
Hoff, Carl Heinrich (1838 - 1890)
G
(5)
+0
Kampf, Arthur von (1864 - 1950)
G
(35)
+0
Keller, Albert von (1844 - 1920)
G
(30)
+0
Kuehl, Gotthardt Johann (1850 - 1915)
G
(58)
+0
Leibl, Wilhelm (1844 - 1900)
G
(84)
+0
Liebermann, Max (1847 - 1935)
G
(304)
+0
Marées, Hans von (1837 - 1887)
G
(48)
+0
Mense, Carlo [Otto Marto] (1886 - 1965)
G
(68)
+0
Müller, Victor (1830 - 1871)
G
(14)
+0
Pascin, Jules [Julius Mordecai] (1885 - 1930)
G
(135)
+0
Scholderer, Otto (1834 - 1902)
G
(13)
+0
Schuch, Carl (1846 - 1903)
G
(40)
+0
Slevogt, Max (1868 - 1932)
G
(184)
+0
Sperl, Johann (1840 - 1914)
G
(30)
+0
Spitzweg, Carl (1808 - 1885)
G
(49)
+0
Sturzenegger, Hans (1875 - 1943)
G
(17)
+0
Thoma, Hans (1839 - 1924)
G
(155)
+0
Trübner, Wilhelm (1851 - 1917)
G
(142)
+0
Uhde, Fritz von (1848 - 1911)
G
(77)
+0
Zügel, Heinrich Johann von (1850 - 1941)
G
(52)
+0
Albrecht, Carl (1862 - 1926)
G
Nov 1913 - Dec 1913
(18)
+0
Bachmann, Alfred 'Alf' (1863 - 1956)
G
(12)
+0
Bantzer, Carl Ludwig Noah (1857 - 1941)
G
(25)
+0
Baum, Paul (1859 - 1932)
G
(64)
+0
Bauriedl, Otto (1881 - 1961)
G
(15)
+0
Bergmann, Julius Hugo (1861 - 1940)
G
(15)
+0
Berndt, Siegfried (1880 - 1946)
G
(10)
+0
Blanke, Wilhelm (1873 - 1936)
G
(5)
+0
Bock, Ludwig (1886 - 1971)
G
(12)
+0
Boss, Eduard (1873 - 1958)
G
(12)
+0
Buchwald-Zinnwald, Erich (1884 - 1972)
G
(12)
+0
Büttner, Erich (1889 - 1936)
G
(33)
+0
Cassiers, Henry (1858 - 1944)
G
(5)
+0
Christoph, Walter
G
(1)
+0
Claus, Martin
G
(3)
+0
Corinth, Lovis (1858 - 1925)
G
(303)
+0
Corot, Jean-Baptiste Camille (1796 - 1875)
G
(126)
+0
Cylkow, Louis (1877 - 1934)
G
(1)
+0
Defregger, Franz von (1835 - 1921)
G
(48)
+0
Delacroix, Eugène (1798 - 1863)
G
(93)
+0
Desclabissac, Felice (1876 - 1938)
G
(1)
+0
Dietze, Ernst Richard (1880 - 1961)
G
(20)
+0
Dill, Ludwig (1848 - 1940)
G
(44)
+0
Dorsch, Ferdinand (1875 - 1938)
G
(19)
+0
Doucet, Henri Lucien (1883 - 1915)
G
(9)
+0
Dreher, Richard (1875 - 1932)
G
(18)
+0
Dreßler, Hans (1869 - 1943)
G
(2)
+0
Egger-Lienz, Albin (1868 - 1926)
G
(17)
+0
Engel, Otto Heinrich (1866 - 1949)
G
(31)
+0
Faltin, Margarete (*1865)
G
(3)
+0
Feuerbach, Anselm (1829 - 1880)
G
(39)
+0
Fischer, Otto (1870 - 1947)
G
(37)
+0
Forain, Jean-Louis (1852 - 1931)
G
(48)
+0
Geiger, Willi (1878 - 1971)
G
(32)
+0
Giacometti, Augusto (1877 - 1947)
G
(56)
+0
Giese, Marie Elisabeth (1874 - 1950)
G
(2)
+0
Gißmann, Adolf
G
(1)
+0
Goebel, Hermann (1885 - 1945)
G
(16)
+0
Grethe, Carlos (1864 - 1913)
G
(32)
+0
Haug, Robert von (1857 - 1922)
G
(23)
+0
Heckendorf, Franz (1888 - 1962)
G
(40)
+0
Herrmann, Hans (1858 - 1942)
G
(31)
+0
Hofmann, Ludwig von (1861 - 1945)
G
(94)
+0
Jaeckel, Willi (1888 - 1944)
G
(51)
+0
Jansen, Franz Maria [Franz Lambert] (1885 - 1958)
G
(28)
+0
Kardorff, Konrad von (1877 - 1945)
G
(55)
+0
Karny, Fides (1886 - 1934)
G
(2)
+0
Kate, Johannes Marius ten (1859 - 1896)
G
(3)
+0
Kessler, Carl (1876 - 1968)
G
(4)
+0
Kiekebusch, Hermann (*1857)
G
(1)
+0
Kiene-Naton, Fränze
G
(1)
+0
Kirchner, Eugen (1865 - 1938)
G
(20)
+0
Klemm, Walther (1883 - 1957)
G
(40)
+0
Kley, Heinrich (1863 - 1945)
G
(9)
+0
Klimt, Gustav (1862 - 1918)
G
(79)
+0
Klinger, Max (1857 - 1920)
G
(117)
+0
Klossowski, Erich (1875 - 1949)
G
(11)
+0
Langhammer, Carl (1868 - 1943)
G
(22)
+0
Larsson, Carl Olof (1853 - 1919)
G
(26)
+0
Leistikow, Walter (1865 - 1908)
G
(109)
+0
Lichtenberger, A.
G
(1)
+0
Liebermann, Max (1847 - 1935)
G
(304)
+0
Liesegang, Helmuth (1858 - 1945)
G
(12)
+0
Link, Wilhelm (1877 - 1959)
G
(2)
+0
Macholz, Margarete (1874 - 1965)
G
(2)
+0
Macke, August (1887 - 1914)
G
(208)
+0
Mackowsky, Siegfried (1878 - 1941)
G
(11)
+0
Manet, Édouard (1832 - 1883)
G
(181)
+0
Marées, Hans von (1837 - 1887)
G
(48)
+0
Mayrshofer, Max (1875 - 1950)
G
(10)
+0
Meyer-Buchwald, Gustav (1881 - 1918)
G
(6)
+0
Mühlig, Hugo (1854 - 1929)
G
(10)
+0
Naumann, Fritz
G
(1)
+0
Nickisch, Alfred (1872 - 1948)
G
(1)
+0
Nägele, Reinhold (1884 - 1972)
G
(24)
+0
Oberländer, Adam Adolf (1845 - 1923)
G
(27)
+0
Oberländer, Alfred
G
(1)
+0
Oppler, Ernst (1867 - 1929)
G
(48)
+0
Orlík, Emil (1870 - 1932)
G
(76)
+0
Paeschke, Paul (1875 - 1943)
G
(30)
+0
Partikel, Alfred (1888 - 1945)
G
(27)
+0
Paul, Johannes
G
(1)
+0
Pechstein, Max (1881 - 1955)
G
(272)
+0
Pellar, Hanns (1886 - 1971)
G
(3)
+0
Pellegrini, Alfred Heinrich (1881 - 1958)
G
(45)
+0
Pfeil, Georg (1891 - 1915)
G
(1)
+0
Picasso, Pablo (1881 - 1973)
G
(1258)
+0
Püttner, Walther (1871 - 1953)
G
(23)
+0
Rettig, Heinrich (1859 - 1921)
G
(3)
+0
Rimann, Carl (1870 - 1947)
G
(1)
+0
Ritter, Wilhelm Georg (1850 - 1926)
G
(18)
+0
Rodin, Auguste (1840 - 1917)
G
(189)
+0
Rollins [Rollius], Charlotte
G
(9)
+0
Rosen, C. von
G
(1)
+0
Sandrock, Leonhard (1867 - 1945)
G
(15)
+0
Schaffelhuber, Thomas (1880 - 1957)
G
(1)
+0
Schiller, Friedrich (1895 - 1960)
G
(2)
+0
Schubert, Hanns (1887 - 1963)
G
(3)
+0
Schönleber, Gustav (1851 - 1917)
G
(35)
+0
Seiler, Carl (1846 - 1921)
G
(29)
+0
Seyler, Julius (1873 - 1955)
G
(18)
+0
Sieck, Rudolf (1877 - 1957)
G
(15)
+0
Spiro, Eugen (1874 - 1972)
G
(41)
+0
Sterl, Robert Hermann (1867 - 1932)
G
(44)
+0
Stern, Max (1872 - 1943)
G
(10)
+0
Strang, William (1859 - 1921)
G
(25)
+0
Stuck, Franz von (1863 - 1928)
G
(115)
+0
Suhrlandt, Rudolph Friedrich Karl (1781 - 1862)
G
(5)
+0
Toulouse-Lautrec, Henri de (1864 - 1901)
G
(199)
+0
Tüpke-Grande, Helene (1871 - 1946)
G
(3)
+0
Ufer, Johannes Paul (1874 - 1958)
G
(4)
+0
Volkmann, Hans Richard von (1860 - 1927)
G
(39)
+0
Weinzheimer, Friedrich August (1882 - 1947)
G
(12)
+0
Weisgerber, Albert (1878 - 1915)
G
(46)
+0
Wickenburg, Alfred von (1885 - 1978)
G
(8)
+0
Danzer, Ludwig
G
May 1913 - May 1913
(1)
+0
Howard, Wil [Wilhelm Rudof Hermann] [Tobie Flip] [Wil de Vray ] (1879 - 1945)
G
(8)
+0
Kuehl, Gotthardt Johann (1850 - 1915)
S
Mar 1913 - Mar 1913
(58)
+0