Artist

| Michael Price (*1951)
https://www.artist-info.com/artist/Michael-Price
Artist Portfolio Catalog
Image
Artist
Title
Year
Material
Measurement

Michael Price
Eve
2003
Chinese ink, natural and mineral...
216 x 97 cm / 85 x 38.2 ins

Michael Price (*1951)

Eve

| | |
| --- | --- |
| Year | 2003 |
| Technique | Chinese ink, natural and mineral pigments in tempera and oil on linen glued to a wooden panel |
| Measurement | 216 x 97 cm / 85 x 38.2 ins (H x W x D) |
| Copyright | Michael Price |
| Courtesy | |
| Description | |
| Sort No. | 0 |
| Modified | 2003-04-07 20:40:44 |
| Image file | 5483.jpg |

Michael Price
Suite Provencale No. 1, Lydia an...
2003
Chinese ink, natural and mineral...
75 x 152.5 cm / 29.5 x 60 ins

Michael Price (*1951)

Suite Provencale No. 1, Lydia and Orpede le Vieux

| | |
| --- | --- |
| Year | 2003 |
| Technique | Chinese ink, natural and mineral pigments in tempera and oil on linen glued to a wooden panel |
| Measurement | 75 x 152.5 cm / 29.5 x 60 ins (H x W x D) |
| Copyright | Michael Price |
| Courtesy | |
| Description | |
| Sort No. | 0 |
| Modified | 2003-04-07 20:41:47 |
| Image file | 5484.jpg |

Michael Price
Suite Provencale No. 2, Claire a...
2003
Chinese ink, natural and mineral...
75 x 158 cm / 29.5 x 62.2 ins

Michael Price (*1951)

Suite Provencale No. 2, Claire and Mont Sainte-Victoire

| | |
| --- | --- |
| Year | 2003 |
| Technique | Chinese ink, natural and mineral pigments in tempera and oil on linen glued to a wooden panel |
| Measurement | 75 x 158 cm / 29.5 x 62.2 ins (H x W x D) |
| Copyright | Michael Price |
| Courtesy | |
| Description | |
| Sort No. | 0 |
| Modified | 2003-04-07 20:42:51 |
| Image file | 5485.jpg |

Michael Price
Venus of the Heavens
2002
Chinese ink, natural and mineral...
60 x 85 cm / 23.5 x 33.4 ins

Michael Price (*1951)

Venus of the Heavens

| | |
| --- | --- |
| Year | 2002 |
| Technique | Chinese ink, natural and mineral pigments in tempera and oil on linen glued to a wooden panel |
| Measurement | 60 x 85 cm / 23.5 x 33.4 ins (H x W x D) |
| Copyright | Michael Price |
| Courtesy | |
| Description | |
| Sort No. | 0 |
| Modified | 2003-04-07 20:44:05 |
| Image file | 5486.jpg |
Biography
Biography
1951   Born, Stoke-on-Trent, England
Since 1999   Permanent Residence in New York
1977-1999   Resident in Munich, Germany
1994-1995   6 month residence in Austin, Texas, and visit to South Korea
1991-1992   Regular working visits to the Provence, France
1976-1977   Resident in Rotterdam, Holland

Education
Education
1971-1974:   .    London Central School of Art and Design, B.A. with honours
1969-1971:      Stoke-on-Trent College of Art; Pre-degree Foundation Course

One Person Exhibitions
One Person Exhibitions
2015:    Walter Wickiser Gallery, New York. Catalogue
2010:	Alfa Art Gallery, New Brunswick, New Jersey.
2009:	Walter Wickiser Gallery, New York. Catalogue
2005:	Henry Gregg Gallery, Brooklyn, New York
	        FGS Gallery, Englewood, New Jersey
2003:	David Findlay Galleries, New York 
2002   Post Gallery, Houston, Texas
2001   DUMBO Open Studios, New York
2000   Post Gallery, Houston, TexasDUMBO Open Studios, New York
1998   Galerie Poller, Frankfurt am Main, Germany [Catalogue]
1997   Post Gallery, Houston, Texas
1996   Post Gallery, Houston, Texas
1994   Atelier, Munich, Germany
1989   Galerie Poller, Frankfurt am Main, Germany
1989   Galerie am Theaterplatz, Erlangen, Germany
1988   Galerie Friedrich, Cologne, Germany [Catalogue]
1985   Galerie von Braunbehrens, Munich [Catalogue]

Group Exhibitions (selection)
Group Exhibitions (selection)
2013:   Scheduled for October: Walter Wickiser Gallery, New York (four person show titled 	"Figure Variations", Catalogue)
2011:	Alfa Art Gallery, New Brunswick, New Jersey
2010:	Walter Wickiser Gallery, New York Catalogue
	Henry Gregg Gallery, Brooklyn, New York
	Alfa Art Gallery, New Brunswick, New Jersey Catalogue
2009:	Toronto International Art Fair (Walter Wickiser Gallery)
2008:	Walter Wickiser Gallery, New York (four person, "Just the Figure")
	        Henry Gregg Gallery, New York
2005:	Post Gallery, Houston, Texas, (four person)
2001   Organization of Independent Artists, New York
1996   'Paros', Paron, France. (3 painters & 1 sculptor) [Catalogue
1996   '18th Hollfelder Sommeraustellung', Bayreuth, Germany
1993   'Six International Artists', Montague Art Galleries Inc., New York
1991   Galerie Friedrich, Cologne
1990   Galerie Friedrich, 'Lineart'
1989   Galerie Friedrich, Cologne
1988   'Art Cologne', Galerie von Braunbehrens
1985   'Art Cologne', Galerie von Braunbehrens
1984   'Kunst Salon', Haus der Kunst (Museum of Modern Art), Munich [Catalogue]
1983   'Kunst Salon', Haus der Kunst, Munich [Catalogue]
1982   Galerie von Braunbehrens, Munich
1981   'Trends 81', Mall Galleries, London
1981   'Drawing Show', Loggia Gallery, London
1981   'Kunst Salon', Haus der Kunst, Munich [Catalogue]
1981   Galerie von Braunbehrens, Munich
1974   'London Diploma Show', Whitechapel Art Gallery, London

Reviews (selection)
Reviews (selection)
2001   Interview by PBS TV, Houston
1996   'Région sénonaise', France
1988   'Handelsblatt', Germany
1986   'Stadtillustrierte Nürnberg, Furth, Erlangen', Germany
1985   'Süddeutscher Zeitung' & 'Abend Zeitung', Munich
1983   'Abend Zeitung', Munich, Germany
1982   'Süddeutscher Zeitung', Germany.

Publications
Publications
2000   "Leonardo"; Journal of the International Society for the Arts, Sciences and Technology, M.I.T. press. Title: 'A Renaissance of Colour, Particle Separation and Preparation of Azurite for Use in Oil Painting. (Issue 33/4).
Lectures
Lectures
Mineral Pigment Preparation for Use in an Oil Binding Medium
2002   Houston Museum of Fine Art, Houston, Texas
2001   'Painter's Forum', New York. A quarterly symposium on archival materials and techniques
1999   New York Art Academy, NY CityMunich Academy of Art, Germany
1996   School of Fine Art, University of Texas, Austin, Texas A Comparison of the Natural and Mineral Pigments of Renaissance Art and the Synthetic Pigments of the 20th Century.

Collaboration with Institutions and Companies
Collaboration with Institutions and Companies
2002   Dr. C. McGlinchey, MOMA, New York, USA:a. Analysis of the purity of my newly developed method for the extraction of lazurite from lapis lazuli.b. Advanced ageing tests of selected prepared and unprepared pigments
Since 2001   Mr. D. Fels, Alchemist Paints and Varnishes:a. Tests with drying oils, essential oils and varnishes on prepared natural and mineral pigments.b. Joint collaboration to produce historical lead white
Since 1998   Kremer Pigments, Aichstetten, Germany:Adaptation of my methods of pigment preparation for the production of "Azurite MP".
1998   Dr. R. Treichler, Siemens AG, Munich, Germany:SEM-imaging of azurite particles.
1998   Mr. H. Lezec, Micrion Corporation, Peabody, USA:FIB-imaging of azurite particles.
1989-1990   Dr. A. Burmester, Doerner-Institute, Munich, Germany: Examination of evidence of applied geometrical methods revealed from the infra-red spectrographic analysis of a Tintoretto painting, the Bamberg "Assumption of the Virgin Mary".

Teaching and Instruction
Teaching and Instruction
Since 2001   Monthly workshops in New York:The properties and preparation of natural and mineral pigments and their application in oil binding mediums.
llustrations, Writing and Poetry
llustrations, Writing and Poetry
1992   Illustrations published in the English Literary Journal 'Iron'
1981-1982   Articles on art for the German magazine 'Anglo American Spotlight'
1975   Poetry selected and read at the 'City of Westminster (London) Literary Festival'

Private Collections
Private Collections
PMD Group , Coventry (Precious Metals Group), UK
Willis Corroon, Birmingham (International Risk Management), UK
Topic Verlag, Munich, Germany
HP-Medica, Augsburg, Germany
Sommerhuber Ceramic Tiles, Steyr, Austria

Renaissance Mysteries - Book on lost painting tradition
Renaissance Mysteries - Book on lost painting tradition
RENAISSANCE MYSTERIES, Volume I & Volume II
The two volumes are an in-depth examination of a lost painting tradition.  The books examine how the physical properties of natural and mineral pigments such as azurite, lapis lazuli, malachite, or cinnabar used by artists of the European Renaissance shaped a painting process in which each painting required a thorough plan or composition which began with the geometry of the format (i.e. the proportion of height to width of a rectangle).

Renaissance Mysteries - BLOG

ISBN: 9780692815748; 0692815740; 9780692815755; 0692815759
OCLC: 1007541992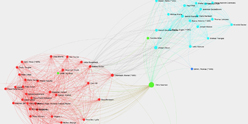 Interested in discovering more of this artist's networks?
3 easy steps: Register, buy a package for a visualization, select the artist.
See examples how visualization looks like for an artist, a curator, or an exhibition place: Gallery, museum, non-profit place, or collector.

Exhibition History

SUMMARY

based on artist-info records. More details and Visualizing Art Networks on demand.
Venue types:

Gallery

/

Museum

/

Non-Profit

/

Collector

Exhibitions in artist-info
14 (S 10/ G 4)

Did show together with

- Top 5 of 12 artists
(no. of shows) - all shows - Top 100

Exhibitions by type

14: 13 / 0 / 1 / 0
Venues by type

7: 6 / 0 / 1 / 0
Curators
0
artist-info records
Jan 1989 - Feb 2018

Countries

- Top 2 of 2
United States (12)
Germany (2)


Cities

- Top 5 of 5
New York (7)
Houston (3)
Frankfurt am Main (2)
Batavia (1)
New Brunswick (1)


Venues

(no. of shows ) Top 5 of 7
| | | |
| --- | --- | --- |
| | | Curators (no. of shows) Top 0 of 0 |
Insight Basic

Display the full interactive exhibition history and all related artist, exhibition venue, and curator pages for your research. The SUMMARY above shows today's available scope.
Insight Basic 10 Days USD 378 / EUR 394

Insight Basic 1 Day USD 42 / EUR 44

To use Insight Basic or Insight Analytics
Sign-up for free first
Insight Analytics
Use Analytics tools for more insight based on documented exhibitions. More details on your RESEARCH user page.
(Includes Inisght Basic)
COMING SOON