Artist

| Anthony White (*1976)
https://www.artist-info.com/artist/Anthony-White
Artist Portfolio Catalog
Image
Artist
Title
Year
Material
Measurement

Anthony White
The Ayes have it
2019
Huile et ripolin sur toile
51 x 51 cm

Anthony White (*1976)

The Ayes have it

| | |
| --- | --- |
| Year | 2019 |
| Technique | Huile et ripolin sur toile |
| Measurement | 51 x 51 cm (H x W x D) |
| Copyright | Anthony White |
| Courtesy | Anthony White |
| Description | |
| Sort No. | 1 |
| Modified | |
| Image file | 6445.jpg |

Anthony White
Enclave
2015
Oil on french linen
150 x 120x 7 cm

Anthony White (*1976)

Enclave

| | |
| --- | --- |
| Year | 2015 |
| Technique | Oil on french linen |
| Measurement | 150 x 120x 7 cm (H x W x D) |
| Copyright | Anthony White |
| Courtesy | |
| Description | This work was featured in the solo exhibition As The Sleeper Wakes at Metro gallery Melbourne May 2016 |
| Sort No. | 5 |
| Modified | 2019-04-18 22:32:45 |
| Image file | 6348.jpg |

Anthony White
Untitled IX
2008
Oil on canvas
51x51 x4

Anthony White (*1976)

Untitled IX

| | |
| --- | --- |
| Year | 2008 |
| Technique | Oil on canvas |
| Measurement | 51x51 x4 (H x W x D) |
| Copyright | The artist |
| Courtesy | The artist |
| Description | This work is currently held in Paris |
| Sort No. | 6 |
| Modified | 2019-04-18 22:32:34 |
| Image file | 5986.jpg |

Anthony White
Untitled II
2008
Oil on canvas
51x51 x4

Anthony White (*1976)

Untitled II

| | |
| --- | --- |
| Year | 2008 |
| Technique | Oil on canvas |
| Measurement | 51x51 x4 (H x W x D) |
| Copyright | The artist |
| Courtesy | The artist |
| Description | |
| Sort No. | 7 |
| Modified | 2019-04-18 22:32:09 |
| Image file | 5989.jpg |
Anthony White Resume
Anthony White Resume
ANTHONY WHITE


1976 	Born Sydney, Australia

Education
2007 	The New York Studio School Marathon Program, Greenwich Village, New York (with Graeme Nickson) 
2007 	The New York Studio School Marathon Program, Arbor Vitae Long Island, New York
2007 	The New York Studio School Marathon Program, Governor's Island, Lower Manhattan, New York
2003  	Bachelor of Fine Art, The National Art School, Sydney (with Aida Tomescu)
2002 	Diploma of Painting SCA, Sydney Australia (with Richard Van Der Aa)

Selected Solo Exhibitions
2018 	Anthony Whilte, Signs of Civilisation - nanda\hobbs, Sydney
2018 	John Glover Art Prize, Finalists, Evandale
2016 	Anthony Whilte, Crossing The Rubicon - nanda\hobbs, Sydney
2016 	Anthony White, The Sleeper Awakes - Metro Gallery, Melbourne
2015 	Anthony White, Pentimento - Metro Gallery, Melbourne
2014  	Anthony White, Survey Exhibition - le Pavé d'Orsay, Paris
2013 	Informal Relations-The Cat St Gallery, Hong Kong
2011 	Scratching the Surface- Iain Dawson Gallery, Sydney
2010 	Paris Paintings -Iain Dawson Gallery, Sydney
2008 	Figure and Ground-Rushcutters Bay Gallery, Sydney
2007 	Diverse Places- Marlene Antico Fine Arts, Sydney 
2006 	New Work-Arthouse Atrium Gallery, Sydney


Selected Group Exhibitions
2018 	King's 39th Annual Art Show, Finalists, North Parramatta
2017 	Summer Exhibition - nanda\hobbs, Sydney
2017 	Mark Rothko 2017, 13th International Painting Symposium - Daugavpils Mark Rothko Art Centre, Daugavpils
2015 	Landscape & Life - Metro Gallery, Melbourne
2014 	Orange Regional Gallery, Orange - NSW
2014 	Kedumba Drawing Award, Wentworth Falls
2012 	Storm-Signal 8,The Cat St Gallery, Hong Kong
2012 	Heat- Tim Olsen Gallery Sydney Australia
2011 	FONAS An Artist at My Table Cellblock Gallery NAS, Sydney Australia
2011 	Young Artists Summer Show with COMODAA, London UK 
2011 	Signal 8, The Cat St Gallery Hong Kong
2011 	The Affordable Art Fair, London with COMODAA gallery
2011 	Iain Dawson Gallery-Group Show Sydney Australia
2010 	5 BY 5, COMODAA at The Menier Gallery, London UK
2010 	The Winter Exhibition Rundgang, LIA Leipzig, Germany (curated by Anna Louise Kratzsch)
2010 	White Christmas- Christmas Group Exhibition at Edwina Corlette Gallery, Brisbane
2009 	Atelier-Works from the Cité Internationale Des Arts, FONAS and Charles Hewitt Gallery, Sydney
2008 	Art Melbourne 08 with Rushcutters Bay Gallery Royal Exhibition Building, Melbourne
2008 	Art Sydney 08 with Rushcutters Bay Gallery Royal Hall of Industries, Sydney
2007 	Art Sydney 07 with Rushcutters Bay Gallery, Royal Hall of Industries, Sydney
2007 	The New York Studio School Summer Exhibition, New York
2007 	The Churchie Emerging National Emerging Artist Exhibition, Brisbane
2006 	The Willoughby Art Prize Finalists Exhibition, Sydney
2006 	The Blake Prize Exceptions Exhibition, Chase Gallery, Annandale
2006 	The Norvill Art Prize for Landscape Painting, Murrurundi, NSW
2006 	The Brett Whiteley Travelling Art Scholarship Finalists Exhibition, Sydney
2005 	Four Young Australian Artists at Mary Place Gallery, Sydney (Curated by Julius Bokor)
2005 	Hills Grammar Art Prize (Finalist), Sydney
2005 	Art On The Rocks Finalists Exhibition, The Rocks Sydney
2005 	Propeller Art and Design Award, Sydney
2005 	FONAS Infusion Exhibition, National Art School Sydney
2005 	FONAS/ASX Reuters Exhibition, National Art School, Sydney
2005 	The John Olsen Drawing Exhibition, National Art School, Sydney
2005 	The Degree Show 05, National Art School, Sydney
2005 	The Paddington Art Prize Exhibition, Sydney
2004 	FONAS/ASX Reuters Exhibition, National Art School, Sydney

Symposiums, Lectures, Appearances
2013 	Public presentation Informal Relations-The Cat St Gallery, Hong Kong
2010 	New Work- Public presentation-LIA, Leipzig International Art Programme, December 2010
2010 	Turn! Appearance on Anna Hoetjes Video Installation at The Spinnerei, Leipzig November 2010
2008 	On methodology-Insights into the creative process-public lecture at The Loewe Theatre, Johnson, Vermont 

Public Collections
The Arthouse Atrium, Sydney
Permanent Collection at The Mark Rothko Art centre Daugavpils, Latvia > www.rothkocenter.com
The Soho House Collection Soho House London > Soho House Collection
	 
Private Collections
Sydney, Melbourne, Brisbane, Paris, Clermont-Ferrand, Tokyo, London and New York
Exhibition Announcements
Filter
Image

Opening

Closing

City/Country

Exhibition Place

Exhibition Title
Sep 26, 2019 06:00 pm
Oct 27, 2019
Henley on Thames
informality
Anthony White

Henley on Thames

Anthony White

The Curious Eye Never Runs Dry

| | |
| --- | --- |
| Opening | Sep 26, 2019 at 06:00 pm |
| Start date | Sep 26, 2019 |
| End date | Oct 27, 2019 |

.informality is proud to present The Curious Eye Never Runs Dry by Paris based, Australian artist, Anthony White. The artist's first solo show in the UK. The exhibition comprises recent work reviewing ideas about civil disobedience and its correlation to contemporary late capitalism. In the exhibition, Anthony White revisits themes of involuntary detention, injustice, migration, and reflects upon the effects of a Western capitalist civilisation in our modern environment.

In his latest work White combines important forms of analogue communication including posters of advertising and musical acts from the Paris metro. Drawing from the urban cultural history of Paris, the artist uses these reversed metro 'affiches' to build the image, tearing, re-cropping and utilising painterly interventions acting as a form of dissent.

The Curious Eye Never Runs Dry utilises materials tagged and altered by anonymous authors which symbolising collectivity in the community and highlights the increased need for collective types of communication, reinforcing the fact that we are interdependent upon one another.

Sep 22, 2017 04:00 pm
Nov 05, 2017
Daugavpils
Daugavpils Mark Rothko Art Centre
Mark Rothko 2017

Daugavpils

Mark Rothko 2017

13th International Painting Symposium

| | |
| --- | --- |
| Opening | Sep 22, 2017 at 04:00 pm |
| Start date | Sep 22, 2017 |
| End date | Nov 05, 2017 |

This year's 13th International Painting Symposium 'Mark Rothko 2017' taking place in Daugavpils, Latvia, was attended by 10 artists from 10 different countries of the world. From 98 artists' applications, this year's participants of the symposium were chosen by a competent international jury.
This unique structured residency at the Mark Rothko Art Centre lets artists participate in a transcultural environment to critically engage with ideas central to the Abstract Expressionist visual arts practice. The symposium provides a space to explore and debate the role and purposes of contemporary art. Participants of the exhibition: Edda Jachens (Germany), Graham Fletcher (New Zealand), Anthony White (Australia / France), Katarina Balunova (Slovakia), Evrim Özeskici (Turkey), Bernier Carol (Canada), Teona Chanishvili (Georgia), Erling Stuart Rohde (Norway), Ramūnas Čeponis (Lithuania), Madara Neikena (Latvia).

Anthony White's work considers collision points, shifts and ruptures at the site of geopolitical and cultural boundaries, particularly in relation to global immigration crises; echoing Edward Said's identification of 'the inextricable links' between Modernism, war and immigration. White's works are often characterized by an awareness of surface and a preoccupation with physicality and the found object.
A dominant area of research in his work has been concerned with the phenomenon of Empires: How do empires construct narratives to promote and propagate ideology?

Edda Jachens - Graham Fletcher - Anthony White - Katarina Balunova - Evrim Özeskici - Bernier Carol - Teona Chanishvili - Erling Stuart Rohde - Ramūnas Čeponis - Madara Neikena -


Sep 22, 2016 06:00 pm
Sep 30, 2016
Sydney
nanda\hobbs
Anthony White

Sydney

Anthony White

Crossing The Rubicon

| | |
| --- | --- |
| Opening | Sep 22, 2016 at 06:00 pm |
| Start date | Sep 20, 2016 |
| End date | Sep 30, 2016 |

Nanda Hobbs Contemporary is proud to present their inaugural solo exhibition of Paris-based Australian artist Anthony White.
In his new body of work, 'Crossing the Rubicon', White continues to excavate ideas sourced from defining moments in history and their intersection with current global socio-political issues, to inform his contemporary image making practice.
The title 'Crossing the Rubicon draws from an important moment in the history of Western civilization, when Julius Caesar crossed the Rubicon river in Italy in 49AD and changed the genesis of modern Europe.

'The protean nature of identity is examined in White's, Constantinople I, an ebullient network of thick chalk-white lines over a background of rich purples, blues and golds. Fundamental to the histories of both Christianity and Islam, the city of Constantinople (current day Istanbul) embodies the idea of multiplicity; the shifting, multifarious nature of identity that underlies White's interest in geographical and cultural boundaries. Located in Eurasia at the physical limit of Europe, where West meets East, Constantinople represents the meeting place of two continents, two dominant ideologies and centuries of change. Constantinople I give us a sense of this constant state of flux, of building and rebuilding.' (Robert Maconachie)

The exhibition 'Crossing the Rubicon' at Nanda Hobbs Contemporary is accompanied by a catalog, with text by Robert Maconachie.

May 05, 2016 06:30 pm
May 28, 2016
Melbourne
Metro Gallery
Anthony White

Melbourne

Anthony White

The Sleeper Awakes

| | |
| --- | --- |
| Opening | May 05, 2016 at 06:30 pm |
| Start date | May 05, 2016 |
| End date | May 28, 2016 |

Metro Gallery, Melbourne, presents the second solo show of Paris based artist Anthony White. This new body of work draws upon the intersection of technology and the world of science fiction literature.
The title of the exhibition is derived from a variation of the title of the dystopian science fiction novel by H.G Wells 'The Sleeper Awakes', written in 1910.
Drawing parallels with themes of revolt and social unrest from the Wellsian novel and by juxtaposing these with today's sense of interconnectedness and social mobility. The artist creates inspiration for the new exhibition, drawing upon themes in relation to the role of technology in current political events especially during the Arab Spring uprising of 2010.
Apart from the ongoing interest with literature the new body of work also makes reference to the gestural mark in the graffiti movement as an original form of dissent and an early form of collective violence. Through preliminary paper collages created from salvaged Paris subway advertisements.
These 13 new paintings show a preoccupation with the intersection of the gestural mark, bodily performance and corporeality drawing from the avant garde Japanese painting movement, Gutai of the 1950s. These new paintings further explore ideas of spontaneity, performance and the overlap between performative actions and gestural painting in order to gain transformative power or transcendence.

Apr 16, 2015 06:30 pm
May 02, 2015
Melbourne
Metro Gallery
Anthony White

Melbourne

Anthony White

Pentimento

| | |
| --- | --- |
| Opening | Apr 16, 2015 at 06:30 pm |
| Start date | Apr 16, 2015 |
| End date | May 02, 2015 |

This series is titled after the Italian term Pentimento. This phrase, which is used to describe layerings, additions or changes to a work of art, allows multitudinous readings, different layers as one descends through White's palimpsest of forms and colours. However pentimento can also be translated as repentance, which suggests atonement or remorse. In 2009, White immigrated to France after being awarded a studio at La Cite Internationale Des Arts. Is Pentimento, then, a form of atonement for having left his native country, a gift from afar to compensate for his departure from Australia?

Rather than Australian indigenous art, White is more accustomed to comparisons with the abstractionists of the New York School of the 1950s, Kurt Schwitters or Robert Rauchenberg's Combines. The artist himself suggests the French affichistes artist Jacques Villegle who created magical collages via torn metro and street posters, creating poetical compositions that embraced elements of the alphabet, photography and design. It is not difficult to see Villegle's influence on White.

Although distinctly painterly, one can see the suggestions of torn edges, of strange depths as though other narratives reside beneath the immediate surface. Like the hidden Egyptian hieroglyphs obscured by palimpsests of 'new' information, White creates a world of textures, his own secret histories which allow hours of contemplation, translation and interpretation.

Words by Ashley Crawford, Melbourne 2015

Oct 02, 2014 06:30 pm
Oct 14, 2014
Paris
Pavé d'Orsay
Anthony White

Paris

Anthony White

| | |
| --- | --- |
| Opening | Oct 02, 2014 at 06:30 pm |
| Start date | Oct 02, 2014 |
| End date | Oct 14, 2014 |

Australian artist Anthony White debuts in Paris

Le Pave D'Orsay presents the work of Australian painter Anthony White in his first Parisian solo show.
Drawing from diverse travels from the Leipzig winter of 2010 to the initial experience on artist studio residency in Paris from 2009, the Paris based non-profit 
Le Pave D'Orsay presents a survey of the artist's practice from the years 2008 - 2014 including collages, paintings and two distinct strands of abstraction. This broad overview of twenty two pieces encompass work that the artist has completed whilst on residency programmes throught out the United States and Europe.

White has been exhibiting internationally in over 35 group shows since 2006 including The Cat Street Gallery – Hong Kong, Tim Olsen Gallery – Sydney and the COMODAA Gallery in London. 

White's work has been well received by the art world and widely collected. As the recipient of the Marten Bequest Travelling Scholarship during 2007 he participated in further study at the New York Studio School, NY. He has also received new work commissions for the costume designer Catherine Martin.

Anthony White is represented by The Cat Street Gallery, Hong Kong and Roberta Moore, London

An accompanying catalogue is available upon request.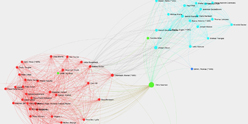 Interested in discovering more of this artist's networks?
3 easy steps: Register, buy a package for a visualization, select the artist.
See examples how visualization looks like for an artist, a curator, or an exhibition place: Gallery, museum, non-profit place, or collector.

Exhibition History

SUMMARY

based on artist-info records. More details and Visualizing Art Networks on demand.
Venue types:

Gallery

/

Museum

/

Non-Profit

/

Collector

Exhibitions in artist-info
24 (S 12/ G 12)

Did show together with

- Top 5 of 130 artists
(no. of shows) - all shows - Top 100

Exhibitions by type

24: 17 / 0 / 7 / 0
Venues by type

15: 8 / 0 / 7 / 0
Curators
1
artist-info records
Jan 2007 - Jan 2021

Countries

- Top 5 of 5
Australia (12)
United Kingdom (4)
France (2)
China (2)
Latvia (1)


Cities

- Top 5 of 12
Sydney (7)
Melbourne (4)
Henley on Thames (2)
Hong Kong (2)
Paris (2)


Venues

(no. of shows ) Top 5 of 15
| | | |
| --- | --- | --- |
| | | Curators (no. of shows) Top 1 of 1 |
Offers/Requests

Exhibition Announcement

S / G Solo/Group Exhibitions

(..) Exhibitions + Favorites

informality
G
Dec 2020 - Jan 2021
Henley on Thames
(11)
+0
Sidney Nolan Trust
S
May 2020 - Jun 2020
Presteigne
(2)
+0
informality
S
Sep 2019 - Oct 2019
Henley on Thames
(11)
+0
Pavé d'Orsay
G
May 2019 - Jun 2019
Paris
(10)
+0
King's Annual Art Show
G
Sep 2018 - Sep 2018
North Parramatta
(2)
+0
nanda\hobbs
S
Apr 2018 - Apr 2018
Sydney
(88)
+0