Artist

| Marguerite Hersberger (*1943)
https://www.artist-info.com/artist/Marguerite-Hersberger
Artist Portfolio Catalog
Image
Artist
Title
Year
Material
Measurement

Marguerite Hersberger
Ohne Titel
1997

Marguerite Hersberger (*1943)

Ohne Titel

| | |
| --- | --- |
| Year | 1997 |
| Technique | |
| Measurement | (H x W x D) |
| Copyright | Marguerite Hersberger |
| Courtesy | Galerie Samuelis Baumgarte, Bielefeld |
| Description | |
| Sort No. | 0 |
| Modified | |
| Image file | 2038.jpg |
Biography
Biography
1943 geboren in Basel
1964 - 66   Kunstgewerbeschule, Basel
1967 - 70    wohnhaft in Paris, Zusammenarbeit mit dem Bildhauer Frangois Stahly, Recherche de groupe
seit 1970 wohnhaft in Zürich
1974/76   Kunststipendium der Stadt Zürich
1975/76/77   Kunststipendium des Kantons Zürich
1978   Conrad Ferdinand Meyer-Preis
1981 - 89   Mitglied der SammlungsKommission der Zürcher Kunstgesellschaft, Kunsthaus Zürich
1982 - 94    Mitglied der Kulturförderungskommission des Kantons Zürich
One Person Exhibitions
One Person Exhibitions
1971   Galerie Collection d'Art, Amsterdam
1972   Galerie Collection d'Art, Amsterdam
1972   Museum't Coopmanshus, Franeker, NL
1972   Technische Hochschule, Enschede, NL
1973   Atelierausstellung, Zürich
1974   Galerie Nouvelles Images, Den Haag
1974   Zimmergalerie Sibylle Schmidt, Detmold, D
1974   Galerie ge, Winterthur
1975   Galerie Dr. István Schlégl, Zürich
1975   Galerie Collection d'Art, Amsterdam
1976   Galerie Nouvelles Images, Den Haag
1976   Kunsthaus Zürich
1977   Galerie Collection d'Art, Amsterdam
1977   Galerie de Biggelarij, Nuerien, NIL
1977   Galerie Dr. István Schlégl, Zürich
1978   Stedelljk Museum, Schiedam-Rotterdam
1979   Galerie Carl van der Voort, Basel
1979   Galerie 57, Biel
1979   Galerie von Braunbehrens, München
1979   Galerie Nouvelles Images, Den Haag
1979   Galerie Dr. István Schlégl, Zürich
1979   Galerie Latzer, Kreuzlingen
1981   Kunsthalle Winterthur
1982   Galerie 57, Biel
1984   Schweizerische Bankgesellschaft, Filiale Römerhof, Zürich
1985   Galerie Konstruktiv Tendens, Stockholm
1986   Kunstmuseum des Kantons Thurgau,
1986   Kartause Ittingen, Warth
1986   Städtische Galerie Zimmermannshaus, Brugg
1987   Galerie Susann Mäusli, Zürich
1988   Galerie Fossati. Kilchberg, BL
1988   Gemeindegalerie Emmen, Emmenbrücke
1990   Städtische Galerie Zimmermannshaus, Brugg
1990   Galerie Lidija Jametti, Bachenbülach
1991   Graf und Schelble, Basel
1992   Galerie Fossati, Kilchberg, BL
1993   Basler und Hofmann, Ingenieure und Planer AG, Zürich
1995   Haus für konstruktive und konkrete Kunst, Zürich
1995   Galerie Fossati, Kilchberg, BL
1996   Städtische Galerie Zimmermannhaus, Brugg
1997   Samuells Baumgarte Galerie & Art Consulting, Bielefeld, D
Group Exhibitions
Group Exhibitions
1967   Ambassade de Suisse, Paris
1968   American Center for Artists and Students, Paris
1968  Kunsthalle Basel
1968   das progressive Museum, Basel
1968   Seriaal, Amsterdam
1969   Galerie Zunini, Paris
1969   Mickery, Loenersloot, NL
1969   Kunstmuseum Kaiserslautern
1969   "Projekt für eine farbige Stadt", Centre le Corbusier, Zürich
1969   Musée d'Art, Nantes
1970   Art 1 '70, Basel
1970   "Peau de lion", Kunsthaus Zürich
1971   Galerie Elitzer, Saarbrücken
1971   Art 2 '71, Basel
1971   Internationale Grafikmesse, Zürich
1971   "Kunstszene Zürich 1971", Züspahalle, Zürich
1972   Helmhaus, Zürich
1973   Viadukt, Vereinigung von Kunstfreunden, Zürich
1973   "Biennale der Schweizer Kunst", Kunsthaus Zürich
1973   Kunsthauskeller im Ring, Biel
1974   Art 5 '74, Basel, Multi Art Points (Amsterdam)
1974   "Prospectiv 74", Säo Paulo, Brasilien
1974   Galerie Sanguine, Perpignan
1974   "Internationale Kleinformate", Galerie
1974   Lydia Magert, Bern
1974   "66 Scheizer Künstler", Galerie Arben
1974   Art, Zürich
1974   Galerie 32, Lyon
1974   "Kunstszene Zürich 1974", Züsipahalle, Zürich
1975   Art 6 '75, Basel, Galerie Dr. Istvári Schlégl
1975   Gemeindegalerie Emmen, Emmenbrücke
1975   "Internationale Kleinformate", Galerie Seestrasse, Rapperswil
1975   "Kunstszene Zürich 1975", Helmhaus, Zürich
1976   Galerie ge, Winterthur
1977   Galerie Seestrasse, Rapperswil
1977   "Basellandschaftliche Kunstausstellung", Muttenz
1977   Art 8 '77, Basel, Galerie Dr. István Schlégl
1977   "Aspekte konstruktiver Kunst", Kunsthaus Zürich
1978   Kunstszene Zürich 1978', Kunsthaus Zürich
1978   "Zürcher Künstler im Künstlerhaus am KarIsplatz", Künstlerhaus am Karlsplatz, Wien
1978   Art 9 '78, Basel, Galerie Dr, István Schlégl
1978   Nouvelles Images, Den Haag
1979   Galerie Bossin Edition, Berlin
1979   "Banken fördern Kunst", Zürich
1980   "Schweizer Museen sammeln aktuelle Kunst", Kunsthaus Zürich und Musée des Beaux-Arts, Lausanne
1980   Galerie Schoeller, Düsseldorf
1980   "Reliefs", Kunsthaus Zürich
1981   Schweizer Künstler", Städtische Galerie Würzburg
1981   "Une oeuvre, un artiste", Halle des expositions, Delémont
1981   "13 junge Künstler im Schloss Ebenrain", Schloss Ebenrain, Sissach
1982   Kunstszene Zürich 1982", Helmhaus, Zürich
1982   "Art concret suisse", Musées des Beaux-Arts, Dijon, Strasbourg, Dunkerque, Chalon-sur-Saône, F
1983   Art 14 '83, Basel, Galerie Peter Noser
1983   "Kunstszene Zürich 1983", Züspahalle, Zürich
1983   "Arbeitskontakte", Kunsthaus Zürich
1984   Galerie Konstruktiv Tendens, Stockholm
1985   Art 16 '85, Basel, Galerie Meissner, Hamburg
1985   "10 Jahre Galerie Pavillon Wird", Schweizerische Bankgesellschaft, Pavillon Werd, Zürich
1985   "Kleinformate", Galerie Trudelhaus, Baden
1985   "Kunstszene Zürich 1985", Kunsthaus Zürich
1987   "Kunst am Arbeitsplatz", Kunstmuseum Winterthur
1989   "Licht und Transparenz", Museu m Bellerive, Zürich
1991   "Wand-Boden-Wand«, Haus für konstruktive und konkrete Kunst, Zürich
1994   "46 x zweidimensional, Kunstszene Zürich 1994", Haus für konstruktive und konkrete Kunst, Zürich
Public Collections
Public Collections
1995   Flughafen Zürich, Airport Forum, Lichtgestaltung "Skylight' und Wandgestaltung "Drehungen im Raum"
1996   Casa di Residenza Gantonaccio, Ascoria TI, Transparenter Farblift und "Lichtdach"
1996   Universitätsspital Zürich, Wartehalle "Lichtstrukturen"
1996 - 97   Allianz Deutsche Versicherungsgesellschaft AG, Leipzig, D, "Lichtbrücke" und "Lichtsäule"
1997   Banque Générale du Luxembourg, Zürich, Wandrelief "Lichtfenster" und Wandgestaltungen
1997   Commerzbank (Schweiz) AG, Zürich, Lichtbild "Tranzluzenter Kreis" und Wandgestaltung
1997   SBB, Schweizerische Bundesbahnen, Hauptgebäude Bahnhof Winterthur, Gestaltung eines Liftes "Lichtlift"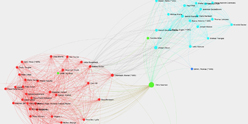 Interested in discovering more of this artist's networks?
3 easy steps: Register, buy a package for a visualization, select the artist.
See examples how visualization looks like for an artist, a curator, or an exhibition place: Gallery, museum, non-profit place, or collector.

Exhibition History

SUMMARY

based on artist-info records. More details and Visualizing Art Networks on demand.
Venue types:

Gallery

/

Museum

/

Non-Profit

/

Collector

Exhibitions in artist-info
16 (S 7/ G 9)

Did show together with

- Top 5 of 293 artists
(no. of shows) - all shows - Top 100

Exhibitions by type

16: 8 / 3 / 3 / 2
Venues by type

9: 2 / 3 / 3 / 1
Curators
4
artist-info records
Jan 1970 - Aug 2015

Countries

- Top 2 of 2
Germany (7)
Switzerland (7)


Cities

- Top 5 of 8
Bielefeld (5)
Zug (3)
Waldenbuch (2)
Zürich (2)
Basel (1)


Venues

(no. of shows ) Top 5 of 9
| | | |
| --- | --- | --- |
| | | Curators (no. of shows) Top 4 of 4 |