Artist

| Arthur Aeschbacher (*1923)
https://www.artist-info.com/artist/Arthur-Aeschbacher
Artist Portfolio Catalog Overview\ 2
Biography
Biography
Aeschbacher, 1923 in Genf in geboren, hat an der École des Beaux Art in Genf, den Atelier de la grande Chaumiere, Paris und der Académie Julian, Paris, studiert und danach im Atelier Fernand Legér in Paris gearbeitet.

Seit 1958 hat er an zahlreichen Ausstellung in Frankreich und in anderen Ländern teilgenommen, besonders an allen Veranstaltungen der bildenden Kunst über die Buchstaben, das Wort, die Schrift. 1992 hat ihm das Musée Corbeille bei Paris eine Retrospektive gewidmet und der Verlag SIA, Paris hat eine Monographie dazu herausgegeben. (Mit einem Text von Michel Butor)

An erster Stelle wird das Werk von Arthur Aeschbacher, der an der Bewegung der "Noveau Realists" teilgenommen hat, durch eine Betrachtung der Sprache gestützt. Er stellt mündliche Elemente heraus, isoliert Wörter, Buchstaben, Fragmente. Aeschbacher schafft eine Magie der Wörter - ein Bild ist betitelt "horoskop mur"- aber auch eine visuelle Wanderung in der Erinnerung.
About the work (deutsch)
About the work (deutsch)
Die sechste Einzelausstellung des renommierten Künstlers Arthur Aeschbacher in der Galerie Klaus Braun, Stuttgart, vom 12.05. - 25.07.2001 offeriert bisher hier unbekannte Arbeiten aus drei sehr verschiedenen Schaffensphasen.

Die Ausstellung zeigt im einzelnen Arbeiten aus der Serie "les plexies" von 1976. Das sind Schrift- und Buchstabencollagen (wie immer bei Aeschbacher) auf Plexiglastafeln, also teilweise transparent, im Format 80 x 60 cm. Obwohl bereits 15 Jahre alt werden diese Arbeiten weltweit erstmals öffentlich präsentiert. Andere, zumindestens in Deutschland noch nie gezeigte Arbeiten sind die "rostigen Plakate" von 1960. Dies war die erste Serie von Arbeiten mit Plakaten die Aeschbacher überhaupt gemacht hat. Ergänzt wird die Ausstellung mit dem einzigartigen absolut untypischen Bild "les promeneurs d'écailles" von 1965 und dem Siebdruck "Kakemono Oblitere" (Baumwolle 250 x 100 cm), Edition Francesco Conz, Verona 1987.

Mit den präsentierten Collagen aus zerrissenen und fragmentierten Plakaten wird der in Paris lebende Arthur Aeschbacher im weitesten Sinne dem Umkreis der Affiches lacérées (Plakatabreißer), u.a. François Dufrêne, Raymond Hains, Mimmo Rotella und Jacques de la Villeglé, zugerechnet. Trotz prinzipieller Berührungspunkte mit den Plakatabrissen der Affiches lacérées offenbaren Aeschbachers Collagen signifikante Unterschiede, hinter denen die individuelle Handschrift des Künstlers zum Ausdruck gelangt. Aeschbacher will mit seinen Arbeiten weder provozieren noch ironisieren oder kritisieren. Er thematisiert nicht den Einbruch des großstädtischen Alltags und der Medienrealität in die Kunst, sondern er schenkt der Ästhetik des Arrangements seine ganze Aufmerksamkeit. Willkür und Zufall der Plakatabrisse werden Schritt für Schritt nivelliert. Es entstehen bewusst komponierte Arbeiten, in denen der fragmentarische Charakter der Realien oftmals nicht mehr offensichtlich wird. Auch basieren seine Wort- und Textcollagen nicht auf beliebigen Plakatabrissen von irgendwelchen Litfasssäulen oder Bretterwänden, sondern der Künstler wählt sein Material, in erster Linie alte Theaterplakate mit charakteristischer Typographie, bewusst aus.

Es wundert nicht, dass Aeschbacher, der 1923 in der Schweiz geboren wurde, sein Studium an der École des Beaux Arts in Genf absolvierte und danach im Atelier Fernand Léger in Paris arbeitete, mit seiner visuellen Sprachmagie ab 1951 europaweit an zahlreichen Ausstellungen zu Wort und Schrift partizipierte.
Solo Exhibitions (selection)
Solo Exhibitions (selection)
1951   Galerie l'Étoile scellée, Paris
1956   Galerie Marforen, Paris
1958   Galerie Colette Allendy, Paris
1965   Galerie Paul Facchetti, Paris
1969   Galerie de Varenne, Paris
1971   Galerie Fabien Boulakia, Paris
1973   Rétrospective à la Jacques Damase Gallery, Bruxelles
1982   Galerie 30, Paris
1983   Galerie Convergence, Nantes
1986   Galerie Convergence, Nantes
1987   Galerie Sonia Zannettacci, Genf
1988   Galerie Krief, Paris ; Galerie Azul, Guadalajara, Mexico
1992   Galerie Krief, Paris, Centre d'Art contemporain, Corbeil-Essonnes
1992   Galerie Klaus Braun, Stuttgart
1993   Galerie Oliver Nouvellet, Paris
1994   Galerie Azul, Guadalajara, Mexico
1994   Galerie Klaus Braun, Stuttgart
Group Exhibitions (selection)
Group Exhibitions (selection)
1960   "Hommage à Colette Allendy", Paris
1964   "50 ans de colages", Musée du Louvre, Paris
1984   "Hommage à François Dufrêne", Salon Comparaison, Paris
1984   "Signes & Écritures", CAC, Bruxelles
1985   "Lisible-Illisible', MNAM, Centre Georges Pompidou, Paris
1991   Collages", Musée d'Art moderne, Villeneuve d'Ascq.
1993   "Artistes d'Aujourd 'hui et Demain", Galerie Sonia Zannettacci, Genf
1994   "Groupe Japon", Gallery seijo, Sendi, Japan
1994   "Plis d'éxcellence", Musée de la Poste, Paris
1994   "Nos Années 80, Centre d'Art Moderne, Montreil
1995   "China Art Exposition", Galerie Art-Espace, Peking
1995   "Evantails d'Artist Contemporains", Musée Riquet, Béziers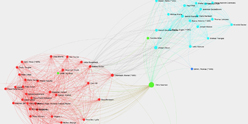 Interested in discovering more of this artist's networks?
3 easy steps: Register, buy a package for a visualization, select the artist.
See examples how visualization looks like for an artist, a curator, or an exhibition place: Gallery, museum, non-profit place, or collector.

Exhibition History

SUMMARY

based on artist-info records. More details and Visualizing Art Networks on demand.
Venue types:

Gallery

/

Museum

/

Non-Profit

/

Collector

Exhibitions in artist-info
3 (S 2/ G 1)

Did show together with

- Top 5 of 267 artists
(no. of shows) - all shows - Top 100

Exhibitions by type

3: 2 / 1 / 0 / 0
Venues by type

2: 1 / 1 / 0 / 0
Curators
2
artist-info records
Dec 1976 - Jul 2001

Countries

- Top 2 of 2
Germany (2)
France (1)


Cities

2 - Top of 2
Stuttgart (2)
Paris (1)


Venues

(no. of shows ) Top 2 of 2
| | | |
| --- | --- | --- |
| | | Curators (no. of shows) Top 2 of 2 |
Insight Basic

Display the full interactive exhibition history and all related artist, exhibition venue, and curator pages for your research. The SUMMARY above shows today's available scope.
Insight Basic 10 Days USD 378 / EUR 394

Insight Basic 1 Day USD 42 / EUR 44

To use Insight Basic or Insight Analytics
Sign-up for free first
Insight Analytics
Use Analytics tools for more insight based on documented exhibitions. More details on your RESEARCH user page.
(Includes Inisght Basic)
COMING SOON