Artist

| Heinrich Heidersberger (1906 - 2006)
https://www.artist-info.com/artist/Heinrich-Heidersberger
Artist Portfolio Catalog Overview\ 7
Exhibition at in focus Galerie, Cologne
Exhibition at in focus Galerie, Cologne
Heinrich Heidersberger
Zum 100. Geburtstag
Eröffnung 20.08.2006, 15:00-19:00 Uhr
20.08. - 01.10.2006 und nach Vereinbarung
in focus Galerie, Köln
Brüsseler Straße 83
D - 50672 Köln
T +49 (0) 221 – 130 0341

Im Rahmen der 18. Internationalen Photoszene Köln 1 Photokina spricht Bernd Rodrian (DM), Institut Heidersberger,
am Samstag, den 30.09. um 18.00 Uhr zu dem Werk von Heinrich Heidersberger.

Wir trauern um Heinrich Heidersberger, der knapp drei Wochen nach seinem 100. Geburtstag am 14. Juli 2006 in Wolfsburg verstarb.

Die Photographie ließ den 1906 in Ingolstadt geborenen Heinrich Heidersberger nicht mehr los. 1936 ging er nach Berlin, um dort als freier Bildjournalist für Ullstein und Scherl sowie als Sach- und Werbephotograph zu arbeiten. Erste Veröffentlichungen im Jahrbuch "Photographie" folgten. Zugleich begann er mit der Architekturphotographie, auch wenn er zunächst noch In der Industrie (Berlin, Salzgitter, Braunschweig) fotografisch arbeitete. "Wie kaum ein anderer deutscher Photograph hat Heinrich Heidersberger das architektonische Geschehen der Moderne nach 1945 begleitet und kongenial interpretiert", urteilt Prof. Rolf Sachsse von der HBK Saarbrücken, indem er "sich exakt auf der schmalen Grenze zwischen sachlicher Schilderung und surrealer Inszenierung" bewegt.

About the work (deutsch)
About the work (deutsch)
Er ist ein herausragender Fotograf, Techniker und Wissenschaftler, Künstler und Perfektionist. Er wird im Juli 95 Jahre alt. Die Passion seines Lebens war und ist die Fotografie: Heinrich Heidersberger. Er lebte und arbeitete einige Jahre lang in Braunschweig, seit 1961 in Wolfsburg. Geboren wurde er 1906 in Ingolstadt. Bekannt wurde er als Architektur-Fotograf, sein Können und seine vielseitigen Interessen erstreckten sich aber weit darüber hinaus - nicht nur im Bereich Fotografie. Nach dem Abitur und knapp zwei Semestern Architekturstudium in Linz geht Heinrich Heidersberger 1928 nach Paris. In der privaten Kunstschule von Fernand Léger studiert er freie Malerei und wird geprägt von den Protagonisten des Surrealismus.
Heidersberger beginnt zunächst seine gemalten Kunstwerke und die seiner Freundin Ida Kar für Kataloge zu reproduzieren, aber der Drogist entwickelt die Platten falsch. Die Fotos sind schwarz, verdorben. So eignet er sich selbst die hierfür nötigen Kenntnisse an, entwickelt und reproduziert von nun an in seinem Atelier in Montrouge. Mit den ersten Aufträgen von Künstlerkollegen wendet er sich mehr und mehr von der Malerei ab und hin zur Fotografie.
Erste Veröffentlichungen erscheinen Ende der 30er Jahre im "Internationalen Jahrbuch Photographie". Er lernt den Architekten Prof. Dr. Rimpl kennen und bekommt von ihm seinen ersten großen Auftrag, den Bau der Flugzeugwerke Heinkel fotografisch zu dokumentieren. Das Buch "Ein deutsches Flugzeugwerk" erscheint kurz vor dem Zweiten Weltkrieg und begründet den Ruf Heinrich Heidersbergers als Architekturfotograf.
Nach dem Krieg eröffnet er sein erstes Atelier in Braunschweig. Er fotografiert englische Soldaten, arbeitet als Dolmetscher und präsentiert 1946 seine erste Ausstellung mit Fotografien über das Braunschweiger Alltagsleben.
Er lernt Henri Nannen kennen, der in Hannover die illustrierte "Stern" gründet. Heidersbergers Bild "Kleid aus Licht" prangt im Jahr 1949 auf der Titelseite des Magazins. Für "Stern" und "Merian" arbeitet er mit Auftragsreportagen und freien Arbeiten bis weit in die Fünfziger Jahre hinein. Zur gleichen Zeit werden die Architekten der Braunschweiger Schule" unter Prof. Friedrich Wilhelm Krämer zu erfolgreichen Protagonisten des Wiederaufbaus der Bundesrepublik. Für sie dokumentiert er jahrelang Modelle, einzelne Bauphasen und die fertigen Bauten. Mittlerweile hat Heidersberger bundesweit den Ruf eines hervorragenden Architektur-Fotografen.
1955 erhält er von der Ingenieursschule Wolfenbüttel den Auftrag, die hier gelehrten Disziplinen in Form eines Wandbildes fotografisch darzustellen. Es besteht aus 18 Einzelaufnahmen und ist noch heute dort zu besichtigen. Für diese Arbeit konstruiert Heidersberger eine "Rhythmogramm-Maschine".
Ein großes Rohr mit einer Lochmembran dient als punktförmige Lichtquelle, und die Lichtspuren werden durch unterschiedlich pendelnde Spiegel -direkt auf eine fotografische Platte projiziert. Durch die harmonischen Schwingungen der Pendel entstehen unterschiedlichste Linien und Muster. Im Laufe der Jahre verändert und erweitert er die Möglichkeiten dieser Maschine und kreiert insgesamt rund 300 schwungvoll heitere, harmonische und asymmetrische "Lineaturen aus Licht". Jean Cocteau bezeichnet sie 1961 als poetisch und geheimnisvoll zugleich.
Heidersberger selbst fasziniert an der experimentellen Fotografie, "dass die physikalischen Formen, die graphischen Dokumente, die man physikalisch erzeugen kann, eine gewisse Verwandtschaft mit dem Biologischen haben. Mit Pflanzen, vor allem aber auch mit menschlichen Formen."
1957 wird ihm bei der 11. Triennale in Milano die Silberne Medaille für sein Rhythmogramm "Triennale" verliehen. Im gleichen Jahr wird er in die deutsche Gesellschaft für Photographie und in den Deutschen Werkbund berufe.
Mit anderen Künstlern gründet Heidersberger in den 60er Jahren die Gruppe " Schlossstraße 8 " Sie bezieht Räume im Wolfsburger Schloss, und erschließt es nach und nach für die Bildende Kunst. Fortan dokumentiert er die städtebauliche Entwicklung der Industriestadt Wolfsburg, fotografiert unter anderen Serien über das Volkswagenwerk, engagiert sich in der städtischen Kunst- und Kulturlandschaft und lehrt an der Volkshochschule. 1968 veröffentlicht er zwei Bücher, "Wolfsburg - Bilder einer jungen Stadt" und "Braunschweig".
1981 wird ihm das Verdienstkreuz des Landes Niedersachsen verliehen, 1984 ist er an einer Ausstellung im Centre Pompidou in Paris beteiligt, 1989 folgen Ausstellungen und Vorträge in Touscon, Arizona. 1998 werden Arbeiten von Heinrich Heidersberger im New Yorker Museum of Modern Art gezeigt, und das ZDF sendet eine Reportage über ihn im Rahmen des "Heute"-Journals.
Die Fotografien Heinrich Heidersbergers galten jahrzehntelang als "State of the Art", und auf dem derzeitigen Kunstmarkt werden sie hoch geschätzt Er gilt als Meister der Klassischen Fotografie. Für ihn steht die perfekte Komposition des Bildes im Vordergrund, und seine wichtigste Botschaft ist: "Baut das Bild im Kopf, bevor ihr unzählige Filme verschießt. "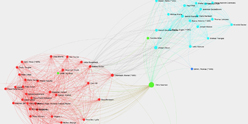 Interested in discovering more of this artist's networks?
3 easy steps: Register, buy a package for a visualization, select the artist.
See examples how visualization looks like for an artist, a curator, or an exhibition place: Gallery, museum, non-profit place, or collector.

Exhibition History

SUMMARY

based on artist-info records. More details and Visualizing Art Networks on demand.
Venue types:

Gallery

/

Museum

/

Non-Profit

/

Collector

Exhibitions in artist-info
29 (S 7/ G 22)

Did show together with

- Top 5 of 776 artists
(no. of shows) - all shows - Top 100

Exhibitions by type

29: 6 / 11 / 12 / 0
Venues by type

20: 4 / 8 / 8 / 0
Curators
13
artist-info records
Dec 1980 - Oct 2020

Countries

- Top 2 of 2
Germany (20)
United States (1)


Cities

- Top 5 of 15
Wolfsburg (6)
Köln (5)
Berlin (3)
Würzburg (3)
Bielefeld (2)


Venues

(no. of shows ) Top 5 of 20
| | | |
| --- | --- | --- |
| | | Curators (no. of shows) Top 5 of 13 |
Insight Basic

Display the full interactive exhibition history and all related artist, exhibition venue, and curator pages for your research. The SUMMARY above shows today's available scope.
Insight Basic 10 Days USD 378 / EUR 394

Insight Basic 1 Day USD 42 / EUR 44

To use Insight Basic or Insight Analytics
Sign-up for free first
Insight Analytics
Use Analytics tools for more insight based on documented exhibitions. More details on your RESEARCH user page.
(Includes Inisght Basic)
COMING SOON