Artist

| Nobuyoshi Araki (*1940)
https://www.artist-info.com/artist/Nobuyoshi-Araki
Artist Portfolio Catalog Overview\ 4
Biography
Biography
1940         born in Minowa, Japan
1959 - 63  study of photographie at Chiba University, Tokyo
1964         first 16 mm film project
1963 - 72  working for Dentsu ad agency
Solo Exhibitions
Solo Exhibitions
1970 - 76  first exhibitions in a fast-food noodle-soup restaurant
Published Work (selection)
Published Work (selection)
1973         "Tokyo"
1977         "Tokyo Blues"
1984         "Tokyo Autumn"
1987         "Diary Tokyo"
1989         "Tokyo Story" and "Tokyo Nude"
1991         "Sentimental Journey / Winter Journey"
1992         "Nude-Tokyo 1971 - 1991"
1993         "Love You Tokyo"
1995         "Tokyo Novella"
About the work (english / deutsch)
About the work (english / deutsch)
In General
1991 his wife died. He published photos of her in "Sentimental Journey / Winter Journey". There are pictures of their ten-year long marriage, during which time she was always his preferred model - from their honeymoon right through to her sickbed und death. About these photos he once stated: "After Yoko's death I wanted to photograph nothing but life. However, each time I pressed the trigger, I closed on death, for if you photograph, then you stop time. I want to tell you one thing, and listen well: Photography is murder."

About his nudes, who are the combination of directness, images that function as signs and skillful stylization in Araki's works is naturally also fully in the tradition of the series of erotic wood-cuts of the Edo period (1613-1868) by Ukio-e und Utamaro. Araki himself reports: "Basically, I have never been interested in tying up the body of a model. What I was aiming at was the female heart. That was what I wanted to lay in chains. In the course of time, if I can put it this way, the models have tied themselves up, have bound themselves to me ... I work using my entire bodily presence, I reproduce in my photos the space and the time between my models and myself ... The camera is a kind of seismograph here."

The role of the woman and the idea of her female identity is currently undergoing a great change within Japanese society, and Arakis photos are considered as liberalizing. The young women, as it were, assert their freedom to have themselves photographed by Araki.

In contrast to pornography - in which the woman is degraded to the role of passive object of lust and desire is mechanized - Araki gives back to the female body the right to self-assertion.

Araki's photos are mass produced, published in the form of pictorial series in magazines or photo monographs, reaching an audience of millions. His work paints, like no other artistic form of expression, a picture of contemporary Japanese society and urban life in Tokyo.

German text by Mario Kramer / Translation by Jeremy Gaines
(Extract - Full printed version available in the Museum)
MMK - Museum für Moderne Kunst, Frankfurt am Main



Allgemeines
1991 starb seine Frau. 1991 veröffentlichte Araki in seinem Buch mit dem Titel "Sentimental Journey/Winter Journey" Fotos seiner im selben Jahr verstorbenen Frau Yoko. Es sind Bilder ihrer zehnjährigen Ehe, in denen sie immer sein liebstes Modell war - von der Hochzeitsreise bis zum Krankenbett und ihrem Tod. "Nach Yokos Tod wollte ich nichts als das Leben fotografieren. Doch jedes Mal wenn ich den Auslöser drückte, geriet ich dadurch in die Nähe des Todes, denn wenn man fotografiert, dann hält man die Zeit an. Ich will Ihnen einmal etwas sagen, hören Sie gut zu: Fotografieren ist Mord." (N. Araki)

Über seine Aktaufnahmen: Die Verbindung von Direktheit, Zeichenhaftigkeit und kunstvoller Stilisierung der Arbeiten von Araki stehen natürlich auch in der Tradition der erotischen Holzschnittfolgen der Edo-Periode (1613-1868) des Ukio-e und Utamaro. "Im Grunde ist es mir nie darum gegangen, den Körper des Modells zu fesseln. Das, worauf ich abzielte, war das weibliche Herz. Das wollte ich in Fesseln legen. Im Lauf der Zeit haben sich, wenn man so sagen kann, die Modelle selbst gefesselt, haben sich an mich gebunden ... ich bringe mich in meiner ganzen Leiblichkeit mit ein, ich reproduziere in meinen Fotos den Raum und die Zeit zwischen meinen Modellen und mir ... die Kamera ist dabei so eine Art Seismograph."

Die heute in Europa vorherrschende vermeintliche Liberalität kann uns nicht über die Tabus hinwegtäuschen, die nach wie vor mit dem Körper als Ort der Sexualität verbunden sind, mit moralischen Kategorien ist man zudem meist sehr schnell bei der Hand.

Im Augenblick verändert sich vor allem die Rolle der Frau und die Vorstellung von ihrer weiblichen Identität innerhalb der japanischen Gesellschaft stark, und Arakis Fotos werden als Liberalisierung betrachtet. Die jungen Frauen nehmen sich sozusagen die Freiheit, sich von Araki fotografieren zu lassen.

Im Gegensatz zur Pornographie, in der die Frau zum passiven Lustobjekt degradiert und das Begehren mechanisiert wird, gibt Araki dem weiblichen Körper das Recht auf Selbstbehauptung zurück. Arakis massenhaft produzierte Fotos, publiziert in Form von Bildserien in Zeitschriften oder Fotomonografien erreichen ein millionenfaches Publikum. Sein Werk veranschaulicht, wie keine andere künstlerische Ausdrucksform, ein Bild der zeitgenössischen japanischen Gesellschaft und des städtischen Lebens Tokyos.

Text von Mario Kramer
(Auszug - Der vollständige Text ist als Informationsblatt beim Museum erhältlich)
MMK - Museum für Moderne Kunst, Frankfurt am Main
Prizes
Prizes
1964	first prize for his photographs in his career
Bibliography
Bibliography
Nobuyoshi  Araki; in: Camera Austria International, 1993, No. 45, p. 15-16
Exhibition Announcements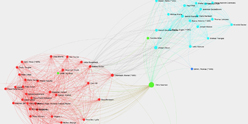 Interested in discovering more of this artist's networks?
3 easy steps: Register, buy a package for a visualization, select the artist.
See examples how visualization looks like for an artist, a curator, or an exhibition place: Gallery, museum, non-profit place, or collector.

Exhibition History

SUMMARY

based on artist-info records. More details and Visualizing Art Networks on demand.
Venue types:

Gallery

/

Museum

/

Non-Profit

/

Collector

Exhibitions in artist-info
133 (S 48/ G 85)

Did show together with

- Top 5 of 1586 artists
(no. of shows) - all shows - Top 100

Exhibitions by type

133: 61 / 26 / 39 / 7
Venues by type

96: 38 / 19 / 33 / 6
Curators
37
artist-info records
Sep 1979 - Aug 2021

Countries

- Top 5 of 19
Germany (39)
United States (20)
Japan (14)
Switzerland (10)
France (9)


Cities

- Top 5 of 59
New York (18)
Tokyo (14)
Frankfurt am Main (10)
Paris (7)
Zürich (6)


Venues

(no. of shows ) Top 5 of 96
| | | |
| --- | --- | --- |
| | | Curators (no. of shows) Top 5 of 37 |
Offers/Requests

Exhibition Announcement

S / G Solo/Group Exhibitions

(..) Exhibitions + Favorites

Read texts, reviews, comments, and Press Releases about this exhibition for more insight

Dulwich Picture Gallery
G
May 2021 - Aug 2021
London
(10)
+0
Moore, Alexander (Curator)
+0
GoEun Museum of Photography
G
Jun 2018 - Aug 2018
Busan
(69)
+0

Read texts, reviews, comments, and Press Releases about this exhibition for more insight

Tower - MMK
G
Mar 2018 - Jul 2018
Frankfurt am Main
(6)
+0
Kanali d'arte
G
Mar 2017 - May 2017
Brescia
(9)
+0
Menolascina, Graziano (Curator)
+0
Japan Society
G
Mar 2016 - Jun 2016
New York
(11)
+0
Fotomuseum Winterthur
G
May 2015 - Oct 2015
Winterthur
(111)
+0
Forbes, Duncan (Curator)
+0
Gabi, Matthias (Curator)
+0
Janser, Daniela (Curator)
+0