Artist

| René Daniëls (*1950)
https://www.artist-info.com/artist/Rene-Daniels
Artist Portfolio Catalog Overview\ 1

About the work (english / deutsch)
About the work (english / deutsch)
A survey exhibition of the Dutch artist Rend Daniëls' influential paintings and drawings will open at Metro Pictures, New York, on April 2, 2000.

The show features works from the late 1970s through the 1980s which are on loan from the René Daniëls Foundation and various European museums. Virtually unknown in the U.S., Daniëls' work has seldom been seen by the American public; this is the impetus for mounting a survey exhibition.

Daniëls began his career in Eindhoven, Holland where he was born in 1950 and still resides. His first exhibitions were in Eindhoven at the Van Abbemuseum, where the museum's then-director Rudi Fuchs established a European bastion of minimal and conceptual art collecting through exhibitions of works by Judd, Lewitt, and Flavin. By the early eighties Daniëls' work was shown in galleries throughout Europe and was included in the seminal international exhibitions of the decade: Documenta IV, Westkunst, and Zeitgeist. In the mid-eighties Daniëls had two painting shows in New York at Metro Pictures.

Daniëls produced a remarkable body of work amidst the hyped art climate of the eighties and Eindhoven's backdrop of Minimalism until 1987, when he stopped working after suffering a devastating illness. Since that time it has come to be understood that Daniëls' work is a singular contribution of astute intelligence, unpretentious humor, modest execution and wry critique. Daniëls has described his working method as "making poems visually." The results are an original and sensitive reassessment of the premises of painting.

His early works were representational paintings, spontaneously executed and almost daring in their simplicity. Akin to drawings, and using thin washes of paint, the paintings employed signature motifs and simple shapes such as skateboards, records, swans, fish, archetypal artists, and gallery rooms. A clear example of Daniëls' use of motifs is exemplified in the "room paintings": the image shifts (cryptically) between a room with windows, a gallery with pictures, a room in perspective, or a bow-tie with rectangular pattern.

A major survey exhibition, "Rend Daniëls - The Most Contemporary Picture Show" was organized in 1998 by Jan Debbaut the current director of the van Abbernuseum, Eindhoven. The Eindhoven show was exhibited at Wolfsburg, Germany and the Kunsthalle Basel in Switzerland.



The Most Contemporary Picture Show
Kunstmuseum Wolfsburg (12.09.1998 - 03.01.1999)

Die Ausstellung ist die erste umfassende Retrospektive des niederländischen Malers René Daniëls in Deutschland. Sie zeigt 50 Gemälde und etwa 200 Zeichnungen des 1950 geborenen Künstlers. Das Kunstmuseum Wolfsburg hat sich seit seiner Eröffnung im Jahr 1994 für das Werk des Künstlers engagiert. In der Ausstellung Tuning up #1, Auftakt zu einer Sammlung war er mit mehreren Bildern vertreten, und zwei seiner Gemälde haben seitdem ihren Platz in der Sammlung des Kunstmuseum Wolfsburg.

Daniëls gehört jener Generation an, die in den achtziger Jahren die Bühne der Kunstwelt betrat. Nach den Jahren der Konzept- und Minimal-Kunst machten diese Künstler mit einer eher emotional und persönlich gefärbten Malerei auf sich aufmerksam. Anders jedoch als die 'Jungen Wilden' in Deutschland oder die Maler der 'Transavanguardia'; in Italien verband Daniëls in seiner Malerei Elemente von Jugendkultur und Punk mit Bildpoesie und intellektuellem Sprachwitz.

Das Spiel mit Sprache zieht sich durch Daniëls' gesamtes Œuvre. In dieser Hinsicht steht er Künstlern wie René Magritte oder Francis Picabia, Marcel Broodthaers und Marcel Duchamp nahe. Gleichzeitig ist seine Art zu Malen und seine Verwendung der Farbe sehr direkt und sinnlich. Daniëls war als der bekannteste niederländische Maler seiner Generation Teilnehmer von Großausstellungen wie 'Westkunst' (1981) in Köln und 'Zeitgeist' (1982) in Berlin. Vorschnell hat ihn die Kritik der jungen heftigen Malerei zugeordnet. Spätestens seit seiner letzten großen Einzelausstellung in Bern 1987 und seiner kleinen Werkschau innerhalb der Ausstellung 'Der zerbrochene Spiegel', 1993 wurde jedoch deutlich, daß sein Werk vielschichtiger und widersprüchlicher ist.

René Daniëls selbst war sich durchaus bewußt, daß seine Wurzeln anderswo lagen und dass das humorvolle, spielerische Element seiner Bilder wenig mit der "Deutschen Angst", wie er die Neoexpressionistische Malerei einmal kritisch bezeichnete, zu tun hatte. Allerdings distanzierte er sich genauso von der Tradition der niederländischen Moderne eines Piet Mondrian, die ihm als zu rational und abgehoben galt.

Vielmehr verband er bereits in den späten siebziger Jahren abstrakte, serielle Strukturen mit alltäglichen Gegenstandszitaten: Schallplatte, Bücherregal, Skateboard. Während er zum Star der nationalen Kunstszene avancierte, machte er sich in Bildern, wie 'Academie', 1982 und 'Palais des Boosards' aus dem Jahr 1983 über den Kunstbetrieb lustig. Der Titel der Ausstellung 'The Most Contemporary Picture Show' nimmt auf ein Bild gleichen Titels Bezug, mit welchem sich der Künstler ebenfalls kritisch mit der gängigen Ausstellungspraxis auseinandersetzt. Ähnlich prononciert äußert Daniëls seine Kritik auf einer Zeichnung mit dem Titel 'Der Zeitgeist der westlichen Kunst auf dem Weg zur Documenta', 1982, auf welcher man eine Gruppe von Ratten auf Skateboards dahinsausen sieht.

1983 verließ Daniëls die Niederlande für ein Jahr und ging als Stipendiat nach New York. Hier empfing er für die Weiterentwicklung seiner Malerei entscheidende Anregungen. Das Schlüsselbild für diese Zeit ist 'Die Schlacht um das zwanzigste Jahrhundert' von 1984. Zum ersten Mal taucht in diesem Gemälde über dem Motiv einer aufgewühlten See jenes zentralperspektivische Raumschema auf, das Daniëls fortan als Kürzel für einen Ausstellungsraum unendlich variieren wird: eine Kulisse, mit leeren Bildern bestückt. Später verselbständigt sich diese Klappbühne und wird bildfüllend oder zum mehrdeutigen Zeichen, das als Megaphon, als Krawatte, Schmetterling über die Bildflächen schwirrt. 

Die beiden Gemälde der Sammlung des Kunstmuseum Wolfsburg, das figürliche 'Alzumeazume' von 1984 und das abstrakte 'Painting on the Bullfight' von 1985 sind im Anschluß an den New York-Aufenthalt entstanden und veranschaulichen die verschiedenen Lösungen, die Daniëls für sein Hauptthema dieser Jahre gefunden hatte. Gerade diese Werkphase erscheint uns heute besonders interessant, da er sich in seinen gemalten Räumen mit Wahrnehmung von Bildern auseinandersetzt. 1987 erlitt Daniëls einen Schlaganfall und kann seitdem nicht mehr malen. In einer seiner letzten Serien, 'Frühlingsblüten', 1987 spielt René Daniëls mit dem Stammbaum seiner Bilder, der zugleich einen imaginären Ausstellungsplan darstellt und antizipiert damit gleichsam eine retrospektive Schau seiner Bilder.

Die in Wolfsburg präsentierte Ausstellung wurde in Zusammenarbeit mit dem Stedelijk Van Abbemuseum in Eindhoven organisiert und wird anschließend in der Kunsthalle Basel und im Stedelijk Museum, Amsterdam, zu sehen sein. Zur Ausstellung erscheint ein Katalogbuch mit 85 farbigen und zahlreichen s/w Abbildungen sowie Texten von Jaap Bremer, Philip Peters, Ulrich Loock, Dirk van Weelden, Bert Jansen, Annelie Lütgens und einem Bildessay von Paul Andriesse.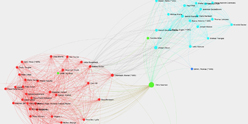 Interested in discovering more of this artist's networks?
3 easy steps: Register, buy a package for a visualization, select the artist.
See examples how visualization looks like for an artist, a curator, or an exhibition place: Gallery, museum, non-profit place, or collector.

Exhibition History

SUMMARY

based on artist-info records. More details and Visualizing Art Networks on demand.
Venue types:

Gallery

/

Museum

/

Non-Profit

/

Collector

Exhibitions in artist-info
45 (S 15/ G 30)

Did show together with

- Top 5 of 799 artists
(no. of shows) - all shows - Top 100

Exhibitions by type

45: 7 / 17 / 21 / 0
Venues by type

40: 7 / 15 / 18 / 0
Curators
28
artist-info records
Sep 1979 - Nov 2016

Countries

- Top 5 of 10
Germany (12)
Netherlands (7)
United Kingdom (5)
Belgium (3)
Switzerland (3)


Cities

- Top 5 of 30
London (5)
Amsterdam (3)
New York (3)
Köln (2)
Bern (2)


Venues

(no. of shows ) Top 5 of 40
| | | |
| --- | --- | --- |
| | | Curators (no. of shows) Top 5 of 28 |