Artist

| Francisco Zuñiga (1912 - 1998)
https://www.artist-info.com/artist/Francisco-Zuniga
Artist Portfolio Catalog Overview\ 1
Francisco Zuñiga

Soledad De Pie

1968
Exhibition and Booksigning
Exhibition and Booksigning
Booksigning and Exhibition at Rutberg Gallery, Los Angeles (U.S.A.)
On November 3, Jack Rutberg Fine Arts gallery in Los Angeles will present a book signing and guided discussion with Ariel Zuñiga, son and biographer of the major 20th century sculptor from Mexico, Francisco Zuñiga (1912-1998). Mr. Ariel Zuñiga will lead a guided tour of a major Zuñiga exhibition of sculpture and select works on paper currently on view at the Rutberg Gallery. This important exhibition will extend through December 22. It proudly announces Jack Rutberg Fine Arts as the exclusive agents for the Estate of the artist.
More than any sculptor of the 20th century, Zuniga's monumental works celebrate life and its expression through the female form in his sculpture and drawings of Women - as matriarch or adolescent. This museum quality exhibition of works by Francisco Zuñiga is accompanied by the new publication of the authoritative book, "Francisco Zuñiga, A Catalogue Raisonné," documenting Zuñiga's complete body of work in sculpture, with essays written by Ariel Zuñiga and Francisco Zuñiga. This much anticipated and indispensable 640-page reference work containing more than 1,100 illustrations, is available during the exhibition which extends through December 1, 2001.

Presented with the support of the Consulate General of Mexico, Fundación Zuñiga Laborde, A.C., Aeromexpress Cargo, and Mexicana Airlines, this is the most ambitious exhibition of Zuñiga works in the United States in more than a decade and includes important large and small scale sculpture, drawings, and selected original graphic works on paper.

The book signing event and guided exhibition discussion will be held on Saturday, November 3, 2001, at 7:30 p.m., at Jack Rutberg Fine Arts Gallery, 357 N. La Brea Avenue, in Los Angeles. Regular gallery hours are Tuesday through Friday 10:00 - 6:00; Saturday 10:00 - 5:00. For additional information, phone (323) 938-5222.

About the work
About the work
In 1936, Francisco Zuñiga left San José, Costa Rica, where he had studied drawing at the School of Fine Arts and worked as an assistant in his father's studio, a workshop which produced religious sculpture for the churches and convents in and around the city. His destination was Mexico City. It was from there that he would begin an illustrious career as a sculptor and draftsman. Zuñiga's exploration into the nuances of volume, in line and space, are demonstrated in this, the most complete exhibition of his work to be shown in more than a decade.

Mexico City in 1936 was, even then, one of the major art centers of the Americas. As such it witnessed and participated in many of the frenzied and controversial art movements which reflected the political and intellectual climate of the first three decades of the twentieth century. Muralism, the graphic arts, the incorporation of in-ternational movements had produced an artistic climate which would eventually attract to Mexico international artists and intellectuals such as Sergei Eisenstein, André Breton and Antonin Artaud. Then as now, Mexico City was a major world capital with the infrastructure necessary to exhibit and expose new aesthetic concepts.

For all these reasons it was the most obvious destination of choice for Zuñiga. In Mexico he worked with the painter Manuel Rodríguez Lozano, and would become one of the founders of La Esmeralda, the National School of Painting and Sculpture, teaching there between 1938 and 1970. Zuñiga also fulfilled commissions for numerous public monuments, but between 1960 and 1980, he began to work exclusively on his studio projects. At the time of his death in 1998, his work would be part of major museum collections internationally.

Zuñiga's signature sculptures, massive female figures sculpted in onyx or cast in bronze, emphasize an ongoing exploration of figurative representation in Western Art.

In Juchitecas en Conversación (1985) a standing female figure with crossed arms faces two figures seated on a bench. The figure closest to her rests her hand on a water jug fully facing the first, while the third, body half turned toward the group, gestures toward them with her left arm. The elongated heads and necks are in direct contrast to the full, earthy bodies of all three. In posture and gesture these figures, with their monumental mass and volume, suggest a relationship of community and of union between women, a theme basic to Zuñiga.

Other elements catch the eye: the water jug, the dress. The presence of these elements has often been a reason for categorizing Zuñiga's work as an example of regional representation, i.e. archetypes of indigenous women. Yet in focusing on the posture, gesture and composition in this work and others, Zuñiga is utilizing a juxtaposition of classical sculptural language with indigenous models. You might feel tempted to focus on the appearance of the model, but you should not overlook the stance, the composition, the regal allusion to the classical Western tradition.

This issue becomes even more evident in the pastel and charcoal Dos Mujeres de Pie (1977). Two nudes stand slightly off center from each other and face to face. We see before us the full front and full back view of two women. Full-figured, even corpulent, they are full-hipped with legs and feet firmly planted on the earth.

These earth mothers embody a mythological essence of the feminine. In the bronze sculpture Soledad de Pie (1968) this focus sharpens. With the interplay of light and shadow, the monumental volume of the bronze emphasizes maturity and maternal power via the rounded belly and breasts of the female figure. Simultaneously, the elongated thin legs lift the mass upward, a thrust which seemingly moves the figure toward the sky in a cosmic union with the earth.

Earth goddesses created through line, mass and volume, these figures transcend the reductive barriers of nationalistic representation, moving toward a universal interpretation of woman.

Throughout his life Zuñiga stated, restated and recapitulated this representational figurative narrative of the feminine, never deviating from it, intuitively understanding and grappling with the powerful meaning of this archetype for humanity. This exhibition is a homage to that incessant exploration and to the spirit of Zuñiga's dedication to it. 

Text by by Margarita Nieto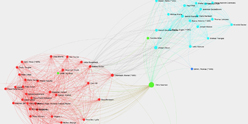 Interested in discovering more of this artist's networks?
3 easy steps: Register, buy a package for a visualization, select the artist.
See examples how visualization looks like for an artist, a curator, or an exhibition place: Gallery, museum, non-profit place, or collector.

Exhibition History

SUMMARY

based on artist-info records. More details and Visualizing Art Networks on demand.
Venue types:

Gallery

/

Museum

/

Non-Profit

/

Collector

Exhibitions in artist-info
24 (S 9/ G 15)

Did show together with

- Top 5 of 287 artists
(no. of shows) - all shows - Top 100

Exhibitions by type

24: 18 / 3 / 3 / 0
Venues by type

13: 7 / 3 / 3 / 0
Curators
3
artist-info records
Mar 1943 - Apr 2018

Countries

- Top 5 of 5
United States (18)
Venezuela (2)
Germany (1)
Mexico (1)
France (1)


Cities

- Top 5 of 8
New York (10)
Los Angeles (7)
Caracas (2)
Fellbach (1)
Houston (1)


Venues

(no. of shows ) Top 5 of 13
| | | |
| --- | --- | --- |
| | | Curators (no. of shows) Top 3 of 3 |