Artist

| Danica Phelps (*1971)
https://www.artist-info.com/artist/Danica-Phleps
Artist Portfolio Catalog Overview\ 1
Danica Phelps

Nr. 62, "drawing while trying to keep Lucy warm",

2000
Exhibition at Galerie Schuette, Essen
Exhibition at Galerie Schuette, Essen
Danica Phelps
Drawings
02. November bis 21. Dezember 2002
Eröffnung 2. November 2002, zwischen 17 und 20 Uhr
GALERIE SCHÜTTE - Bornstraße 15 - D-45127 Essen - Tel: +49 (0) 2 01 - 20 25 10
Ihre Arbeiten zeigen wir nun zum ersten Mal in Deutschland, nach Ausstellungen in Barcelona und Krems.

Die Zeichnungen, die auf etwas größeren Sperrholzplättchen montiert sind, sprechen mehrere Ebenen an: Die Zeichnung selbst ist mit festem, sicherem Strich gesetzt und hat wie auf der Einladungskarte ("train t Essen") oft biographischen Charakter. Die unterschiedlich roten Gouachelinien geben die an diesem Tag ausgegebenen Dollars an. Bei einem Verkauf geht die Zeichnung erst einmal in das Atelier zurück und Phelps kopiert die Zeichnung mit Bleistift und setzt eine neue Zeile mit grünen Linien und Verkaufsdaten darunter. Jeder grüner Strich steht für einen eingenommenen Dollar. Diese neue Zeichnung wird gelocht und gestempelt ("second generation") und wieder angeboten usw. Ferner gibt Danica Phelps nach eigenem Ermessen auf den Zeichnungen den Dollarpreis an, unabhängig von äußerlichen Faktoren wie Größe oder Technik. Die Arbeiten Danica Phelps kommen der Schaulust des Betrachters sehr entgegen. Die Poesie von Phelps Arbeiten liegt in unscheinbaren Abläufen, Alltagsritualen, in der Repetition und nicht zuletzt auch in der deutlich lesbaren Obsession des Registrierens. Wer mag, kann eine Zeichnung erwerben und diese dann als "second generation" im Februar 2003 mit seinem Namen und Erwerbsdatum in einer Gruppenausstellung im New Museum of Contemporary Art in New York betrachten.

Biography
Biography
1971 Born in NYC
1993 Hampshire College Amherst, Mass BA
1994 Skowhegan School of Painting and Sculpture
1995 Rhode Island School of Design, MFA

Awards
Awards
1994 Zorach Fellowship to attend Skowhegan
1998 Rema Hort Mann emerging artist grant
2001 New York Foundation for the Arts: Individual Artists Grant

Solo Exhibtions (selection)
Solo Exhibtions (selection)
1994   "A Housewife at Work", Sol Koffler Gallery, Providence, RI
1998   "Funny Money", Jack Tilton Gallery, NYC
2000   "Walking: From Los Angeles to San Francisco", Michael Martin Gallery, San Francisco, CA
2000   "Bill Trip", Project Room, Roberts & Tilton, Los Angeles, CA
2000   "Bill Trip", MCA, Rockport, ME
2000   "2nd Generation", Herter Gallery: UMASS, Amherst, Mass.
2000   "From Barcelona to Krems", Galerie Stadtpark, Krems, Österreich
2001   "Trade Two", LFL Gallery, NYC
2002   "Drawings", Galerie Schütte, Essen

Group Exhibitions (selection)
Group Exhibitions (selection)
1993   Thesis Exhibition, Hampshire College, Amherst, Mass.
1994   "These Fanscies are Normal" (4 person show), HERE Gallery, NYC
1994   "Subjectifying Objects, Moblizing Objects" (2 person show), Artemesia Gallery, Chicago, Ill. 
1995   "The Body Politic" (2 person show), Maine Coast Artists, Rockport, ME
1995   Thesis Exhibition, RISD Museum, Providence, RI
1998   "Inventory", White Columns, NYC
1999   "Document", Hampshire College, Amherst, Mass.
1999   Gallery Artists, Jack Tilton Gallery, NYC
1999   "100 Drawings", PS 1, NYC
1999   "Time and Duration", Angels Gallery, Santa Monica, CA
2000   "Vida Politica", (3 person show with Aleksandar Ilic and Ivana Kesser), Sala Montcada "La Caixa", Barcelona, Spanien (K)
2001   "`Greetings from Jezevo", Jezevo Detention Center, Zagreb, Kroatien
2001   "Lets Get to Work", Susquehanna Art Museum, Harrisburg, PA
2001   "Another Cusp", Gallery of Colgate University, Hamilton, NY
2001   "Inside the City", Gallery 400, UIC, Chicago, Ill.
2001   "In Transit", Vacancy Gallery, Bronx, NY
2001   "No where Fast", Lizebeth Oliveria Gallery, Oakland, CA
2001   "Going", Urban Institut of Contemporary Art, Rapids, MI
2001   "Brooklyn", ICA at Palm beach, Palm Beach, FL (K)
2001   "Contemporary Narratives", Schick Art Gallery, Skidmore College, Saratoga Springs, NY (K)
2001   "Domestic Culture", ICA at MECA, Portland, ME (K)
2001   "111.12/24", Galerie Schütte, Essen, Germany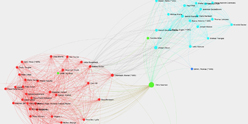 Interested in discovering more of this artist's networks?
3 easy steps: Register, buy a package for a visualization, select the artist.
See examples how visualization looks like for an artist, a curator, or an exhibition place: Gallery, museum, non-profit place, or collector.

Exhibition History

SUMMARY

based on artist-info records. More details and Visualizing Art Networks on demand.
Venue types:

Gallery

/

Museum

/

Non-Profit

/

Collector

Exhibitions in artist-info
29 (S 10/ G 19)

Did show together with

- Top 5 of 283 artists
(no. of shows) - all shows - Top 100

Exhibitions by type

29: 18 / 3 / 5 / 3
Venues by type

19: 9 / 3 / 5 / 2
Curators
2
artist-info records
Apr 1998 - Sep 2014

Countries

- Top 5 of 6
Germany (8)
United States (7)
Switzerland (2)
Canada (2)
Austria (2)


Cities

- Top 5 of 11
New York (11)
Essen (4)
London (3)
Berlin (2)
Zürich (2)


Venues

(no. of shows ) Top 5 of 19
| | | |
| --- | --- | --- |
| | | Curators (no. of shows) Top 2 of 2 |