Artist

| Lucien Clergue (1934 - 2014)
https://www.artist-info.com/artist/Lucien-Clergue
Artist Portfolio Catalog Overview\ 5
Exhibition at in focus Gallery
Exhibition at in focus Gallery
Lucien Clergue
"1959 und nach 1999
Jean Cocteau - Das Testament des Orpheus und neue Arbeiten."
13.04 – 24.05.02
in focus Galerie am Dom, Marzellenstraße 9, D-50667 Köln


1959 wurde Lucien Clergue von Jean Cocteau eingeladen, die Dreharbeiten zu seinem Film "The Testament of Orpheus" als freier Fotograf zu begleiten. Dafür war es nicht nur nötig, das Drehbuch zu lesen, sondern auch, sich in die Handlung des Films hineinzufühlen.
Diese Fähigkeit half Lucien Clergue, im Alter von 25 Jahren, sich mit Reitern, mit Zentauren und der Göttin Minerva, ebenso wie mit Berühmtheiten wie Picasso,  Aznavour, Yul Brynner und anderen auseinander zu setzen. Diese Begegnungen fanden in einer kleinen Stadt im Süden Frankreichs statt.  Der Hauptteil der Dreharbeiten wurde in einem Steinbruch bei Les Baux de Provence durchgeführt. Lucien Clergue konnte seiner Arbeit als Fotograf während der Dreharbeiten selbstständig nachgehen. 1961 wurde dann ein kleines Buch mit seinen Fotografien herausgegeben; sein fotografisches Gesamtwerk wurde allerdings erst im Dezember 2001 in New York in einem Buch mit 130 Seiten unter dem Titel "Jean Cocteau and the Testament of Orpheus" veröffentlicht.
Vor der Ausstellung in Paris im kommenden Oktober wird die in focus Galerie am Dom, Köln weltweit die erste Galerie sein, die eine Auswahl von Fotografien dieses surrealistischen Gesamtwerks vorstellt. 
Nach 1999 hat sich Lucien Clergue wieder der Aktfotografie zugewendet, mit der er einst seinen weltweiten Ruf als Fotograf gründete. Bekannt sind die Fotografien seiner Akte im Meer oder am Strand.
Die Serie seiner "Zebra nudes" in New York oder die Serie von Steinen am Strand der französischen Bretagne sowie weitere Fotografien an Orten wie New York, Santa Barbara, Tarrazona oder den felsigen Landstreifen Frankreichs zeigen, dass Clergue sein jüngstes Interesse auf eine stark graphische Komposition in seinen Fotografien gelegt hat.

Lucien Clergue wurde 2001 in Benevento, Italien, als Fotograf des Jahres ausgezeichnet. Er wird dieses Jahr ein neues Buch über den legendären Stierkämpfer "El Cordobes" veröffentlichen; im Oktober wird er in einer großen Einzelausstellung in der bekannten Stevensen Galerie in New York gezeigt und er wird das große Privileg haben, die erste Ausstellung im ehemaligen Picasso Studio in Paris, in dem Picasso "Guernica" gemalt hat, zu bestreiten.


"1959 and after 1999
Jean Cocteau – The Testament of Orpheus and new works."
Exhibition: 13.04.2002 – 24.05.2002

In 1959, Jean Cocteau has invited Lucien Clergue to be the photographer free lance of shooting of this last film "The Testament of Orpheus". One thing was to read poetry, another one was to be in the poetry:  talking to a horse-man, a centaurus, to the goddess Minerva, or to celebrities like Picasso, Aznavour, Yul Brynner and others, when you are 25 years old, in a small town of south of France. Most of the shooting was in les Baux de Provence, in the quarries, and he was free to do as he like. Even a little book was published in 1961, the entire body of work is finaly published at Viking Studio, in New York under the title "Jean Cocteau and the Testament of Orpheus". Before the exhibition in Paris next october, in focus gallery, Cologne will be the first gallery to show this surrealistic body of work.
In the meantime Lucien Clergue was still photographing the nude. Known for his nude in the sea or at the beach, his most recent investigation are more graphic with the series of Zebra nudes in New York or the one with stone on a beach of french Britany, and different experiences in location around the world such as New York, Santa Barbara, Tarrazona or rocky countries in France.

Lucien Clergue was awarded in 2001 photographer of the year in Benevento (Italy) he will publish this year a new book on the legendary bullfighter "El Cordobés" have his second one man show in two years at John Stevenson Gallery next october in New York, and have the privilege to do the first exhibition in the  former studio of Picasso in Paris where he has painted "Guernica". He is presently working on a tour show in Germany and Austria for 2003, together with painting of Picasso.

Biography
Biography
Lucien Clergue, geboren 1934 in Arles/ Südfrankreich, begann bereits in seiner Schulzeit zu fotografieren.
1954 trat er mit 50 Schauspielerportraits, die alle Julius Cäsar verkörperten, an die Öffentlichkeit. Nach einer Serie über fahrende Akrobaten und über tote Tiere begann er 1956 mit seinen "nus de la mer", mit denen er weltbekannt wurde. Sie stellten eine neuartige Auffassung des weiblichen Akts dar, aber auch der Behandlung der Oberfläche in Verknüpfung mit Wasser und Licht. Darüber hinaus brachen sie durch ihre Körperlichkeit offen mit der Tradition prüder Aktdarstellungen, die bis dahin die Fotografie beherrscht hatten. Er platzierte keine keuschen Frauen in die Landschaft, sondern nutzte die Elemente, um den Körpern eine sinnliche Ausstrahlung zu vermitteln.

1957 illustrierte er das Buch "Corps Memorables" von Paul Eluard.
1959 begann eine intensive fotografische Auseinandersetzung mit der Camargue, ihren Sümpfen, Pflanzen und Wasser.
Über viele Jahre hinweg begleitete er Pablo Picasso bei der Arbeit, insbesondere aber in den Arenen bei den Stierkämpfen.
1961 gestaltete er einen Saal im Rockefeller Center New York.
1962 reiste er nach Brasilien und Rio de Janeiro und begann in der Provence mit einer neuen Serie der "Nus de la Mer".
1971 realisierte er für seinen Freund Picasso einen Film für Universal Pictures.
Seit den Neunziger Jahren arbeitet er an großformatigen farbigen Fotoarbeiten.
1970 begründete er die "Rencontres Internationales de la Photographie" in Arles, die er 25 Jahre lang leitete.
1979 erhielt er als erster die Doktorwürde für die Fotografie und lehrt seit 1976 an verschiedenen Universitäten.

Bibliography
Bibliography
Books recently published for sale during the exhibition:
-   Arena, signes des sables, Ed. Actes Sud, Arles 2001
-   El Cordobes le 5éme Calife, Ed. Actes Sud, Arles 2002
-   Passion- Passions, Ed. Actes Sud, Arles 1997
-   Jean Cocteau, the Testament of Orpheus, Ed. Viking Studio New York, 2001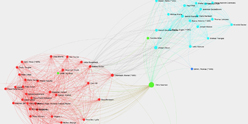 Interested in discovering more of this artist's networks?
3 easy steps: Register, buy a package for a visualization, select the artist.
See examples how visualization looks like for an artist, a curator, or an exhibition place: Gallery, museum, non-profit place, or collector.

Exhibition History

SUMMARY

based on artist-info records. More details and Visualizing Art Networks on demand.
Venue types:

Gallery

/

Museum

/

Non-Profit

/

Collector

Exhibitions in artist-info
35 (S 16/ G 19)

Did show together with

- Top 5 of 424 artists
(no. of shows) - all shows - Top 100

Exhibitions by type

35: 17 / 13 / 5 / 0
Venues by type

24: 9 / 10 / 5 / 0
Curators
6
artist-info records
Sep 1961 - Jul 2018

Countries

- Top 5 of 5
Germany (13)
United States (10)
France (4)
Switzerland (2)
Sweden (1)


Cities

- Top 5 of 19
Köln (5)
New York (4)
Hannover (3)
Philadelphia (3)
Paris (3)


Venues

(no. of shows ) Top 5 of 24
| | | |
| --- | --- | --- |
| | | Curators (no. of shows) Top 5 of 6 |
Insight Basic

Display the full interactive exhibition history and all related artist, exhibition venue, and curator pages for your research. The SUMMARY above shows today's available scope.
Insight Basic 10 Days USD 378 / EUR 394

Insight Basic 1 Day USD 42 / EUR 44

To use Insight Basic or Insight Analytics
Sign-up for free first
Insight Analytics
Use Analytics tools for more insight based on documented exhibitions. More details on your RESEARCH user page.
(Includes Inisght Basic)
COMING SOON