Artist

| Ben Woodeson (*1965)
https://www.artist-info.com/artist/Ben-Woodeson
Artist Portfolio Catalog Overview\ 18
Biography
Biography
Born in London in 27/02/65
1994 - 97   Glasgow School of Art, BA (Hons) Sculpture, Glasgow
1993 - 94   WSCAD, First year BA(Hons), Famham, Surrey
1992 - 93   Chelsea College of Art and Design, Foundation, London
Current Status: Practicing artist based in Glasgow, Scotland.

Exhibiton at Red-Gallery
Exhibiton at Red-Gallery
October 13 - November 10, 2001 at Red Gallery, Hull

RED Gallery is proud to present "In Too Deep", an exhibition by Glasgow based artist Ben Woodeson. Independently curated by RED, the show runs along side DEEP-ROOT, the ninth international festival of live, sound and new media art organised by Hull Time Based Arts, www.root2001.org.

The faint sound of music is occasionally audible throughout the gallery, and the faint smell of tomatoes hints at what is to come. From the bizarrely portable (an appropriated granny trolley) to the absurdly non-portable, a jusry-rigged transistor radio made room sized and powered by 60 tins of tomatoes.

Absurdity has to be the over-riding impression, a bathtub of soup, sacrificed to power a vintage computergame, a sack of potatoes crossed with the granny trolley and a ghetto-blaster. If Heath Robinson woke up needing a walkman, he might have come up with something like this.

Like a conceptual artists'Alice In Wonderland, The Mad Hatters Tea Party with the missing Jam cooking the toast. Home entertainment devices functionaing from scavenged power, laid out in the gallery like relics of bygone science. Babbages' Difference Engine, but a million times more basic and made in a strange world where rationality is banned. Part dodgy experiment, part imaged narrative a la Elroy Chandler. The aesthetic seemingly casual, the devices shouldn't work but they do. Well, sometimes anyway.

Like a mad child let loose with a science set, Woodeson concoctsweird sculptural things, part sound work and part relic. They each serve a function, but who would go to extremes? Don't try this at home, just pay your power bill and buy a streo instead!

Since graduating in 1997 from Glasgow School of Art Ben Woodeson has shown throughout the UK and in Europe. In Too Deep includes three new pieces made expressly for the RED Gallery as well as An Everyday Valuye, which was shown at Berlin's B130 Project.

Awards
Awards
2000   Glasgow City Council, Visual Arts Award
1999   Supported by The Arts Trust of Scotland
1998   Scottish Arts Council, Artist Award
1997   "RSA Sculpture Award", RSA Student Exhibition, Edinburgh
1996   "Milly and Benno Schotz award for the best young sculptor", RGI

About the work (english)
About the work (english)
"Unscripted" - Exhibiton at Intermedia Gallery, Glasgow, 12 - 24 July 1999
Taking our perceptions of Home as its starting point, Ben Woodeson's work does the three dimensional equivalent of taking a line for a walk. Using objects and furniture as his material, Woodeson makes unsettling environments for the viewer to react to. Constructed representations of living spaces and objects, seemingly devoid of comfort or psychological warmth. Mouldy carpets, flooded rooms, bedsit furniture, dodgy heating, a sauce pan left to boil dry and a cheap TV, all combined to form stage sets. Unscripted and empty they await the viewer's presence and emotions in order to be complete.

Ben Woodeson was born in London, and studied sculpture at Glasgow School of Art.
Since graduating in 1997 he's been living and working in Glasgow, and has been showing throughout Britain. In 1998 he had a show in Luzern, Switzerland and in October 1999 he has a solo show opening at decima gallery in London.


"Room" 1998, The Assembly Gallery, Glasgow.
"Room" consisted of a simulated bedsit environment installed in the main part of the Assembly Gallery. All objects within the space were draped by white dust sheets, so that their shape and identity was partially hidden. Any of the components which emit light were switched on, and these provided the only illumination within the space. The light levels were such that the human eye could only just determine that the gallery was occupied by physical objects. This sense of disorientation was heightened by the fact that two radios within the installation were quiety switched on, but deliberately tuned just away from a station. The occasional sound of almost intelligible conversation emphasized the feeling of absence and unease within the work.

Artist's statement:
My work addresses issues of Isolation and desperation within a domestic context. Through the use of light, heat, smell and location I invite the viewer to question the every day. By using ordinary objects, and subverting them through absurdity and positioning I create situations or small dramas for the viewer to react to. Much of my work is specific to the site or event that it is made for and therefore ceases to exist after the show is finished.
Solo Exhibitions (selection)
Solo Exhibitions (selection)
2001   "In too deep", The Red Gallery, Hull
2001   "Everyday Value", The BBQ Project, Berlin
2000   "Disruptive Familiarities", STUFF gallery, London
1999   "Wendy House", Installation at SwitchSpace, Glasgow
1999   "Unscripted", Solo show, intermedia gallery, Glasgow
1998   "Home Sweet Home", Solo show, The Arlechino, Luzern, Switzerland
1998   "Room", Solo installation show, Assembly Gallery, Glasgow

Group Exhibitions (selection)
Group Exhibitions (selection)
2001   "Haiku Installation", London Guildhall University & Podium Gallery, Glasgow
2001   "Electro Acoustic Collaboration", Assembly Gallery, Glasgow
2001   "Interim", Mackintosh Gallery, Glasgow
2000   "NEO", Waygood gallery, Newcastle
1999   "Absolut Open - New Art in Scotland", Inverleith House, Edinburgh
1999   "Museum Magogo", Glasgow Project Room
1999   "Rocket", Group show, Vane 99, Newcastle
1998   "Street Level Open", Street Level Photoworks, Glasgow
1998   "XX Century Sculpture" Atkinson Gallery, Millfield, Somerset
1998   "Chocolate", National Touring group show, Collins Gallery, Glasgow
1997   "Kunst & Krempel", group show, Galerie Tim Buktu, Luzern, Switzerland
1997   "Actions Speak Louder Than Words", King St. Gallery, Glasgow
1997   "Rural/Digital", collaborative residency, Scottish Sculpture Workshop
1997   "Degree Show", Glasgow School of Art

Further Experience
Further Experience
1999   Curator of "Transmission" a proposed sound show. (Planned for 1999).
1998   Temporary staff member, Sculpture/ Environmental Art, Glasgow School of Art.
1998   Visiting Lecturer The Surrey Institute of Art & Design.
1998   Visiting Lecturer Chelsea College of Art & Design.
1997   Visiting lecturer Kensington & Chelsea College.
1997   Coordinator of "Actions Speak Louder Than Words", King St. Gallery.
1997   Rural/ Digital, a collaborative residency at the Scottish Sculpture Workshop.
1997   Coordinator/Exhibitor of "Off The Cuff", The Assembly Gallery, Glasgow.
1996   "The Divide" an interactive public art work with Tanya Paget at Kelvingrove Art Gallery and Museum, Glasgow
1996   Three months exchange to G. S. U Atlanta, Geogia
1995 - 96   Frequent iron casting at Bethlanderi Sculpture Workshop, Wales

Reviews/Features:
Reviews/Features:
Radio.    "BBC Radio Scotland, Usual Suspects" 23/3/98.
Print.    "The Scotsman" 23/ 3/ 98, 23/ 6/ 97, 10/ 3/ 97 (A4 Colour image).
"The Mail On Sunday" 5/4/98. "The Times, Metro Magazine" 21/3/98.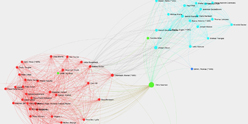 Interested in discovering more of this artist's networks?
3 easy steps: Register, buy a package for a visualization, select the artist.
See examples how visualization looks like for an artist, a curator, or an exhibition place: Gallery, museum, non-profit place, or collector.

Exhibition History

SUMMARY

based on artist-info records. More details and Visualizing Art Networks on demand.
Venue types:

Gallery

/

Museum

/

Non-Profit

/

Collector

Exhibitions in artist-info
15 (S 5/ G 10)

Did show together with

- Top 5 of 161 artists
(no. of shows) - all shows - Top 100

Exhibitions by type

15: 8 / 1 / 6 / 0
Venues by type

15: 8 / 1 / 6 / 0
Curators
5
artist-info records
Jan 1997 - Nov 2017

Countries

- Top 5 of 6
United Kingdom (9)
United States (2)
Ireland (1)
Norway (1)
Canada (1)


Cities

- Top 5 of 9
London (6)
Glasgow (2)
Toronto (1)
Hull (1)
Roswell (1)


Venues

(no. of shows ) Top 5 of 15
| | | |
| --- | --- | --- |
| | | Curators (no. of shows) Top 5 of 5 |
Insight Basic

Display the full interactive exhibition history and all related artist, exhibition venue, and curator pages for your research. The SUMMARY above shows today's available scope.
Insight Basic 10 Days USD 378 / EUR 394

Insight Basic 1 Day USD 42 / EUR 44

To use Insight Basic or Insight Analytics
Sign-up for free first
Insight Analytics
Use Analytics tools for more insight based on documented exhibitions. More details on your RESEARCH user page.
(Includes Inisght Basic)
COMING SOON