Artist

| Martin Willing (*1958)
https://www.artist-info.com/artist/Martin-Willing
Artist Portfolio Catalog Overview\ 1

Biography
Biography
Martin Willing studierte von 1978 - 1985 an der Kunstakademie in Münster, war Meisterschüler bei Prof. Paul Isenrath
Anschließend Studium der Physik an der WWU Münster.
1981 - 1982   erhielt er jeweils den Förderpreis der Kunstakademie Münster.
1986 - 1988   Referendariat am Studienseminar Neuss. Zweites Staatsexamen Kunst und Physik.
1991   Stipendium des Fritz-Berg-Gedächtnis-Fonds, Hagen
1993   Preis des Vereins Bildender Kunst, VBK Köln-Porz.

Martin Willing lebt und arbeitet als freier Künstler in Köln.
Solo Exhibitions (selection)
Solo Exhibitions (selection)
Einzelausstellungen in Museen und öffentlichen Instituten
1986   Westfälischer Kunstverein Münster/Kunstverein Gelsenkirchen/Museum Abtei Liesborn
1987   Euregio - Kunstkreis, Bocholt
1989   Provinciehuis Zwolle, NL
1996   Pfalzgalerie Kaiserslautern
1997   Städtische Galerie Villingen-Schwenningen
1999   Köln - Skulptur 2, Auftrag zur ersten monumentalen Außenskulptur
About the work (deutsch)
About the work (deutsch)
Martin Willings Werke stehen in der Tradition bewegter, "kinetischer" Plastiken. ( Gabo, Rickey, Takis, Calder). Sie nehmen in der Kunstgeschichte eine außergewöhnliche Stellung ein, als sie experimentell Grenzlänge oder Schwingungsverhalten von Materialien wie Federstahl, Aluminium und Titan bis ins Extreme erproben und hierin sowohl neue Erkenntnisse für die Wissenschaft setzen, als dass sie auch bisher in der Kunst unbekannte Empfindlichkeiten in ästhetischer Weise zeigen.

Dachte man an Kinetik, so dachte man bisher an Wind, an Motoren, an Anstöße deutlich spürbarer Art, die eine Skulptur in Bewegung versetzen, Martin Willings Arbeiten reagieren wesentlich empfindsamer. Schon ein Atemhauch stört das vorgespannte Gleichgewicht eines schweren Objektes und versetzt es in innere Schwingungen unbekannter Weichheit. Bisher bekannte kinetische Plastiken arbeiten zum Beispiel mit vielfältigen Drehbewegungen in Gelenken, Martin Willing bringt die Molekularstruktur des Materiales selber in Schwingungen, das ist das Neue. Denkt man an die Beweglichkeit eines Baukranes und an zitternde Insektenfühler, so sehen wir in etwa die Unterschiede von bisher realisierter kinetischer Plastik zu Martin Willings "Schwingenden Skulpturen".


Vom Stab zum Körperschnitt
Auszug aus einem Gespräch zwischen dem Physiker Dr Willi Stahlhofen und Martin Willing

Stahlhofen: Als Metallbildhauer forschen und experimentieren Sie seit etwa 20 Jahren. Ihren Arbeiten ist gemeinsam, dass sie Schwingungen sichtbar machen, manchmal sehr komplizierte Schwingungszustände

Willing: Es gibt die Grundschwingung, wie bei einer Gitarrensaite, und dann gibt es über der Grundschwingung noch weitere Schwingungen, »Oberschwingungen« oder »Obertöne«.

Stahlhofen.: Wie in der Musik.

Willing: Man kann einen zweiten Ton auf der gleichen Saite erzeugen, der eine kürzere Wellenlänge hat. Die (Skulpturen als) gedrehte Stäbe sind anfangs auch Rundstäbe gewesen. Dann kommt als nächster Schritt das Abflachen des Materials. Das heißt, dass ich diesen Rundstab flach walze und parallel zum Erdboden orientiere. Dadurch vermeide ich das »Verdrehen« (...). Wenn man die Energiekurve dazu betrachtet, bildet sie eine Art Mulde. Man kann den Stab innerhalb dieser »Mulde« schwingen lassen und erst, wenn man ihn zu stark bewegt, kippt er heraus. Der zweite wesentliche Schritt ist aber, das Material zu »verjüngen«, es zum freien Ende hin dünner zu schleifen.
Der Antrieb für diesen Schritt war dabei, die Bewegung bis in die Spitze hinein zu treiben. Dadurch, dass ich den Querschnitt verjünge, kann ich die Spitze stärker mitbewegen. Ich bekomme mehr Bewegung bei weniger Masse.

Stahlhofen: Wo sind die Oberschwingungen nun wirklich?

Willing: Die Oberwellen sind natürlich vorher da gewesen, sie waren aber zu schnell und deshalb nur schwer wahrzunehmen. Erst jetzt erscheint uns eine Oberwelle auch als deutlich sichtbares Phänomen.

Stahlhofen.: Durch das Dünnerschleifen machen Sie die Oberwelle sichtbar. (...) Das finde ich sehr gut, das ist faszinierend.
Es ist eine nicht hörbare Musik, die sie als Plastik in den Raum stellen.

Willing: Ja, das ist eine langsame Schwingung, die nicht im Hörbereich liegt.

Stahlhofen.: Aber man sieht sie.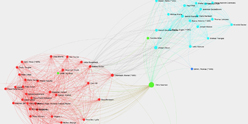 Interested in discovering more of this artist's networks?
3 easy steps: Register, buy a package for a visualization, select the artist.
See examples how visualization looks like for an artist, a curator, or an exhibition place: Gallery, museum, non-profit place, or collector.

Exhibition History

SUMMARY

based on artist-info records. More details and Visualizing Art Networks on demand.
Venue types:

Gallery

/

Museum

/

Non-Profit

/

Collector

Exhibitions in artist-info
38 (S 9/ G 29)

Did show together with

- Top 5 of 577 artists
(no. of shows) - all shows - Top 100

Exhibitions by type

38: 15 / 10 / 11 / 2
Venues by type

21: 9 / 6 / 5 / 1
Curators
11
artist-info records
Nov 1987 - Jun 2017

Countries

- Top 2 of 2
Germany (28)
Italy (1)


Cities

- Top 5 of 17
Köln (12)
Mainz (4)
Würzburg (4)
Saarbrücken (2)
Waldenbuch (2)


Venues

(no. of shows ) Top 5 of 21
| | | |
| --- | --- | --- |
| | | Curators (no. of shows) Top 5 of 11 |